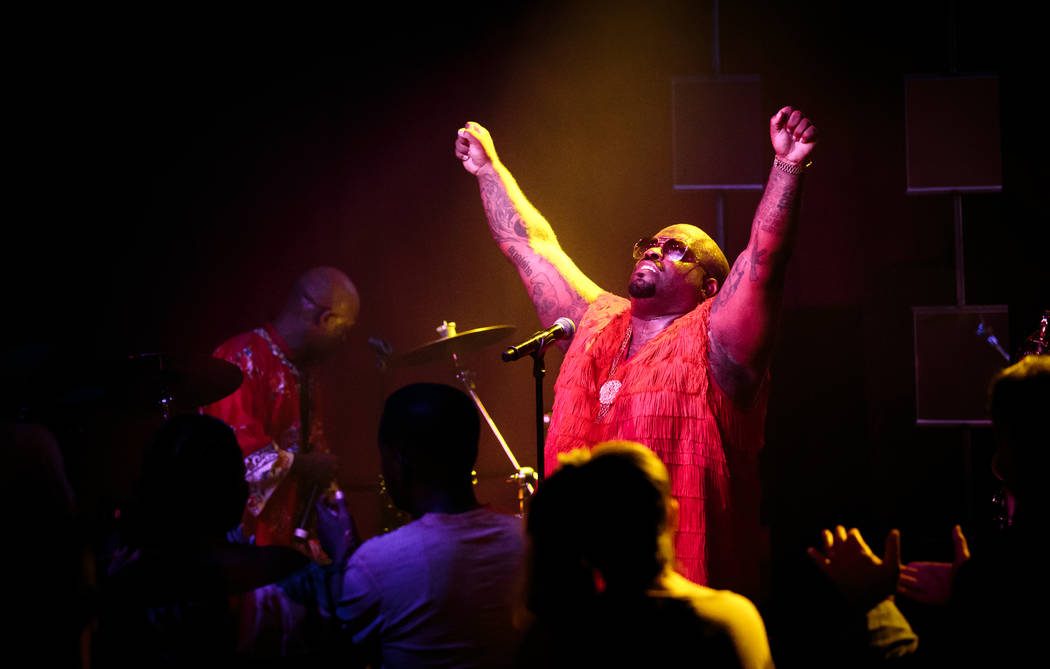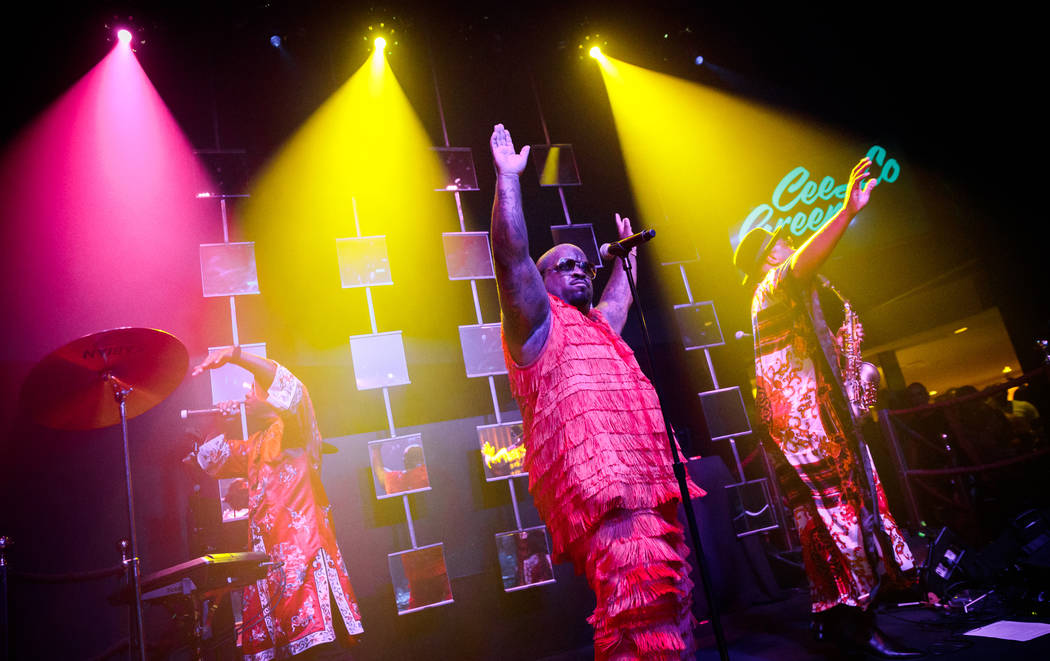 Just what can't entertainer CeeLo Green do? The musical superstar is an amazing singer, writer and performer — and he can even dance in a lineup the Rockettes might be envious of!. The energy he puts out has megawatt power and is so infectious everybody at his Caesars Palace show is up out of their seats jiving along with appropriate whoops and cheers.
CeeLo performed four shows in the unlikely, yet wonderfully intimate, Cleopatra's Barge, which has undergone a makeover in recent weeks in order to lessen the musical noise that washes into the adjoining restaurants. There's more to come to fully enclose it, furnish it with better seating, bring in more subtle lighting — all a far cry from its Matt Goss days and when the boat on the moat swung awkwardly sending overly inebriated partygoers perilously close to falling into the water. I'm told some actually did!
Our thanks to Erik Kabik for his front-row photos of the show and congratulations to Vegas producer Seth Yudof for signing CeeLo to his slick high-energy production on the Strip.
It was 90-solid minutes of a musical explosion when CeeLo in his trademark sunglasses and a classic Tina Turner red fringed jumpsuit took to the stage for a rundown of 19 songs. He thrilled with his hits "Bright Lights Bigger City." "Crazy" and the controversial " F**k You." When I explained the rumored origination of that acronym "Fornication under the command of the king" back from the 12th century when the King of England ordered the population to create more male babies, he smiled and told me: "Now, I have royal approval of the four letter word. I'm regal for real!"
I'm so glad I didn't crash from jet lag after my 19-hour return journey from Italy and went directly to CeeLo's show. If I had CeeLo would have kept me wide awake with his power-packed vocal gymnastics. He performed his version of "Don't Cha," which he wrote for the Pussycat Dolls, who once held court at Caesars.
He soared with his own song "Who Ever Loves Me" and threw in songs from his reign with Gnarls Barkley and the Goody Mob. He surprised with Frank Sinatra's "I'm Going Live Till I Die" and for that one number alone he deserves all the kudos possible. I personally loved his Michael Jackson cover of "The Way You Make Me Feel" and the salute to Morris Day and the Time with "the Bird."
In fact, credit to his sax players Marcus Anderson and Adian Crutchfield and his percussion player Menta Williams who were in red color matching shorts who backed him up — especially in their carefully choreographed precision dancing on the postage stamp-sized stage.
There's no question whether CeeLo is in the intimacy of the Barge or on a wide stage at Planet Hollywood or making a Liberace tribute video on the casino floor of Caesars he is a superstar performer. Better still he's even having a grand time performing there. Here's "I Want You" on YouTube that he shot at Caesars:
His vibrant personality indicates it's a really good time. "I'm loving this" he told me at the new cigar bar opposite the Barge after his show. "I live for this."
I asked him about performing in such a small space for just hundreds rather than a large showroom seating thousands.
"I love the intimacy of this. I'm right there up close to the audience. It's a real personal connection" said the Grammy winner and platinum record star, who is also a judge on "The Voice" television show.
"I'd work like this in Vegas 365 days a year if I could. There was something fantastic about this experience. Vegas is my city. Its all about the party."
CeeLo is a master showman on fire with his incredible falsetto vocals that have an entire audience waving hands in the air and bouncing their way through his party.
It's a nightclub vibe while still in a theater and CeeLo has merged the two brilliantly. I'm sorry I caught one of his final two shows because otherwise, I'd have been there every night. Memo to Caesars Entertainment executives: "bring him back" as soon as you can. He deserves a residency here solely because he's a superstar entertainer but also because single-handedly he could keep the neon lights on even if the electricity went out.
CeeLo- you were on fire! come back soon and bring that thousand-watt electrifying energy with you!