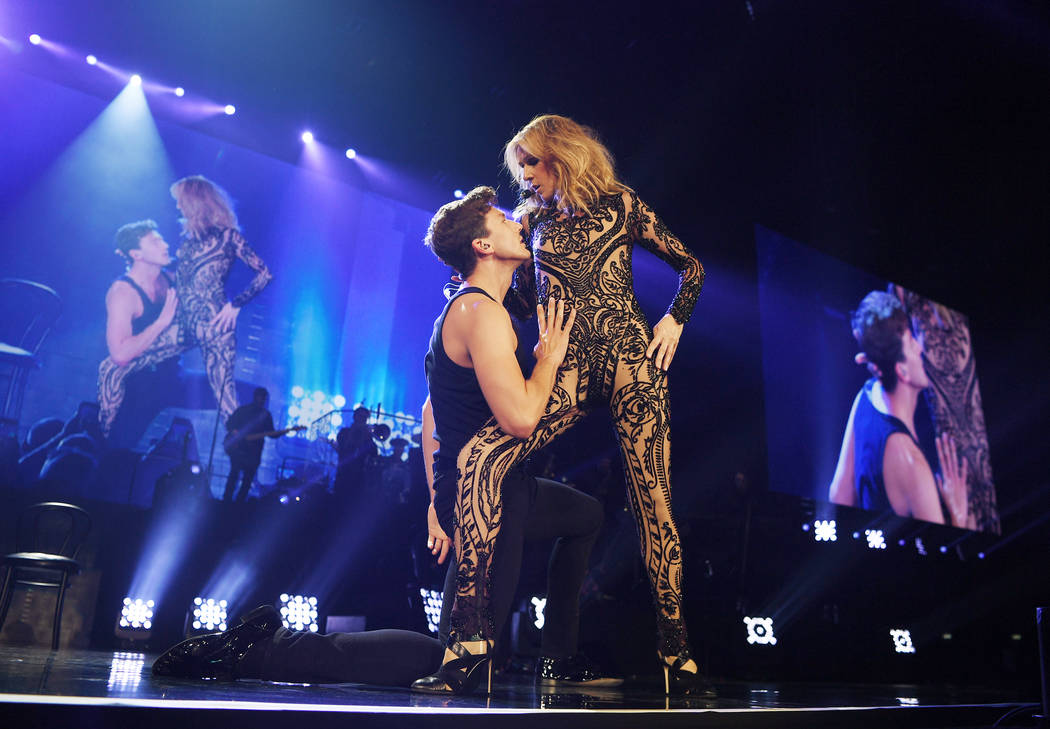 Here's the photo of the sensuous dance between global pop singer Celine Dion and her Spanish dancer Pepe Munoz.
It has prompted headlines across the world and started rumors of Celine's first romance since the January death last year of her husband and manager, Rene Angelil.
In France their on-stage tango and off-stage string of dinner dates has won applause but in her home country of French Canada newspapers from Montreal to Toronto have run negative stories about the alleged romance.
The firestorm picked up even more news coverage over the weekend when the new couple were photographed in Paris together going off for dinner at the hip Maison Blanche nightlife restaurant — with Celine going shirtless under a tailored pinstriped jumpsuit and showing part of her black bra.
Pepe was described as her "boy toy" and "hunk of arm candy" in Canadian newspapers — but I learned that last night (July 23) when Celine jetted in from Paris to perform a concert in Berlin he was returning to Las Vegas. I was told that Pepe was booked by Celine only for the French leg of her European tour. She is now on the second leg of her English-language tour, which will wrap up at the beginning of August with return engagements in London before flying back to Las Vegas and a new run of Caesars Palace headline shows at The Colosseum.
" It has been a phenomenal success — more so than any other tour she has done in Europe before," said an official traveling with Celine's tour.
"Crowds of 30 and 40,000 fans have packed the stadiums in Marseilles and Nice and she's shattering records at the box office. Everywhere she performs they are asking her to extend the concerts with new dates but its an impossibility," the source said.
Celine has been jetting back after each performance to her Royal Monceau hotel base in Paris where she has completed a series of fashion shoot videos for Vogue magazine, been front row center for Fashion Week at the famed designer shows — and for dates with Pepe.
But I am assured although she is the happiest she's ever been since the death of Rene the fling with Pepe cannot be labeled a romance.
" They are very good friends together. It is nice to see her having somebody to go out with.," the source said. " She's in a great place and projecting a whole new Celine and level of confidence and exuberance. Nobody knows when — and if — they'll be together next."