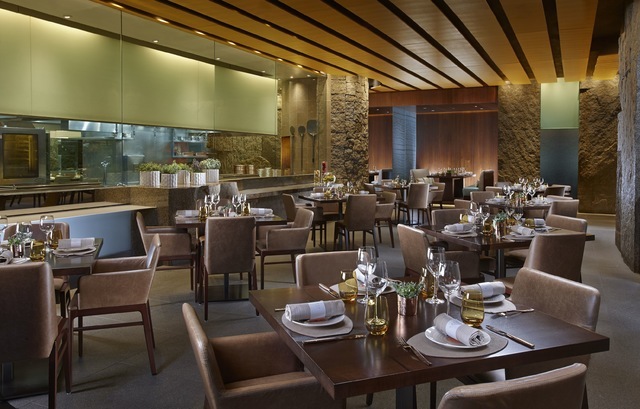 Editor's Note: After a glorious nearly month-long family vacation in the Italian and Sicilian countryside, Robin Leach is back and resuming his new daily columns today with news of a group of Anthem Village residents who banded together to invest their savings in a showbiz venture.
We'll continue guest columnists in August while Robin works from the cooler climes of La Jolla near San Diego in advance of our newly designed website launching midmonth.
Today, our weeklong salute to the culinary kings and queens of our restaurant and culinary industry continues – those kitchen warriors who work long hours serving up the taste treats our 41 million annual visitors have come to expect here. Today, we welcome chef Roy Ellamar from Harvest at Bellagio and chef Jose Navarro of Trevi Italian Restaurant in The Forum Shops at Caesars Palace. Here's Roy:
By Roy Ellamar
Aloha, everyone,
I'm Roy Ellamar, executive chef at Harvest in Bellagio. Growing up in Hilo, Hawaii, I was a kid who loved being outdoors. If I wasn't fishing with friends or exploring the forest behind my house, I was spending time at my grandparents' house playing with their pigs and chickens.
What everyone on The Big Island, including me, didn't realize was that same Hilo kid who loved to catch prawns in the river with his dad would one day end up with his name on a restaurant in Las Vegas.
I didn't always want to be a chef. When I was young, I dreamed of becoming a pro BMX rider back when it was called freestyling. When I wasn't exploring the Island on foot, I was exploring it on two wheels. My favorite bike was a 1986 Redline RL-20II that I built from the frame up.
I would purchase parts with the money I saved from my paper routes. During high school, my interests shifted, though it still wasn't cooking. Instead, I took an interest in electrical engineering and planned to pursue it as a career.
To tell you the truth, I started cooking out of necessity, then it blossomed into a passion. I needed to find a job at a young age to support my family, and electrical engineering wasn't the type of job you could jump into quickly. One day, I was at my grandma's house and saw a family photo that included my uncle, a chef in San Francisco, in his chef whites.
His food always left such an impression on me that seeing the picture sparked an idea, and I decided to pursue a culinary career. I got my first job as a cook, worked my way up and discovered that cooking was a natural fit.
When I felt that I had learned all I could in Hawaii, I left the island and moved around the country before landing in Las Vegas. I spent time as chef de cuisine at Seasons Restaurant at Four Seasons Hotel Chicago and later The Beverly Hills Hotel & Bungalows in California.
In 2007, I began my Las Vegas culinary venture at a restaurant that I owe a lot of my career: L'Atelier de Joel Robuchon at MGM Grand. Before I started at L'Atelier, I found myself becoming burned out from cooking, but when I saw the technique and detail that went into Robuchon cuisine, I fell in love with food all over again.
The crazy part? The guava doesn't fall far from the tree. My son Tayden is now a master cook at Joel Robuchon Restaurant at MGM Grand, L'Atelier's sister restaurant. The fact that he is as passionate as I am about cooking just makes us that much closer.
Everything we do now has some tie to food. Even on our days off, we're cooking together, watching documentaries like CHEF'S TABLE on Netflix or traveling to new culinary destinations.
I've always told Tayden that anything is possible if he puts his mind to it. In 2009, I had to put my money where my mouth was. I was given the opportunity to serve as chef de cuisine at Bellagio's Sensi, and two years and a lot of determination later, I was named executive chef.
Fast forward to 2015, when I was honored with the opportunity to transform Sensi into Harvest, a concept guided by my personal philosophy learned from growing up in Hawaii. Harvest by Roy Ellamar is a true representation of who I am and where I am from. At Harvest, I'm able to use local products while cultivating relationships with farmers to stay true to my community values.
Similar to my native Hilo cuisine, the food at Harvest isn't flashy or over the top. It's ingredient driven and farm-to-table focused. My goal is to create food that's simple yet thoughtful because, at the end of the day, it's good food, great family and aloha spirit that matter most.
Be sure to check out our other guest columnist today, executive chef Jose Navarro of Trevi Italian Restaurant in The Forum Shops at Caesars Palace. Robin also has news of a group of Anthem Village neighbors who pooled their savings to invest in a new showbiz venture.