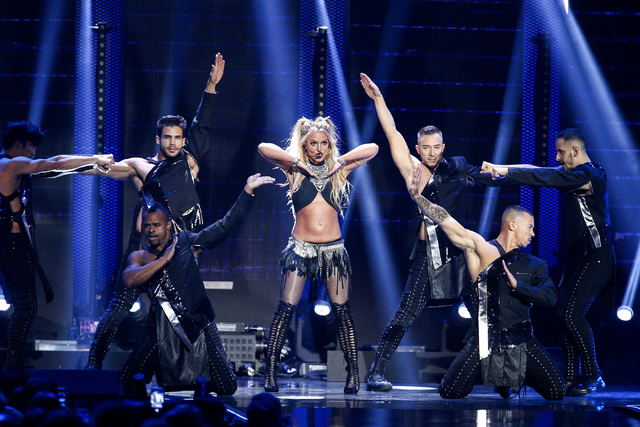 Early this morning, pop icon Britney Spears confirmed final show dates of her record-breaking Las Vegas residency "Britney: Piece of Me." The news confirms our Friday post that she'll return to Axis at Planet Hollywood for her final performances from Sept. 3 through Dec. 31.
As the first contemporary superstar resident, Britney pioneered the groundbreaking paradigm shift and revitalized the modern era of entertainment here. Since opening Dec. 27, 2013, "Britney: Piece of Me" has received rave reviews from critics and fans, with the show being voted Best Overall Show and Best Bachelorette Party by readers of The RJ in 2015 and Best Resident Performer in 2016.
The record-setting show has sold out tickets on a regular basis and as of January has grossed more than $100 million. Beyonce and Jay Z, Lady Gaga, Anna Kendrick, Nick Jonas, Miley Cyrus, Kirsten Dunst, Chloe Grace Moritz, Calvin Harris and Steven Tyler have all been front-row attendees.
Celebrities including two of her fellow Axis headliners The Backstreet Boys and, most recently, country singer Chris Lane have been volunteer victims in the S&M-themed number for "Freakshow," in which she walks them on their hands and knees across the stage while tied up in a dog leash with she wields a whip.
"As I prepare to say goodbye to 'Piece of Me,' I had no idea how magical this experience would be. Having my fans from around the world come see my show has been amazing. I love Las Vegas and will miss performing this show," said Britney in a news release this morning.
More than 700,000 fans have attended "Britney: Piece of Me" since it opened at Axis, which was designed for her production. With a nod to the growing importance of nightlife to visitors, Axis became the Strip's nexus of nightlife and live entertainment in its design and service model. The theater was redesigned to feature a dance floor and VIP table seating.
"When we first announced 'Britney: Piece of Me' four years ago, we were certain that Britney's residency would revolutionize the entertainment landscape in Las Vegas and are thrilled at how successful the show has been," said Jason Gastwirth, Caesars Entertainment senior VP of marketing and entertainment.
"Caesars Entertainment has always led the evolution of Las Vegas entertainment. Britney's emergence in this market paved the way for other artists to make Las Vegas their home and, as a result, the top entertainment destination in the world. We look forward to working together with Britney again in the future."
I have learned that Caesars Entertainment has proposed a new contract, but she has not yet decided if she will remain in Las Vegas with a new show in 2018 or go out on a world tour or take a break at home in Los Angeles to prepare a new album. Several proposals for Britney to appear at rival Las Vegas venues also have been pitched to her.
"Being named the best show in Las Vegas, among other accolades, Britney's residency marked a new era of entertainment as the city's first pop music resident artist," added David Hoenemeyer, regional president of Planet Hollywood. "We are delighted that Britney has called Axis at Planet Hollywood home for the last four years."
Tickets go on sale to the public at 10 a.m. Friday. American Express card members can purchase tickets before the public from 10 a.m. Tuesday through 10 a.m. Thursday. A presale for Total Rewards members, Caesars Entertainment's loyalty program, is 10 a.m. Wednesday through 10 a.m. Thursday.
The final 18 performances of "Britney: Piece of Me" going on sale are Sept. 3, Oct. 11, 13-14, 18, 20-21, 25 and 27-28, Nov. 1 and 3-4 and Dec. 19, 27-28 and 30-31. Tickets for previously announced performances also are on sale now: May 3, 5-6, 10, 12-13, 17 and 19-20, Aug. 9, 11-12, 16, 18-19, 23, 25-26 and 30 and Sept. 1-2.
General ticket prices are $59 to $229, plus service fees, and may be purchased online at BritneyPieceofMe.com or in person at the Axis box office. Prices for VIP packages vary depending upon the date. All shows begin at 9 p.m.