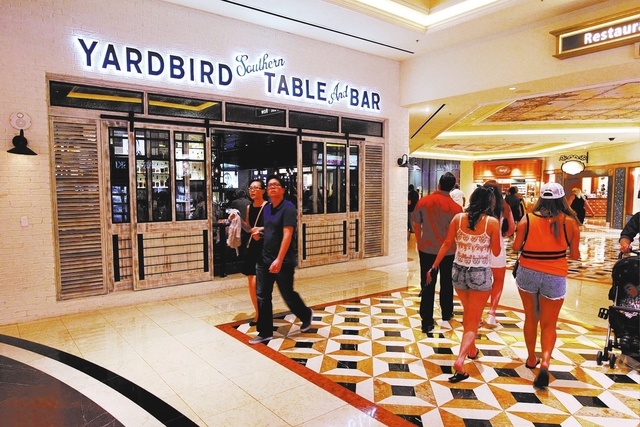 Hot off the grill!
Restaurateur John Kunkel plans to open new locations of his The Venetian flagship Yardbird and a new concept, Chica. John's global expansion plan follows the successful growth of another brand, Spring Chicken, which opened three outlets of the fast-casual, farm-fresh Southern cooking concept in Florida last year.
This year's rapid expansion kicks off in early 2017 with the opening of Spring Chicken at Miami International Airport, marking the concept's fourth outlet. Then he'll introduce Chica in the spring at The Venetian with chef Lorena Garcia's robust and vibrant flavors of Latin cuisine. Chica takes over the former space of celebrity chef Daniel Boulud's DB Brasserie.
John then heads to Singapore opening the James Beard Award-winning Yardbird concept at Marina Bay Sands. It's the third outpost of the Yardbird brand, and plans call for it to expand in Los Angeles, London, Dubai, Washington, D.C., and New York. "2017 is going to be a big year for us," said John in a news release.
* Las Vegas celebrity chef Julian Serrano is set to open his first overseas restaurant at the new 190-room boutique MGM Bellagio in Shanghai this summer. Julian, who has Prime, Picasso and Lago at Bellagio here and his self-named restaurant at Aria, opens Suzhou Creek, adjacent to the historic Waibaidu Bridge, with panoramic views of the Lujiazui skyline.
* Ahead of the arrival of The Food Network's Robert Irvine at The Tropicana this summer, the hotel is continuing its revitalization with new food-and-beverage accommodations. Guests can now enjoy the all-new Fresh Mix, along with the remodeled Barista Cafe and Biscayne Steak, Sea + Wine.
The all-new Fresh Mix at South Beach Food Court is now offering salad and wraps, perfect for the leisurely dining experience. Guests can enjoy specialty items and a salad bar that allows guests to customize salads and wraps with signature dishes or build-your-own options of warm and cold protein selections.
* Frank Pellegrino Jr. began his family's Italian restaurant career working as a bus boy in the famous Rao's in Harlem, and now he is celebrating the Caesars Palace outpost's 10th anniversary this evening with a multicourse dinner that he is cooking with chef de cuisine Fatimah Madyun.
Frank told me: "I was just 12 years old. I never thought I'd stay in the family business, but I never left and have been there ever since." He opened another Rao's in Hollywood last year. His four-course menu tonight has been selected from the new cookbook "Rao's Classics" penned by his father, Frank Pellegrino Sr., and him.