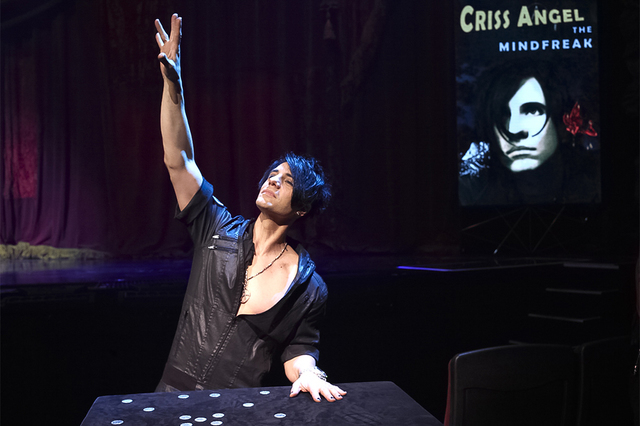 My annual July trip to Italy coincides with my decision to join the new multi-media team at the Niche division of the Las Vegas Review-Journal.
I cannot begin to tell you how excited I am with this new affiliation. We have much to look forward to and explore in the future months as we use expanded resources and technological advances to take Vegas 24/7 to the world.
It all starts here now with this introductory website "beta" version and in the weeks to come this preliminary placeholder will undergo graphic and editorial changes with video, social media and cutting-edge additions.
This August, we'll re-launch an entire new look for the Best of Las Vegas celebrating its 35th anniversary. We hope to be able to web-broadcast those awards for the first time this fall and follow with a new weekly magazine.
Who better to kick off our new "magic" than the "Magician of the Decade" Criss Angel. Just hours before this Thursday's premiere of his new Mindfreak Live show at the Luxor he poignantly penned our first guest column.
I've already seen his incredible show from warehouse preparation through to previews and it is without doubt " "The No. 1 Magic Show Of All Time!" Criss is also getting ready to return to A&E network television this Halloween with the one-hour special "Trick'd."
— Robin Leach
"A HELL OF A YEAR"
To say that it's been a long – and sometimes extremely difficult – year is a bit of an understatement. In the fall of 2015, I received the news no parent EVER wants to hear…"Your child has cancer." My then 2-year-old son, Johnny Crisstopher, had been diagnosed with Acute Lymphoblastic Leukemia (ALL).
I immediately put life in Las Vegas on hold (canceling shows at BeLIEve) and got on a plane for Australia, where Johnny is currently living with his mother and undergoing treatment. The success rate for curing ALL in children is quite high, but that doesn't help you comfort and explain to your young toddler why he feels terrible, and why he has to go through all this pain.
Johnny's mother, Shaunyl, was – and continues to be – a rock for our son. He's continued his treatment over the past 8-plus months, he's responding well, and we are thankful we can now say he is in remission. We are hopeful that at the end of the 1,095 days that his total treatment will require, we will have a healthy, happy, cancer-free kindergartener.
Returning from my second visit to Johnny at the beginning of 2016, I began serious conversations with my partners at Cirque du Soleil and MGM Resorts/Luxor about launching a new show to replace the No. 1 best-selling BeLIEve. The show had celebrated it's 7th anniversary the previous Halloween, with more than 3,000 performances; and I wanted the opportunity to show Vegas, my partners and the world how much things have changed since we developed the show back in 2008.
I created my first touring production in years in 2014 when we put a version of MINDFREAK LIVE! on the road and it was an instant smash. The tour sold-out its initial run over a month before the first shows. The performances were critically acclaimed, and I knew that the Vegas audiences deserved to experience these new, revolutionary illusions. Using that version of MINDFREAK LIVE! as a starting point and putting it in my theater at Luxor gave us the ability to use the advances in techniques and technology I've achieved — with the help of my insane magic team — over the last seven years to take it to the next level.
MINDFREAK LIVE! is very literally an 18-year-old vision of mine coming to life — in six VERY short weeks! With a blend of heart-stopping original illusions, state-of-the-art animated LED lighting, RGB lasers, LED virtual worlds, 3-D immersive effects, pyrotechnic landscapes, live musicians and a DJ, this show is a 360-degree experience. We're doing something with lasers that's never been done before, you'll see me pull off a levitation that I've been working on for more than a decade, and you'll witness me recreate some of the most dangerous illusions I've ever attempted.
Let me be really clear: this is a brand new show. This is not a refresh. Everything is completely new. Everything is completely different.
It's beyond any other magic show in Vegas or the world for that matter. It will be — without a question — the most mind-blowing, insane magic show ever to be performed live, with more magic in it than any other show ever — over 50 illusions!). MINDFREAK LIVE! will really show how far magic has come. Magic has never seen anything like this.
The official premiere of the show is Thursday, June 30, and I couldn't be more excited for people to see what we've created here! I think this is the show that people expect from Criss Angel.
Following the world premiere of MINDFREAK LIVE! I'm plunging straight into my next TV project. I'm back home on A&E this fall with a one-hour special that's going to be insane! It's a tough schedule but I'm super excited to be working again with the network and people that helped make it all happen with MINDFREAK.
During all of this, every spare second is focused on my passion project — the first of what I hope will be an annual fundraiser called HELP! (Heal Every Life Possible) benefitting the Johnny Crisstopher Children's Charitable Foundation. HELP! will be an all-star show on Sept. 12 at 7 p.m. in the Criss Angel Theater at the Luxor.
This show is going to be amazing. We are still confirming the guest list, but Britney Spears, J-Lo, Siegfried & Roy, Jerry Lewis, Wayne Newton, Richie Sambora, Mike Tyson, Chuck Liddell, Lance Burton, Terry Fator, Gordie Brown, Tony Orlando, Vince Neil, Carrot Top, Gene Simmons, Gary Oldman, Taboo of The Black Eyed Peas, Flavor Flav, Blue Man Group, Kris Kremo, Miles Brown and so many others have already committed to support this show.
My goal is to make this one of the biggest charity events of the year in Las Vegas, and raise over $1 million in one night. In addition to the show, we will pull together an incredible silent auction with experiences of a lifetime. I am including a stay at my own estate, the 25,000-square-foot Serenity, and a behind-the-scenes tour of my 60,000-square-foot Las Vegas magic facility which includes a private magic lesson with me and members of The Supernaturalists touring show. We will also have a VIP package to see Celine Dion, and more.
Earlier this year I donated $100,000 to St. Baldrick's and I want everyone to know that 100 percent of ALL donations toHELP! will go directly to pediatric cancer care and research — and ultimately a cure; the foundation administration is funded entirely out of my pocket — no deductions are made from donations.
I won't lie, the last year has been one heck of a roller coaster, but I am so excited when I look at the ride ahead. I hope you'll join me… come check out MINDFREAK LIVE! at Luxor this summer, and this fall help me meet that million dollar goal to defeat pediatric cancer. I can promise you that you'll see some of the most mind-blowing magic on the planet!
— Criss Angel
FRENCH FRIES FOR EVERYBODY!
Next week "Idaho! The Comedy Musical" becomes the first Las Vegas homegrown production that will hopefully go onto success on Broadway starts previews on Wednesday, July 6, before the unique Spuds & Fine Wine premiere on Saturday, July 9. Myron Martin, president of The Smith Center, who made the high-roller decision to financially back the project, is joined by creator Buddy Sheffield for two guest columns about the musical treat. Andy Walmsley, the production designer, tackles the state of live Vegas shows in his highly provocative guest column.
Enjoy it all and our guest columnists as we start moving ahead full-steam when I return in August.
— Robin Leach
RELATED
Robin Leach joining RJ to expand celebrity, lifestyle coverage