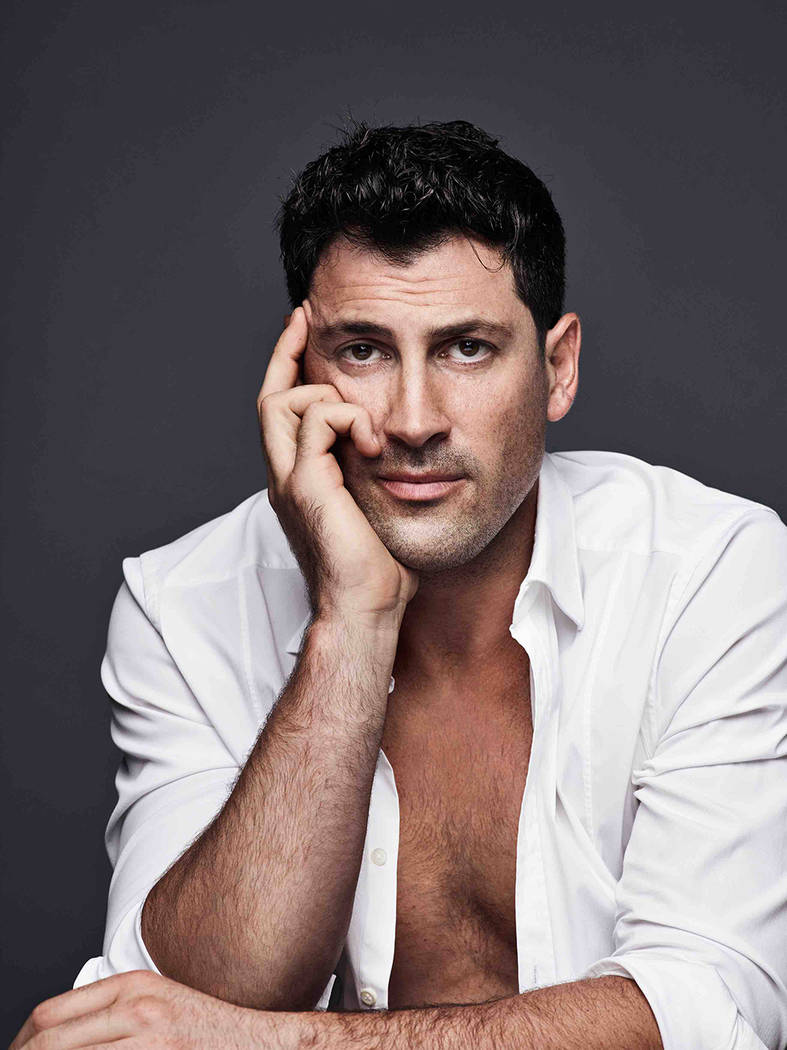 EDITOR'S NOTE: It's that time of the year again when Robin takes off for his monthlong family trip to Europe. His travels this week take him to La Spezia close to the beautiful Cinque Terre area of Italy. At the weekend, he'll wind up as usual in Italy exploring the delights of Tuscany. In his absence, a great number of showbiz entertainers, celebrity VIPs, chefs, restaurateurs and our Vegas dignitaries have stepped forward to write their guest columns.
Today, "Dancing with the Stars" favorite and "Le Reve" choreographer for Steve Wynn, Maksim Chmerkovskiy took time out from his wedding on Saturday (July 15) in Long Island, New York, to pen a guest column. He will be offering private dance lessons at his Dance With Me studio at Tivoli Village July 26-27. There will be a master class each day. People can call 702-710-1100 to register.
……
Hi, everyone. It's me again. I know we just did a story in March, but Robin is on vacation so I'm writing this article for him because, you know, I have nothing else to do… It's not like I have to prepare for my wedding or play with my 6-month-old son. So yeah, you're welcome Robin! 😉 Ha!
As you've heard, I became a dad in January, and let me just give you a quick update. Parenting is hard! But also so incredibly rewarding. I'm learning this new concept (you may have heard of it) it's called "patience." I'm also doing all the things with my son at 6 months old that I was mad at my dad for when I was 15. Why can't he run and jump already?!
All jokes aside, I just wanted to say that I have massive respect for all the parents out there! It's true what they say, you don't understand until you experience it yourself. So, now, I think I'm starting to get it.
Also, I just got married to Peta Murgatroyd from DWTS and if you've seen my Instagram (@MaksimC) or Facebook (Maksim Chmerkovskiy), my entire life has revolved around my son/family, and my health. I've literally become obsessed with reaching the highest possible level of fitness and health that I can. Between training in the gym and dancing for cardio, I literally feel like I'm in the best shape of my life. Peta used dancing to shed all the excess baby weight and now she's taking it to the next level with our training regimen.
It's not enough to just exercise, your body needs the right fuel to recover. Proper nutrition is key, but the right supplements are essential. For me, LivOn Labs make the best vitamins out there and they're based right here in Henderson. I haven't had a cold since I started taking them a few years ago. I plan on sharing all my fitness and health secrets with those that are interested, once I have more time. All my friends are taking them and whenever we tour. I make sure all the dancers have an endless supply. Game changer! (Go to www.Vitaminc.com).
Speaking of dance. Did you guys check out our brand new Dance With Me dance studio in Tivoli Village? I see a lot of people having fun there and I know I'm biased but it's definitely the best-looking dance studio in Vegas. Just go try one lesson and tell them I sent you! I'm a little tied up with this whole baby and wedding thing, but my partners Tony Dovolani and Val Chmerkovskiy are going to be visiting our Vegas location throughout this month Go to DanceWithMeUSA.com and subscribe or follow @DanceWithMeUSA on social media to get the update on exact dates!
From choreographing "Le Reve" at The Wynn to opening our own Dance With Me dance studio, Vegas has always treated us incredibly well and it's one of my favorite cities to work and hang out in. I would love to bring more entertainment options Vegas! I have some ideas that I think you'd like and it would be amazing if we can make them happen, but only time will tell.
Hey Robin, thanks for the shameless plugs and giving me something to do on the plane ride to New York! I'll visit you guys sometime after my honeymoon and hopefully next time I'll have a special surprise to announce. Thank you all for reading and I'll be sharing some more fitness and health tips in the future, as soon as I finish testing them on me and Peta. Stay tuned for updates and talk soon!
……
Be sure to learn all about the US Masters Dart championships in our other guest column today and then tomorrow (July 13) meet celebrity chef Carla Pellegrino who has reopened her Brasilia restaurant after a year's stay in Miami and the truck crash that upended her local business.