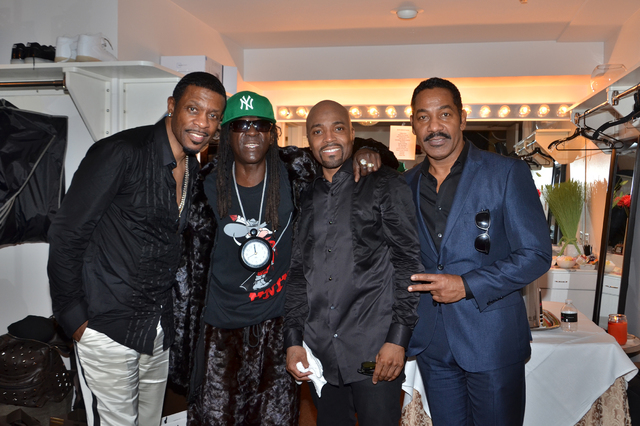 Music news dominates the day: Sadly, Sir Elton John has set a closing date of next May for his hit Caesars Palace residency, but the good news is that he also has announced 27 new fall dates.
"The Million Dollar Piano" superstar, who beat a near-death South American disease a month ago and had to cancel a run of April dates at The Colosseum here, will be back Oct. 11 with 14 dates through Nov. 4 and again Feb. 9 for 13 dates through March 2.
The closing run of dates that ends in May will be revealed before the end of the year.
CHER'S MUSICAL LIFE STORY
A live musical is to be created for Broadway based on Cher's life story. The project is wrapped in secrecy, and security is said to have confiscated people's cell phones before the cast script reading.
The New York Post's Michael Riedel is outing three actresses to play the diva at different stages of her life: Lena Hall, who won a Tony for "Hedwig and the Angry Inch," will play the superstar diva in middle age, with Jillian Mueller as young Cher and Leslie Margherita as Cher today.
All three will sing "If I Could Turn Back Time" in the musical. At first it was rumored by Cher, our headliner at Park Theater at Monte Carlo, that she would appear as herself in the show, which has been written by Rick Elice ("Jersey Boys"), but that idea seems to be shelved.
Cher watched a run-through this week in New York, gave it her blessing, then eagerly used her Twitter to say the project is a go for next year with actors, singers and dancers. Actor Jarrod Spector is said to play the late Sonny Bono in "Cher the Musical."
The musical covers the six-decade-long career of the 71-year-old who won The Icon Award at last month's 2017 Billboard Music Awards here at T-Mobile Arena. Jason Moore, who directed "Avenue Q" Off Broadway and here at Wynn Las Vegas, will direct.
Cher returns to Park Theater from Aug. 2-19 and Nov. 8-25. When Cher first sat through a January pitch of the show, she admits that she was prepared not to like it but said after she sobbed and laughed, and the audience gave it a standing ovation.
BACK IN FULL SWAGGER
R&B icon Keith Sweat is returning to The Flamingo due to popular demand. His new, limited engagement will run from July 5-22, where he'll perform his hits including "I Want Her," "Twisted" and "Nobody."
The platinum chart-topper, who has delivered five No. 1 albums in a row, selling more than 25 million records worldwide, is back in full swagger. As I wrote in The RJ: "You couldn't ask for better entertainment and a mesmerizing performance to start The New Year. There was as much fun for me listening to his music as it was watching the ladies fall under his extraordinary spell."
This year Keith has already performed nearly 100 dates for more than 450,000 fans, with numerous sold-out shows. Keith, who was born two blocks away from the historic Apollo Theater in Harlem, also is celebrating the 10th anniversary of his No. 1 nationally syndicated urban AC nighttime radio show, "The Sweat Hotel."
The program is carried by more than 60 stations to 3 million listeners. While here, Keith will celebrate the 30th anniversary of his triple-platinum album, "Make It Last Forever."