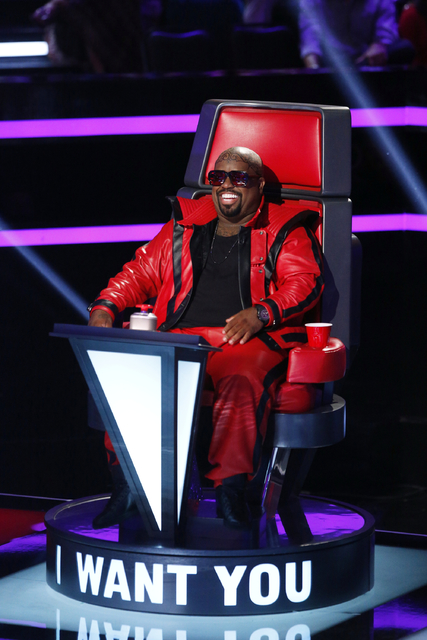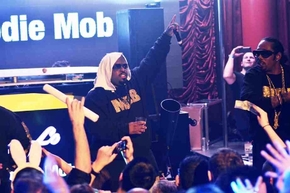 We have another Wicked Whisper + Racy Rumor this torrid Tuesday!
Five-time Grammy winner CeeLo Green is planning to return to the Strip for a limited engagement at Cleopatra's Barge at Caesars Palace. Expect the announcement soon that he'll perform a four-night run from July 21-29.
The singer-songwriter, TV personality and actor, who appears on NBC's "The Voice" tonight, will be here over two consecutive weekends at the former home of singer Matt Goss. Backed by a two-piece band, CeeLo will be up close and personal.
He promises to take his audience on a journey through his two-decade-plus career performing songs including "Forget You" and "Crazy." We're told: "CeeLo will be up close and personal like he's never been before. This is the smallest venue he's ever played, and he'll be on a shaking-hands basis with the audience inches away."
CeeLo, who filmed a Muppets TV special during his run at Planet Hollywood, said: "I love Las Vegas and, yes, Las Vegas loves me. Caesars Palace and I have created yet another unique opportunity to entertain and add on to the illustrious legacy of Las Vegas. Just as fun as the last one, but quicker, faster and gone in a flash, so catch it if you can."
When I last talked with CeeLo, he told me: "I am still old enough to be an elder and still young enough to be the youth. I am a bridge between these generations, and essentially it is a music education to just remind them of the greats."
Here are videos of his previous Strip run, "Loberace Live in Las Vegas" and his "I Want You" that he filmed at Caesars Palace:
"Each brand new audience will make it a new show every night. I love that transfer of energy, and the people feel my passion. As long as people are pleased, I can stomp, jump, twist and do splits or scream and shout.
"I want people to understand and know that they are coming to see something unique, but also to be totally surprised, too, so I am, too. I hope everybody realizes that coming to Las Vegas is perfect for me, and it makes all the sense in the world."
We're hearing that tickets for CeeLo's shows go on sale Friday. Total Rewards members receive an advance sale starting Wednesday. His shows start nightly at 8, are set for July 21-22 and 28-29 and are produced by Las Vegas-headquartered UD Factory that specializes in artist management, concert promotion and show production.
UD Factory CEO Seth Yudof, who co-produces Gordie Brown's new impressions show at Planet Hollywood, is developing new music acts in Las Vegas, as well as bringing globally known artists to the Strip.
A pop culture and fashion icon, CeeLo received five Grammy nominations for his hit "Forget You," winning Best Urban/Alternative Performance. CeeLo also had success as Gnarls Barkley along with DJ-producer Danger Mouse with "Crazy."
CeeLo came onto the music scene as a member of Goodie Mob and released an album, "Age Against the Machine," with them in 2013. In 2015, he released his critically acclaimed solo album, "Heart Blanche."
In addition to his success as a recording artist, CeeLo completed four seasons as a coach on "The Voice." He launched The Green House Foundation in 2012, a nonprofit with a mission to help make "green education" easier and accessible to students in underserved school districts, and penned his first book, "Everybody's Brother," in 2013.