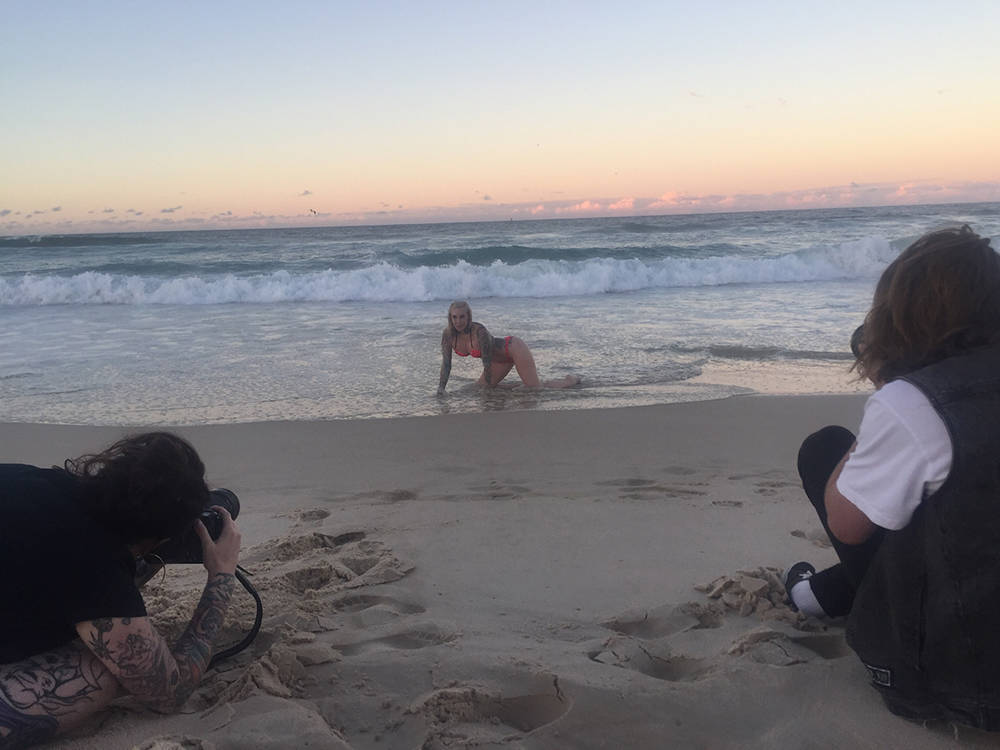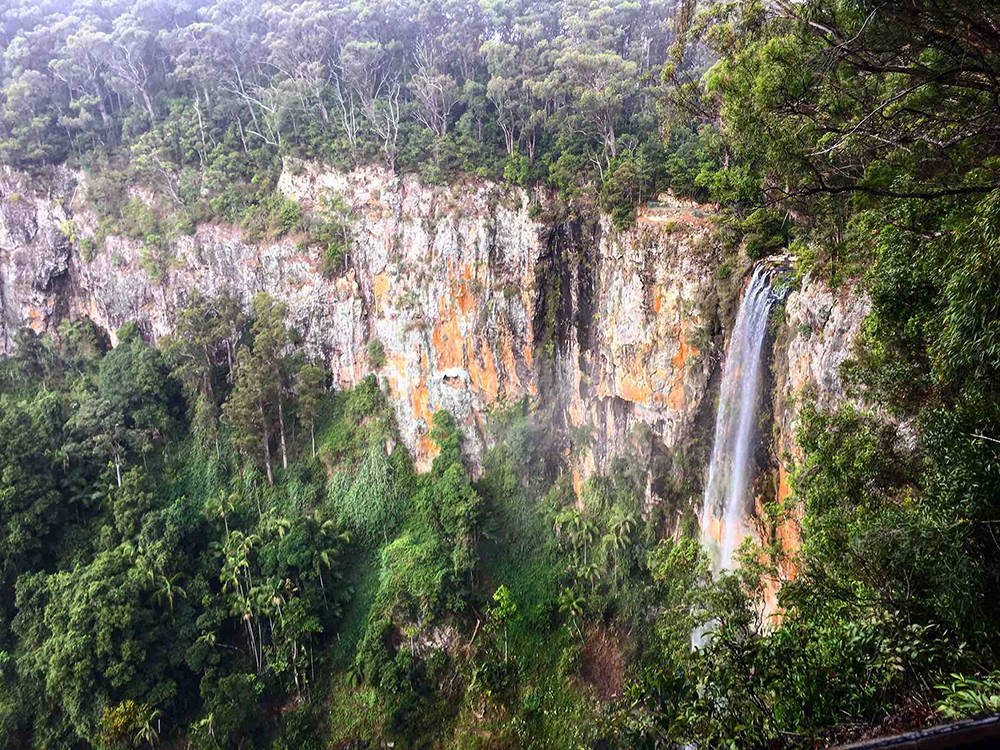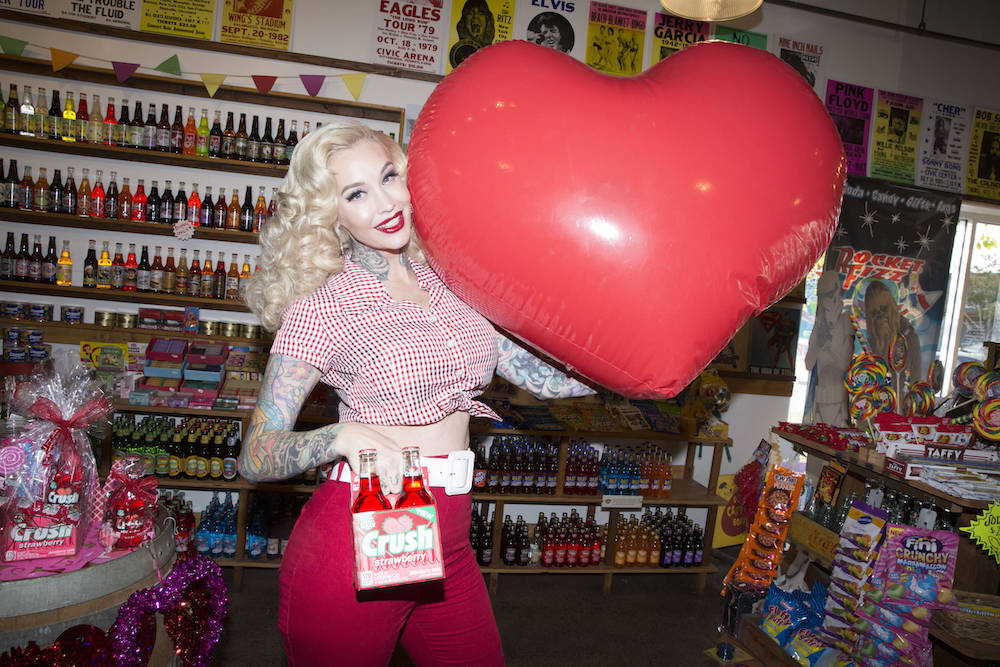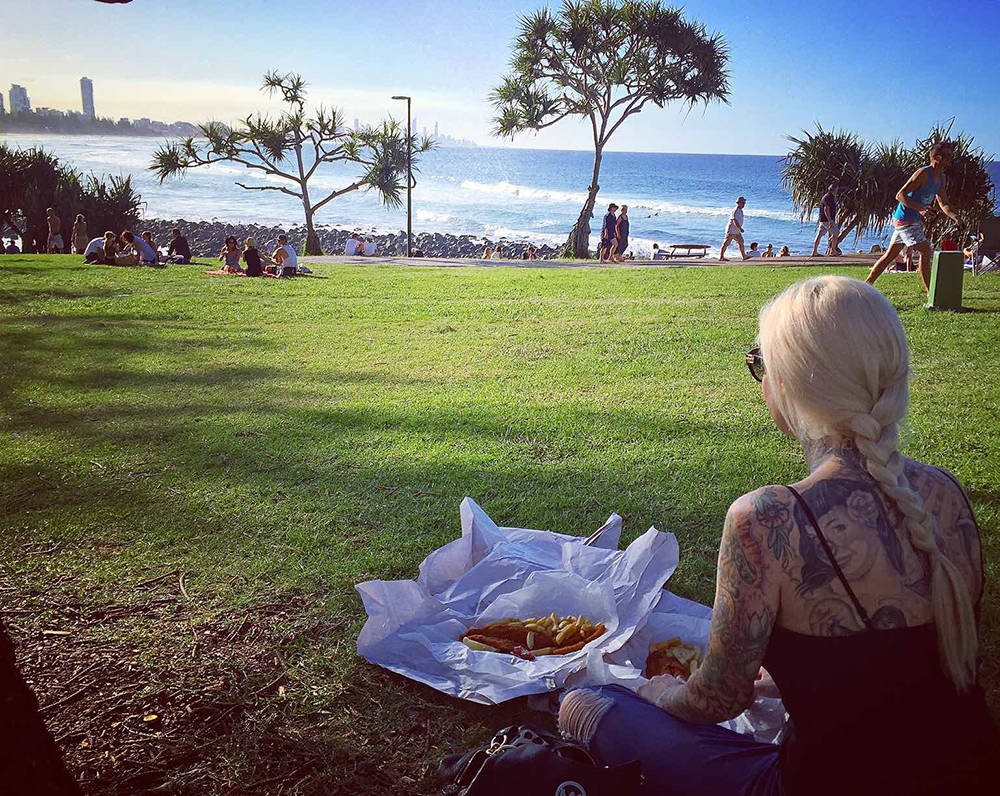 EDITOR'S NOTE: Hope you had a great red, white and blue holiday celebration. It's that time of the year again when Robin takes off for his monthlong family trip to Europe. He arrives today (July 5) on the beautiful Greek island of Santorini and then at the weekend he'll wind up as usual in Italy exploring the delights of Tuscany.
In his absence, a great number of showbiz entertainers, celebrity VIPs, chefs, restaurateurs and Vegas dignitaries have stepped forward to write their guest columns. Today (July 5), we welcome former "Jubilee" dancer and now tattooed glamor pinup princess Sabina Kelley.
Here's Sabina, international pinup model and star of the "Best Ink" tattoo reality series with a fascinating comparison between life in the land Down Under and our Las Vegas desert kingdom:
Hi, I'm Sabina Kelley. I was a judge on the TV show, "Best Ink," and a showgirl who lived in Vegas most of my adult life.
I was a showgirl in "Jubilee" at Bally's hotel for two years. I guest headlined in the show "Limelight" at the Plaza casino, and I guest headlined the show "PinUp" at the Stratosphere for a year. I was the first heavily tattooed showgirl to headline on the Las Vegas Strip. I've owned tattoo shops and a tattoo removal business in Vegas.
I made the decision a little over a year ago to move to Australia. I was going there in hopes for it to be a better place to raise my three kids. I was also going there to live with my fiancé, Nixx, who is Australian. I knew with my job, I could live anywhere in the world, so I was excited to try something new.
I'd traveled to Australia many times for work before I ever moved. I absolutely loved it and was so excited to move there. I had always heard that Australia was 10 years behind on everything, but I never believed it. It wasn't until I moved there, that I saw what that meant.
I moved to the Gold Coast, which is on the east coast of Australia. It has tons of sunshine and is a favorite holiday destination for Australians. It's where Surfer's Paradise is, which is one of the best beaches in the world. I have worked all over Australia doing signings, photo shoots and hosting events. So, I got a taste of the whole country. I went to many of the destination spots like Bondi Beach, Steve Irwin Zoo, and am hoping to make it to the Great Barrier Reef.
Australia is a wonderful country and is a great place to raise kids. The people are warm, friendly and genuine. It has the most beautiful beaches in the world and some of the most gorgeous outdoor hiking areas. Most of the Australians I met, couldn't believe I would be in Australia when I could be in America. Many of them think America is the best place in the world, even if they have never been there.
The kids' schools are a lot more laid-back than the Vegas schools. The kids do not have as much homework, but they do have to wear school uniforms. I would never have wanted to do that as a kid but it is actually a great thing. It puts all kids on more of an even playing field.
Driving on the other side of the road, on the other side of the car was the hardest thing to adopt. Then learning all the new foods and where everything is that I wanted was the hardest part of settling in. Not having Mexican food killed me, lol! Everything is different, even the candy.
Australia is definitely a slower life. It also does not have the energy and vibe of Vegas. Vegas with all its lights, glitz and glam is like no other place in the world. You either love it or hate it, and I LOVE IT! I have tried to leave it a few times and I always end up back there.
We are so spoiled in Vegas, and being away from it made me realize how lucky I was to have lived there. Everything is open 24 hours a day, unlike the Gold Coast where most places close around 6 p.m. Everything is more convenient and at your fingertips. In Australia, your options are very limited and things are a lot more expensive.
Being in the entertainment industry, showbiz and TV opportunities in Australia is rare. I feel like Vegas has a lot more opportunities for everything. Even tattoos are looked at differently here. In Vegas, tattoos are a lot more acceptable. On the Gold Coast, I am not allowed in any bar or allowed on the casino floor, because I am heavily tattooed. Which to me is discrimination just because I have tattoos it does not make me a bad person.
I've traveled the world and have lived in numerous states in the USA, I have lived in Paris, France and now in Australia, and I honestly have to say there is no place like home. I don't regret moving to Australia, because I learned so much about myself, and it made me appreciate everything I had in Vegas so much more. But I do I miss my family, friends, food, work and the Vegas life.
I can't wait to be back in Vegas at the end of the year! With my new found respect for it, I'm ready to jump back into a Vegas show and national TV programs. Look out, I'm ready to take Vegas by storm again!
Congratulations to Sabina on her marriage next week to fiance Nick on an island retreat in Thailand. Tomorrow (July 6), our guest contributors are comedians Dana Carvey and Jon Lovitz from "Saturday Night Live," the new Mrs. Nevada beauty queen Stephanie Barrett and nightlife guru Marc Jay.