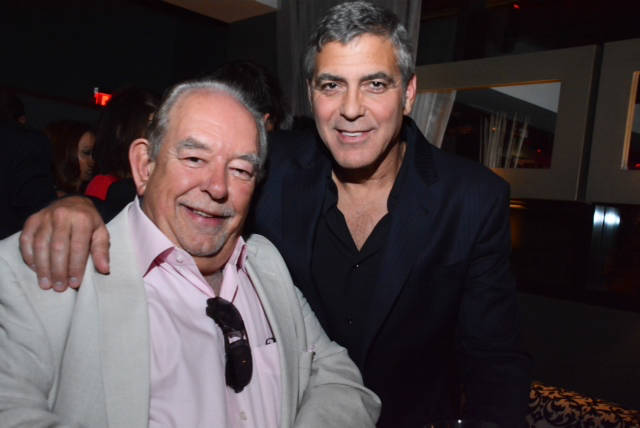 Las Vegas author Wayne Allyn Root is becoming such a radio sensation it may well lead to a TV reality show! His WAR radio show went national on the USA Radio network just two months ago after launching here solely in Las Vegas. Ratings exploded, and as of today he's already grown to four other Nevada markets and an unheard of 25 major markets with listeners on the East Coast, Chicago and Texas. A Reno station joins the lineup this week making Wayne's show the only Nevada statewide three-hour talk show.
Tomorrow,(June 22) is the soft debut of his new national TV talk show on Newsman TV and studio crews have set up cameras in his Henderson for the broadcasts. While he's doing that show TV producers from Los Angeles are flying in to discuss a reality TV show on his life to be titled "Talk Radio Star." Wayne already has a reality show he created called Sin City Justice on cable and it's now topped 1 million viewers a week.
He told me: "I am a relentless street fighter and hustler from the rough streets of New York. That attitude got Trump elected president. It works in any field. You gotta out work, out hustle, out fight and out believe everyone else. I just proved it works in radio biz too. I have a battery on my shoulder and I dare you to knock it off. So, here I am. My views appeal to 63 million Trump voters. All of them like my dad, the butcher. Middle-class Americans are tired of being abandoned, targeted, lied to, stolen from by government and the politicians. Like President Trump, I speak for them. I knew my show would be a hit, I just didn't know it would happen this fast."
• $BILLION SALE: Nobody guessed that George Clooney's Casa Amigos tequila company was worth a cool $1 billion — not even the superstar himself. George and partner Rande Gerber who is married to Cindy Crawford launched the brand with a party at Steve Wynn's wife's restaurant, Andreas in the Encore, back in 2013. "If you asked us four years ago if we had a billion-dollar company I don't think we would have said yes. George commented today when news of the sale to the British spirits company Diageo was made public. He plans to stay with the brand helping with its sales and marketing.
• LIBERACE SHOW FOR BROADWAY: The production process went much longer than producer Barbara Sickmen wanted, but now finally her Liberace musical will get its world premiere on Broadway's Theater Row in New York City in early August. The production has already been hailed by Broadway World: "Ben, Virginia and Me: The Liberace Musical" is a fascinating tale of love, ambition, optimism, truth, friendship, strength and redemption. "It has been selected by the New York Musical Theater Festival to get a four-performance showcase starting Aug. 2-. It tells the story of Liberace's relationship with gangster Bugsy (Benjamin ) Siegel and his long, skinny-legged girlfriend Virginia Hill, who he named the Strip resort the Flamingo from her nickname.
The New York Music Festival describes the show as: "Sometimes, too much is never enough! Before Liberace entered the world of glitz and glamour, the legendary showman crossed paths with history's most notorious gangster and his girlfriend, forming a unique bond. Featuring a lavish original score, this world premiere musical explores the phantasmagorical life of the iconic performer and his nearly career-shattering struggle to maintain privacy with respect to his sexual orientation. Friendship, love and the quest for redemption play out for one of showbiz's most unique trios in the telling of this remarkable story."
The play which is packed with drama, fantasy and romance runs two hours and you can get an advance listen to some of the lush original score at www.nymf.org. My favorite? "George Pour the Champagne" – obviously!
• 37 DOWN 37 TO GO: The World Series of Poker has reached the halfway mark at the Rio. Of the 74 events on the slate, 37 have now been accounted for with 61,616 players, which is up slightly from the 60,677 recorded at this point in last year's record breaking numbers. It's not an accurate apples-to-apples comparison because of event and date changes, but to date the 48th annual WSOP is up 1.5 percent, which tracks to exceed the 107,833 participants who set a record last year. Players from 97 countries have already taken part and $81,480,871 has been awarded in prize money for the 37 games played so far.
• BEING RICH: Tonight, (June 21) I'm going back in time with Bravo cable TV network host Andy Cohen to discuss how the rich spent their money in the 80s. Andy's new "Then & Now" show with this "Being Rich" episode airs at 10 p.m. coast to coast. It's a unique and entertaining analysis of pivotal years in news and pop culture. How gilded mega mansions back then created today's high-tech minimalist homes, the Dynasty scripts helped create the Kardashians and how pricey plastic surgery of yesterday influenced today's anti-aging treatments. Celebrity guests include Susan Lucci, Gayle King, Amber Rose, Carson Kressley and the Real Housewives of New York, Beverly Hills and Orange County. In the year of excess, one interesting factoid came to light in Andy's interview with Joy Behar. It was President Ronald Reagan who was first to coin "Make America Great Again." And he even had a Trump-like baseball cap made with that slogan!
• RETIRED SIGNS: Several of the iconic signs from the property-wide modernization of the Palace Station are being retired and donated to the Neon Museum. Palace Station was the first casino in the Station Casinos portfolio. The train theme which has been used for 30-plus years dates back to 1983. The train itself, is a sheet metal sign mounted on a steel frame for display and has fiberglass wheels. Its 17 feet tall and 8 feet wide and weighs a whopping 1,800 pounds. The letters that make up Palace Station measured some 50 feet in length. P & S stood 5 feet, 5 inches tall; where as the PALACE STATION letters were only 4 feet 4 inches tall. The letters were lit up by 322 linear feet of exposed neon and 975 cold cathode lamps that in 2008 replaced the original incandescent lamps. They will all be unveiled tomorrow (June 22) in their new home at the Neon Museum gallery by longtime team members from Station Casinos who have 30 or more years of service.