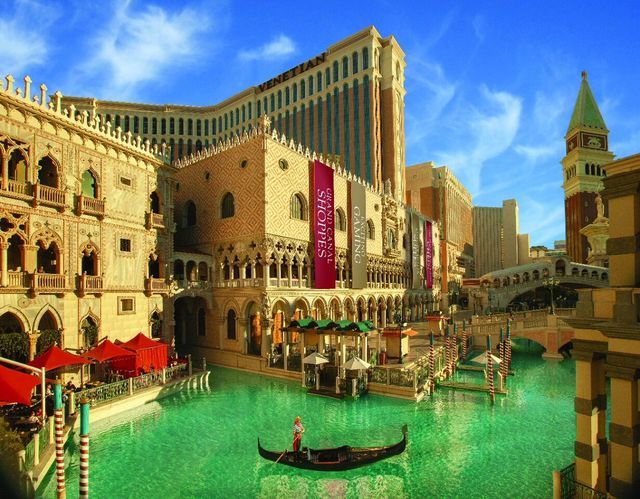 Editor's Note: After a glorious nearly month-long family vacation in the Italian and Sicilian countryside, Robin Leach is back and starting his new daily columns today with exclusives from the 2016 Miss Teen USA Pageant and Flamingo headliner Donny Osmond.
We'll continue his guest columnists through the month of August while Robin works from the cooler climes of La Jolla near San Diego. Today we welcome magician Murray Sawchuck from Sin City Theater at Planet Hollywood and gondolier Giovanni Adamo at The Venetian.
Those boats direct from the canals of the real Venice in Italy have become a tourist attraction in their own right, so much so that there's now a Gondolier University for visitors who would like to stay here for the job of rowing along The Venetian's Grand Canal. Here's Giovanni:
By Giovanni Adamo
Ciao a tutti! (Hi, everyone!)
My name is Giovanni Adamo, and I am living my dream job as a gondolier extraordinaire at The Venetian Las Vegas. The No. 1 question guests ask me and my fellow gondoliers as they glide down the picturesque Grand Canal at The Venetian is, "How can I become a gondolier?" Today, I am going to fill in Robin Leach's readers on the answer, but, before I do that, I want to tell you a bit about myself and how I was destined to become a gondolier.
I was born and raised in the San Polo neighborhood of Venice situated on the world-renowned Grand Canal. My hometown was built on the water. When I was little, my father took me on the water to learn how to row, as this is part of life in Venice. I grew up on the canals of Venice, where the traditional way to communicate with each other on the water was through singing as we navigated through the high-traffic canals to prevent crashes.
Venice is one of the most important tourist destinations in the world for its celebrated art and architecture, including The Grand Canal. There was a time when residents depended on the gondola for transportation, though these days it's mainly for tourism. In Venice, the best way to see the city's landmarks is on the water. Many people dream of becoming a gondolier in Venice, as this profession immerses you completely in the beauty and history of our city.
Being a gondolier at The Venetian is a highly coveted job, as well. I've been a gondolier at The Venetian for nine years and am truly lucky to be able to share the romance and magic of The Venetian with guests as they visit our magnificent property. It's a breathtaking perspective to experience our property from a gondola, and there's a real sense of community with fellow gondoliers as we share enchanting spots and stories on The Grand Canal with guests.
Venice is one of the most romantic cities in the world. In Venice, it is tradition to kiss under the bridge, and I love to encourage moments like that on the gondolas at The Venetian. It's one of the top spots in Las Vegas for wedding proposals, where on my gondola the bride-to-be always says yes!
I may make it look easy to glide down this picturesque gondola while serenading my guests, but a lot of hard work and experience goes into creating this magical experience. I've been rowing for decades, and it takes careful attention to detail and experience to steer a narrow gondola down the canal. You not only need to become an expert on controlling the gondola, but you also must pass a series of performance and singing auditions, as well as physical and safety tests.
Yes, my incredible Italian charm, humor and wit surely help, but I must share information on a program that showcases other important skills that it takes to get to my level. While hundreds ask how they can earn their stripes, only a handful receive them. Through a new program called Gondola University, The Venetian offers a behind-the-scenes look into the gondolier program and provides guests an unforgettable experience during their trip to Las Vegas.
Participants of Gondola University learn the history of Venice, the city famous for its aquatic transportation and the inspiration for The Venetian. They also will learn the ins and outs of the gondola before going through "Rowing 101," the hands-on experience where participants will row their own gondola. The experience ends with a sash-and-scarf ceremony where participants earn their gondolier name and complete their gondola degree.
Gondola University is in session from 8 to 10 a.m. daily. Enrollment begins 24 to 48 hours in advance of class and costs $199, plus tax, which includes a gondolier training shirt and hat, photo and certificate. Students must be age 16 or older. To ensure the best learning environment, class sizes are limited to nine students per day. Prospective students can call (702) 414-1000 and visit Venetian.com for more information.
Tell them Giovanni sent you. Ciao!
Be sure to check out our exclusive Donny Osmond and 2016 Miss Teen USA Pageant stories, plus our other guest column today from Planet Hollywood headliner magician Murray Sawchuck. On Tuesday, we start Chef's Week with several of our Strip's leading culinary kings and queens.