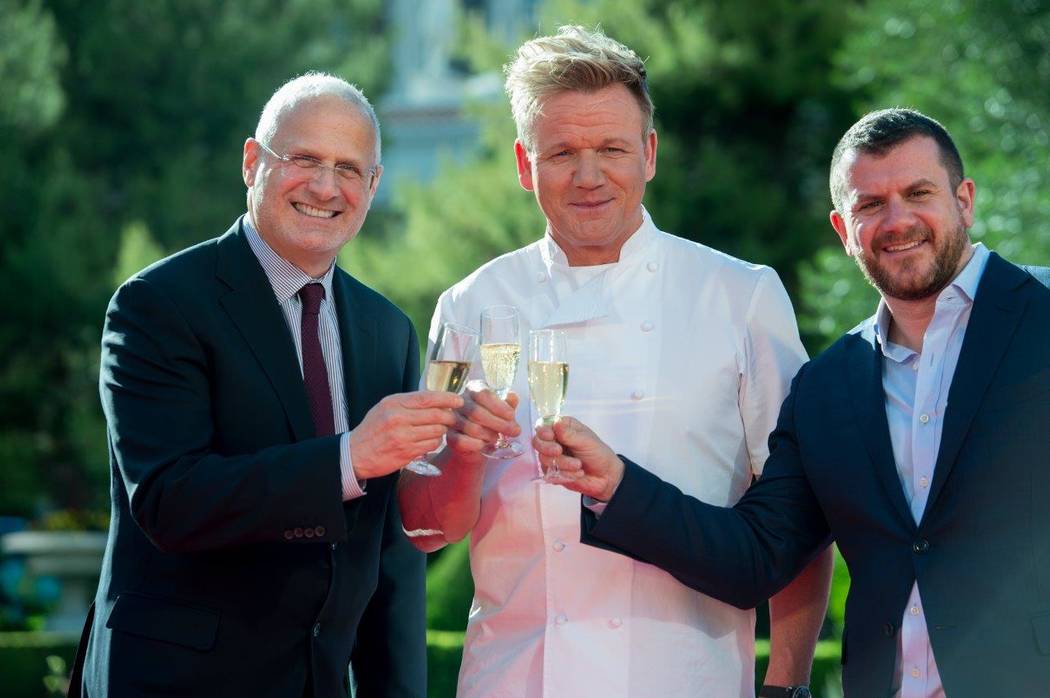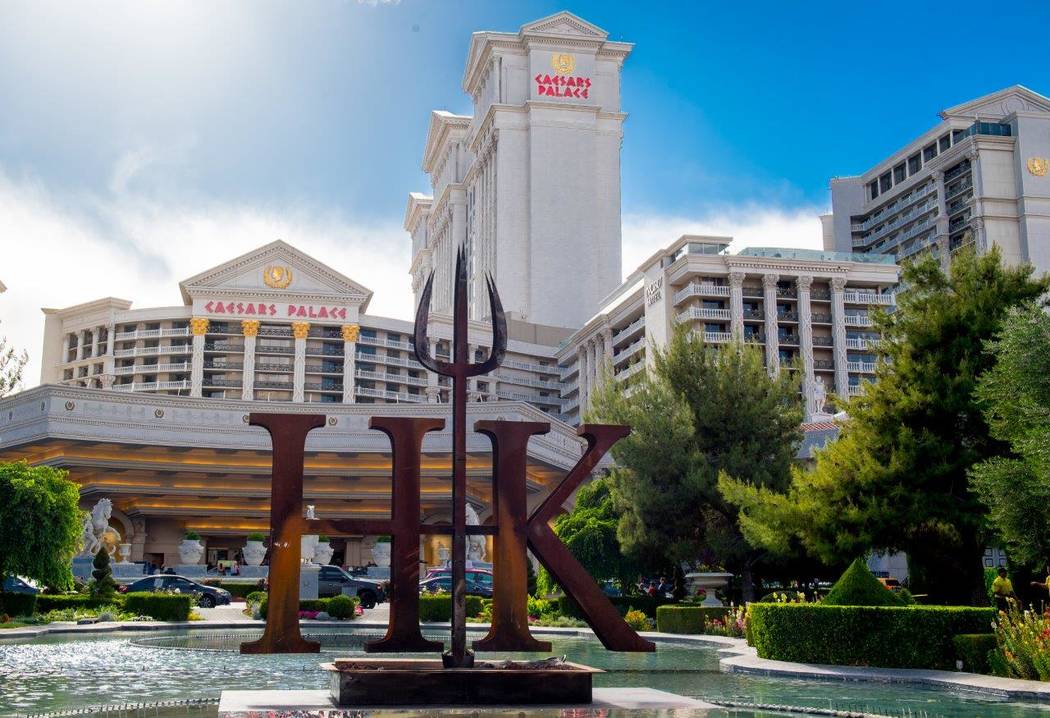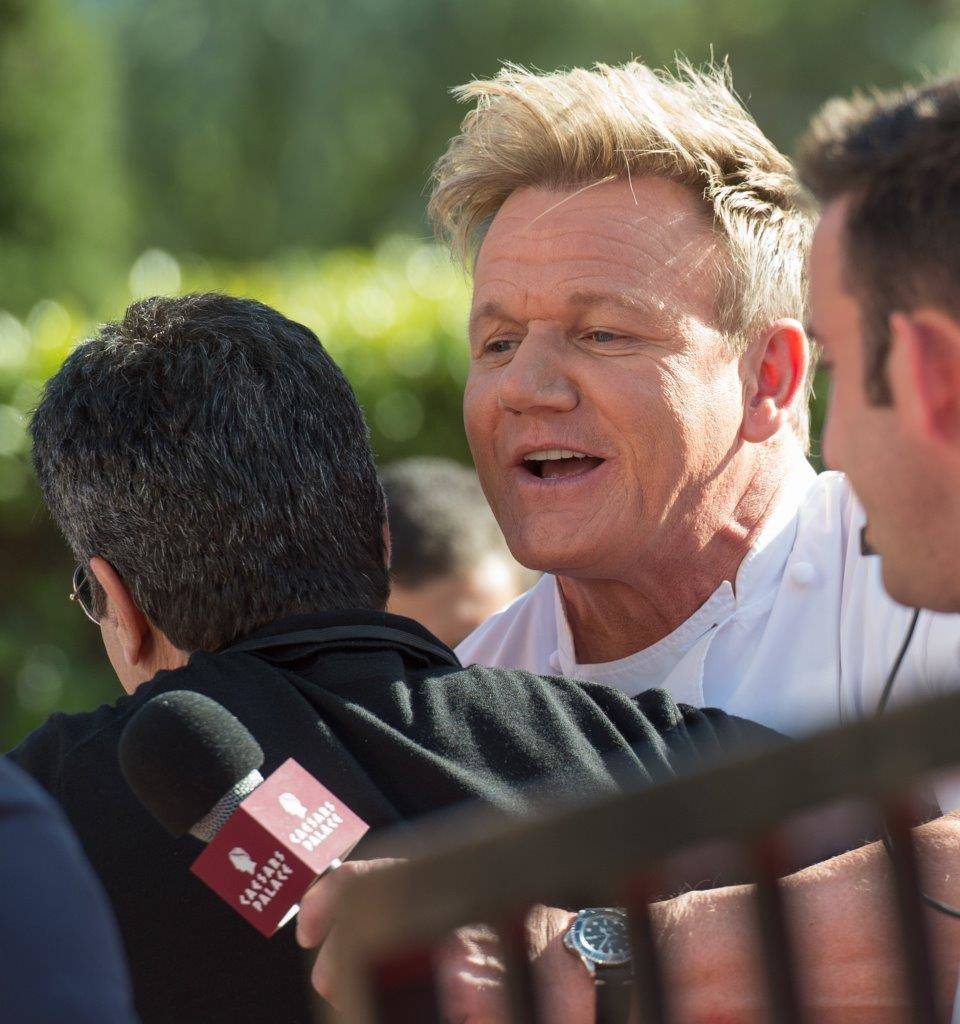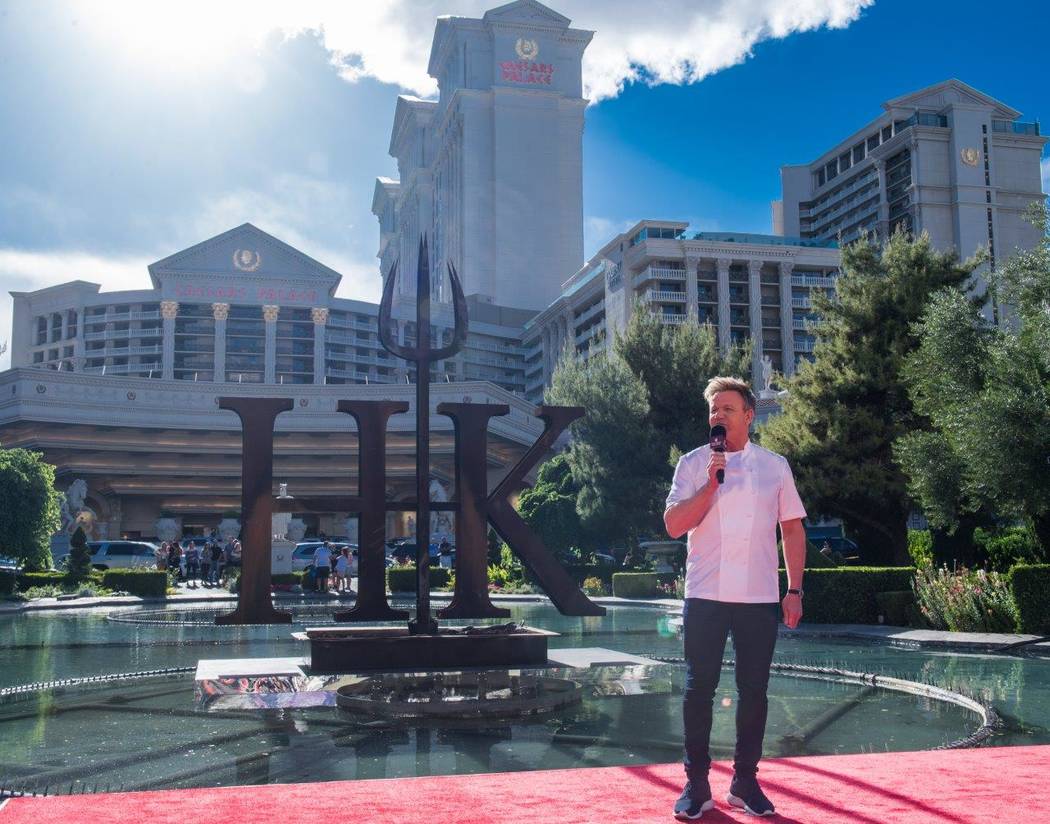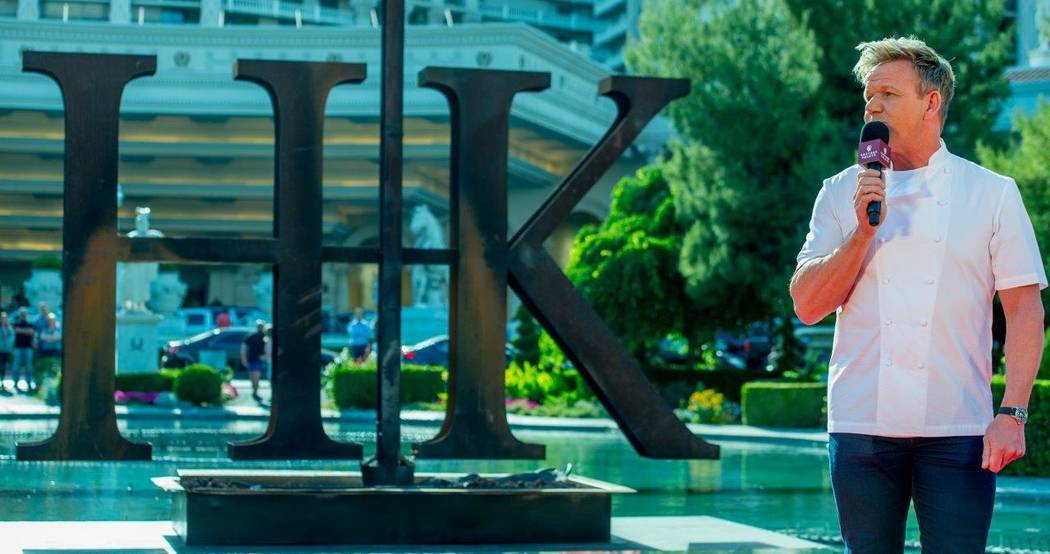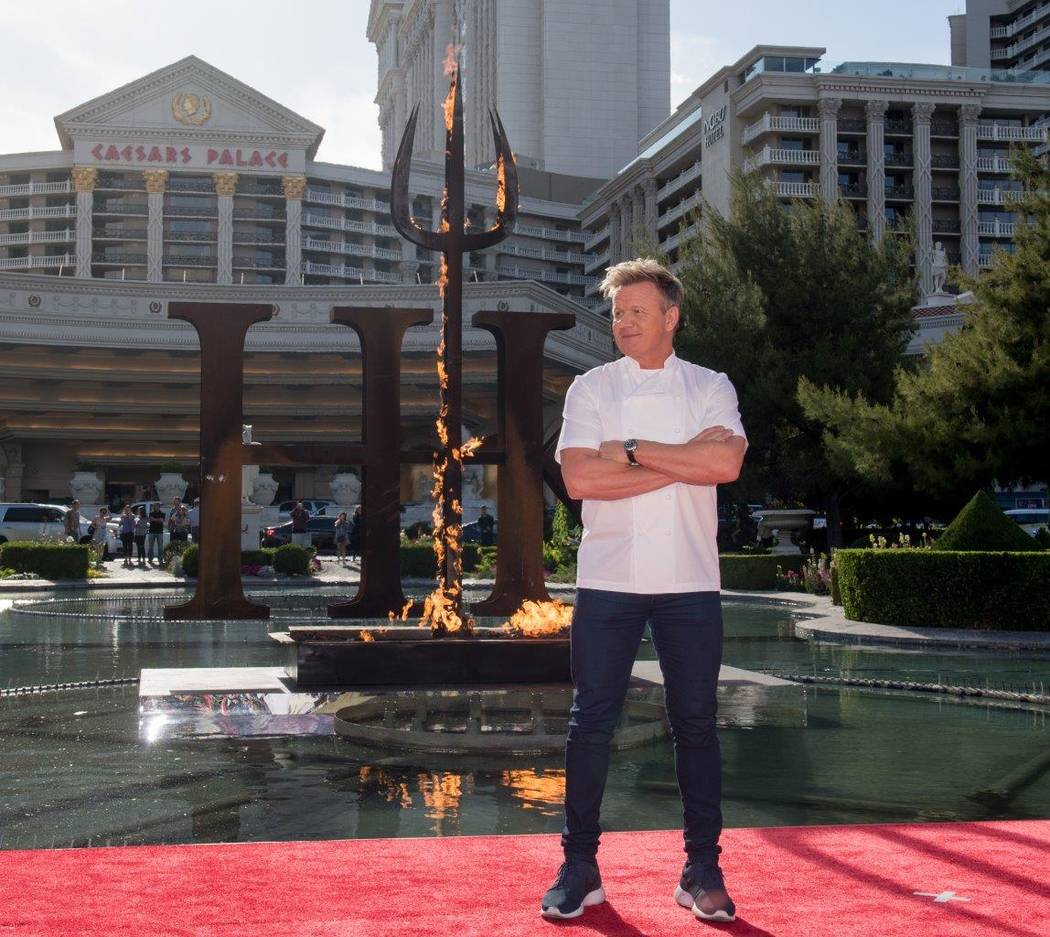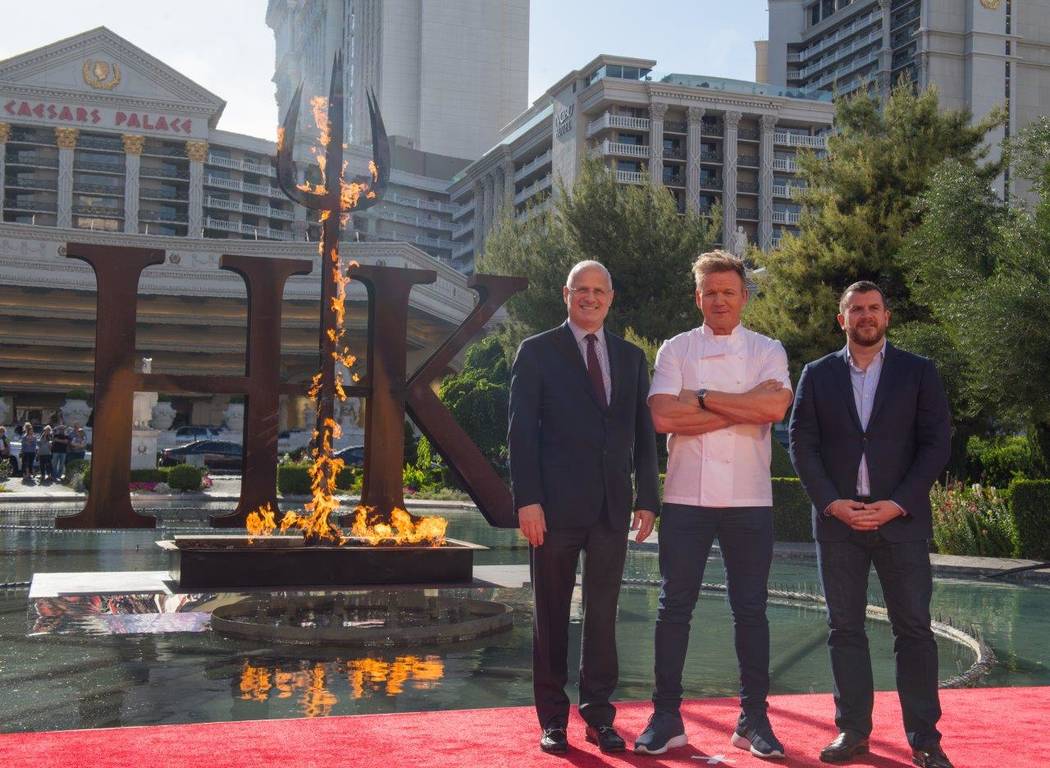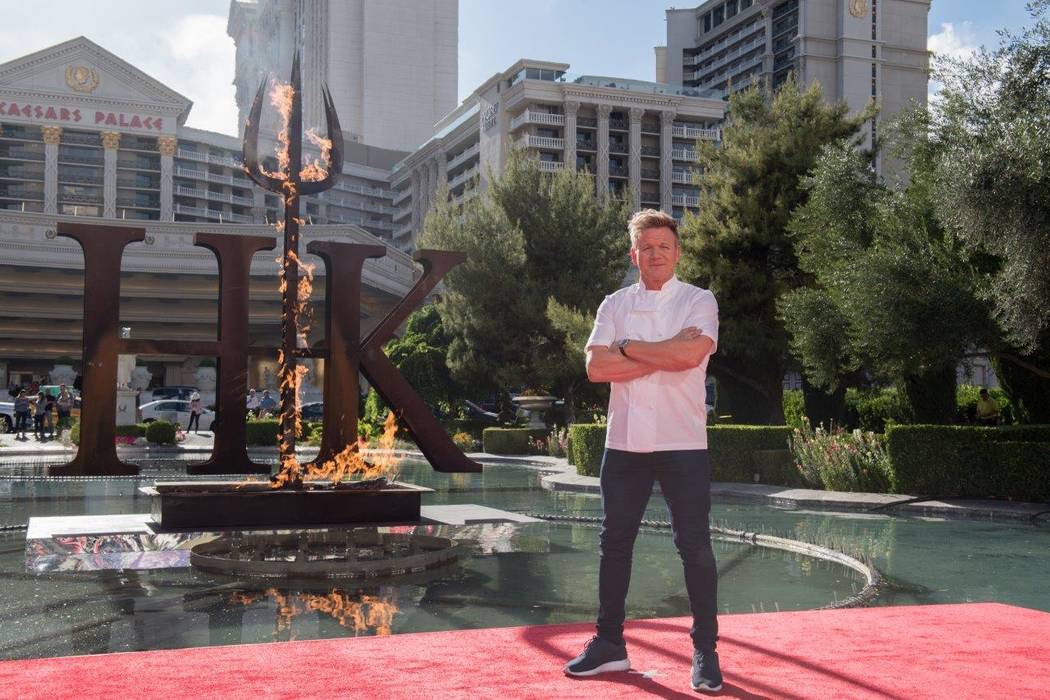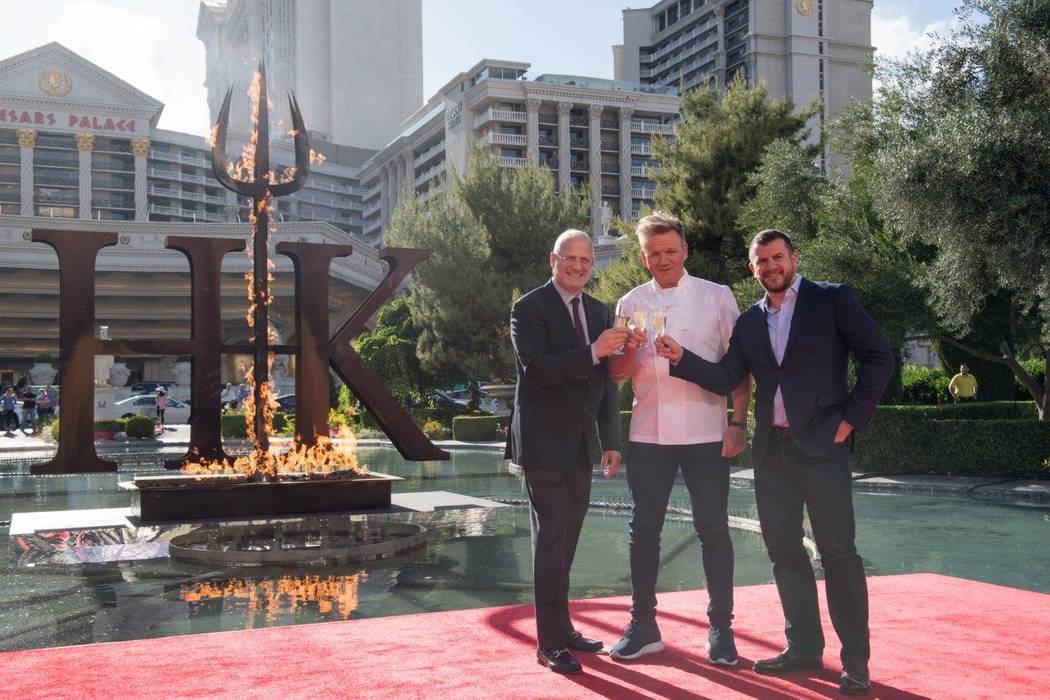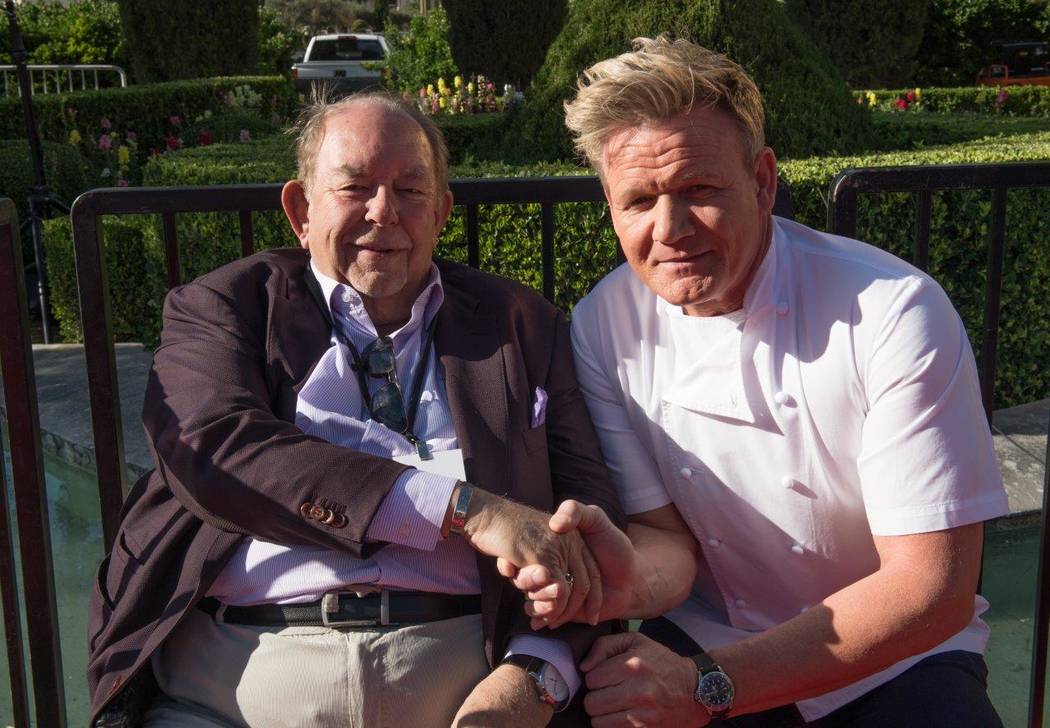 The most exciting news from the culinary world in recent days — and announced just minutes before The Grand Tasting at Vegas Uncork'd on Friday afternoon — is that fiery and celebrated multi-Michelin star chef and TV personality Gordon Ramsay has revealed his plans for the first-of-its-kind Hell's Kitchen theatrical dining restaurant.
It will be Gordon's second eatery at Caesars Palace and his fifth in Las Vegas, following Gordon Ramsay Steak at Paris Las Vegas, Gordon Ramsay Pub & Grill at Caesars, Gordon Ramsay BurGR at Planet Hollywood and Gordon Ramsay Fish & Chips at The Linq Promenade. He also is about to start a new TV series and is getting ready for Season 17 of "Hell's Kitchen" on Fox.
To mark the announcement of a hoped-for Dec. 8 opening, Gordon ignited the reality-TV competition's 17-foot signature pitchfork set up in the center of Caesars' fountains and transported directly from the Hollywood set of the long-running hit show.
Guests will feel as if they are eating at the studio as a result of the masterful redesign of the current Stripside Cafe & Bar, formerly Serendipity 3, by Jeffrey Beers International. Gordon told me that Season 17 will air during the 2017-2018 season. The design features are a nod to the red and blue teams on the show with the bustling kitchen the centerpiece of the restaurant.
"Fans of the show have been asking us to bring a Hell's Kitchen to life since Day 1, so I'm thrilled to finally be doing it here at Caesars Palace," said Gordon. "A key element of the show's success has always been the diners' experience, so we are excited for guests in Las Vegas to feel like they, too, are part of the show — flames and all."
The new venue is situated directly on one of the busiest corners of the Strip at Flamingo. It will seat nearly 300 guests, feature indoor and Strip-adjacent patio dining and offer a daily themed brunch, dinner and bar menu. Many signature dishes and chef cast of recipes and dishes from the show will be featured. Millions in 41 countries watch the show weekly.
Gordon told me that he planned to rip up the floorboards before leaving town at the end of Vegas Uncork'd, but full construction of Hell's Kitchen will begin this summer for his expected Dec. 8 opening date. Diners can expect to see Gordon at full throttle with the pots and pans.
Here's an example of Gordon uncensored in "Hell's Kitchen." Be forewarned that this contains adult language and distasteful insults that may well be offensive to viewers and is definitely not recommended for family viewing!
How on earth are you going to do a TV show without using that four-letter word that begins with an F?
F*ck knows! I'm begging for a 7-second delay. Next month we go live at the end of May with the ultimate variety food show called "The F Word" on Fox, and I'm begging for a 7-second delay.
Is 7 seconds long enough for the censors? You have a stream of them!
F*ck knows! It depends how bad the position is, but here's the thing, Robin. I'm a passionate individual. There's not any chef in the world they'll admit not to lying when the sh*t hits the fan. The good news: I've found alternatives for those naughty words. So the word sh*t will be replaced by shiitake. The F-bomb will be replaced by fructose unless … there we go.
But Hell's Kitchen, here is the best position in the entire universe, the busiest corner in the world. Listen, the pressure's on, you know? I need that pressure — that's what keeps me alive. This is big-time pressure.
Las Vegas lands the first Hell's Kitchen. Are you going to do more than one of these?
I want to get one right first. There's already been requests, like Singapore and elsewhere in Asia. Let me focus on one and get one right. You know, I see Las Vegas now as a second home. The amount of times I'm here, last year, just in one year alone, I visited here 17 times.
I spend more time with Las Vegas than I do with my kids, and the kids love it here, as well. I would like to move here, especially for tax purposes.
With the red and the blue teams at war in Las Vegas, you'll have two lead chefs who basically wind up not killing each other. You kill them. How do you do that and sell food in a restaurant?
Let's get straight to the point. I think when it's $10, $20, $30, $40 for an appetizer and entree, you can't send out substandard food. It's just not going to pass. This is a live scenario where if it hits the fan and we go down, then we've got to get ourselves out of that mess.
That's why it's a remarkable position to be in — the fight back for me is the more important lesson rather than just hitting perfection every night. That comeback is so much more important for me. So, yeah, I'm going to call it as it is.
But if you're unhappy, will you whack somebody around the face with a fish?
I may toss or throw something I'm not very happy with — I've smashed the odd plate, the odd salmon, I've smashed the odd glass. I don't know. Come and sit in the kitchen. We're going to have chef's tables in there, as well, and, just like in L.A., there will be blinds where you walk between kitchens and see chefs cooking literally inches away from you without them knowing you're there.
It's theater, right? You have shows from Cirque du Soleil to "Love" to the most amazing musicals now. Food is going the same way. This is going to be a $15 million buildout just for the theatrics, and then the cameras and the facility itself. We're going to be spending a lot of money in there to build this thing out.
So you will shoot shows in there, as well as it being a new approach to dining?
My dream, Robin, is to shoot the "Hell's Kitchen" finale and to put the challenges in there and make it even more real. What a place, and what a platform. Look, you come out the front door of Caesars Palace, and you've got one of the most iconic restaurants anywhere in the world that's easily recognizable with Hell's Kitchen.
This really is a dream come true. I'm a big fan of Caesars and Las Vegas. We couldn't ask for a better location in a better city. It's going to be the most exciting thing I've ever done. We've wanted to do this ever since the show began, and now it's finally happening.
It's going to be a totally different dining experience to anything anybody has ever had before. You'll come in the kitchen with me in the days beforehand just before we open. But I warn you: Fructose anything up, and you're going right out the front door!