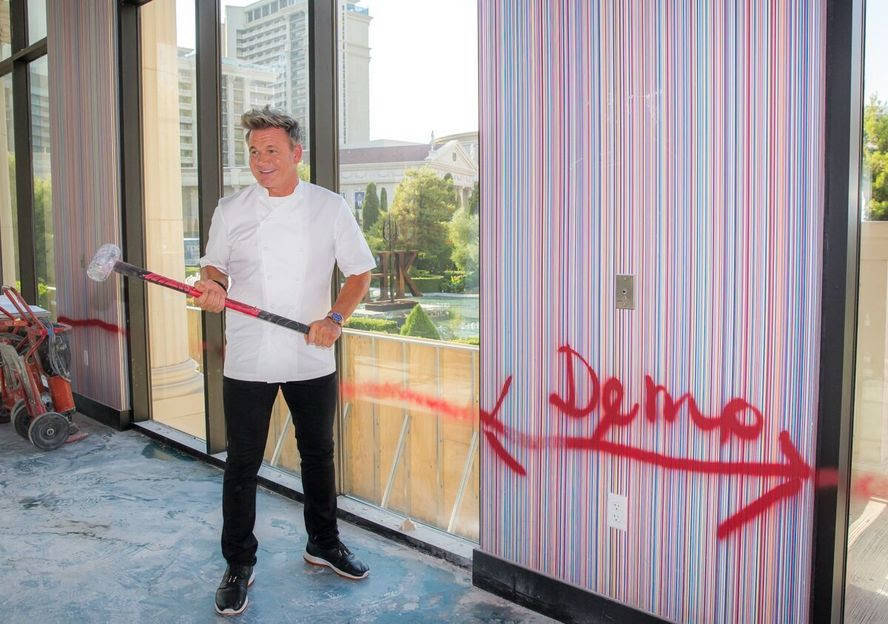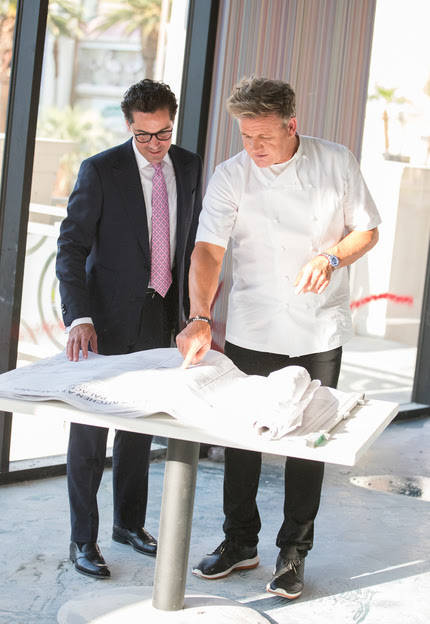 Proving he's as skillful at wielding a sledgehammer as he is with a frying pan multi-Michelin star chef and Emmy-nominated television personality Gordon Ramsay helped out with some demolition work at the site of his newest restaurant outside Caesars Palace. Scheduled to debut at the center of the Strip and West Flamingo Road this winter, Gordon Ramsay Hell's Kitchen restaurant is the first eatery inspired by a global hit television show.
Designed to be an experiential and immersive destination, the high-energy restaurant and bar will take its cue directly from the eponymous FOX prime time TV hit seen worldwide by millions of viewers. It will shine the spotlight on many of Hell's Kitchen cast/chef recipes and dishes featured on the show, including many of Gordon's signature dishes.
The restaurant will be designed in similar fashion to the TV hit and serves as a nod to the red and blue teams featured on the show. The dynamic and bustling kitchen will be the centerpiece of this unique eatery and seen from every seat in the house.
The Hell's Kitchen restaurant will seat nearly 300 guests, feature indoor and Strip-adjacent patio dining and will offer a daily themed brunch, dinner and spirited bar menu. It marks the celebrity chef's fifth Las Vegas restaurant extending his successful partnership with Caesars Entertainment.
Known worldwide for highly successful and award-winning original programming, the Emmy-nominated chef produces TV shows on both sides of the Atlantic, including his FOX shows "Masterchef," "Masterchef Junior,"" Hell's Kitchen" and "Masterchef Celebrity Showdown," plus Bravo's "Best New Restaurant" and Food Network's competition series "Food Court Wars."
In Britain he's produced "Gordon Ramsay Behind Bars" and "Gordon Ramsay's Great Escape," the food biography and nostalgia series "My Kitchen," two instructional cookery series, "Ultimate Home Cooking" and "Ultimate Cookery Course" and the first two seasons of "Matilda" and the "Ramsay Bunch," all under his One Potato Two Potato banner.
His next-generation multimedia production company Studio Ramsay has a joint venture with All3Media to develop and produce unscripted and scripted television shows, creating new formats and innovative programming that includes a scripted arm focused on food-related themes and development of new talent on a global front.
Gordon has worked with All3Media via his One Potato Two Potato, on the live original "The F Word with Gordon Ramsay," airs live on Fox TV. Its first daytime cooking series, "Culinary Genius, premiered this spring on British TV and began syndication on FOX stations in America premiering Aug. 7 while his new documentary series in England will premiere this fall. Seasons 3 and 4 of "Matilda" and the "Ramsay Bunch," starring Tilly Ramsay for the British's children's channel are also produced by Gordon's studio.
In all, the chef, restaurateur, TV personality and author employs more than 700 people in London where he has a collection of 14 restaurants. His group has a total of 31 restaurants globally and seven Michelin stars with international restaurants from Europe to America and the Middle East
……
A Las Vegas visitor turned a stop at the Fremont into an $11.8 million payday when he hit the International Game Technology Nevada Megabucks slots jackpot.
Rodolfo T. hit the jackpot at the iconic Boyd Gaming entertainment property in the heart of downtown in the center of the Fremont Street Experience. Rodolfo made a max bet wager on the Megabucks Double 3X4X5X Pay game to win the life-changing jackpot. His win marked the largest jackpot awarded on the Megabucks theme this year.
"The Fremont has awarded many thousands of jackpots throughout its 60-year history in Las Vegas, but none quite like this," said Jim Sullivan, vice president and general manager of the Fremont. "We're incredibly excited to be a part of this amazing jackpot, furthering Fremont's longstanding reputation as a place where players win."
……
Latin pop superstar Ricky Martin is giving one lucky fan, and a guest, to go #ALLIN at his Las Vegas show this September to strengthen his foundation's charity mission.
Starting today, (Aug. 16) Ricky invites his fans to visit prizeo.com/rickymartin and make a $10 donation to receive 100 entries for the grand-prize opportunity to meet him at his Las Vegas show on Sept. 19 at the Park Theater at the Monte Carlo as his VIP guest. He's including round-trip airfare and hotel accommodations for two.
This will benefit the Ricky Martin Foundation, a public charity that denounces human trafficking and educates about its existence through global awareness, academic research and community initiatives, anchored in the defense of children's rights. The Ricky Martin Foundation was inspired by Ricky's 2002 trip to India, where he rescued three girls about to be sold into prostitution — one of the ugliest aspects of this modern scourge.
"Ever since witnessing this heinous crime and helping to support the girls in India, my aim has been to eradicate human trafficking," Ricky said. "I'm so grateful to galvanize support for this important issue and meet one lucky fan who also cares about making this world a better place for everyone."
He recalled the incident that changed his life: "These minors were going to become victims of human trafficking, also known as modern slavery." After the trip to India, he created the Ricky Martin Foundation, a leading voice in denouncing and exposing human trafficking internationally. The foundation focuses on education, prevention and academic research, as well as maintaining a presence in international forums and influencing public policy.
Today, approximately 45 million people are victims of human trafficking, of which millions are children. It is the second most lucrative crime in the world, generating $150 billion dollars annually. No country is exempt. The fight to eradicate human trafficking is one of the most pressing problems facing society today and the Ricky Martin Foundation as a public charity continues its tireless efforts in education and prevention about this heinous crime,
His campaign runs from Aug. 16 to Sept. 8 at prizeo.com/rickymartin. To learn more visit, www.rickymartinfoundation.org.
……
We'd be remiss if we didn't make mention that today (Aug. 16) marks the 40th anniversary of the day that Elvis Presley "left the building" when he died at his Graceland mansion. The impact he made not only on the Las Vegas entertainment scene and the national music industry remains immeasurable. Despite the closing of Cirque du Soleil's Elvis show and the Westgate's museum exhibition space, his image lives on with numerous impersonators, wedding chapel escorts and lounge performers.
Last night's (Aug. 15) candlelight memorial in Memphis brought out thousands of fans — some from as far away as Chile in South America for the vigil proving his fame is still very much alive and well. Elvis remains the third-highest-certified music artist in the U.S. with over 136 million album sales.