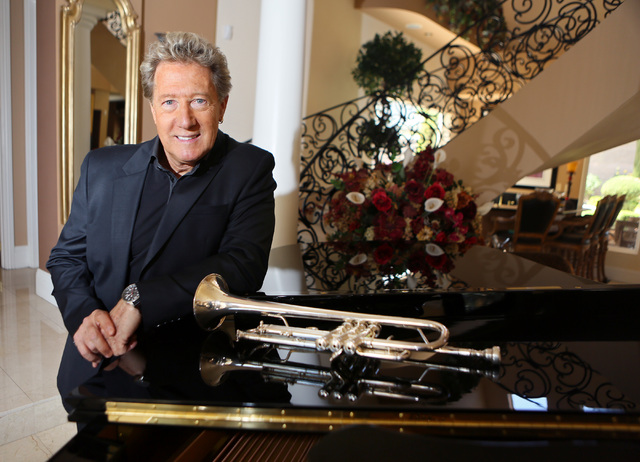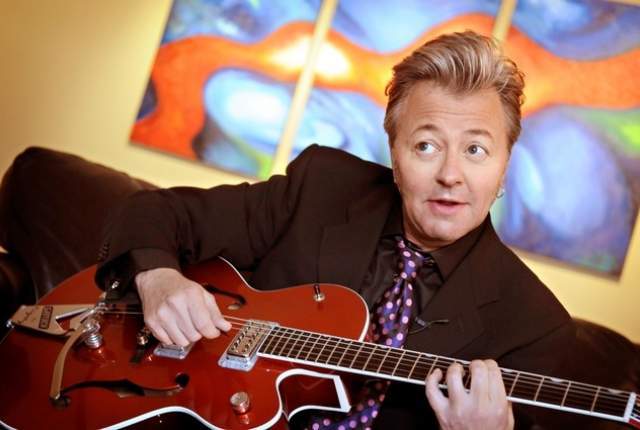 Two artists who couldn't be further apart in their musical presentations and temperaments glow under the weekend spotlight, and if you do a double take with their names and say, "Who?" it's not going to be held against you.
Greg Bonham was raised on a sheep farm in Australia, yet has made it all the way to Las Vegas to star in his dynamic show at The Smith Center for the Performing Arts for a second time — en route, he has sold a staggering 14 million records in Russia.
Greg has thrilled audiences from London and now to Las Vegas with a polished, high-energy performance that's tempered by a quiet confidence and Aussie charm that sets him apart. Greg combines his powerful voice with superb trumpet playing in a performance of original songs that justifies the country boy's title of international headliner in the bright lights.
"I was born and raised on a sheep farm in the Aussie Outback, and I wouldn't change a thing," said Greg. "I had always dreamed of becoming an entertainer, and my parents were behind me all the way. I owe them everything." In a page right out of Human Nature's upbringing, Greg by age 11, led the family dance band with his two brothers and two sisters.
The Down Under TV talent contest "Showcase" propelled him into the spotlight with the grand prize at 16. His career was off and running, and he left the farm behind and became an entertainer in Sydney and throughout the country.
With more than 150 national TV appearances, recording success and countless club engagements to his credit in his homeland, Greg yearned to make it overseas. With his wife and young daughter, he headed to England to try his luck.
He stormed audiences throughout Britain for six years, scoring his own TV specials and became a hit in Eastern Europe with those 14 million records in Russia. A Miami club owner discovered him there, and Greg's dream of performing in America came true. "It was meant to be," said Greg. "The USA was to become my new home."
He quickly became the opening act for stars such as Jay Leno, Don Rickles and Joan Rivers. Now based here, with a thriving international career, Greg says, "It sure is a long way from the farm, but I wouldn't change a thing. I'm still that same country boy at heart living my dream to be an entertainer."
Then for the opposite end of the spectrum, it's Corey Feldman with his backup female band Angels at Vinyl at The Hard Rock Hotel. His newlywed wife, Courtney, his third marriage in a ceremony at Caesars Palace last November, plays in the four-piece backup band of blondes.
Here are two YouTube videos for comparison:
Corey received a lot of criticism for his appearance on NBC's "Today" promoting 'Go 4 It" but answered back on "The Talk." He says "angels" have helped him out of many bad situations over the years, and he formed his band to help lost girls find their role in life.
His Las Vegas appearance this weekend is the kickoff to his 40-city summer tour. Expect his Michael Jackson and vampire-style dance moves as part of his performances. His voice is his trademark, and you be the judge whether it's a trainwreck or propels him onto the charts.
You have to love Las Vegas for hosting two ends of the spectrum with a whole lot of distractions and attractions in between, from the harmonies of The Doobie Brothers to the "Rockabilly Riot" of Brian Setzer and a large reggae music festival. It's that kind of weekend for the Las Vegas entertainment scene that we feature every week in our Royal Robin Rundown:
FRIDAY, JUNE 9
MUSIC
Brian Setzer's "Rockabilly Riot" is at House of Blues at Mandalay Bay.
Chicago and The Doobie Brothers headline Park Theater at Monte Carlo.
40 oz. to Freedom is at Brooklyn Bowl Las Vegas at The Linq Promenade.
Corey Feldman & The Angels are at Vinyl.
Tre'sure is at Aliante.
Gary Lewis & The Playboys are at Golden Nugget.
COMEDY
Daniel Tosh is at The Mirage for two nights.
Ralphie May is at Harrah's for two nights.
Piff the Magic Dragon is at The Flamingo all weekend.
Pablo Francisco is at South Point all weekend.
Rod Man is at Fiesta Rancho.
OF SPECIAL NOTE
Tickets are on sale for Earth Wind & Fire at The Pearl at The Palms on July 14; Scotty McCreery at Topgolf on Aug. 24; Roseanne Barr at Green Valley Ranch on Sept. 9; Jon Bellion at BBLV on Oct. 6; Diana Ross at Wynn Las Vegas on select dates from Oct. 11-28; Arcade Fire at Mandalay Bay Events Center on Oct. 22; and Gary Allan at The Joint at The Hard Rock Hotel on Dec. 8.
"The Phantom of the Opera" ends its 16-performance run at The Smith Center on Sunday.
The 17th Annual Firefighter Bachelor Auction is at The Foundry at SLS Las Vegas.
The grand opening of South Beach Resort residences on Russell Road features 200+ homes in a boutique hotel setting with outdoor meditation garden.
PARTY PATROL
Calvin Harris and Generik are at Omnia at Caesars Palace.
DJ Eddie is at The Dorsey at The Venetian.
DJ Sally and DJ Amanda Rose are at The Aquatic Club at The Palazzo.
SATURDAY, JUNE 10
MUSIC
Greg Bonham is at The Smith Center.
Patti LaBelle is at Primm Valley Resort.
The Commodores are at The Cannery.
Jean Luc Ponty is at Aliante.
"The Rock'n Road Trip Tour" featuring Fuel, Tonic, Marcy Playground and more is at Fremont Street Experience.
"The Fab Four: The Ultimate Tribute" is at The Orleans Showroom for two nights.
COMEDY
Chris Rock is at Park Theater at Monte Carlo
Stephen Lynch's "The My Old Heart Tour" is at HOB.
OF SPECIAL NOTE
Reggae in the Desert is at Clark County Amphitheater.
Sunset Station continues its 20th anniversary festivities.
PARTY PATROL
Armin Van Buuren is at Omnia.
Lil Jon is at Drai's atop The Cromwell.
Flo Rida is at Go Pool at The Flamingo.
Tommy Trash is at Light at Mandalay Bay.
Brody Jenner is at Palms Pool.
DJ Miles is at The Dorsey.
Aqualillies, L1 and Mika Gold are at The Aquatic Club.
SUNDAY, JUNE 11
MUSIC
Kidz Bop is at Cox Pavilion.
PARTY PATROL
Wale is at Rehab Day Club at The Hard Rock Hotel.
Kid Conrad is at The Dorsey.
Patrick Sieben and DJ Jenna are at The Aquatic Club.
There truly is something for everybody this weekend. Check back here and in Sunday ENT of The RJ on Sunday for "The Australian Bee Gees Show's " amazing 2,000th-performance milestone at Excalibur, Wynn Nightlife resident DJ Kygo and highlights of the week ahead.
On a personal note, it's tough to say au revoir to my colleague and friend Don Chareunsy, who has edited my stories the past nine years in Las Vegas, as he now moves on to more productive pastures. I wish him well and much success and thank him sincerely for everything he's added (and corrected) in my musings. I know my path and his will cross again and again, which makes his RJ departure much sweeter. I know his future is even brighter in the years ahead. Don, my esteemed editor, thank you for everything. Now onward and upward to an even brighter tomorrow!