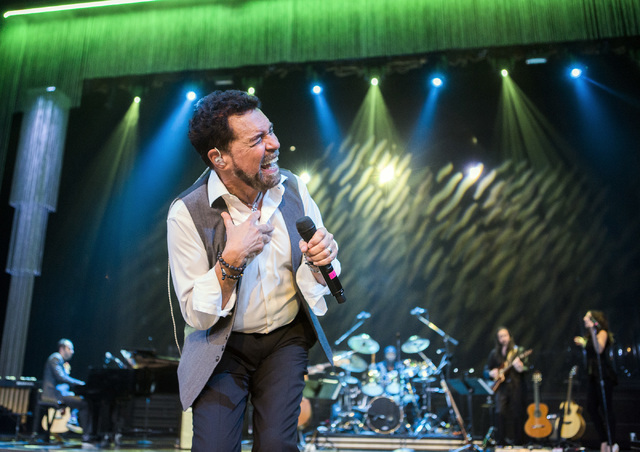 He's one of our most beloved local entertainers. He enjoyed a nearly eight-year run at Harrah's, hit the bright lights of New York taking over from cabaret king Bobby Short at the famed Cafe Carlyle, then returned to The Smith Center for the Performing Arts. In between, there were tour dates across America and cruise ship engagements around the world.
Now Clint Holmes is settled down at home here and is able to drive himself to work nightly for his new show BETWEEN THE LINES at The Palazzo. It's a departure for Clint, who has a new backup band, music arranger and setlist.
He's created a throwback to Old Las Vegas with unannounced stars such as Priscilla Presley, Donny Osmond, Cindy Williams, Paul Shortino and seven-time Grammy Award winner Greg Fields on drums, plus Dave Koz on sax turning up to either perform with him onstage or just enjoy the music in the audience.
I've known Clint as a good friend ever since the early days of ENTERTAINMENT TONIGHT when I invited him to cover Prince Albert of Monaco's celebrity tennis tournaments in Monte Carlo. He's still got incredible energy and pizazz.
I watched his Palazzo show a week ago, and our conversation the next morning over a cup of coffee after he starts speaking again at midday was a comfortable catchup between longtime pals:
What is it about music and lyrics that makes it so emotional for you as a performer?
I get to choose songs that I connect to. It's not just singing "a nice song" or "a good song," especially in a show like this. The songs that I sing are songs that I connect to emotionally. It can be joyful, it can be fun.
Even Harry Belafonte's "Island in the Sun" is fun and has an emotional connection because he was one of my heroes. A song that really is based around a passion or emotion, I just have to find my place in it. … I have to connect with every song I sing on some emotional level to make it honest.
How do music and lyrics do that, though? What is it that they've got?
It's the highest form of art, music and the songs, because it combines the thoughts. A good song heightens the thought because the music takes it to a higher place than it can go without the music. If you're writing a Broadway show, the only reason for a song is to take it to a place that words won't take it at all.
You know that, it has to lift the story, and that's when all those things work together. So, for me, it's a combination of the music that takes a thought and idea of feeling to the highest place it can go. That's why I think music is the highest form of art.
Is it because it touches our heart, or is it because it touches our brain? What does it touch?
That's a good question. It's got to touch our brain first, then that opens it up to your heart. There are certain songs that are just for fun and just go to our mood. The other songs really do go to the heart.
There are a few reasons why people stand for an ovation at the end of a show or after a song.
One of them is just out of deference to someone whose been doing it for a long time; respect is the word. Another one is excitement, the energy that they just felt, and another one is because they're moved emotionally. All of that comes into play.
How is this run at The Palazzo different for you than Harrah's and The Smith Center?
It's different because it's a new opportunity for me from everything I've learned. I learned a lot at Harrah's. My first Las Vegas gig there lasted almost seven years. I learned what it takes: a lot in terms of stamina, consistency and the ability to reach people.
The Smith Center taught me something else when its president, Myron Martin, gave me the opportunity to experiment with different kinds of things, some I hadn't done before, and you go, "Wow, this is interesting."
This particular show at The Palazzo is important on a lot of levels. It's brought together a lot of things that I've learned through the years and also the opportunity to be home. That might not sound like a big deal, but it really is a big deal. We so often make our living touring, getting on planes, getting in hotels, boarding ships.
It's a wonderful opportunity to be home. And this particular hotel, which is a five-star property, I'm really being offered the best in terms of casino performing and Las Vegas shows, an epitome of the highest quality.
You've worn a few hats in your showbiz career, which dates back how long now?
I guess that I started around 1972 right out of the Army. I started in Washington, D.C., with my first record back in 1973, "Playground of My Mind." I can go back to high school band and all of that stuff, but for real started in the 1970s.
Was it always your dream? Did you ever think it would last 40 years?
I never thought about it. Honestly, it was always what I was going to do. There was never a day I said, "I want to be a professional entertainer." I just was. By the time I was in high school, I had my own band, and we played at all the dances. Then I went into the Army and sang at The White House for three years. I love it, and I still love it. I'm still passionate about it. I'm still learning.
Do you think it's because it was a natural progression of life from Mom as an opera singer and Dad as a jazz performer?
That's what was always there. That was the constant in the house. My dad's highlights were going to the jazz club in Buffalo. I call it The Rendezvous in the show, but the actual name of the club was The Colored Musicians Club, and it still exists. Now it's a national landmark.
He'd work three jobs: He drove a snow plow, he was the janitor at our church, and he worked at the steel plant. His release was Friday and Saturday night by himself. He almost never took my mother, just go into Buffalo and hang out with the guys. His release was always about music.
My mother's release was always playing opera and Broadway show records at home. Nobody in my family cared about sports. There was never any kind of money to do a whole bunch of fancy stuff. It was always music. So it was a natural progression, plus, my sister and I both got the gift of a voice.
With the material you've chosen for BETWEEN THE LINES, you staked out a specific — I hate the word theme — but you staked out a specific segment of the music library. I remember listening to you at Cafe Carlyle with The Great American Songbook. What do you call this if you were to shorthand it?
Contemporary, and I would define contemporary as anything from the Billy Joel, James Taylor, Stevie Wonder era, which is the great '70s, 80s, to now.
You're very comfortable with it, and you've included biography in it. What's the reaction from people to you going contemporary rather than staying with classic material?
It's interesting. I'm surprised at how many people notice it. This has been the best week we've had in terms of numbers of people there with a lot more locals and people who used to see me at Harrah's. I get a lot of that now after the show. Nobody has said anything negative. No one has said, "Oh, why aren't you singing Sinatra?" Or, "Why aren't you singing Sammy Davis?"
One person said, "You're not doing the opera anymore?" That was as close to a critique of it, but a lot of people are saying, "We really love to hear the contemporary songs". So, it's been very positive.
I know that you play tennis to keep fit, but does singing keep you young? Does working keep you young? Nobody believes that you have hit 70.
Oh, yeah, Robin, growing keeps you young. People will in casual conversation say that old "they don't write them like they used to." I always respond, "I get what you're saying, but, if you look, there are some really fine younger contemporary writers."
I find myself listening almost every day; I'll just listen. Let me listen to what these guys are writing, let me look at the Top 20 records, and there may be one or two that really move me or excite me that I can relate to.
People close themselves off. I think what keeps you young is growing and not shutting any part of the world off to yourself. Examining them, listening to it, reading about it, all of that stuff. I like that a lot. … I'm just hungry to read and see and listen and go and do and play.
You talked about how nice it is to be home for this run. How often does your wife, Kelly, get to see the show because you have similar working hours these days?
She comes a couple of times a week. Sometimes she'll just come in her jeans and T-shirt and sit in the back. Other nights, especially when we have friends there, she'll get dressed up and come at least once a week or twice depending on what's going on.
Three Las Vegas shows is a great accomplishment!
I really believed in the show I had at Harrah's and stayed with it. The Smith Center really was an optimum situation because Myron gave me great freedom to do what I wanted to do. Now this at The Palazzo is a gem because the hotel is behind it. You don't really have a chance today unless you have so much money and the people behind you, so they're looking at all the possibilities — and that's a great blessing.
Clint Holmes performs BETWEEN THE LINES at The Palazzo at 7 p.m. Sundays and Mondays and 9:30 p.m. Thursdays through Saturdays.