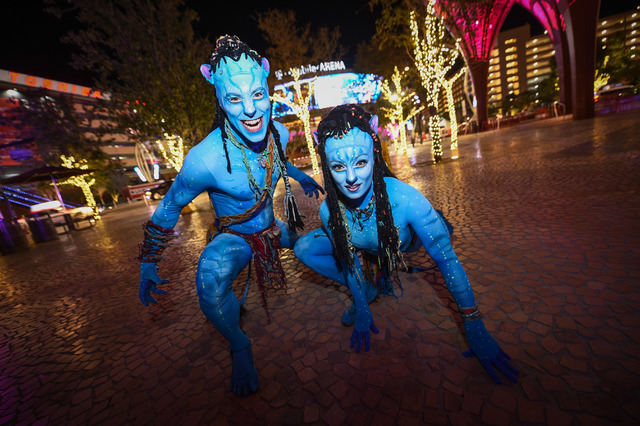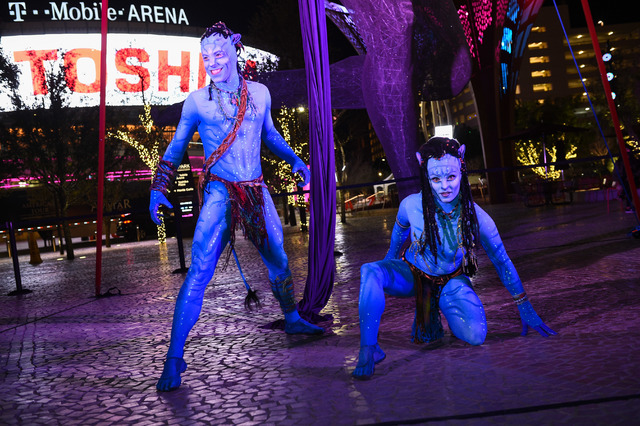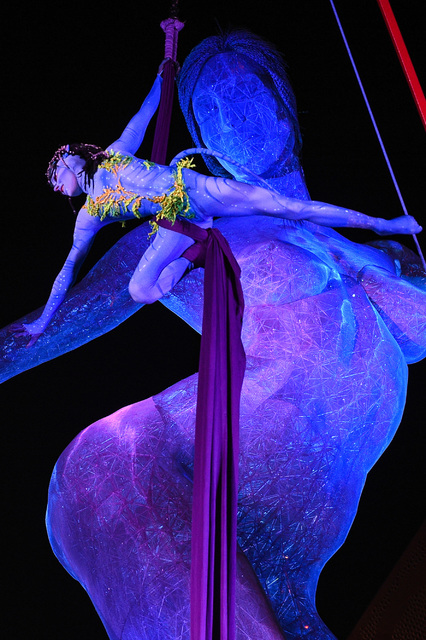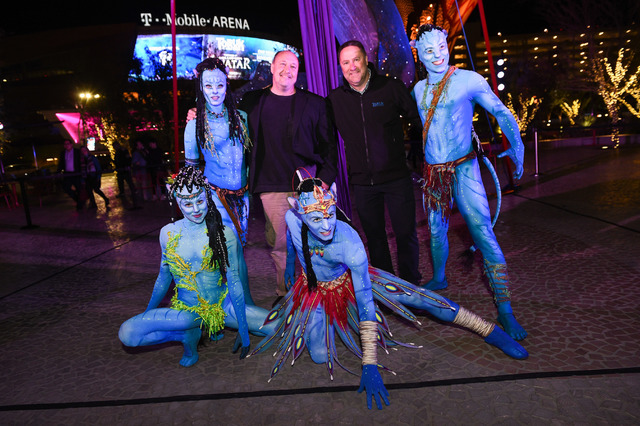 Will the different plugs needed for washing machines in Australia or microwaves in Taiwan be easy to handle when Cirque du Soleil's touring "Toruk: The First Flight" arrives after its engagement here last week? Those minute details are two of hundreds that artistic director Fabrice Lemire handles as he moves his "Toruk" cast and crew of 99 around the world.
He'll sit bedside in a hospital if a cast member is injured. Fabrice ensures that chefs, medics, seamstresses and trainers have everything they need as they tour. "It's moving an entire village every five days," he told me when we met backstage at T-Mobile Arena on Jan. 18.
Here's a behind-the-scenes story you'd never get to know. Fabrice joined "Toruk" as assistant stage director during "Toruk's" creation in July 2015. Fabrice first signed on with Cirque in 2008 as dance master and assistant artistic director of "Zaia" in Macau.
In 2010, he transferred to the South American tour of "Quidam," and after being promoted to artistic director for its transfer from big tops to major arenas, he moved to "Varekai" as artistic director. He joined the creative team of "Toruk" in 2015.
"Every single Cirque show has to evolve," he explained to me. "Even though we premiered 'Toruk' almost 18 months ago, in some aspects it was not fully completed. We had only 15 weeks to create it. Even for Cirque, that's tight, very tight, to produce such a large-scale show.
"So we hit the road with many things still to do. We continued the creation process while the show had to be on the road. I continually made major changes and also added layers to what we had premiered in Montreal.
"I'm still here even though the show can pretty much drive its own wings without me. We are now at a great level of who takes care of what, who is responsible of what, how we all hold this moving ship together.
"My role now as artistic director is really as a facilitator to make it happen every night. I know my team can function well without me, although you need somebody who is in charge to make the calls at any given time."
Is that because it is a touring show? Every arena is different, every city is different, and every safety and Fire Department rules are different in each place?
There are so many layers, Robin, compared to a Cirque show here in Las Vegas, where performers have a lifestyle of what they do, and they get to go home every night. In the touring show, we are one very large family. We live and we work together 24/7. We don't get away from each other. The artistic director's role is extremely important, not only in the theater during the performance but also in the entire journey.
You have to look after the mental, emotional and physical well-being of everybody?
In some aspects, yes. You know, at 2 a.m., there could be an urgent Skype call with a loved one. There's an issue, they may come to my room because there is nowhere else to go. I listen or solve something because whatever condition the performer or technical person has may have an impact on the show the next day. Can I put this artist on the next day based on what happened to them?
Do you deal with love and family problems and, presumably, every now and again, there has to be disputes with all of you living on top of one another around the clock?
There are, and, you're right, this happened. We are a traveling village, and I am one of the directors. I've spent five, six, seven hours at the hospital with a performer. I am the one taking him to the hospital if need be. We travel with a medical team for small emergencies, but we are an entire, self-contained village — somewhat of a dysfunctional traveling family!
You're a band of legitimate gypsies, but you all have a common goal, plan and mission?
Yes. All of us are drifting together, but everybody has their own goals in regard to the lifestyle. For me, I'm actually in the moment of my life where I would like to go back to another crazy process.
Do I think of you as the dad of this traveling family? You have a laundromat for all the laundry, you have a restaurant to provide food, you have a gym so they can work out?
Yes, I'm the father of "Toruk," and we travel with show-related washing machines and dryers. We have a system that we allow employees or artists to use them if it doesn't impact the time the wardrobe department is doing laundry for the show's costumes.
We have guidelines, and we have to respect the guidelines. The catering is important to have because so many locations, we might be in the middle of nowhere, there's nothing around, and also with the makeup on their faces between show days, it's difficult for performers to go outside on the street in full makeup and costume to find something to eat.
You have everybody from carpenters to a wardrobe mistress who can repair torn or worn-out costumes?
We have riggers, the automations team, an entire stage management team. I have a head coach. It's an entire network when you talk about the village. Our village can sustain itself even if they want to replace me. Somebody else can slide right into my position.
Does the mechanics of all this, the travel logistics all run from Montreal headquarters or right inside your village?
It's in the village. We have a full team called tour management, so they look after travel and lodging, immigration and medical. They know where we will be staying months in advance. They know the nearest hospital and best routes in and out and best parking for our 27 trucks.
It's a big number moving about 100 of us. The logistics are overwhelming, but thankfully no problems to date. Everything has run very smoothly, especially our stay in Las Vegas. Many of our performers have friends in other Cirque shows here, and they all get together and see each other's shows.
How many nationalities are you working with?
I think we have between 15 and 18 nationalities. We also have one performer who's really into the Na'vi language. Mostly they all speak English, but as many as 18 languages. What's most interesting is the audiences who come so often. We have as many as 40 to 50 Na'viacs who understand fully what the performers are saying onstage.
Our cast and crew from all over the world have settled into a routine. The group has a great atmosphere. They do a lot of things socially together. Here in Las Vegas, we had five days of shows and three days of vacation.
Do you travel by bus or plane to all the cities?
We do both. We have multiple options. We do the bus transfer when there is less than five to six hours of travel. Past that, we have to fly. It can be commercial or charter flight. But they also can opt out of the travel. You can opt out of the hotel we book.
Some of them use this option a lot. They come to a city and get an Airbnb or bed and breakfast. Some will get a house and rent it for a week. It gives them freedom outside of being stuck with each other all the time.
In a traveling village, people have to fall in and out of love. It's natural. Have there been any romances that have led to marriage?
It happens sometimes with touring shows. Here we have a few couples but not many. Our performers already have love somewhere else, so their relationships are quite stable. This is my fourth show for Cirque, and I love this cast. It's the easiest and best to work with.
What one word would you use to describe "Toruk"?
Colorful because there is fun in there. The colors of the esthetic of the show, of course. What I call the color of the soul of the people who are in the cast. This family, this group is fun and colorful. They are very creative, and they keep alert and alive. It's a different kind of talent that we look for in the performers so they are not just good in one discipline. Many performers come across programmed because they are so good that they stick with one thing.
When you ask those people specializing in one skillset, they have the tendency to be a frightened to get out of their comfort zone. Here they are good at multitasking, mostly good at different things, but mostly good at being very open to try new things, which make them powerful in many aspects. You tell them to go this way, they'll go with you. As long as your vision is clear, they jump onboard and deliver.
"Toruk: The First Flight" is in Wichita, Kansas, this weekend, followed by New Orleans, Guadalajara, Monterrey and Mexico City, Mexico, Cleveland, Philadelphia, Hartford, Connecticut, and Dayton, Ohio. After a brief vacation, the cast and crew embark on Asia. They begin in Taiwan in June, then it's Japan, Australia and New Zealand.