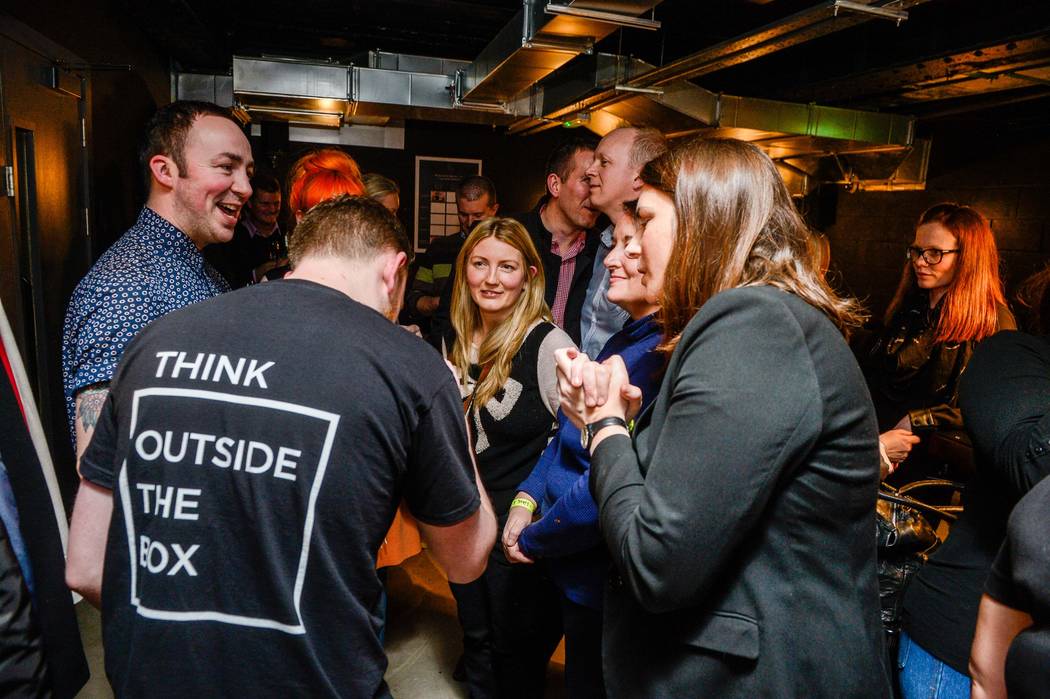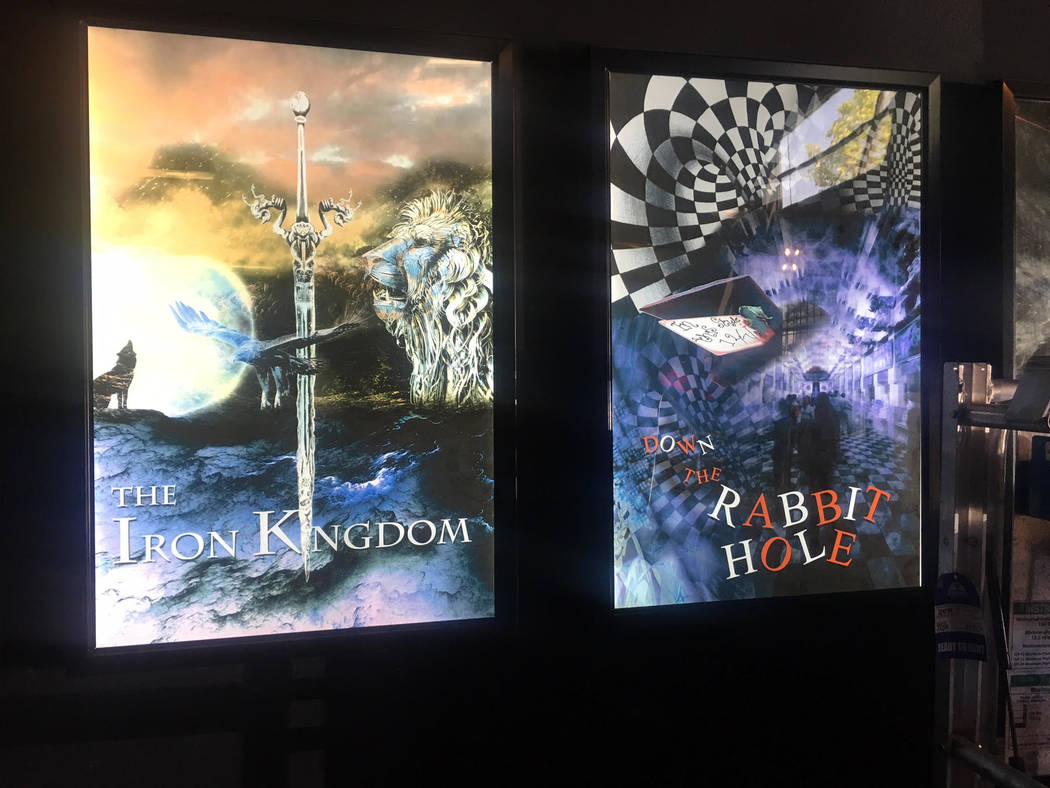 The clock ticks off just 60 minutes while you're trapped in a thrill-a-second environment that tests your skills in multiple ways in a race against time. Welcome to the world of Escape Reality USA with its seven-themed escape experiences as its first U.S. outlet opens here Monday.
Escape Reality has the largest portfolio of interactive, real-life escape-game experiences created for seasoned enthusiasts and first-time players. The 2-year-old company with locations in five British cities and Dubai is getting ready to open its U.S. headquarters with more than 7,000 square feet of adventure and horror facilities.
Jim Niehoff, president of Escape Reality USA, ran down reasons behind the success of the craze and also the different, heart-pounding escapes:
"Escape Reality appeals to a wide proportion of the population, as it is fun, exciting and tests your skills in multiple ways. It's appropriate for groups of friends, colleagues and families, too. It's a perfect way to test your team in a race against time.
"The concept is simple: Your group is trapped in a highly themed environment and must use logic and teamwork, and sometimes physical prowess, to find your way out in 60 minutes. The escape experience is unique because it includes teamwork, communication, delegation, critical thinking, attention to detail and lateral thinking with a whole lot of fun.
"It is competitive in your own team and against other teams, and it creates the need for players to interact and engage fully with other team members. It's all about having fun and working together as a team to solve all of the scenarios and challenges as opposed to the usual team activities of bowling, mini golf or laser tag."
I wanted to know from Jim why the escape craze has been spreading quickly throughout Europe, Asia and now the USA. "Considering that it is an activity that can be enjoyed by all ages and groups in a themed environment, which transports you to another world, it is hard to imagine the concept not being popular," he said.
"However, we feel that it has always been lacking that extra bit of ambience to be a truly immersive experience, and that's where we come in. We have a young, dynamic team of designers, game makers, game masters and props specialists who are truly passionate about creating an amazing experience for our customers.
"Being mostly gamers on the side themselves, nothing brings the team at Escape Reality more joy than to see our rooms being enjoyed. A great deal of meticulous planning has gone into the game flow, which incorporates new technology, mechanical puzzles and realistic props.
"We also heavily emphasize the theming of our games to provide players with a truly immersive experience. We currently have 23 games in our portfolio, and we are working on releasing more games later this year."
Here is Jim's preview of the first seven Las Vegas escape rooms:
District Zero
Do you fancy your chances as a participant in a gameshow of a lifetime … literally? Contestants: Wise up! You are each individually fighting for the chance to win the penultimate prize. There will only be one winner, as with any real challenge, although this will entail crafty teamwork. The catch? It is a win-or-die situation. The world is not kind, nor is it forgiving, which you will find out as you enter the arena.
Jungala
You have discovered an old board game in your attic, and once opened you are engulfed by a vortex and transported into an alternative realm. After seeing a glimpse of the terrible world inside, you are thrown back into reality.
Vowing never to approach the game again, you attempt to leave, but the door has been locked, trapping you inside. Glancing over to the game, you see the words, "The dice have been rolled." You have no choice but to complete the game or be trapped inside the other realm for eternity.
Enigmista
There have been reports that there is a serial killer on the loose. Many people in the area have gone missing with no trace of their whereabouts. Only one survivor has lived to tell the tale of what happened in the killer's lair.
Rumor has it that he forces his prisoners to perform ghastly tests to see how far they can push themselves in order to escape. You have suddenly awoken to discover that you have been locked inside a room of darkness with no recollection of how you found yourself in this situation.
The Iron Kingdom
In the largest continent of the world, known as The Iron Kingdom, there exist seven noble families. In the heart of this kingdom is The Throne, the main source of conflict in the land. Whoever sits on The Throne rules the continent, a position desired by many, a position in which people will go to extreme lengths to hold.
News has quickly spread over the land suggesting that the new king is not the rightful heir to the throne. The discovery has caused an eruption in The Seven Kingdoms, and a battle for the throne has broken out. You must discover who is the rightful heir.
Machina
A team of high-tech scientists and programmers has assembled to perform groundbreaking experiments in developing the first instance of true artificial intelligence known to man. You have just been accepted onto the team of scientists and have arrived at their headquarters.
After a few days, you realize that scientists are suddenly leaving and that these robots are showing scarily human-like emotions. You decide that you need to leave ASAP, as something peculiar is happening, but all the doors have been locked, trapping the team and you inside.
Alcatraz
In 1934, Alcatraz transformed into a maximum high-security prison housing the most infamous and dangerous criminals. Situated in the chilly waters of San Francisco Bay, no prisoner has ever escaped. Alcatraz has reached its maximum capacity for the first time — because of you. You are all masters of escaping, and no prison has managed to contain you.
As highly skilled individuals, you have been plotting your escape, and now the time has arrived. A diversion has been caused by other inmates, and the warden has sprinted off to help, leaving you in your cells unguarded. This is your prime opportunity to make your escape.
Down the Rabbit Hole
You and your friends were enjoying yourselves at a party when suddenly you found yourselves transported into another world. Whether it was the drink, food or a bizarre phenomenon that caused this rapid change of fate doesn't matter now as you are all in danger. This dimension doesn't work as you would expect.
In fact, things can go quite topsy-turvy very quickly if you are not careful. You may not realize at first that there is an evil twist to the game. Have your wits about you because this room will try its best to tease and taunt you. Your team's challenge is to escape sane and unscarred while finding your way around this peculiar place.
* * *
Jim told me the reaction to making Las Vegas the company's U.S. corporate headquarters has been one of great interest: "Since we have chosen to make Las Vegas our U.S. corporate headquarters and flagship location, everyone wants to see what we have in store for the public.
"We also strive to make a positive impact on the local community for each site we open, and part of this is selecting local charities to which our customers can donate a portion of admission. Our first five Las Vegas charities are Opportunity Village, Make-a-Wish, Grant a Gift, Southern Nevada Children Foundation and The Animal Foundation. We are pleased to support these five great organizations.
"We have conducted several friends-and-family room tests, and everyone was amazed at the theming and overall experience compared to other escape rooms they have done. We are just days away now and can't wait to open and hear what our guests think."
Escape Reality USA is located at 5182 Arville St. south of The Orleans just before the Hacienda entrance to Mandalay Bay.