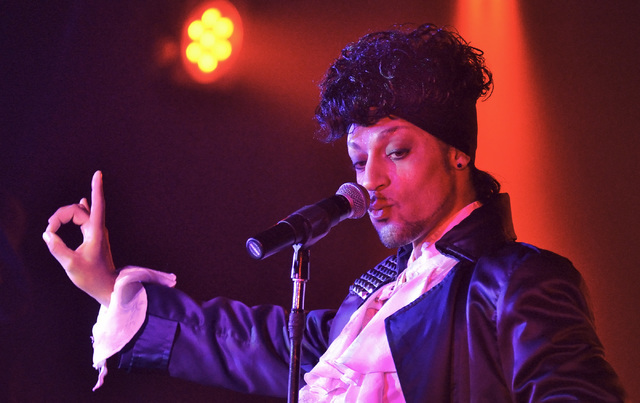 Editor's Note: Every summer when Robin Leach is away on his annual Italian family vacation, he invites his Las Vegas VIP friends to contribute a guest column. As Robin explores the Lido beach clubs outside Ostuni today, we welcome reigning Mrs. Nevada-America beauty queen Lauren Cahlan and Prince tribute artist Jason Tenner. Here's Jason:
By Jason Tenner
Long before Prince Rogers Nelson passed from our world on April 21, members of PURPLE REIGN at Westgate Las Vegas felt obliged to put forth the absolute best of what we could in paying tribute to the legend. Prince's true fans/friends know every note, spin, split, sigh, eye roll and squeal that the artist breathed into life.
I have spent countless hours in front of the mirror with videos and pictures attempting to capture and re-create his facial expressions alone. Now that one of the greatest artists and entertainers of our time is gone, getting it right for fans has never been so important.
The PURPLE REIGN cast and crew's desire to re-create the energy and feeling of Prince live onstage is what has always driven the show. It's a challenge, and every musician, entertainer, dancer and technician who has been in the cast/crew has recognized the necessary growth and expansion of their skill set.
Attempting to re-create the genius that was Prince forces anyone who enters the camp back into the rehearsal studio. For his fans, it's not enough that we play the songs. They want to see and feel the Minneapolis sound. What we've found, after nearly 20 years of the show, is not just anyone can do it.
You have to have a certain attitude about yourself and the music. Now, with all of the music videos and media circulating on the Internet that was held back by Prince for so long, people are remembering how that attitude looked and felt. Back to the rehearsal studio.
Paying tribute to Prince as an actor and studying his public character and artistic body of work has at times been challenging and personally affecting for me. The out loud and brazen conversation that he had with himself and sexuality, religion, spirituality and whatever else spurred me and many others to have the same conversation.
That internal discourse forced a look at things I didn't know were there and led me to see parts of myself and the human condition in different ways. He truly was an inspiration in my life as he was for so many. A true artist and bravest of artistic souls. The cast and crew of PURPLE REIGN are honored to continue to pay tribute to him.
The Las Vegas show includes tributes to Morris Day and The Time, as well as Vanity 6, and there are plans to expand the production runtime to 90 to 100 minutes, from 70. More theatrical elements and storyline reminiscent of Prince's movies are being added.
Construction is underway to build a concert stage set resembling the touring and club sets from the PURPLE RAIN era. We've recently added five custom guitars, including a replica of Prince's Cloud guitar played in the movie PURPLE RAIN, and a re-costuming of the entire cast is underway.
"Put on the best Prince tribute show on the planet." That has always been the mission statement. Now that he has passed on, that statement carries so much more meaning for us and the fans who loved him. The show appears to be cathartic for fans who display an almost religious devotion to the artist.
Others exclaim "joy," saying we transport them back to a time in their lives and an artist who meant and still means so much to them. There have been countless messages on social media with heartfelt requests for us to continue. Since April 21, things have been a bit overwhelming, I must confess. I never knew that our tribute meant so much to people.
PURPLE REIGN will continue for as long as the PURPLE REIGN family and I can perform the show and do it justice. (Hip problems come standard with this gig, LOL.) In paying tribute to Prince, we also feel that we are paying tribute to the live stage musician, entertainer and artist.
These are the people that Las Vegas, the city of entertainment, was built on … or maybe that is just the fanciful thinking of a stage singer. At any rate, someone has to have it in mind to keep stagecraft musicians in the mix among the laptop music and club generation. That doesn't just mean the stage, however.
I have three albums worth of material to release, and our new label will see that many artists have expression (taken right out of the Prince playbook) That, I believe, is the highest tribute we could pay to someone who supported artists and wanted so badly to see new art birthed into our world.
Be sure to check out our other guest column today from Mrs. Nevada-America beauty queen Lauren Cahlan as she prepares for the Mrs. America beauty pageant at Westgate Las Vegas, which could send her to the world pageant in Korea this winter. Next week, it's chef's week as our leading kitchen kings and queens serve up tasty treats from the leading restaurants in Las Vegas.