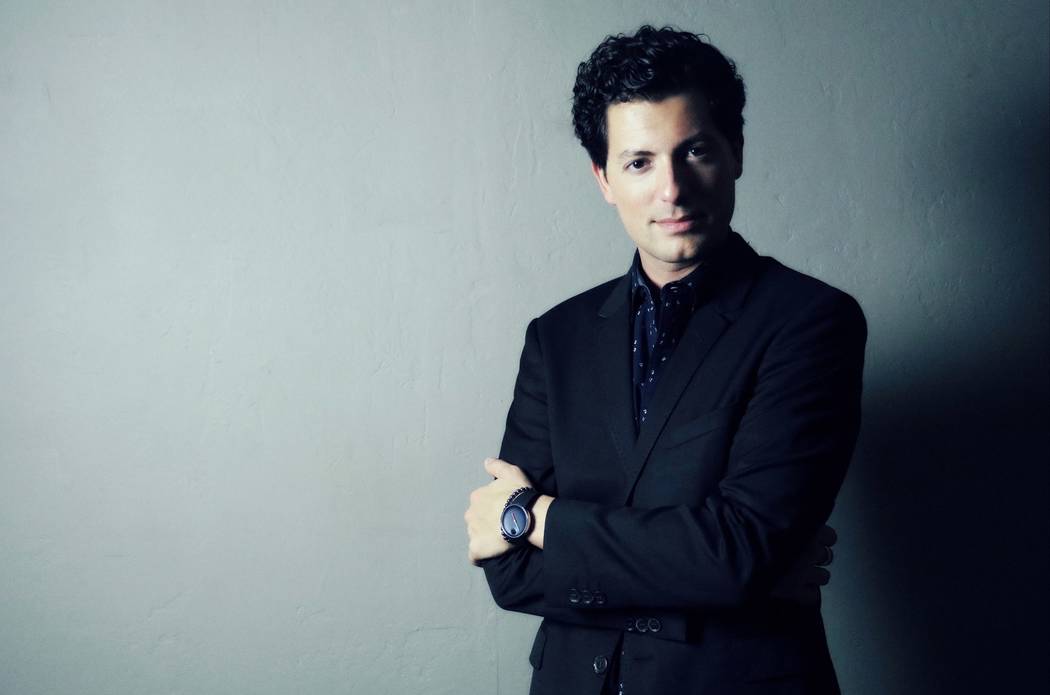 When singer Jonathan Karrant headlines Myron's Cabaret Jazz at The Smith Center for the Performing Arts on Tuesday night, it will be four days after his birthday (he has quipped that he loves presents) and his first time headlining the intimate music venue.
"Myron's Cabaret Jazz will allow me to show certain things in a better light just because it's such a phenomenal venue," Karrant said. "It's pure class. The sound is wonderful. It's small enough that it allows you to connect to everyone in the room. It's easier to draw in people in a setting like that."
Saxophonist Charles McNeal, pianist Jason Corpuz, bassist David Ostrem and drummer Paul Ringenbach will be joining Karrant onstage at Cabaret Jazz. Jazz Corner said of Karrant, "Jonathan Karrant is one hip jazz vocalist born to sing and swing with style."
His album, "On and On," hit No. 4 on Billboard's Jazz Charts, and his honors include The New York City Jazz Cabaret Honors, "Best Singer" for The Bravo California Awards and Top 12 rising jazz vocalists in New York by The NYC Jazz Record.
Cabaret Scenes raved, "A voice romantic without being cloying, warm but not forced, Jonathan carries songs with an emotional weight that reaches your soul. At the same time, he can swing with the kind of jazz suave that was patented by Mel Torme."
Karrant's repertoire includes classic selections of The Great American Songbook and bringing his jazzy twist to contemporary songs. For Tuesday, he is planning new arrangements, popular requests and obscure songs that are not your typical standards.
We caught up with Karrant, who says his first solo performance was at a Methodist Church in his native Arkansas at age 5, after attending "The Phantom of the Opera" at Reynolds Hall at The Smith Center, then over a late dinner at Herbs & Rye, on June 2:
Tell me about your show coming up at Myron's Cabaret Jazz.
I'll be performing with top cats here in town, so that's exciting. Chadwick Johnson is going to sing a song with me. I have songs I'm doing that are requested a lot, as well as new arrangements for me and songs that I haven't had a chance to perform in Las Vegas. Myron's Cabaret Jazz will allow me to show certain things in a better light just because it's such a phenomenal venue.
Your fans have come to expect certain songs. What will be new?
I have put a jazz arrangement on a James Taylor song called "Music." It's a very positive and uplifting song. There also is a jazz song by Abbey Lincoln called "Being Me" that is just an incredible and meaningful song.
In some of the venues that I've played here in Las Vegas, it's sometimes about kicking up your heels and having a few drinks. We'll have a good time — there's nothing wrong with that! — but some of the songs will be a little more emotional.
You've performed at Myron's Cabaret Jazz before?
I've performed in other people's shows there and variety shows. It's my first time doing my own show there.
What has been your experience in the room?
First off, it's pure class. The sound is wonderful. It's small enough that it allows you to connect to everyone in the room. It's easier to draw in people in a setting like that.
Do you still get nervous before a performance?
Only if I don't know what I'm doing. I like to be prepared, but I'm not always because it's jazz. Sometimes when I'm traveling, I pick up bands, so if I don't know the person's background too well, or if somebody doesn't feel warm, that can make me nervous, not having a connection and not knowing the person.
What are some of your favorite songs to perform?
I love a song called "No Moon at All." I love Johnny Mercer and Cole Porter. Cole Porter has the same birthday as me. I'm going to be doing "Love for Sale" because it seems apropos for Las Vegas (laughs), and I have a great arrangement on it.
What do you enjoy most about performing?
The connection with the audience, hopefully moving them and bringing some emotion and life to them. Sharing that experience with them, drawing them in and telling a story.
What are some of your most-requested songs?
"Teach Me Tonight," "Love for Sale." For the last few years, I've been closing the show with a song called "The Curtain Falls" by Bobby Darin. People will run up to me at the beginning of the night and ask, "Are you going to sing 'The Curtain Falls' "?
I'll be ending with it Tuesday night. The room is so wonderful that I'll be recording the show. If I'm ever going to record that song, now's the time for a live recording.
How did your interest in jazz originate?
My parents listened to all different kinds of music, mostly solid gold oldies and Motown. My grandparents turned me on to Irving Berlin and songs from The Great American Songbook. It really just came from inside and what I was drawn to, so I grabbed it and ran with it. I researched it more and more on my own.
Who are your music inspirations along with Dee Dee Bridgewater and Ella Fitzgerald?
One of my favorites is Nancy Wilson. She is not only a singer's singer, but what she does to a song is beautiful. I've had the pleasure of working with her trio and hanging out with her at her house. After being a fan for such a long time, it was an honor. Dee Dee Bridgewater is another favorite — phenomenal.
Where is your favorite place to perform?
Cabaret Jazz is probably my favorite just because the room … it's tough to compete with it. I really love performing in New York. It's The Jazz Capital of the World. There is such an appreciation for jazz in New York like no other, but I think that there is a huge appreciation for jazz here, too. On any given night, you can find jazz somewhere in Las Vegas.
Tickets for Jonathan Karrant's show at 8 p.m. Tuesday are $20, $25 and $35, plus tax and applicable fees, and can be purchased at The Smith Center box office at 361 Symphony Park Ave., 702.749.2000, 800.326.6868 and online at TheSmithCenter.com.