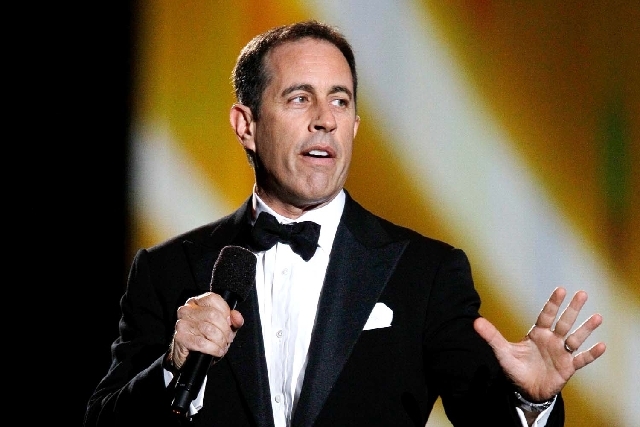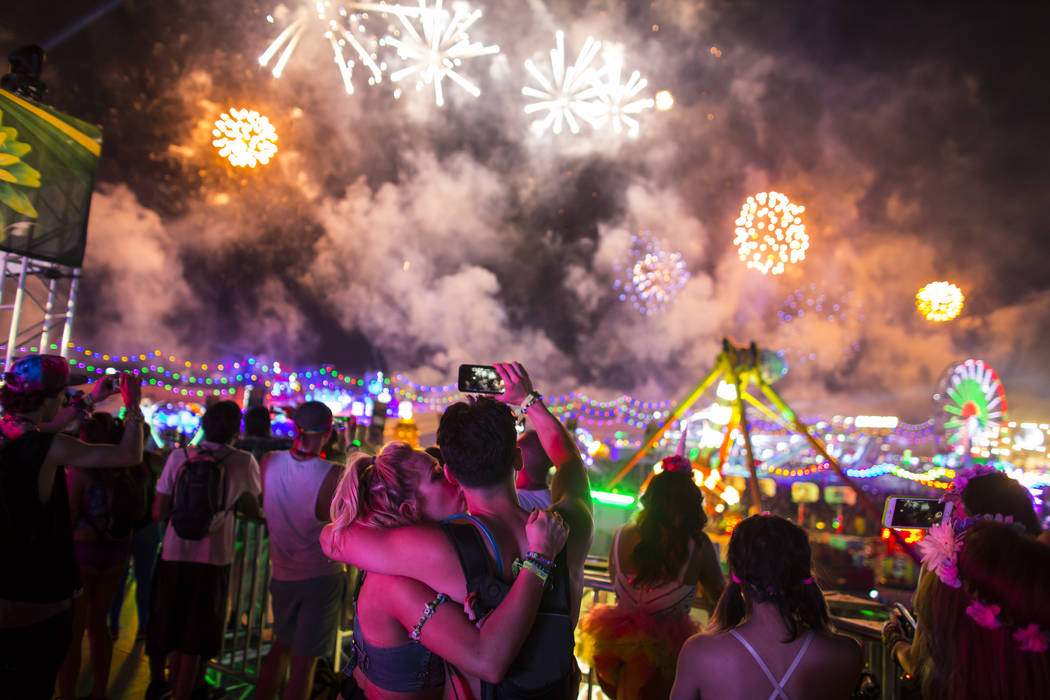 Comedy is king this weekend with two major headliners bringing the laughs to Caesars Palace in a star-studded doubleheader. First up tonight is comedy ventriloquist Jeff Dunham and his sassy dolls Ahmed the Dead Terrorist, Jose Jalapeno on a Stick and crotchety curmudgeon Walter. Then the master of observational comedy, Jerry Seinfeld, takes over for two nights on Saturday.
Jeff told me: " I love Celine Dion's room but I miss the road part and doing giant arenas — so we do a little bit of both. My tour bus is my second home. It's a drug to get the applause of six to 10,000 people in an arena."
He then surprised me by revealing that he was adopted: " I actually did the 23andMe thing with the DNA, and I discovered I'm mainly Irish and some Scottish. My current show is about family. It always reflects my own life so I'm doing a lot of jokes about family and heritage and where I came from and who was my real birth family. To this day I still do not know who he was. I've never known who my father is – or my mother. There's a curiosity but really no interest. My adopted dad died earlier this year. It was pretty tough. He suffered with Parkinson's — he couldn't do anything for the past two years. Nothing. He couldn't eat. He couldn't stand up. He couldn't do anything.
"It was about my background to see what that heritage was but also for the health of my children. You want to see what diseases are in your lineage and see if they're going to have to look out for anything. I have three grown daughters now and two new 20-month-old baby boys. I'm back again at Caesars in September and then the road continues again — 10 days a month and the other 20 days I'm home. I have my tour bus and the 10 crew guys have their own bus — two 18-wheelers. It's a full rock and roll production; we carry our own lights, sound staging, everything- including a 50-foot digital screen."
Electric Daisy Carnival rocks on at the Las Vegas Motor Speedway throughout the weekend but the other excitement is with siblings Julianne and Derek Hough from Dancing with the Stars. Their tour, "Move Beyond Live," is a sell-out at the Smith Center.
Their brand new stage production is inspired by the elements of earth, wind, fire and water, which they've infused into their high-impact choreography
So let's set the fancy feet a-tapping and salsa our way into this week's Royal Robin Rundown of new Vegas show attractions:
FRIDAY, JUNE 16
Roger Waters: "The Creative Genius of Pink Floyd" at T-Mobile Arena
Julianne and Derek Hough: "Move Beyond Live" on tour at The Smith Center
Justin Moore with Midland at Red Rock Resort Pool
Diane Schuur at Myron's Cabaret Jazz in The Smith Center for two nights
Amanda Miguel y Diego Verdaguer at House of Blues at Mandalay Bay
Piff the Magic Dragon resumes his residency at the Flamingo all weekend
Zoso: "The Ultimate Led Zeppelin Experience" at Brooklyn Bowl
Donny Edwards: "Next Big Thing to the King" at South Point all weekend
Comedy
Jeff Dunham at The Colosseum at Caesars Palace
Ralphie May: "No Apologies" at The Flamingo for two nights
Special Note
Tickets on sale for "A Day to Remember" with Wage War at Brooklyn Bowl Aug. 2; the "Something Rotten" musical comedy starts the new Broadway season at The Smith Center Aug. 8-13; Van Jones: "We Rise" tour at the Palms Aug. 19; John Fogerty at Wynn Las Vegas Sept. 20-Oct. 7 & Jan. 10-20; The Amazing Johnathan at Red Rock Resort Oct. 6-7; Ali Wong at Park Theater at Monte Carlo Oct. 7; The Weeknd at T-Mobile Arena Oct. 14; Run the Jewels with Denzel Curry at Brooklyn Bowl Oct. 20; Tegan and Sara: "The Con X" at the Palms Oct. 21.
Dance Wars: Tribute to Debbie Reynolds & Carrie Fisher at Ron Decar's Event Center
Summer Cookout with Food Network star chef Robert Irvine and friends at the Tropicana.
Party Patrol
Electric Daisy Carnival at Las Vegas Motor Speedway all weekend
Armin Van Buuren celebrates EDC Week at Wet Republic
DJ Spair at The Dorsey in The Venetian
DJ Sally and DJ Shy at the Aquatic Club in the Palazzo
Rebelution at Mandalay Bay Beach
Martin Garrix w/ Justin Mylo at Omnia Nightclub
Schoolboy Q at Drai's atop The Cromwell
Official Backstreet Boys afterparty at Chateau Nightclub for two nights
Boys Noize at Rehab Beach Club at Hard Rock Resort
SATURDAY, JUNE 17
Def Leppard at MGM Grand
Boston & Night Ranger at Park Theater at Monte Carlo
One Drop Redemption, Bob Marley Tribute at House of Blues in Mandalay Bay
"Timeless" starring E'Casanova at Brooklyn Bowl in the Linq
Candy Dulfer at The Foundry at SLS
Jazz in the Park: Spyro Gyra at Clark County Amphitheater
Vegas Super Band at the Showroom at the Suncoast
The Art of Rap: Ice-T, KRS-One, Big Daddy Kane and more at Downtown Las Vegas Events Center
Arrival from Sweden: Tribute to Abba at Aliante for two nights
Comedy
Jerry Seinfeld has two nights of his special standup at the Colosseum in Caesars Palace. It's observational comedy where he rants deadpan about embarrassing social situations and relationships. Jerry who created and hosts the web series "Comedians in Cars Getting Coffee" has been named by Comedy Central as the 12th greatest standup comedian of all time. Expect to see his best friend, fellow comedian George Wallace, at the shows.
Special Note
Ward vs. Kovalev 2: The Rematch at Mandalay Bay Events Center at Mandalay Bay
Flowrider: USA Flow Tour at Planet Hollywood's wave pool
Tuff-N-Uff Amateur MMA at UNLV's Thomas & Mack Center
The Year of the Leprechaun is celebrated at O'Sheas Casino in The Linq
Party Patrol
Ziggy Marley at Mandalay Bay Beach
Tiesto marks EDC Week at Wet Republic in MGM
Axwell Ingrosso at Omnia Nightclub
Rae Sremmurd at Drai's atop The Cromwell
3lau at Rehab Beach Club in the Hard Rock
Kid Conrad at The Dorsey in The Venetian
DJ's Mika Gold and Amanda Rose plus the Aqualillies synchronized swimmers at The Aquatic Club in The Palazzo
SUNDAY, JUNE 18
Sister Hazel with The Brevet at Brooklyn Bowl
Comedy
Adam London's comedy magic at the D Las Vegas
Special Note
Happy Fathers Day to all the dads out there with menu specials at restaurants across the valley
Drafts for Dad honors Fathers Day at Beer Park at the Paris Las Vegas
All-Night Social Hour for International Sushi Day at Katsuya at SLS
Party Patrol
Afrojack hosts his Endless Sunday party marking EDC Week at Wet Republic in MGM Grand
Nova at The Dorsey in The Venetian
Taj and DJ Shy at the Aquatic Club in the Palazzo
Audiotistic pool party featuring K?D and Madeon at Rehab Beach Club at Hard Rock Resort
Coming Up
Have a great weekend of dance, music and laughter. We'll be back on Sunday with the exclusive story of the two new Beverly Hills Rejuvination Centers about to open in Summerlin and the amazing story of the French magician who "escaped" from a tiny French village to find headline stardom on the Strip. Then on Monday, we'll have a full photo recap of the Electric Daisy Carnival happenings.
Ends
Late 3 p.m. story: New Miss Nevada is crowned as Bayley Gumm ends her reign and celebrates her 22nd birthday.