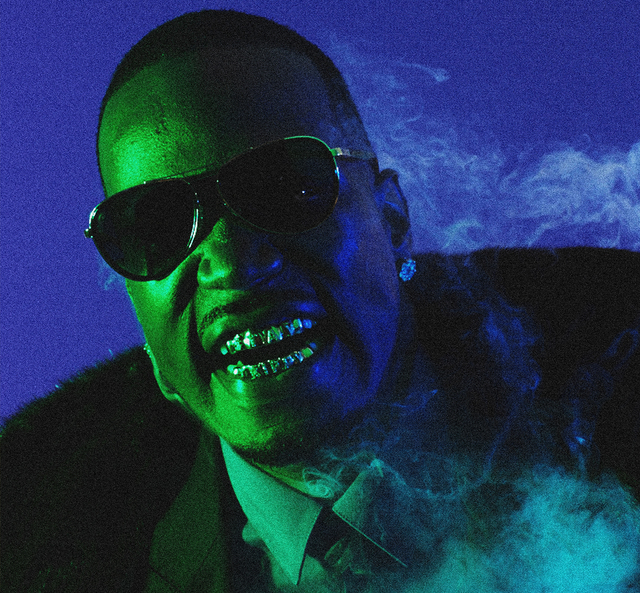 A regular performer at nightclubs here, Juicy J hits Brooklyn Bowl Las Vegas at The Linq Promenade tonight before heading over to Light at Mandalay Bay to play into the early hours.
The 41-year-old Memphis native, whose birth name is Jordan Houston, co-founded Three 6 Mafia in 1991 and brought the trio to two platinum albums and Billboard chart-topping hit "Stay Fly" during its 20-year existence.
Since then, Juicy J has blossomed as a solo artist, cranking out top hits "Bandz a Make Her Dance," "Bounce It" and "Show Out," and he also has been featured in more than a dozen charting songs.
He shared his thoughts on his success, upcoming show, favorite collaborations and legal Nevada marijuana in an interview Monday ahead of tonight's concert:
Anything you like in particular about playing in Las Vegas?
Weed is legal, that's what I heard (laughs). It's legal now. But Las Vegas is a party city. The city never sleeps. You can get up at 5 a.m. and go to the club. I got a place in Las Vegas, too. It's great. I love everything about it, man.
You started Three 6 Mafia back in 1991 at only 15 years old and have found a way to maintain your relevancy 26 years later. What's the key to staying on top?
I just keep my head to the streets. That's all it is. I like music, and I listen to everything. All of these artists you've never heard of who will be huge in the future. I just know everything that's about to explode before it explodes, and I make music all the time. I'm always in the zone.
And it's not just rap. I listen to pop stuff and R&B stuff, too. I'm just a music dude all across the board. Morning, day and night. It's a 24-hour process, and it never stops when I'm listening to new songs or a new artist.
Have you always been inspired by different genres of music, even back to your days with Three 6?
Yeah, I always did that. I consider myself a music snob. I joke about that because I'm always working out, on a beach or in a car, and I'm smoking some weed and doing some chill s*** with the TV on. I might have on a TV, but that's just me. I just pop on my headphones, but I'm always listening to music. That's just me. I'm always listening to some kind of music.
You go to sleep listening to music?
Yeah, I have some special kinds of earbuds, they're easy to sleep with. And I'm comfortable and ready to hear it. Man, you can't go to sleep with Beats (headphones) on! I get zoned out, smoke some weed, put on some Smokey Robinson, and I'm out, man.
What went into your latest hit with Rae Sremmurd's Slim Jxmmi, "Gimme, Gimme," and getting him on your track?
Well, I had done two or three tracks already with Rae Sremmurd, but that was my first time with just Jxmmi, and, yeah, that was cool, man. We were in the studio, Jxmmi came in with Mike Will, we made the beat, and it was crazy. I made my verse, and, boom, there it is!
You've collaborated with Wiz Khalifa, Young Thug, Big Sean, Young Jeezy, Katy Perry, the list goes on. Is there anybody in particular with whom you most enjoy collaborating?
Yeah, of course Wiz and I have the same kind of vibe, but pretty much everyone I work with works hard just like me and Wiz. Me and Wiz are smoking buddies, we make songs all day, we just play music. All kinds of crazy s*** that hasn't even come out yet, we just love music.
I'll tell you what, one person I'd love to do a song with, though, is Adele. I think a track with me and Adele would be some of the craziest s*** anybody has ever heard in their life.
Have you reached out to her?
Not yet, but I'm going to. I'm definitely going to reach out. I'm going to put the concept of the song together, then reach out and tell her what an honor it'd be to have her sing with me.
Tell me about your new album, "Rubba Band Business," that drops in in March.
Crazy album, man. It's the up. When you hear this album, when I drop it, it's going to be close to spring. I think that's the beginning of the turn-up. February is still so cold that you don't want to go anywhere, but when it gets around March and April, that's when the clubs start opening up.
People start coming out and going out, weed gets rolled a little bit more. When the album drops during that time, that's what makes it so special. When you hear it, wow! Get ready to go up, man. Get ready to roll your s***, put your hands up, it's time to go up. There's too much stress in the world. Party time, man.
So you're releasing it purposely in the spring for the start of the turn-up?
Well, we wanted to set it up right. We couldn't just throw it out there. It has to be set up right. But it's perfect, it's such a turn-up album, it's definitely good to push it back, and I've added another song or two to put the finishing touches on that joint. Now it's perfect, you know?
Anything else you want to say to your Las Vegas fans?
If the state of Nevada allowed it, we'd give out weed for free. Bring your lighters. We're going to roll up, light up right there on the spot. And puff. So bring your lighters!
A.S. Johnson is a Las Vegas-based freelance writer.