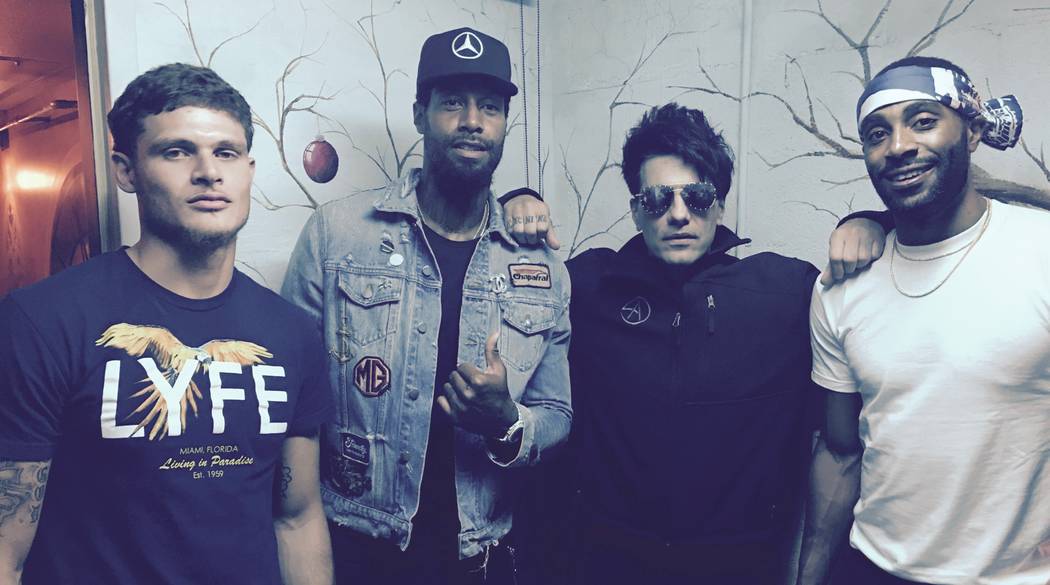 The summer party season is in full swing this weekend — and probably because we have more star athletes from the NBA and the NFL in town to celebrate their break in play between seasons. In all, just a little less than 75 parties are on the books to keep Las Vegas at the top of the celebration circuit.
But it doesn't halt the superstar concerts that are also rocking along at full speed with my favorites Earth Wind and Fire at The Palms, plus Bruno Mars at the T-Mobile Arena, Keith Sweat at the Flamingo, Lee Ann Womack at the Tropicana, The GooGoo Dolls downtown, plus Chic with my former neighbor Niles Rogers and Mariah Carey at the Colosseum in Caesars Palace for two nights to bring her residency to a close.
This week has been a slam dunk at the TopGolf sports and entertainment complex behind MGM Grand, with visits from many NBA players and coaches during NBA Summer League.
July 11, saw Coach Pat Riley in with a group, as well as Houston Rockets player Jamal Franklin who held court in the Chairman's Suite. A large group of players including Devin Harris – Dallas Mavericks, Tyler Ennis – Los Angeles Lakers, Derrick White – San Antonio Spurs, Ivica Zubac – Los Angeles Lakers, Brandon Ingram – Los Angeles Lakers, Harry Giles – Sacramento Kings, Jamal Murray – Denver Nuggets, Pat Connaughton – Portland Trail Blazers, Bryn Forbes – San Antonio Spurs, and Ivica Zubac of the LA Lakers also enjoyed Topgolf .
NBA couldn't have all the fun so NY Giants' Coach Jim Fassel also was spotted at Topgolf July 11. New Orleans Pelicans' player Jordan Crawford, Toronto Raptors players and Cleveland Cavaliers player Phil Handy also played Topgolf in separate parties.
Professional basketball players James Johnson, Wayne Ellington and Tyler Johnson were seen at Criss Angel's "Mindfreak Live!" magic spectacular show at the Luxor. Famous for their positions on the Miami Heat roster, the trio also won an exclusive meet-and-greet with Criss after the show.
So abracadabra lets say hey presto and pull this week's edition of the weekend celebrity preview out of the hat that we affectionately call the Royal Robin Rundown:
FRIDAY JULY 14
• Shooter Jennings at Hard Rock
• Felix Cavaliers Rascals at Golden Nugget
• Earth Wind and Fire at Palms
• Keith Sweat at Flamingo for two days
• Lee Ann Womack at Tropicana
• POD and Powerflo at The LINQ
• Conkarah at Red Rock Resort
• Prince Royce at Hard Rock Hotel
• Mariah Carey at Caesars Palace for two days
• The Rolling Stones: Hot Rocks at Mandalay Bay
COMEDY
• Bill Maher at The Mirage for two days
• Christopher Titus at South Point all weekend
• David Alan Grier at Treasure Island
SPECIAL NOTE
• Tickets on Sale Yuridia at Mandalay Bay Aug. 12
• Louie Anderson at Red Rock Resort Sept. 15 and 16
• George Benson at Sunset Station Sept. 16
• Scott Stapp, Sick Puppies, Drowning Pool and more at Brooklyn Bowl Sept. 29
• Megadeth at Palms Casino Oct. 6
• Queensryche and Skid Row at Sunset Station Oct. 7
• Billy Gardell at Green Valley Ranch Resort Oct. 21
• Marilyn Manson at Mandalay Bay Oct. 27 and 28
• Jay Z at T-Mobile Arena Oct. 28
• Thrones! Musical Parody at The Space all weekend
• Men of the Strip at Hard Rock Live all weekend
• U.S. Darts Masters at Tropicana for two days
• USA BMX Las Vegas Nationals at South all weekend
PARTY PATROL
• Irie at Jewel Nightclub
• Calvin Harris with Generik at Omnia Nightclub
• Cash Cash at Hakkasan
• DJ Shift at 1Oak Nightclub
• DJ Que at The Bank
• DJ Shift at Wet Republic
• Romeo Rayes at Liquid Pool
• DJ D Miles at Bare Pool
• DJ Ghost, Philadelphia 76rers, DJ D Sharp and Golden Gate Warriors at NBA Summer League Parties at Hyde Bellagio
• Ghastly at Marquee Dayclub
• DJ Vice at Marquee Nightclub
• DJ Exile at Bond at Cosmopolitan for two days
• Migos at Drai's
• Seany Mac at Foundation Room
• DJ Ikon at Ghostbar
• Slushii at Intrigue Nightclub
• Stevie J at Light Nightclub
• Nightswim with Slander at Surrender Nightclub
• DJ Wellman at TAO Nightclub
• The Chainsmokers at XS Nightclub
• Boombox Cartel at Drai's Beachclub
• Dillon Francis at Encore Beachclub
• Nightswim with Slander at Encore Beachclub
• JD Live at Flamingo Go Pool
• Bella Fiasco at TAO Beachclub
SATURDAY JULY 15
• Bruno Mars at T-Mobile Arena
• Dan Band at Mandalay Bay
• 40oz to Freedom: Sublime Tribute at Brooklyn Bowl
• Tony, Toni, Tone and Dru Hill at The Orleans
• Mark Wills at Sunset Station
• Dashboard Confessional and All American Rejects at Palms
• Dirty Heads and Soja at Mandalay Bay
• America at Primm Valley Resort
• Goo Goo Dolls and Phillip Phillips at Downtown Las Vegas Events Center
• Top Brassss at The Orleans
• America at Primm Valley Resort
SPECIAL NOTE
• King of the Cage at Cannery
PARTY PATROL
• Jauz at Jewel Nightclub
• Zedd at Omnia Nightclub
• Tiesto at Hakkasan
• DJ Ikon at 1Oak
• DJ Wellman at The Bank
• Calvin Harris with Generik at Wet Republic
• Scooter and Lavelle at Liquid Pool
• DJ Crooked at Bare Pool Lounge
• DJ Metro Chicago Bulls, DJ T Gray and Houston Rockets at NBA Summer • League Parties at Hyde Bellagio
• DJ Mustard at Marquee Dayclub
• Ghastly at Marquee Nightclub
• Alesso at XS Nightclub
• Wiz Khalifa at Drai's
• DJ Hects at Embassy
• Graham Funke at Foundation Room
• DJ Crooked at Ghostbar
• DJ T-Gray at Hyde
• Chuckie at Intrigue Nightclub
• Metro Boomin' at Light Nightclub
• Nightswim with Marshmello at Surrender
• DJ Five at TAO Nightclub
• Laidback Luke at Daylight Dayclub
• Diplo at Encore Beachclub
• Nightswim with Marshmello at Encore Beachclub
• Ying Yang Twins at Flamingo Go Pool
• Jermaine Dupri at TAO Beachclub
SUNDAY JULY 16
• Chic with Nile Rodgers at Palms
• Game Grumps at Mandalay Bay
SPECIAL NOTE
• EVO World Finals at Mandalay Bay
PARTY PATROL
• Everclear at Go Pool at Flamingo
• Mikey Francis at Omnia Nightclub
•D J Karma at The Bank
• Porter Robinson at Wet Republic
• Greg Lopez at Bare Pool Lounge
• Croatia Squad at Marquee Dayclub
• DJ Lee Orchard at Bond at the Cosmopolitan
• Nghtmre at Hakkasan
• DJ Franzen at Drai's
• Mark Stylz at Ghostbar
• Nightswim with Dillion Francis at XS Nightclub
• Alesso at Encore Beachclub
• DJ Vegas Vibe at Flamingo Go Pool
•Angie Vee at TAO Beachclub