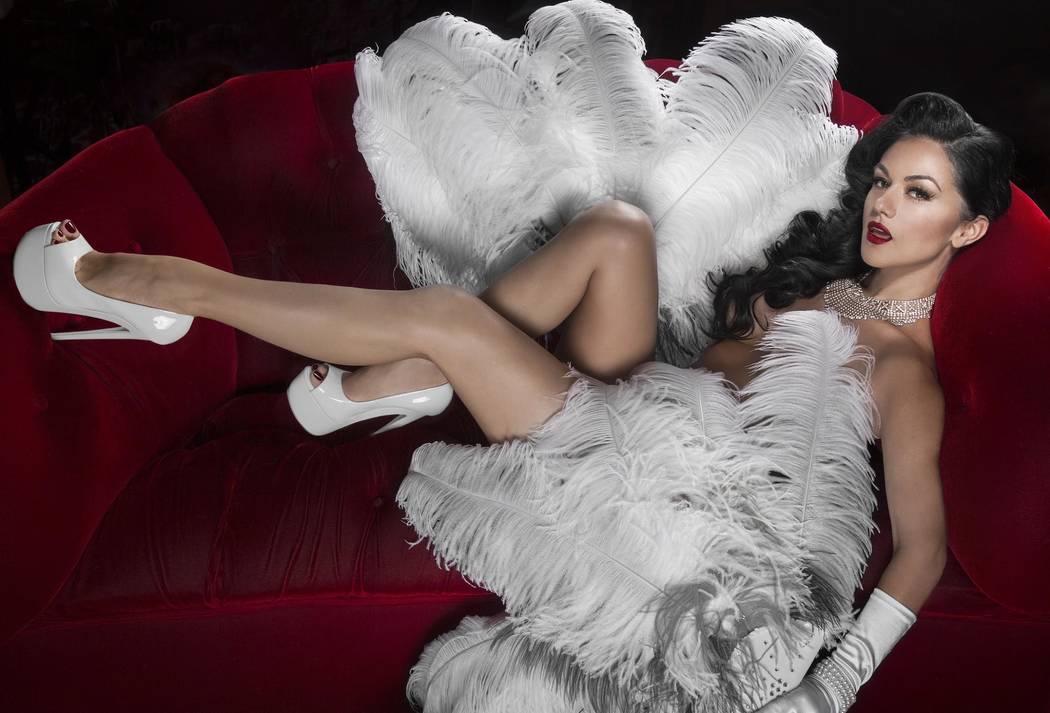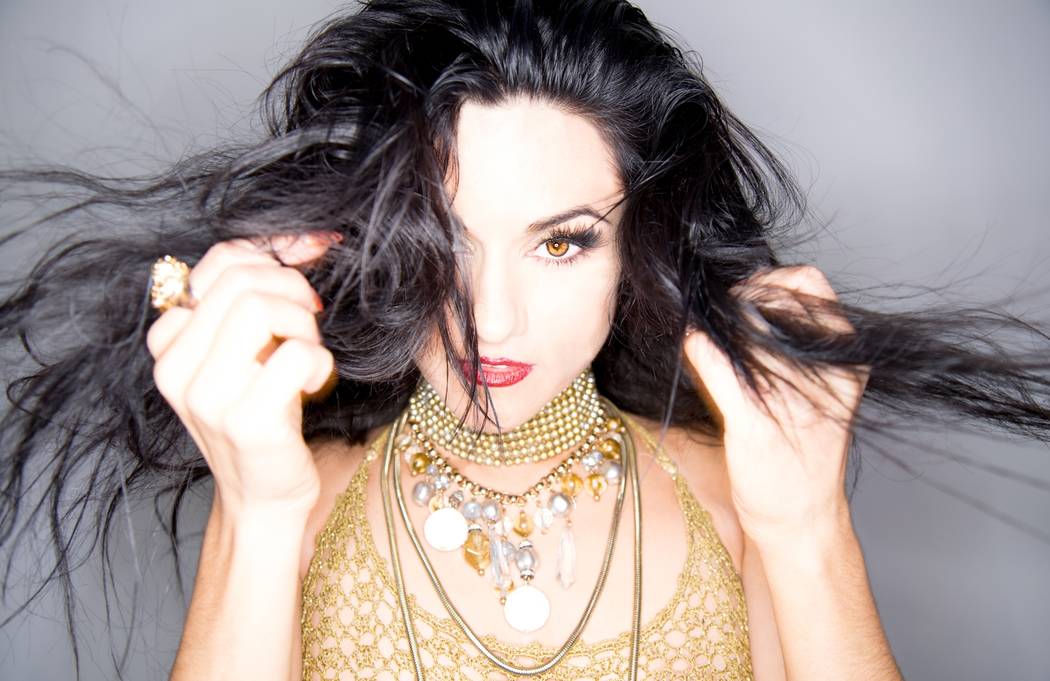 The eminent Merriam-Webster's Dictionary describes burlesque as "theatrical entertainment of a broadly humorous, often earthy character consisting of short turns, comic skits and sometimes striptease acts." That doesn't sound appetizing!
Las Vegas' brunette burlesque bombshell the beautiful Melody Sweets has a different take and describes it as "glamour-puss performers and dazzling eye candy for an evening of decadence." That's much better!
For the third time, Melody is returning to Myron's Cabaret Jazz at The Smith Center for the Performing Arts with "The Sweets Spot" after two sizzling, sold-out shows. The curtain goes up Monday night.
"They always say the third time's a charm," she says with that captivating million-dollar smile as if she's about to unzip herself any minute from a figure-hugging gown. She's hoping that it will all lead to her own Strip show like she had in New York before being lured to the Strip as The Green Fairy in "Absinthe" at Caesars Palace.
"Yes, you can call it a kinky cabaret show. Burlesque by nature is voyeuristic for the audience and exhibitionism for the dancers. Everybody is comfortable in their dual roles," she told me during a rehearsal break. "The ladies have no problem peeling down to reveal almost all of their assets, and the viewers appreciate and respect those tantalizing treats.
"We stay completely within the guidelines of Myron's Cabaret Jazz so as not to be wholly outrageous, but there's enough flash of flesh to keep everybody happy. It's definitely sensual and seductive."
The show includes original music and Vaudeville-style acts, plus an all-star, 10-piece band led by Emmy nominee Lon Bronson. His blast from the past is as up-to-date as anything you've ever heard. With her sultry, come-hither voice, Melody is a powerhouse vocalist in addition to being mistress of ceremonies.
She will destroy the room with her track "Is It My Body" from her upcoming CD release. It's a cover of the Alice Cooper hit, and it will be the first single from her new album. She has performed her original songs and burlesque around the world, with her music featured on MTV, VH1 and A&E. She has performed for and collaborated with Sting, Moby and Fergie.
The one-night extravaganza, however, is more about skin than song, although Melody carefully balances both for maximum sex and sax appeal. Pinup princess Bettina May will dazzle with her undressing, and Fugazi promises a passionate acrobatic dance. Miss Exotic World Dirty Martini will dance a striptease, and the femme fatale of the night is Las Vegas' LouLou D'vil.
Her musicians are onstage with the dancers, and they're too busy playing incredible music to be distracted by the stockings, corsets and pasties. Kudos to Dave Perrico on trumpet, Neil Maxa on trombone, Mark Purdy on drums, Dave Maddalon on bass, Brian Triola on keys, Jimmy McIntosh on guitars and the fantastic fury of Andrew Friedlander on sax and clarinet.
Lon serves as musical director. On Monday, there will be a guest violinist, Scott Tixier, who recently played with Stevie Wonder and with Roger Waters on Stephen Colbert's show. Scott is flying in from New York. He was an original member of Melody's band The Candy Shop Boys, who backed her in her Manhattan burlesque supper-club show.
Melody has recruited Sean and John Scott, the amazing, twin tap-dancing sensations from "Absinthe." Wherever they perform their precision tap routines, audiences jump to their feet in applause. It's almost a miracle what the identical brothers achieve, as if the brain of one propels the feet of the other. They are that much in sync.
And for the first time in three shows, Melody is adding a guest comedy star with drag king Murray Hill. "We have something for everybody this time around," says a gleeful Melody. "Amazing dancing, outrageous laughter and glamorous burlesque. It all combines as vivacious cabaret, and I'll send the temperature rising singing in time to my striptease."
"Burlesque is here to stay, and I think we're all better for it. People need to escape, laugh and connect with others, and burlesque offers all of that. Burlesque can be comedic, political and sexy all the while telling a story. It also could just be a sparkly good time, and who doesn't need a little sparkle in their lives?
"I love the creativity of burlesque. It's not just taking your clothes off. It's a whole concept. You create the costumes, moves and characters. With dancers, it's becomes a whole scene, and it's a grand feeling of power. It's empowering for women that other women can see that they are not afraid of their bodies. They're not afraid of who they are, and they're not afraid to put on a show.
"They are the true showgirls of Las Vegas. I'd like to keep the art form going because these women really put themselves out there, and, in exposing themselves, so to speak, it's empowering.
"It helps me push my own boundaries and challenge myself every time. I've always felt comfortable with burlesque, so there's no pressure there — just the pressure I put on myself every time to push the envelope and be better at the art."
Melody stars nightly in "Absinthe" flying down from the tent-roof as the mythical Green Fairy who always appears when one is drunk on too much absinthe. "I am honored to be the sole singer in it," she told me. "It is all unbelievable showmanship."
I've told Melody several times that she deserves her own show on the Strip — it's highly entertaining with a band blasting with brilliance, glamorous girls looking gorgeous and songs that are thoroughly enjoyable.
"That's the plan, that's the hope" she says." And let's hope it's third-time lucky, and we land something on the Strip. We had that in New York before I came here, and it was a huge success. I'd just love to do it new all over again here."