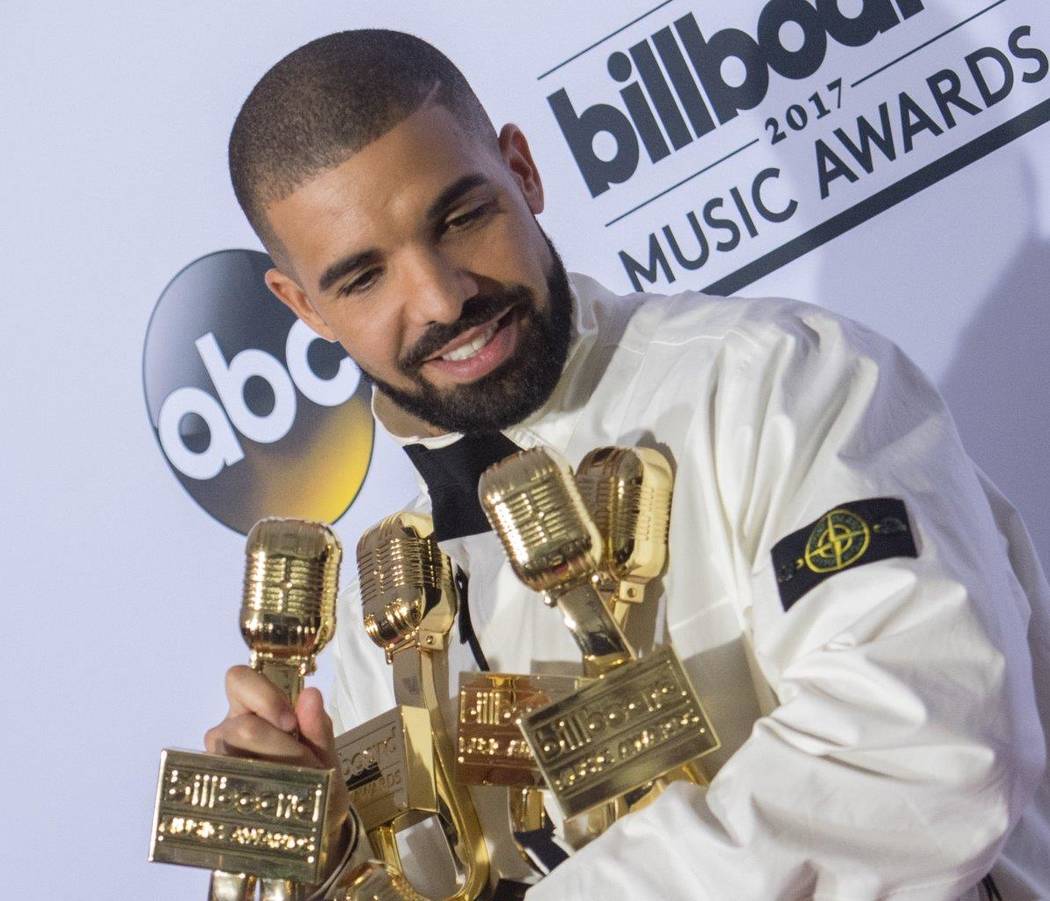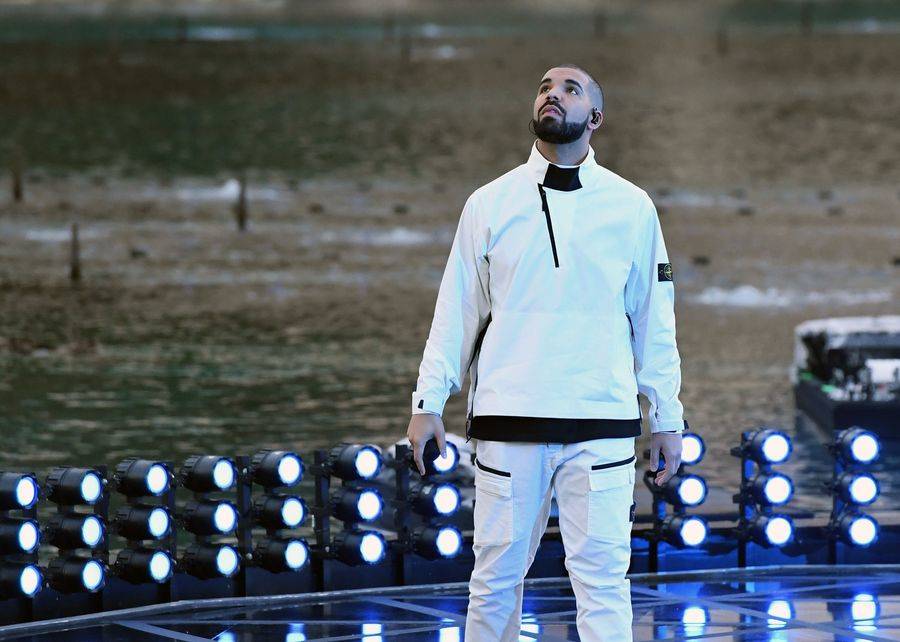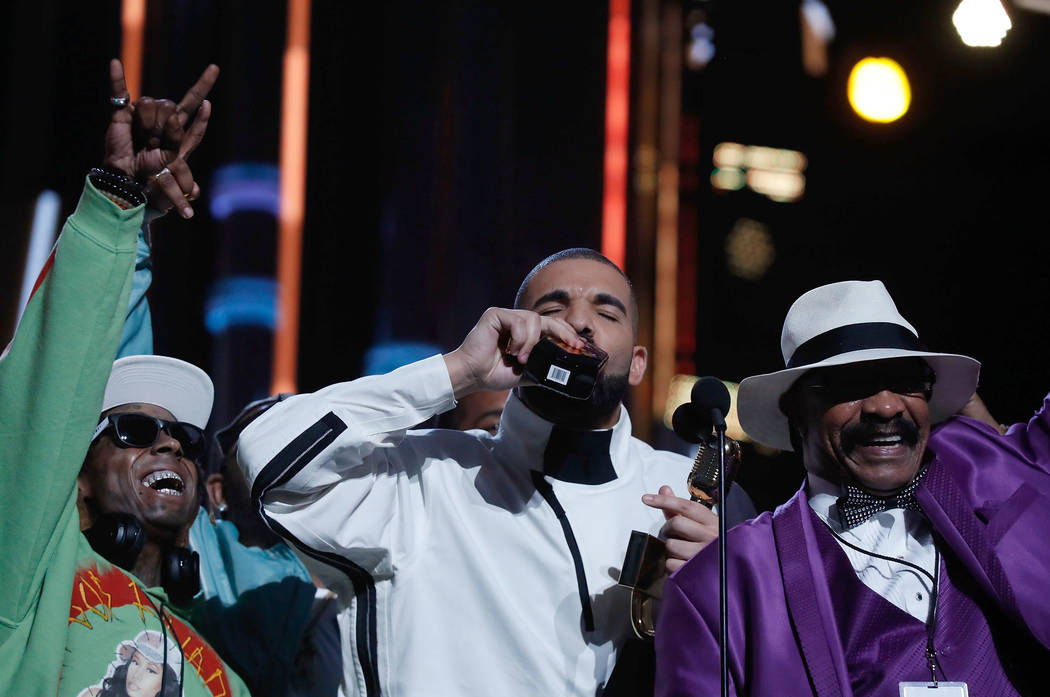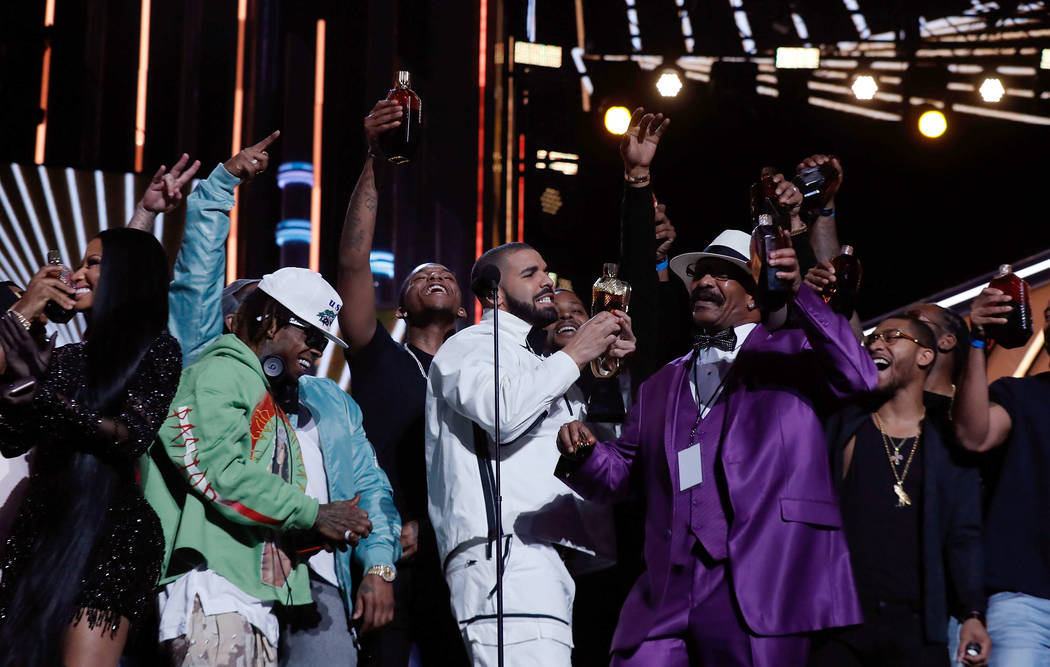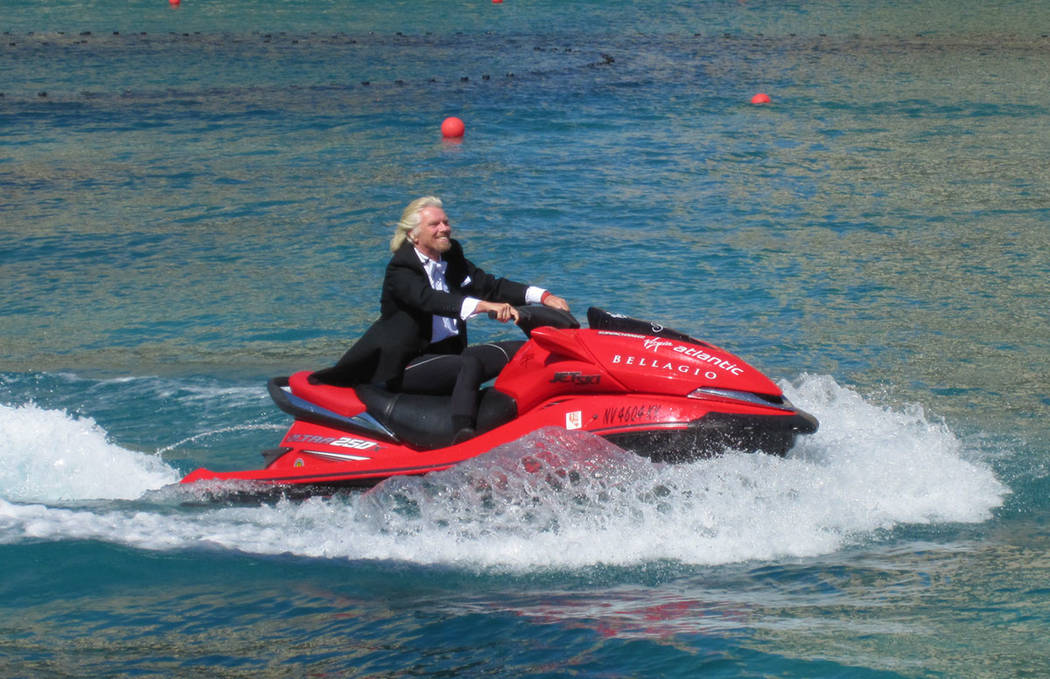 The Bellagio Fountains might become Las Vegas history now that award-winning rapper Drake has performed his hit song "Gyalchester" at the landmark during the 2017 Billboard Music Awards on Sunday night at T-Mobile Arena, where he won a record 13 mic statues, surpassing Adele's previous record of 12 awards.
In early overnight ratings, The BBMAs slipped with 7.7 million viewers, a 20-percent drop over last year's production also at T-Mobile. It was still the top-rated program of the night, hammering "Dateline NBC," the season finale of Jennifer Lopez's "Shades of Blue," "Madam Secretary" and "The Simpsons."
Wicked Whisper + Racy Rumor
I can confirm that preliminary discussions have been held among top MGM Resorts execs for the 22 million-gallon, 8.5-acre lagoon site of The Bellagio Fountains to be drained and replaced with a boutique shopping and restaurant promenade.
Updated at 7:04 p.m.: MGM Resorts released the following statement after our story was posted: "We have no plans or intention to eliminate the iconic Bellagio Fountains, one of the most identifiable tourism landmarks in the world."
The statement, however, doesn't deny our report of discussions. Despite the denial by MGM Resorts, our sources still say that meetings have been held to discuss the possible changes.
Hotel mogul Steve Wynn built The Bellagio and Bellagio Fountains on the site of the once-upon-a-time Dunes. His construction began in May 1996 and opened Oct. 15, 1998, with the premiere of Cirque du Soleil's "O" at the luxury casino resort.
Bellagio's construction cost of $1.6 billion and $88 million opening-night party was said to be the most expensive hotel ever built at the time. Star chefs Julian Serrano, Todd English, Michael Mina, Jean-Georges Vongerichten, Akira Back and Roy Ellamar call it home among the 14 restaurants on the property.
The Bellagio Fountains interestingly uses less water than irrigating the previous golf course that was on the site. The Fountains were estimated to cost $50 million, and the incredible light-and-water show includes 4,500 lights and 1,200 pump nozzles.
I was reliably told that it was apparently Steve's decision to replace his current golf course at Wynn Las Vegas with the new Paradise Lagoon water attraction that triggered Bellagio executive decisions to analyze the real-estate value of the 8-acre site that brings in no revenue.
"It's incredibly valuable real estate that earns the hotel nothing. It has had a long run as a tourist attraction, but now it's time to make it a revenue earner," I was told. "Steve's new water park will become the new attraction on the Strip. MGM wanted something entirely new for Bellagio."
Here is a YouTube video of The Fountains dancing to the music of Hakkasan Group resident DJ Tiesto:
When Drake filmed "Gyalchester" at The Fountains on Saturday, Billboard production execs for Sunday's three-hour live ABC telecast explained it away as a rehearsal. There had been discussions about going live, but it was deemed too risky for a live broadcast.
It took three months of planning to execute the segment that ran about three minutes. Drake also reportedly picked up a cool $1 million for another performance after The Fountains filming for a Bellagio high-roller private concert.
Drake is not the first star to use The Fountains as a backdrop. To open The 2001 BBMAs, Britney Spears used them as a backdrop for "I'm a Slave 4 U." Bruno Mars, who closed Sunday night's BBMAs, filmed his "24K Magic" video there with a Jet-Ski roar across it, and an NBA spot for TNT with Pitbull, Robin Thicke, Travis Barker and Joe Perry was shot there.
I will never forget helping Sir Richard Branson onto a Jet-Ski with Virgin Atlantic flight attendant Vicky Lewis on June 16, 2010, for a promotional stunt where he conducted The Fountains in a salute to the company's 10th anniversary of U.K.-Las Vegas flights. Yes, Sir Richard and the red-uniformed air hostess wound up in the water. Here's a YouTube video:
The Fountains also were featured prominently in "Ocean's Eleven" in 2011 and its sequel, "Ocean's Thirteen." Drake closed The BBMAS winning Top Artist. Blasts of fire, water and fireworks at The Fountains lit up around him timed to dance to his hit music, a fitting end to the nearly 20-year run of one of America's most popular attractions.
A final decision on the fate of The Fountains is expected by mid-summer. I'm told that one fountain might be saved for historic decorative purposes along the promenade of restaurants and high-end stores.
But the lake modeled after Lake Como in Italy, which costs more than $300,000 a month to operate, will disappear and become an Italian shopping village. Meantime, drawings and budgeting for the replacement are going ahead, according to my reliable sources.