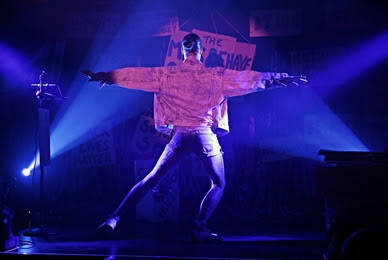 It's a show by renegades — for renegades! And one of the most unusual game show parties of all time. Welcome to the bizarre world of Miss Behave and her immersive game show that already has all the Strip talking. With cohorts, such as Evil Hate Monkey and Marawa —"The Amazing World Conquering Hole Hoop Master" — you know this is totally unique and unusual.
"The Miss Behave Gameshow" at Bally's celebrated its official grand opening with a gaggle of local celebrities and an all-star cast of featured performers. Joining in the fun were Bally's headliners Frederic Da Silva and The Bronx Wanderers, comedy-magicians Mac King from Harrah's Las Vegas and Murray Sawchuck from Planet Hollywood Resort and Frank Marino of Divas Las Vegas at The LINQ Hotel.
Presiding over the mayhem was Miss Behave, rapidly becoming everyone's favorite game show host, and her lovely assistant, Tiffany. This fast, feverish, frantic, frenetic, frenzied and just downright full-of-fun night is one part game show, one part improv comedy, one part variety show and all parts fun where anything goes and no two shows are ever the same.
"The Miss Behave Gameshow" is a one-stop shop of an evening that brings out the best and worst in us all with a host of prizes and variety acts where there are no rules and everyone's a winner. The international comedy hit entices audiences to step out of their comfort zone and immerse themselves into the sinful world before them. Guests are pitted against other audience members in a series of challenges, some involving their phones.
Hot off a tour covering Europe, San Francisco, Hong Kong, Australia and New Zealand, the smash-hit, sell-out renegade DIY game show has garnered critical praise from around the world and is now taking Vegas by storm.
"The Miss Behave Gameshow" performs Wednesday through Sunday at 8 p.m. at Bally's on the Strip.