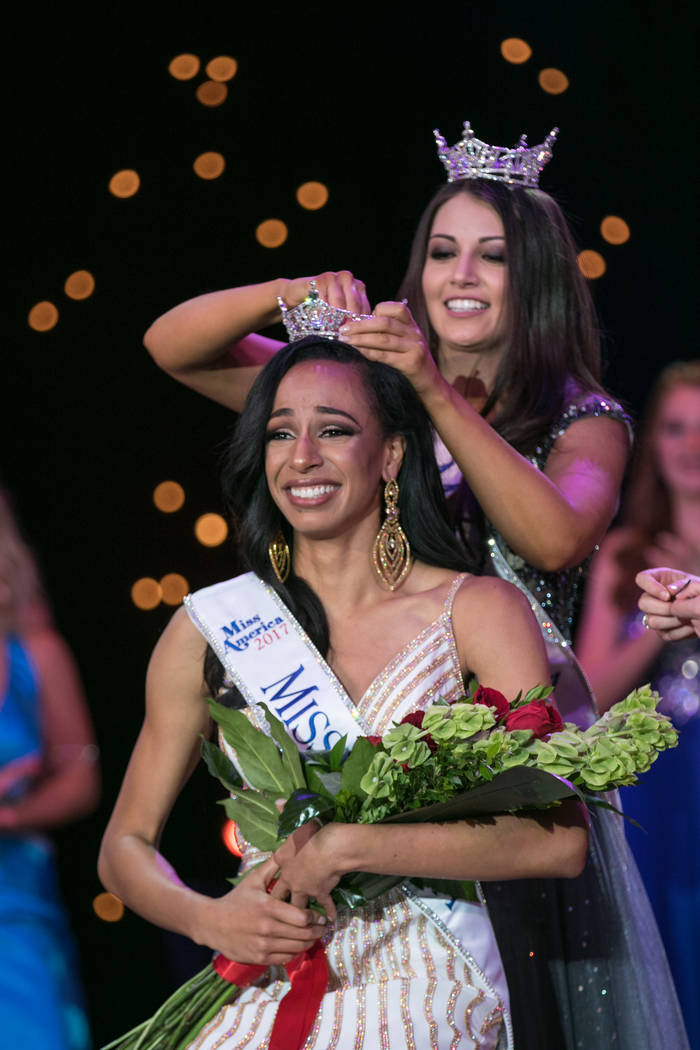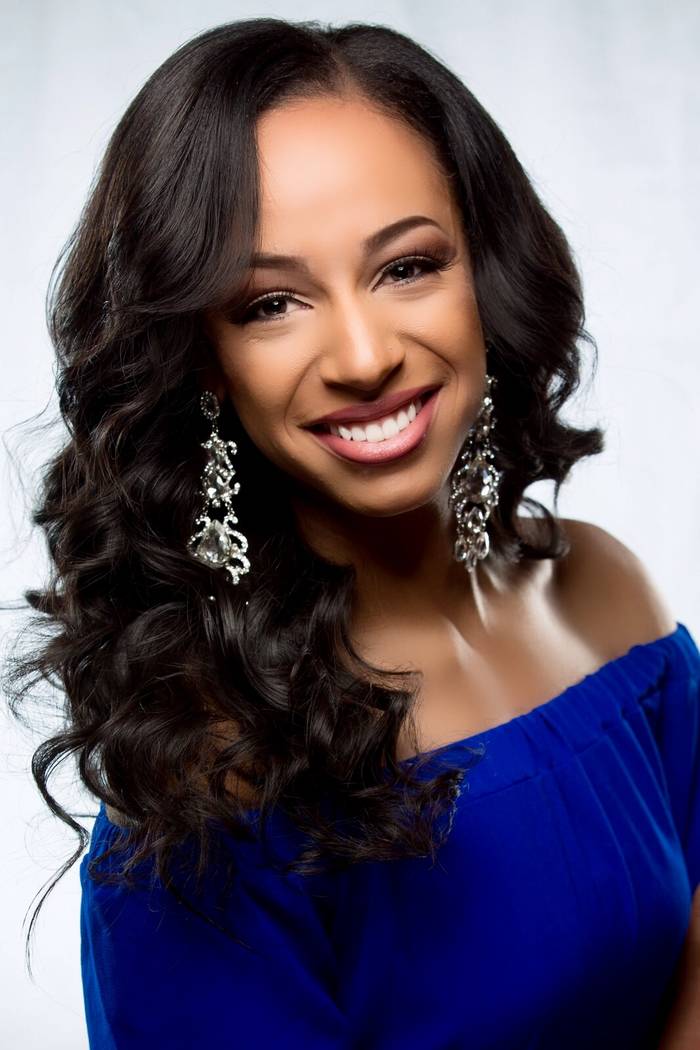 It takes a little detective work to fully understand 23-year-old Andrea Martinez because our newly crowned Miss Nevada she is no ordinary pageant queen.
There are no dreams of Hollywood stardom as a TV host or movie actress. There are no plans for her name up in lights on Broadway. What there is — well, we'll come to that in a moment. But first, let us point out that until just a year ago she hadn't even thought about entering a pageant.
Then while watching last year's Miss America telecast with her father, he said: "You could win this if you entered." She laughed at the idea because her goal at the time was to be a leader in the criminal justice system.
But she won the very first pageant she entered — Miss Clark County, which automatically put her on stage a week ago competing in the Miss Nevada pageant for the first time. And, she promptly won that, too!
Now the Clark County substitute teacher, who is completing her own educational studies, heads to Atlantic City in September to represent the Silver State and already some are whispering she'll pull off a hat trick and win that, too!
If it was a case of just "looks alone" Andrea could win on that score but she's also got the brains — and an oversized heart to match.
Here's our extraordinary conversation:
Q: What was the feeling like the moment they called your name and you were crowned?
A: I was so excited. At first, it didn't seem real. This is only my second pageant ever, so … I'm still trying to take it all in!
Q: You won Miss Clark County, you've now won Miss Nevada; you've won everything you've ever entered? Are you Superwoman?
A: I'm just really ambitious, and, I guess, determined. I have certain expectations of myself and I know that to whom much is given, much is required. And feel like, you know, God has blessed me with certain things and I need to do my absolute best to make sure that I'm giving 100 percent. My faith in the Heavenly Father is actually what got me through this entire week.
Q: You go to church every Sunday?
A: Actually, I went to a Christian school through sixth grade. My personal relationship with the Lord began around seventh grade. And then I started singing in my church's choir and then leading worship at my school. It's just always been something that I've been extremely involved in. And, even right now, I'm still in my church's choir. So … yeah, I'm pretty much always at church. We have church twice a week. They are so excited for me. They all said they were praying for me, which I totally appreciated. So, I have a huge, huge support system at my church and I'm so thankful for that.
I prayed that God would put me in whatever position that he wanted me to be in for my life. I went into it just knowing that I was going to give 100 percent. I just wanted to make sure that I was putting myself in the best position I could for God to use me. So, I didn't really pray to win, I just prayed that I would be content in knowing that he had me where he wanted me.
Q: Your pageant platform is to build bridges between the police and the community?
A: I actually have my undergraduate degree in criminal justice. Some of my professors were police officers …. And, so, I just got to know them on a very personal level, and, because they're officers … I got to see a different side of it, from a different perspective. And then, I ended up learning a lot of things about how police departments are run. And what people fail to realize or take into consideration is that each police department in every city is run differently. You can't make a blanket statement and say: "Police do this, this, and this." When in reality, it depends on how that department is — you know — what their use of force policy is, etcetera.
I got a different perspective on that side of it. And me, being a multicultural individual, you know, I also got to hear the other side of it from people who've felt that police target minorities. I just came to the conclusion that it was really just a lack of understanding and a lack of communication for both. And that's what needed to be mended, was the relationship between the community and the police.
Q: This is a very unique platform for a young lady to pursue as a pageant princess?
A: I actually want to pursue a career in law enforcement. I have actually been going through the application process of becoming a police officer … . And so, I just want to help that relationship. At the Office of Community Engagement, the officers that I work with, they do so many things in the community that I think are so important. And, not a lot of people know about what they do. And so I really want to promote that and get that out there because they're relatively new as well. Just finding out about all the things that they do really helped reinforce it for me. They are unsung heroes. They don't get as much recognition as they should. They do things above and beyond their job description.
I went to lunch with a few of the officers, one of the sergeants and one of the captains, and they were meeting with community leaders, and they were describing the things that they were doing to help mend the relationship between the police and the religious communities. And, a question that was asked at the meeting was: "Well, why should you guys do that?" You know, "Why is it your responsibility?" And they responded and said, you know, "Well, why not?" Like, who else is going to do it? You know, so, I think that really, they don't get as much credit as they deserve in our city specifically, in Las Vegas. Because they're doing so many great things. Our officers are going out and training other officers in other cities around the nation, as well as other parts of the world. Because what we're doing here to build those relationships is so effective, and we haven't had that broken relationship that exists between the police and some communities. I totally give credit to Metro (Las Vegas Metropolitan Police Department) and how they've been proactive.
Q: How did Andrea Martinez become so smart and bright?
A: I give credit to my education, of course. But I'm going to have to give a lot of it to my parents. They definitely instilled a lot of great values in me, and a lot of really good habits. You know, to work hard and keep up with current events, and just educate myself on things. So, they get a lot of credit. My grandfather, my dad and two of my brothers have served in the military. But no one in (the) police (department).
Q: Now, the next step in this amazing journey will be in Atlantic City. You haven't yet recovered from winning Miss Nevada but when do you think you start getting nervous? Or, do you just place yourself in the hands of your faith and not worry about anything?
A: That's been how I went into the last project, and obviously, this was something that he had for me, because … that's just how I feel, you know. If God has it for me, then it can't be taken away from me. If this is in my plan, then it'll happen and no one can take that away from me. But if not, then I have something else planned for me, and I'm completely happy with that. I'll go there with a quiet confidence and the outcome will be whatever it is. It's the athlete mentality in me because I've always been an athlete my whole life. I even ran track in college. I've always had that mentality, where I want to win, so I'm definitely going to give my all and give 100 percent. But it is definitely a quiet confidence.
Q: Now you are a substitute teacher for the Clark County School District. Do you have all the kids in class rooting for you?
A: I'm going to have tons of kids, which is so exciting. A lot of the kids knew I was Miss Clark County. And so, they were all asking: "When is Miss Nevada?" So, I'm sure they'll be watching!
Q: Did you watch Miss America as a kid?
A: No, I actually didn't. My first Miss America viewing, was last year when Savvy Shields won, and I actually got a chance to meet her about a month ago, so … that was amazing. My dad and I were watching TV together, the day before my birthday last year, Sept. 11 when the Miss America pageant was (airing). And you know, he … told me "I think you'd be really good at it," and I was like: "Nooo," because you know, I've always been an athlete, so pageantry was never on my radar. And I didn't really know all that it entailed. I didn't know that there was a community service project attached to it. So I didn't know that I would be able to make such an impact through a beauty pageant.
I gave it a little more thought and consideration; it stuck with me in my mind. And then I looked it up. I gathered some information on it. I brought it back to my parents and I was like, "I think I'm actually going to do this." And they supported me 100 percent and told me that they would be there for me — any other financial needs that I had or anything like that, and, here I am! Miss Nevada 2017!
Q: Congratulations, again. You are very well-spoken, and you seem very well-equipped with your knowledge of what's going on in the world. Have you completed your education?
A: I'm currently pursuing a master's degree, in forensic psychology. And I will be done in December at Grand Canyon University. I got my undergraduate degree at Southern Utah University in criminal justice. I did a four-year degree there, got my bachelor's in criminal justice, and then I graduated and I came back here. And I'm doing my master's online right now.
Q: So, the music of Electric Daisy Carnival is not of interest to you but solving the problems of the world is? Do you mind being a goody-two-shoes?
A: I want to put my life to good use. I actually think being (a) goody-two-shoes has gotten me far in life. I've always been a rule-follower because I know that those rules are placed there for a reason. And, you know, my dad has always brought me to listen and be slow to speak, and, you know, take in information, evaluate your surroundings, and be safe and follow the rules because structure is there to provide help for you. If people want to call me goody-two-shoes feel free; I take it as a compliment.
Q: I guess you're very thankful that you sat down to watch television with your dad that day?
A: Yes! Very thankful. God just totally orchestrated the whole thing, and, I'm willing to be used and so I think, I just let it happen!
Q: Final question. What's been the reaction to everybody, that you won the title?
A: They're all excited. I've gotten, you know: "We're not surprised." I'm like: "Really, I am! People have told me they're so excited for me, and it's so well-deserve. And, I was so, like, humbled by it, because I didn't know half as many people thought so highly of me. So … it's a blessing.
Andrea is Puerto Rican and African-American and has lived in Las Vegas since she was 8. Her father is a support controls technician at McCarran International Airport and her mom is an escrow agent at CalAtlantic Homes.
Andrea had the last word when I asked her what she really wants to do after she wins the Miss America pageant!
"I actually want to go into criminal profiling for the FBI. That's why I'm doing my master's in forensic psychology. I'm pretty much kind of profiling the type of individual that we would be looking (at) for committing a series of crimes. I was planning on becoming a lawyer. Realized I did not like i. And I took one criminology class, and our professor had us watch a documentary on criminal profiling. And I fell in love. It's just, a combination of criminal justice and psychology. And that's exactly where my mind takes me. Because whenever I see someone commit a crime, I'm always thinking to myself: "Well, why did they do that?" So this just gives me an opportunity to educate myself on why someone would do the things that they do. I'm the next CSI. That's the plan: CSI Las Vegas.