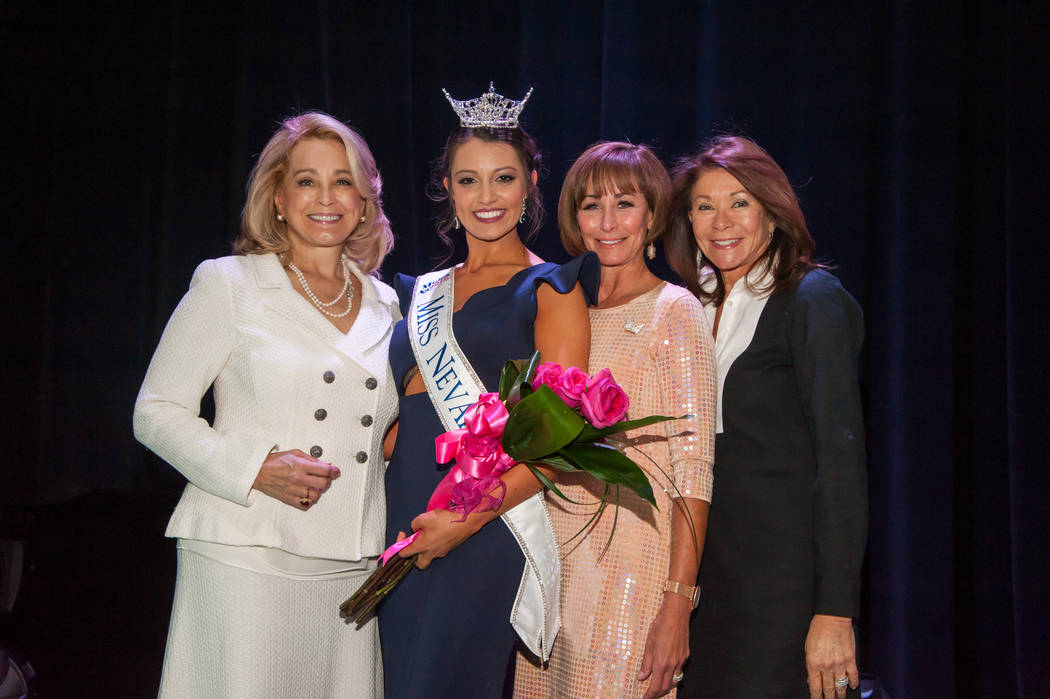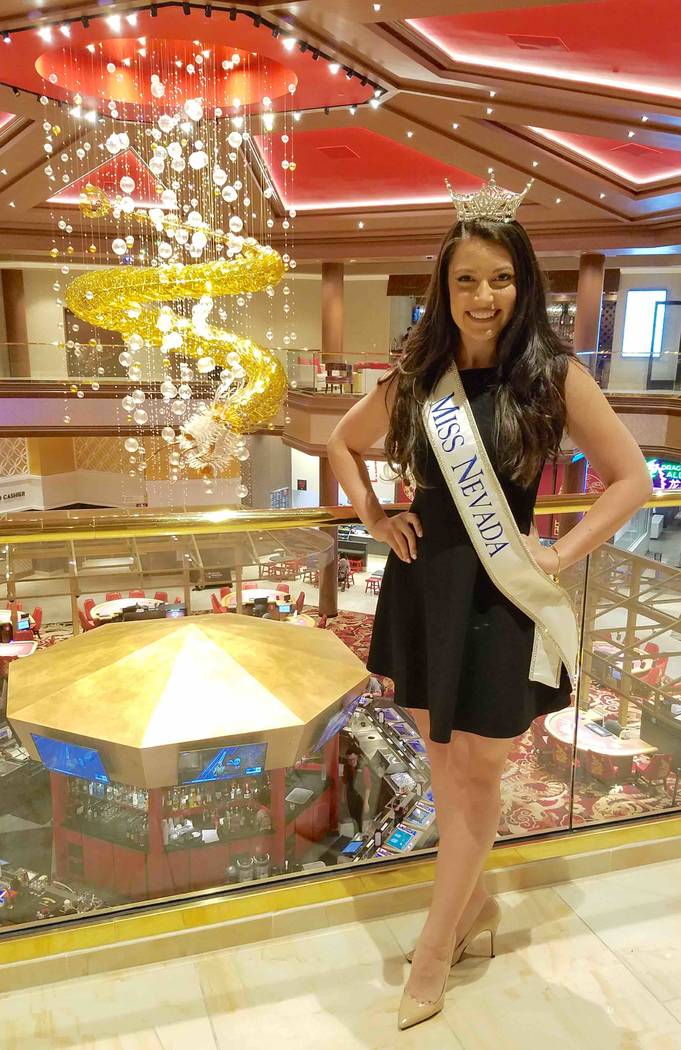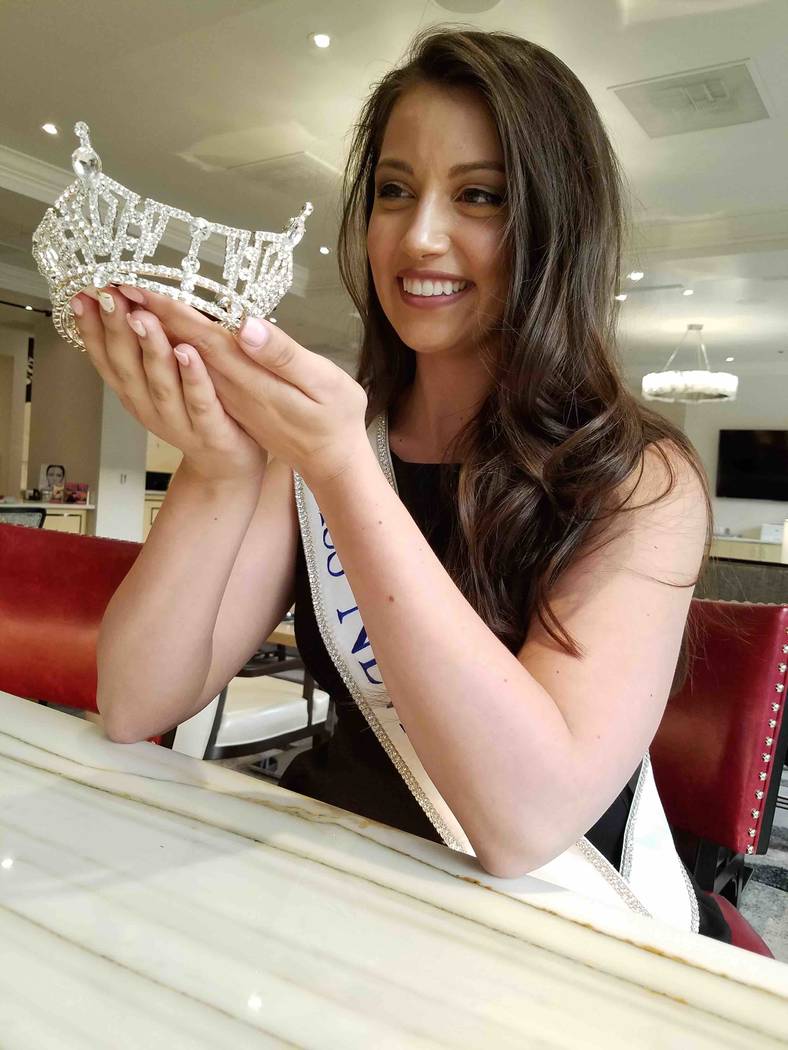 It has been an extraordinary 12 months for Miss Nevada Bailey Gumm, and she looks wistfully at the crown she must turn over to a new winner June 16 at Tropicana Theater. "It's bittersweet — I haven't quite had the dream where I hold on to the crown instead of handing it off and run out of the theater saying, 'I'm not giving it up!'
"But people will ask me if I'm ready to give it up, and there are days where I feel like I am ready, or I will be in two months, to give it to the next girl because I want her to experience the year that I've had.
"But then there are other days where I have a great day as Miss Nevada, and I'm like, 'I'm not giving up the crown. You're not going to make me. I'm not going to show up.' I just know that I'm going to be inconsolable that week. It's going be hard to give it up because I've been wanting it for so long.
"When I give up my crown, I'll have been in the Miss America Organization for eight years. It's in our family. My younger sister, Carli, started out as my Princess in our Nevada State Princess program. She's been involved for eight years. She was in the mentorship program, then when she became of age, she competed in the Outstanding Teen program. She was first runner-up last year.
"She's currently Miss Carson City's Outstanding Teen, so she's hoping to follow in my footsteps. I held the state title of Outstanding Teen, so the Gumm girls have always wanted to follow in those footsteps. As the Teen, you serve a very different role than the Miss, but it really prepared me for this past year.
"It's a lot more ceremonial, and you're expected to represent the teenage age group, 13 to 17, so you're in school full time. It's a little different, but I spent the entire year with Alana Lee, who was Miss Nevada, so I pretty much had an internship for the title of Miss Nevada for a year.
"I knew what to expect, and I knew what I could eventually achieve. I saw what it took to get there, then I saw the real aspect of Miss Nevada. It wasn't just this glamorous life where everything was handed to me. I really saw the hard work that she had to put into her year. I saw the backend of it, and I think that really prepared me."
The night Bailey, now 21, won the title and crown at Tropicana Theater was the highlight of her year of service, but she has other highs to remember forever: "The night I won was the biggest high. I knew that I had a good chance. Once they called the first runner-up, I knew at that point that I had it. I did. Every Miss Nevada will tell you, after they call the first runner-up, you feel this peace that you're about to be called, and I felt that.
"Whereas the years prior when I've been called as a runner-up, I also knew that I was going to be a runner-up. I felt that. I was standing among all the other competitors, but you just feel this peace. The girl next to me actually grabbed my scholarship that I had won because I won a community service award, so she grabbed my scholarship and said, 'You're gonna win.' So she held on to it for me.
"The next highlight was the Miss America orientation in D.C. I didn't compete at Miss America until September. I really prepped for Miss America. We worked on my talent. I was at Debbie Allen's studio for a week, and we completely redid my entire Miss America talent.
"She choreographed my routine, and we redid the music. It was incredible. I trained with her, and I stayed at her house, and that was the biggest highlight ever. They even let me cheat on my Miss America diet a little bit, so that was fun, but just to be with Debbie Allen is amazing.
"The other highlights were the events definitely promoting my platform of autism acceptance. That's been really huge, especially having my autistic brother's support because he goes to a lot of functions with me. To see him standing next to me, it really hits the message home that we need to accept those who have a disability or who are a little different than us."
Did your year as Miss Nevada change your life?
I've been dreaming of being Miss Nevada my whole life — this is a goal that I've worked for the last seven years. It's changed my life. First, it's the reason that I'm going to college. My parents are schoolteachers who paid for my brother's autism treatments. We didn't have money for me to go to school, so the organization is funding my educational goals.
I deferred the year at Westminster College in Salt Lake City to be Miss Nevada because it's a full-time job. Then I won a four-year scholarship to UNLV as part of the prize package of being Miss Nevada. The minute that you win that, your life's changed because to graduate college with no debt? For someone who didn't even have a college fund to start with — that's amazing.
I'm studying communication and will get my master's in Strategic Communication at UNLV to hopefully work as a press secretary in governmental affairs. I'd like to go to Washington, D.C., then eventually I can land in Carson City. I've loved politics my whole life. I think it's the advocacy part in me with my brother's autism and seeing my parents really advocate for him.
I was 15 when I became Outstanding Teen, and that's when I decided to try and change the world. This organization does that. It really empowers young girls, and to be empowered at 15 … I couldn't even drive, and I felt empowered and that I could have any career or ambition that I wanted and achieve it, and I've done that through the Miss America Organization.
I was this small-town girl from Minden, Nevada, but I was ready to dedicate my year to this title. It meant moving to Las Vegas, so to just overnight move to Las Vegas and take on the job and the responsibilities of Miss Nevada full time, you grow up quickly.
Now in June I hand over the title and the crown. The year is over. It's bittersweet. I've attended every local preliminary pageant that we had this year, so I've met all the girls competing. Our entry from Douglas County is Briana Neben, who was my runner-up last year. She's great. Something must be in the water because she's a strong competitor. They're all really good.
The scholarship program is the main incentive for being in Miss America. We're the nation's leading provider of scholarships for young women. That's definitely the incentive, and it's something that we really do hang our hat on because it differentiates us from a lot of other organizations out there that we provide scholarship as our prize.
* * *
Over our Chinese dinner in the elegant restaurant Phoenix at Lucky Dragon, I had to ask Bailey because Miss Nevada has never won Miss America if it was disappointing for her not to win when she went to Atlantic City.
"No, it wasn't disappointing. You know walking in that your odds are 1 in 52. You can't lose something you never had is how I looked at it. I could only win Miss America, but I couldn't lose anything, and if you define success in this organization by the number of times you win a crown, you're going to be disappointed more times than not. It's only once. One girl wins each time.
"I got everything I could out of my Miss America experience. It's a one-time thing. I absolutely loved it. I was a finalist in the Quality of Life scholarship. They have seven Quality of Life finalists based on our community service platform, and to be called for that, that's like I won Miss America. I was so thrilled because my brother was there."
What would you say to girls who may not have any interest in this as to what good it could do them to be part of it?
A lot of people who aren't interested in pageants always tell me that they're not relevant in today's society. They just think that all we do is walk around in a swimsuit onstage and be judged. My response to that is there's nothing more relevant than young women doing community service and giving back to their communities and state and funding their education for their own professional aspirations.
That's what this program does is it gives young women a platform to speak their minds and to make a difference in the world. … Within five seconds of talking to any of our local titleholders, you realize that whole beauty queen persona that someone might have in their mind is completely broken down. Our girls are bright, ambitious and so talented.
I look at these 13-year-olds in our Outstanding Teen program, and I can't believe that at 13 they are so put together. Our Miss contestants are making a difference in their jobs. They're holding jobs that no 23- and 24-year-old would have at their age because they have a strong skill set — and that's from being a competitor in the Miss Nevada Organization.
Is it OK to be a goody two shoes?
Yes! I'm Miss Nevada. I not only have my reputation, but I also have the organization's reputation on my shoulders, so of course I'm good. That's how I was raised. I'm not doing it just because I'm Miss Nevada. No, it's good to be ambitious.