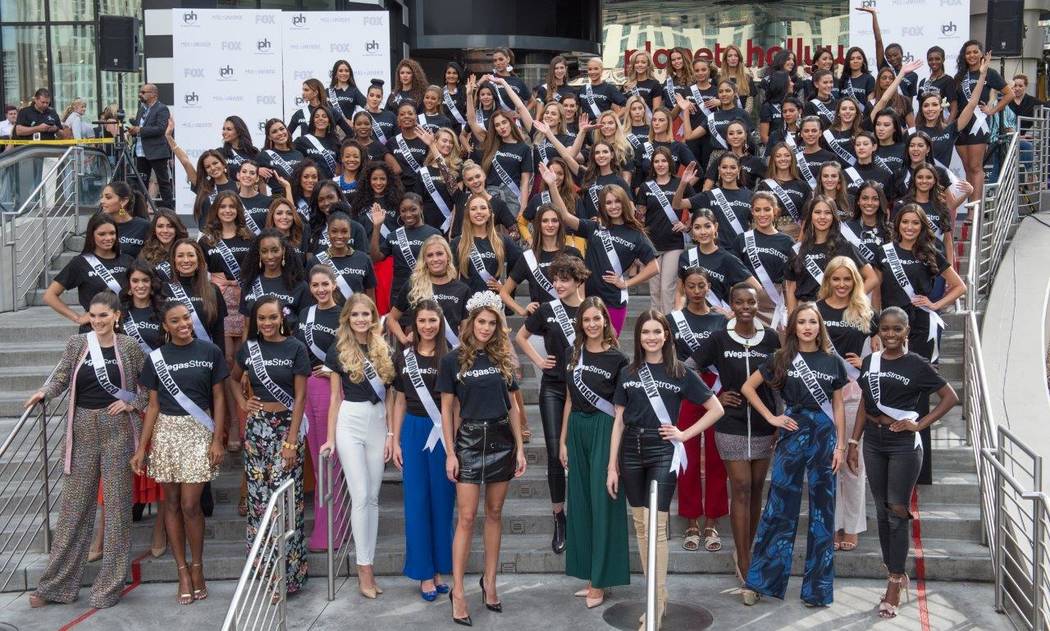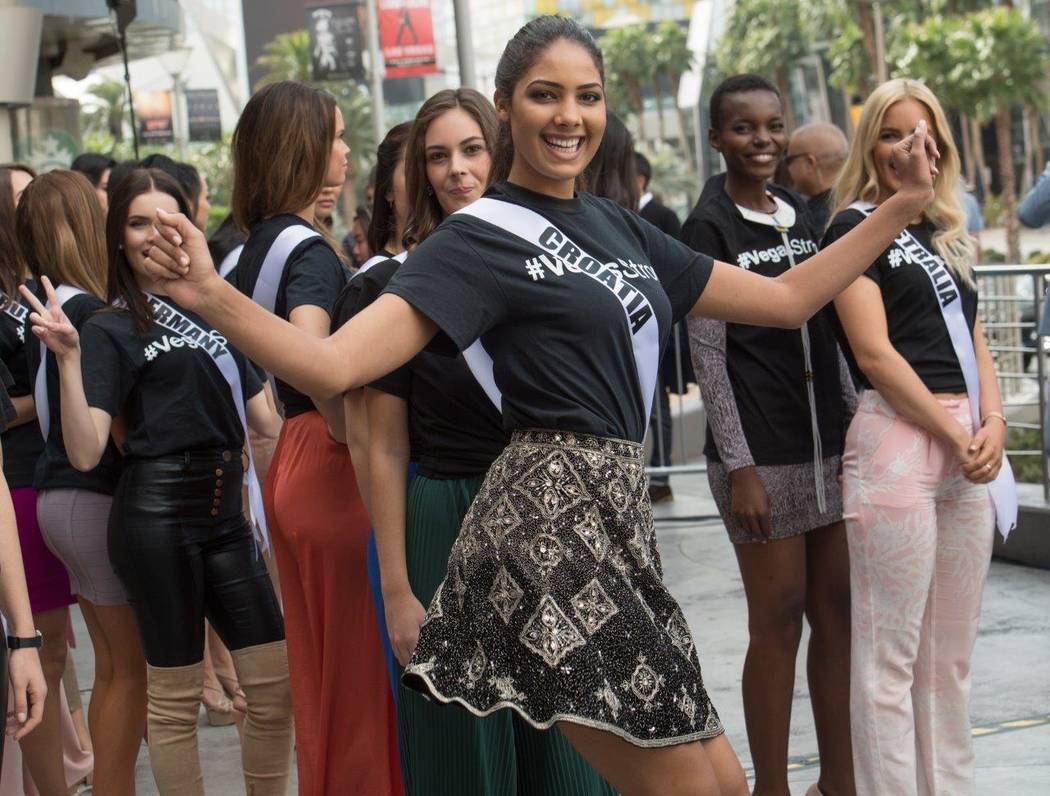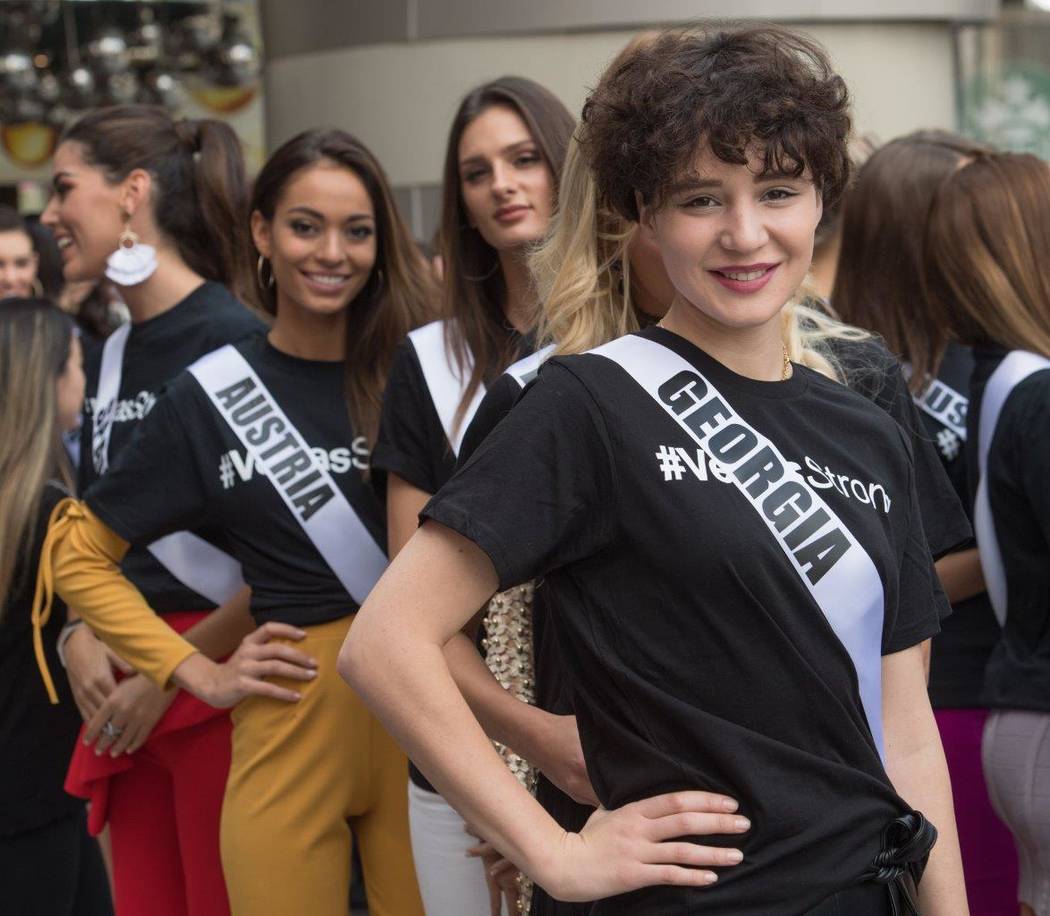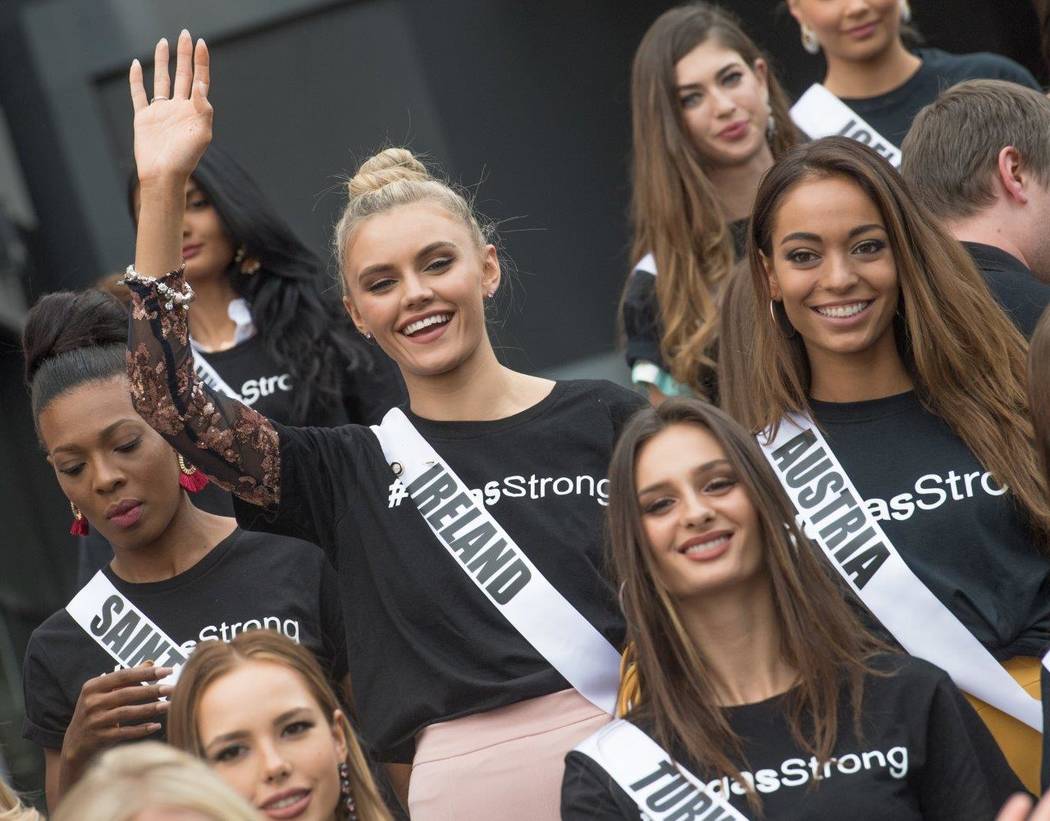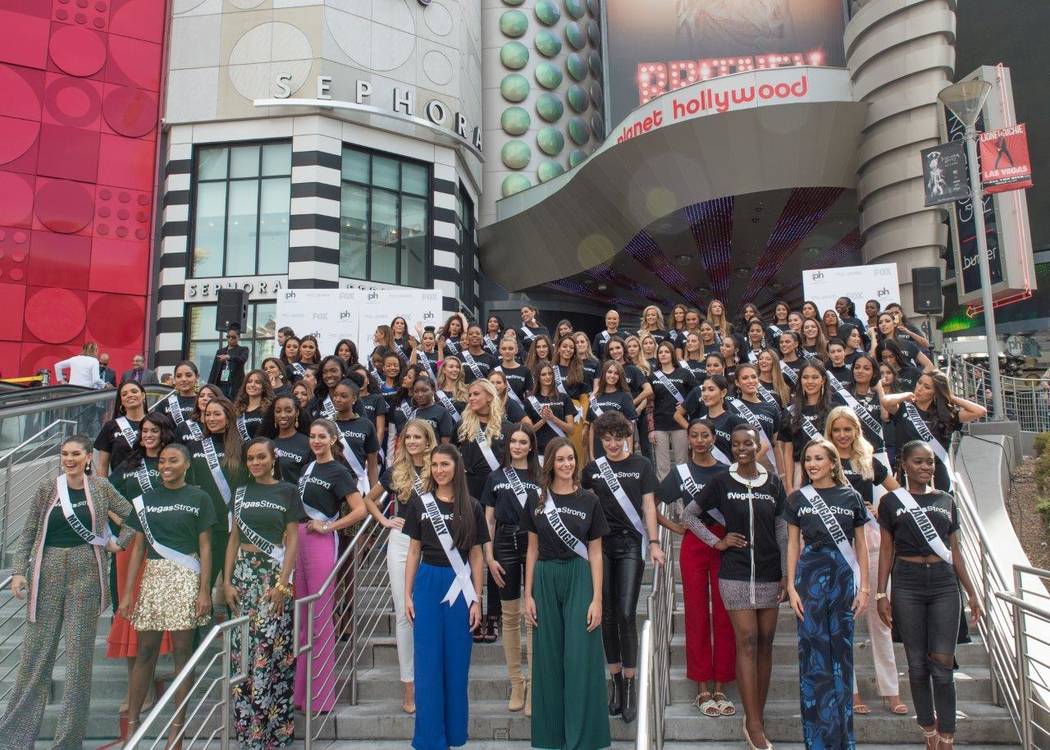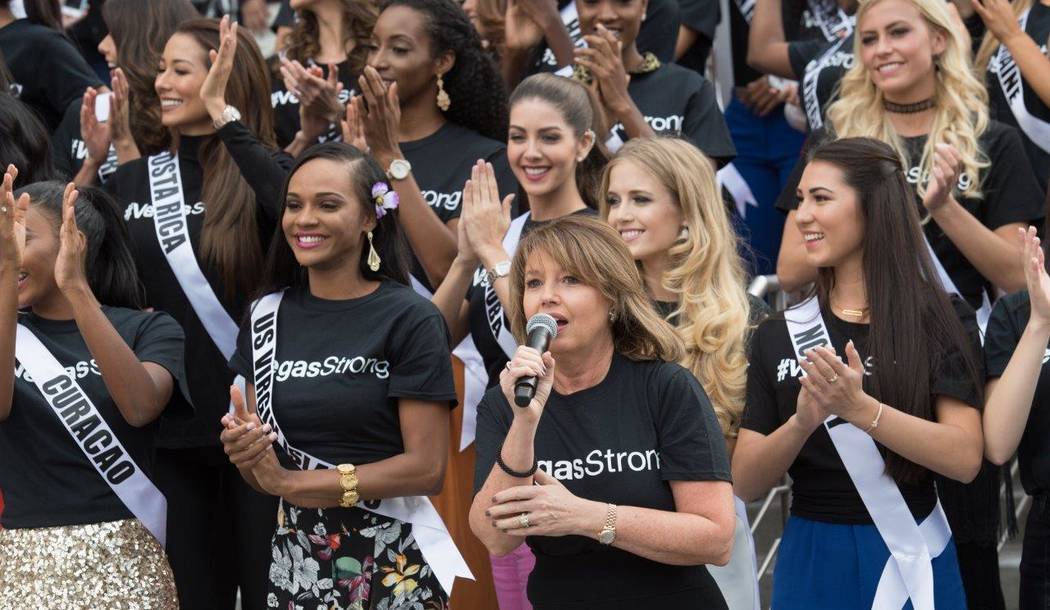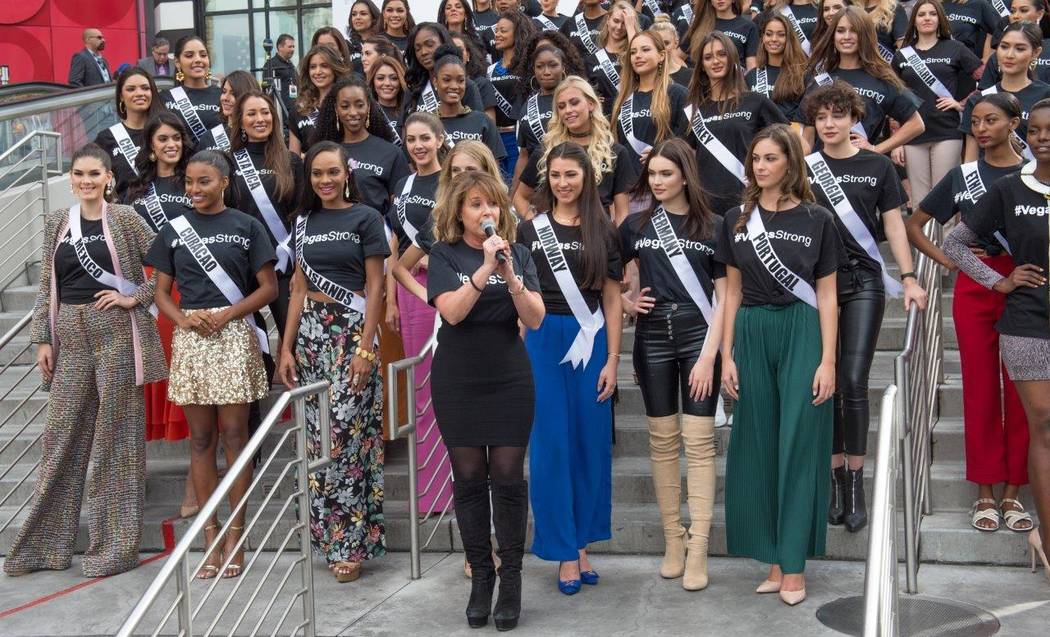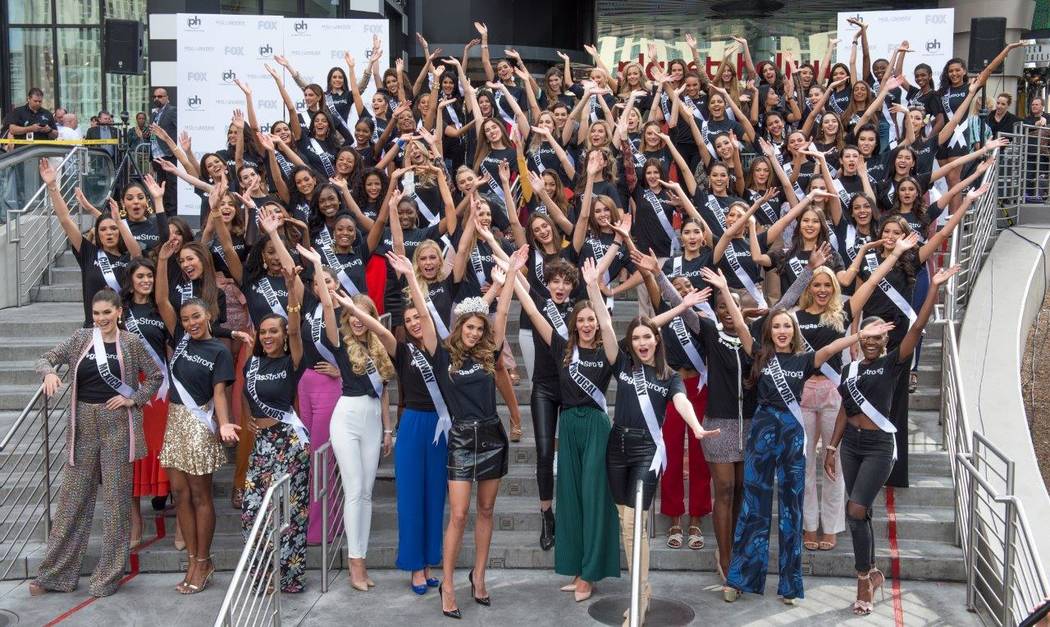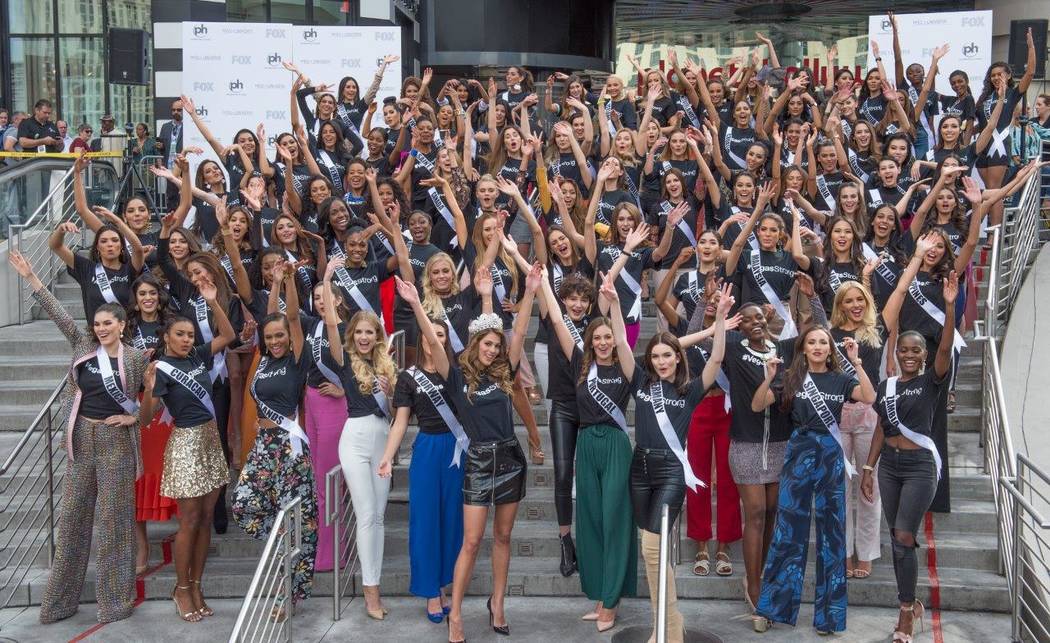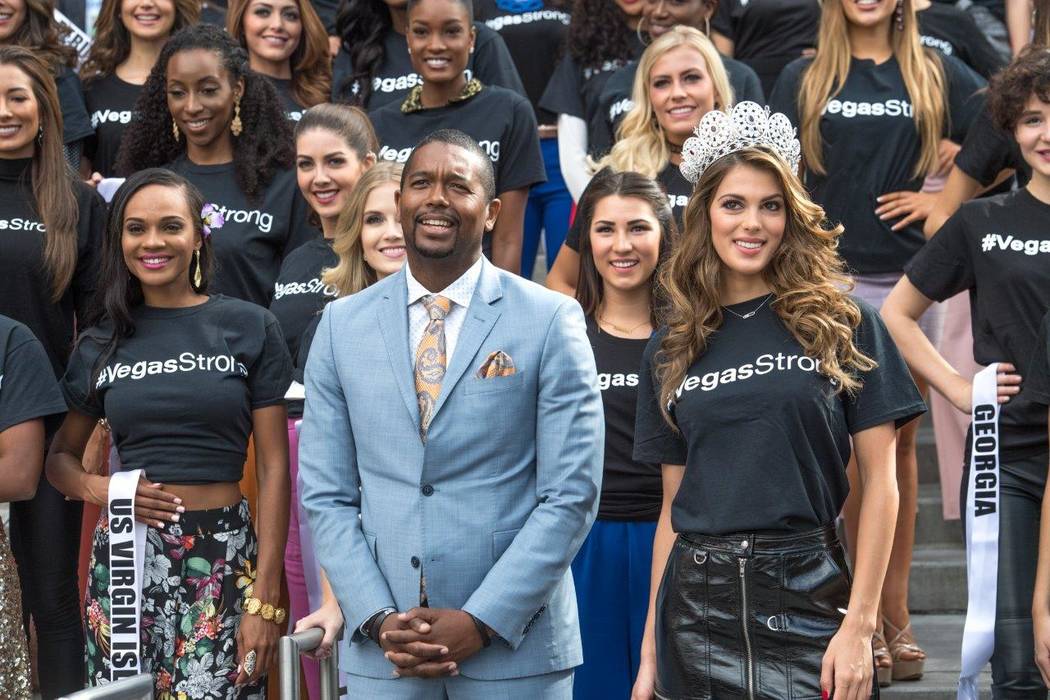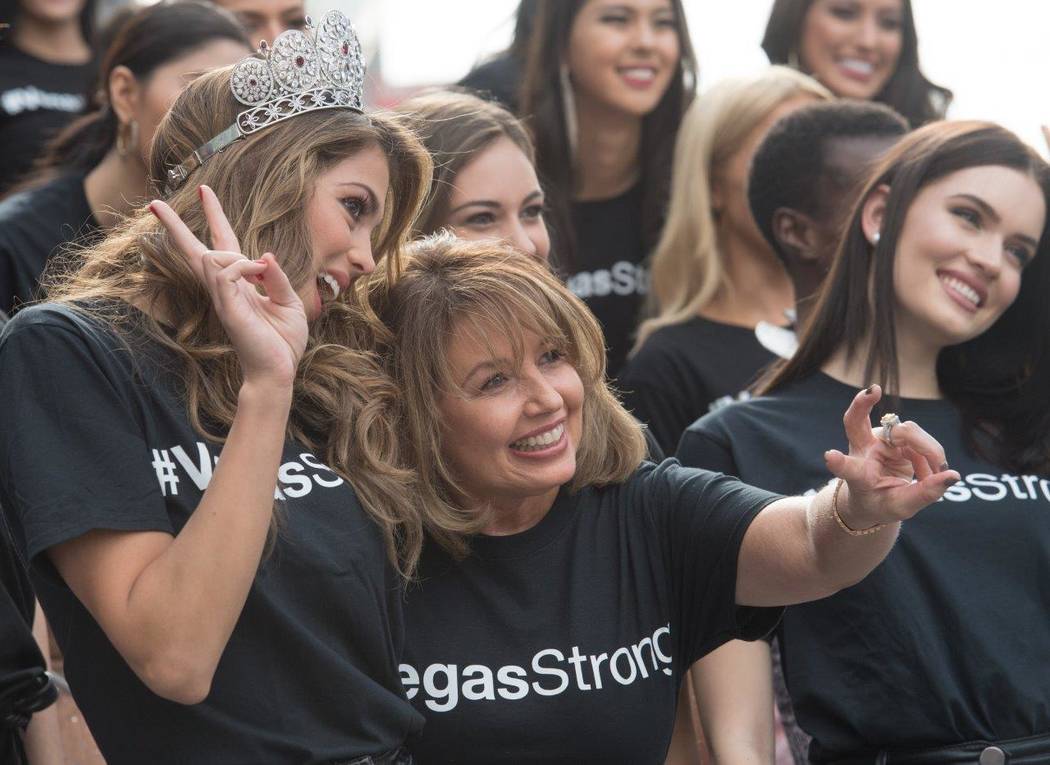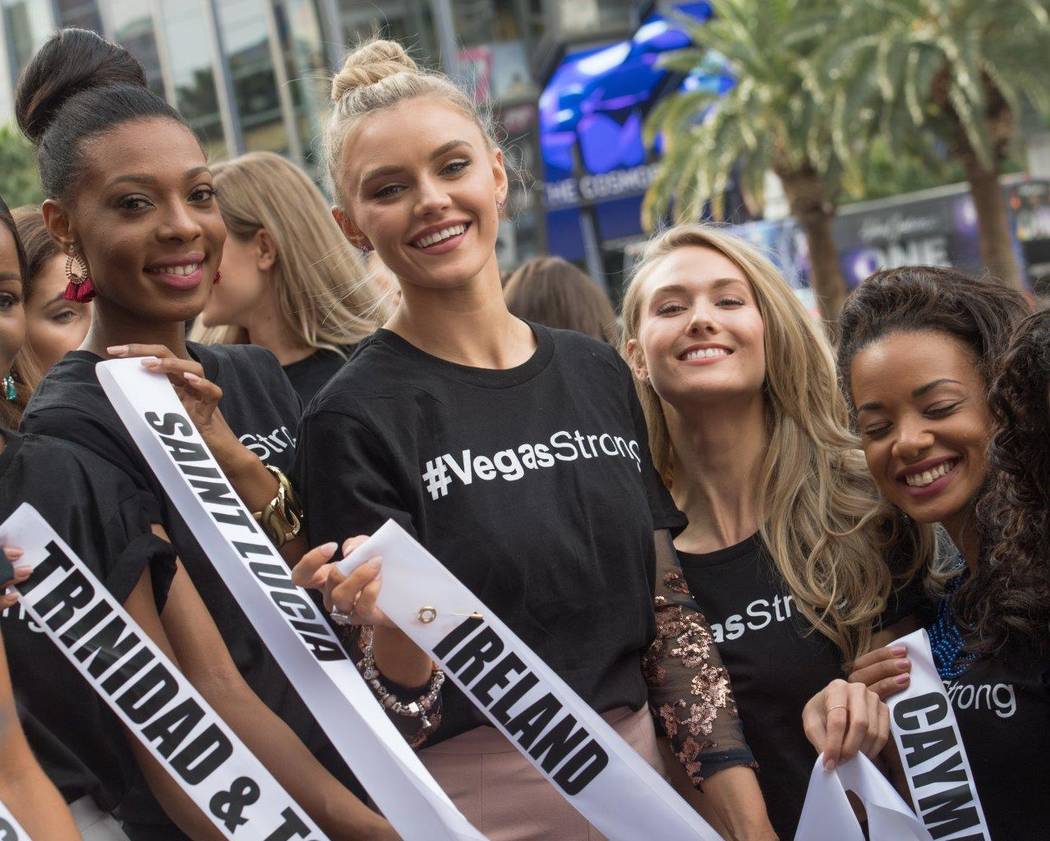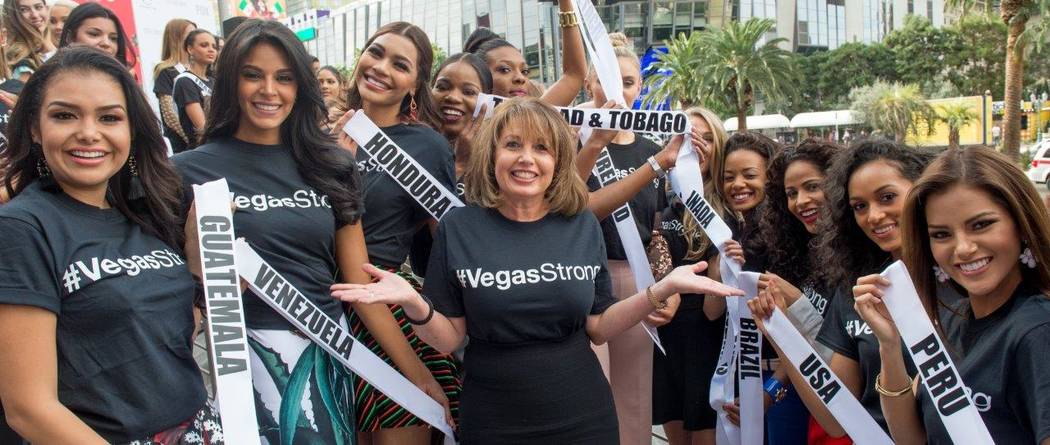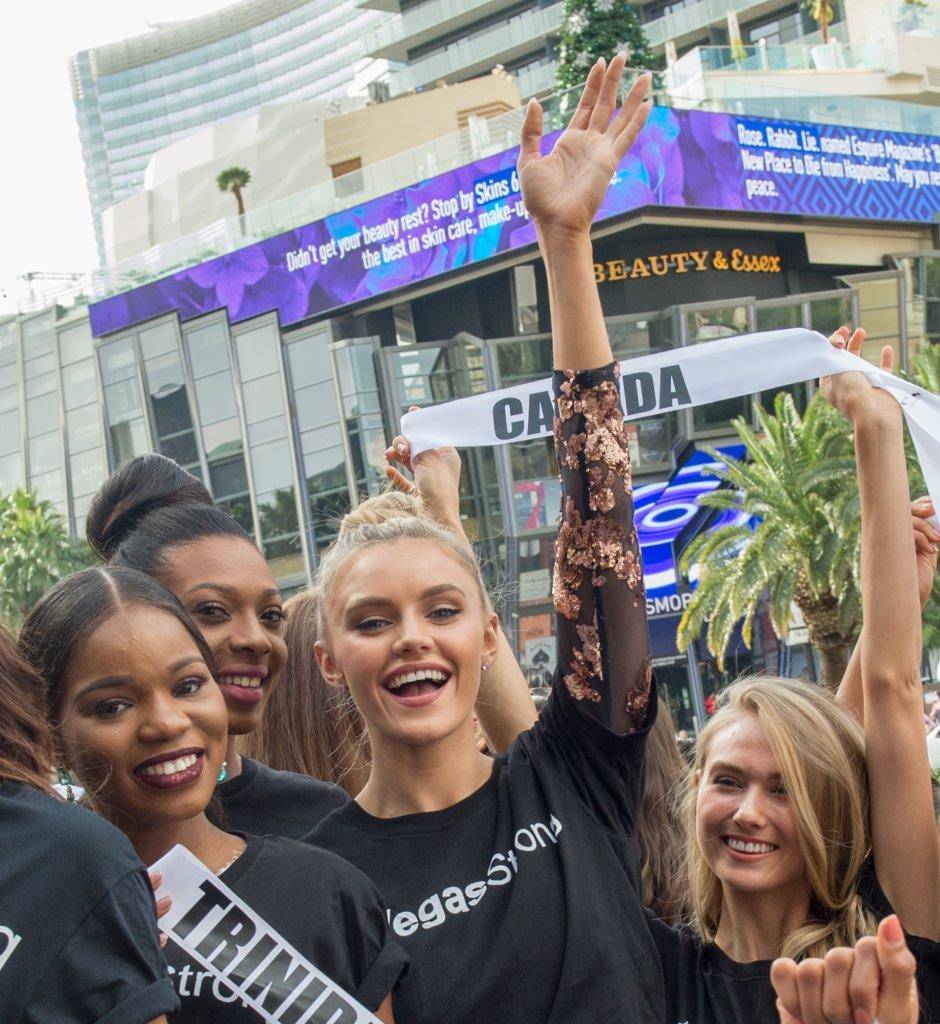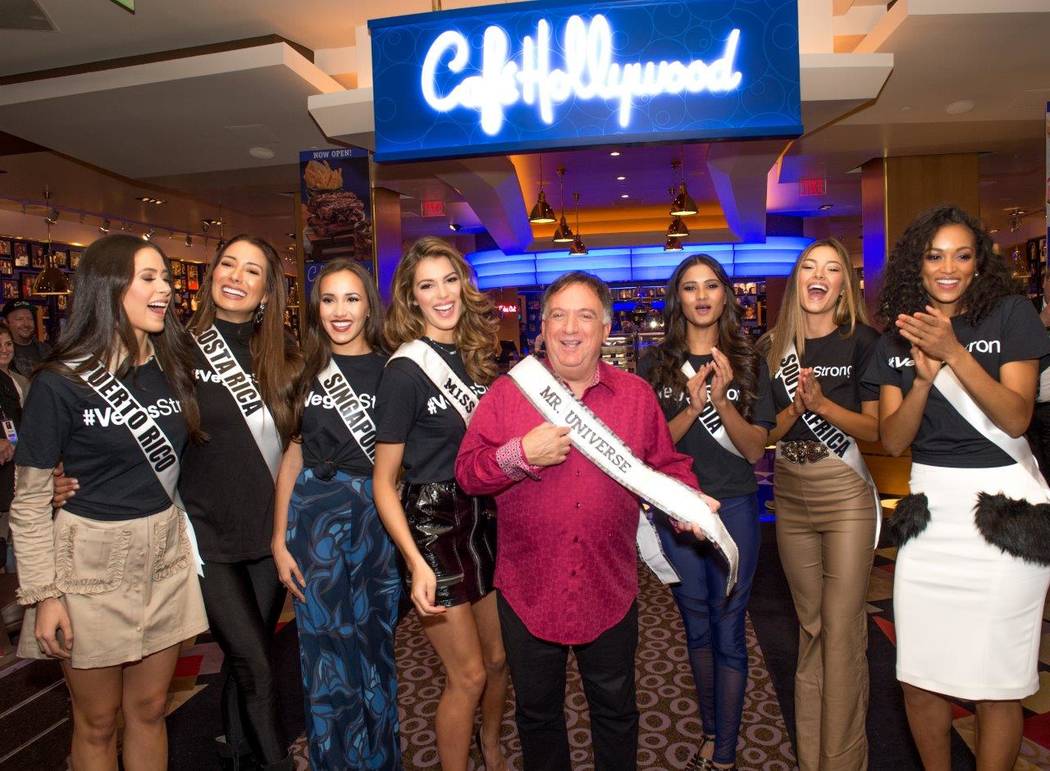 It may well be the second quietest two weekends of the year this Saturday and Sunday, plus Thanksgiving and at Christmas but Vegas is awash with glamour right now. It's thanks to the 92 contestants in next Sunday's Miss Universe pageant. It would have been 93 beauties, but Miss Sierra Leone never made it onto the plane for McCarran International Airport because of a passport and visa snafu while leaving her African nation.
Yesterday (Nov. 16), not only did they get the city's official welcome on the steps of Planet Hollywood but they helped former owner Robert Earl celebrate the grand opening of his new Café Hollywood to help mark the hotel's 10th anniversary today (Nov. 17). It's a shrine in a hip, modern, retro black-and-white diner to all the stars who've been captured on camera there. My photo with action adventure man Jason Statham is one of the 500 photos hung on the walls.
Be sure to order the apps, which come served on a mini high-roller wheel, check out the chic lounge bar and salivate over the grilled veggies display and the homemade pies and pastries on the center gelato bar. Amazing! It's a fun, hip 5,300-square-foot space with 35 HD screens open around the clock. The Miss Universe beauties had a ball selecting their personal menu highlights.
The Miss Universe contestants filmed scenes of their arrival and then again last night at the Hewxx chocolate emporium. Other videos were filmed at the Cleveland Clinic Lou Ruvo Center for Brain Health and the Sugar Factory brasserie in Fashion Show Mall. Today, begins the serious rehearsals and preparation for their national costumes displayed at the Parade of Nations set for tomorrow evening at Planet Hollywood's mezzanine walkways. The preliminary pageant is set for Monday evening there when the judges carefully cull the crop of cuties down from 92 to the 16 finalists, who will be introduced at the top of the Fox TV live broadcast on Nov 26.
……
In addition to their razzle dazzle it's a weekend of beautiful, old standards and jazz served up by Harry Conick Jr. at the Wynn and veteran Vegas showman Paul Anka at The Smith Center. If you want more fiery music, Guns and Roses are set to rock the rafters at the T-Mobile Arena.
……
I know you are all getting into the holiday spirit with plans for Thanksgiving turkey amd Black Friday sales but if you plan some light book reading while on vacation I'm going to recommend "Two's Company" by Suzanne Somers, which is a wonderfully romantic factual account by the No. 1 New York Times best-selling author of her 50-year romance with husband, Alan Hamel. I interviewed her this week for next Friday's Neon section, and loved her stories, including the amazing fact they've never spent one night apart since they married 37 years ago. Suzanne lived and worked in Vegas after she was kicked off her 'Three's Company' hit ABC TV show, and more recently headlined a near two-year run when the Westgate switched over from the Hilton.
It's a delightful romp; and lessons learned from her journey of being beaten by an alcoholic father; hiding in a closet to escaper his wrath to stardom on the Strip is heartbreaking, yet inspiring — and oh the love! It's a blockbuster exclusive one-on-one conversation for next Friday's Neon. And, on page 95 you'll find the amusing story of how one night shortly after their wedding at the height of her "Three's Company" stardom I spent an evening with them shooting six magazine covers at once!
……
One of the most unusual events this weekend is the lecture internationally renowned sexologist and best-selling author Dr. Susan Block will give at the Erotic Heritage Museum on Saturday night. It's about how bonobos live in peace through pleasure.
Susan told me: "We have a world beset by murder from Las Vegas to Afghanistan, yet bonobos present an alternative great ape paradigm for human sexuality inspired by a role model, who although not human is our closest genetic cousin. We too can live like they do in erotic harmony."
……
The 21st edition of the Silver State awards hosted by Emmy award-winning actor Ian Buchanan from General Hospital and our local stars Kendall Tenney and Chet Buchanan takes place at Caesars Palace . Nine individual honorary awards will be presented, including to singer Pia Zamora as Entertainment Pioneer, Elaine Wynn for the Trailblazer award, U.S. Sen. Catherine Masto for Leadership and Dawn Gibbons for Excellence in Service. Money raised from the ceremony will go to the Susan G Komen non profit in its fight to combat breast cancer.
……
But for now, it's time to roll out the Royal Robin Rundown with this weekend's star shows and happenings. The top amazing attraction may well be the amazing Clairvoyants out at the Aliante. Amelia and Tommy dazzled on television with their incredible feats of magical mind-reading as you can see in this YouTube clip:
As judge Howie Mandel said: "The most amazing thing I have ever seen in my seven years on this show."
……
Please also support the unique Colors of Love charity auction out at Lake Las Vegas that will continue support of the victim's fund of the Rt 91 Harvest shooting. Now, onto the magic of the Entertainment Capital of the World.
NOV. 17
• Guns n' Roses at T-Mobile Arena.
• "So You Think You Can Dance" at Palms.
• Harry Connick Jr. at Wynn Las Vegas for two days.
• Paul Anka at The Smith Center
• Marcia Ball at Myro's Cabaret Jazz salon in The Smith Center for two days.
• Beach Slang, with Mercy Music, Divided Heaven at Brooklyn Bowl.
• Richard Cheese at Red Rock Resort.
COMEDY
• Adam Sandlere has a second consecutive weekend at The Cosmopolitan of Las Vegas.
SPECIAL NOTE
Tickets on sale:
• Incubus at The Joint at Hard Rock Hotel, Feb. 2-3; March 30-31.
• Diana Ross at Wynn Las Vegas, Feb. 7-24.
• Lettuce at Brooklyn Bowl, Feb. 13.
• Kenny Chesney at Hard Rock Hotel, March 16-17.
• Celine Dion at The Colosseum at Caesars Palace, March 27-April 18 and May 22-June 9.
• Maluma at Mandalay Bay Events Center, May 5.
• Disney Jr. Dance Party On Tour at Cox Pavilion, May 18.
• Barenaked Ladies at Red Rock Resort, June 1 & 16.
PARTY PATROL
• Irie at Jewel nightclub.
• Afrojack at Omnia nightclub.
• Dash at Heart of Omnia at Omnia nightclub.
• NGHTMRE at Hakkasan.
• DJ Nova at 1 Oak nightclub.
• DJ Que at The Bank.
• The Chainsmokers at XS nightclub.
NOV. 18
• The Clairvoyants at Aliante.
• Edgar Winter at Boulder Station.
• GWAR at Fremont Country Club.
• Bebe Rexha & Marc E. Bassy at Palms.
• Boney James at The Foundry at SLS.
• Great White & Slaughter House at Tropicana.
• White Reaper, Mondo Cozmo, Superjam and more at Brooklyn Bowl.
• Diarrhea Planet at Backstage Bar & Billiards.
• The Bloods of Gods Tour at Fremont Country Club.
• Turbulence at Legends Room.
COMEDY
• IMOMSOHARD at Green Valley Ranch
SPECIAL NOTE
• Jazz Saturdays and Hot Manila Nights at Cha Garden at Lucky Dragon.
• WCK Muaythai vs. Wulinfeng at The Orleans Arena.
• Colors of Life – 58 Colors to Paint at Reflection Bay Golf Beach Club at Lake Las Vegas.
PARTY PATROL
•Lil Jon at Jewel nightclub
• Matoma at Omnia nightclub
• DJ Shift at Heart of Omnia at Omnia nightclub
• Hardwell at Hakkasan
• DJ Que at 1 Oak nightclub
• MK at The Bank
NOV. 19
PARTY PATROL
• Party Favor at Hakkasan
• Kid Conrad at The Bank
Have a great weekend and keep your eyes on 5-foot-9-inch Miss Venezuela in the Miss Universe pageant. She's destined for something very special! That's my tip and I'm sticking to it.