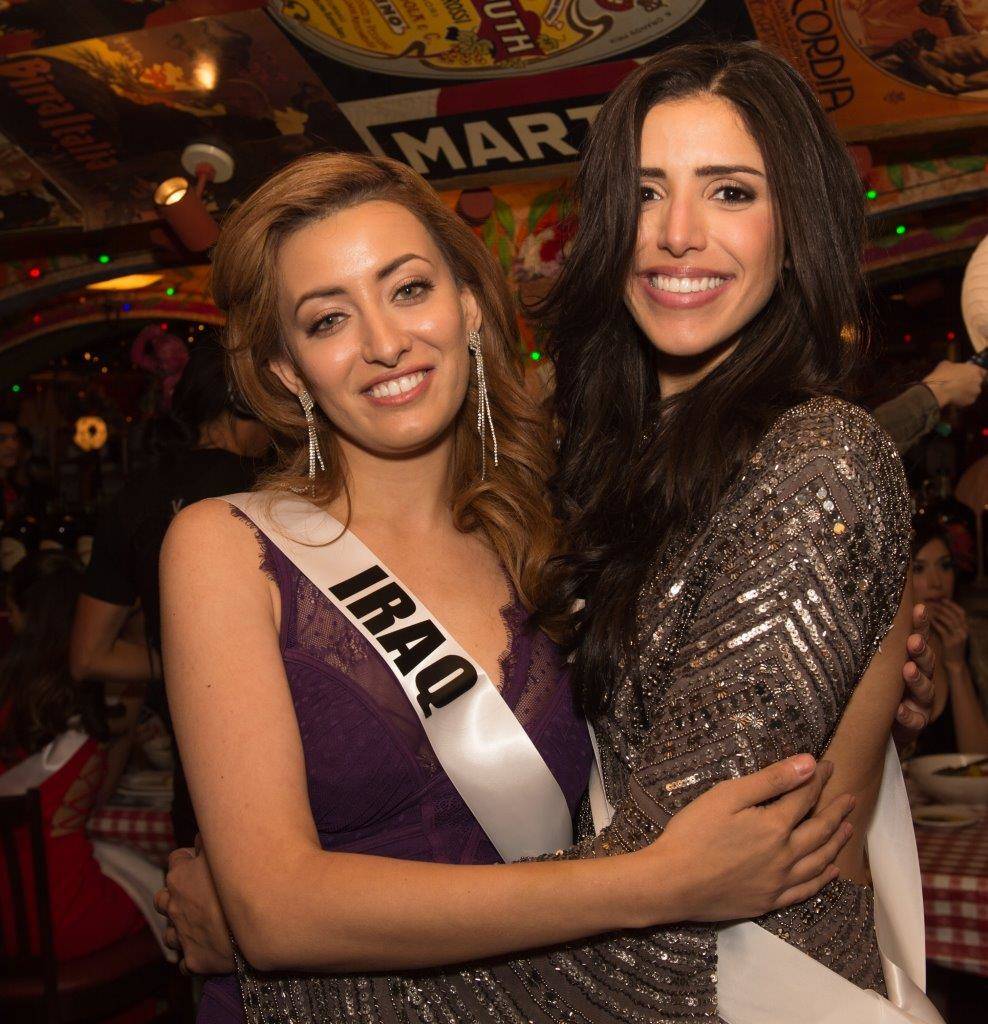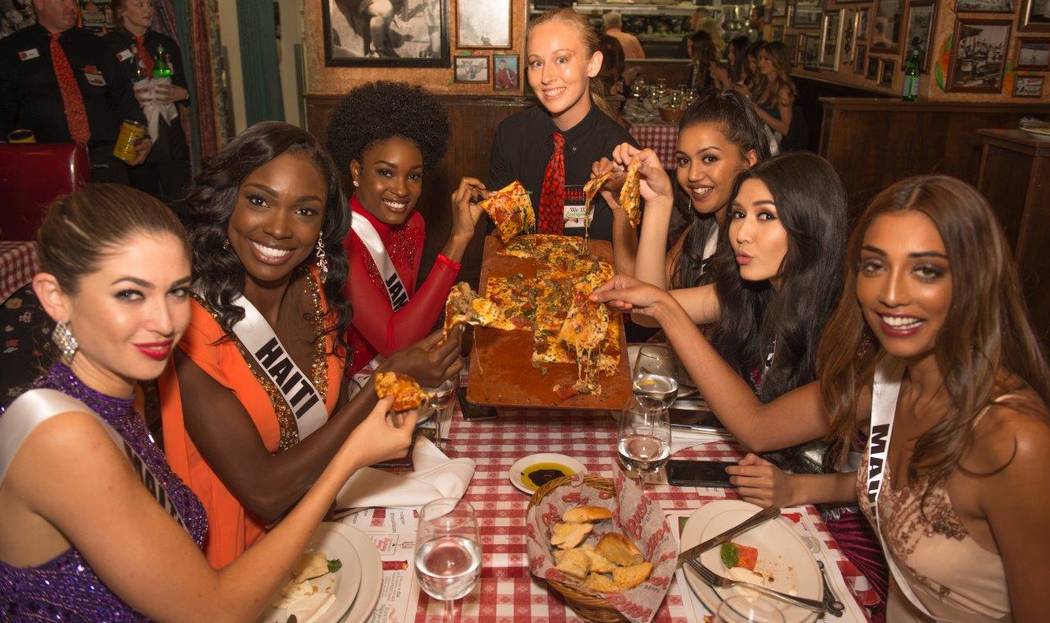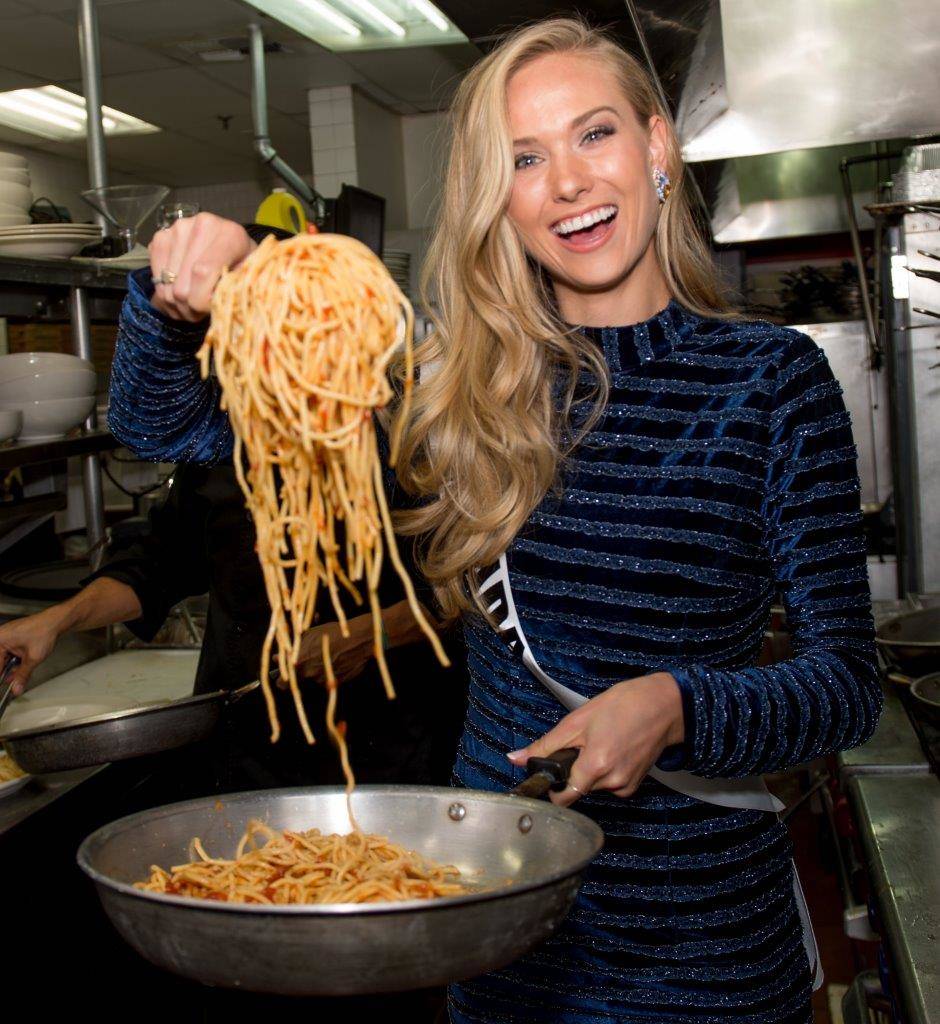 Middle Eastern politicians and diplomats went into overdrive hysteria when the two Miss Universe beauty queens from Israel and Iraq wound up as roommates here at Planet Hollywood and posted photos of each other on their Instagram accounts. The two countries do not hold any official diplomatic relations but Jewish beauty Adar Gandelsman and masterful Muslim Sarah Idan proved peace is possible when they posed together.
Sarah is an Iraqi singer and was the English language translator when American forces first arrived in Baghdad during the overthrow of Saddam Hussein. She infuriated Middle Eastern political opinions writing: "Peace and Love from Miss Iraq and Miss Israel" as the photo caption. Adar wrote: "Meet Miss Iraq, who is amazing."
She was in another firestorm when she snapped a photo with Miss Lebanon with an invitation to visit Israel. Lebanese dignitaries promptly branded her an "enemy," and wanted the 20-year-old, 5-foot-9-inch tall Arabic contestant, Jana Sader stripped of her title. She eventually kept it. And all three were smiling broadly at last night's private dinner at our Buca di Beppo Italian restaurant on East Flamingo Road, ahead of Thursday's ( Nov. 16) official welcome at Planet Hollywood.
Contributing photographer Tom Donoghue and I were the only media invited to attend for these exclusive photos and report. Paula Shugart, the president of the Miss Universe organization commented about the political upheaval.
She told me: "We can all get along and they're getting along. People will joke about pageants and world peace forever, but when Miss Iraq came in, she definitely got some blow-back the first day when she had a picture with Miss Israel, but she said, 'This is not political.' This is about two women finding common interest. It's not about politics…" She said, "It's about someone of Muslim faith and someone in the Jewish faith not talking politics and talking woman to woman."
"There's nothing that's bad about that. I think we can makes steps toward solving the peace process. I think that's one of the nice things about the inherent nature of nurturing women and the pageant. Because without the pageant, they'd never be together and the nice thing with social media, they'll all keep in touch."
It's the largest-ever contingent of competitors from 93 countries.
"This is the biggest contestant pool we've ever had with a lot of first-time countries, including Laos, Cambodia, Nepal," Paula said. This is the first year that Laos and Cambodia have been allowed by their governments to take part. They have government support. Mynamar is thrilled to be back because they hadn't had a contestant since 1962. She won Miss Congeniality and then the country closed."
The 66th annual Miss Universe 2017 pageant will be broadcast live as a three-hour television special with Steve Harvey returning as the host at Planet Hollywood's Axis Theater on Nov. 26 on Fox TV. The Parade of Nations with the glamorous girls in their national costumes is set for this Saturday with the preliminary set for Nov 20. The broadcast will begin with the announcement of the 16 finalists.
I'm told there will be two special salutes to our Vegas Strong organization that supports the injured and families of those killed in the recent mass shooting. One major female entertainer has already agreed to appear on the show. Names of additional singers and judges will be revealed next week, but I can confirm two of the judges will be former Miss Universe winners and another will be recognized as a first responder from the shooting.
Paula who worked with me on our "Star Search" show in the 1980s summed up: "I think right now there's a whole worldwide vibe or a movement that women are standing up more and more, whether it's Saudi Arabia and women being allowed to drive, to all of the things going on here in the states. A lot of the contestants I spoke to this morning, feel that it's their turn. They're the next ones that are going to be leaders.
"I'm really getting a sense that there are a lot of leaders in this group. Women can change the world! This is the first time that women feel that they're going to. I've seen this over the years, that women really realize that they are in charge of their own destiny, which is, I think, what our organization is about. Every single one of these women — they're career-minded, and it's not about just beauty. It's about everything, because beauty is skin-deep. No, there are some amazing women, amazing stories. They realize that it's about confidence and really going for it all and being fearless.
"Confidence is the one word that defines a standout. Confidence gives you the ability not to be afraid to fail. There's not just a spot for one woman in the board room; there is a spot for many."
Reigning Miss Universe Iris Mittenaere of France and the current competing Miss USA contestant, Kara McCullough, who won the national pageant here in May this year both left the Italian dinner party early for a late night flight to Los Angeles where they will tape the Steve Harvey TV talk show. Before the flight, both girls posed for us re-creating the famous Italian movie pasta eating scene with the Miss Universe videographers.
Kara who hopes to win the international title for America told me " 'm thankful for this entire experience. I'm calm and collected for the pageant. I'm fired up for it like a hot tamale. I have a little anxiety but I just want to do well. The nerves for Miss Universe kicked in when I won Miss USA. It's been good chaos the past five months.
"I'm proud. I'm thankful to know that we can still have something for little girls to look up to, to be anything they want. They can be scientists, they can be engineers, they can be beauty queens, they can have everything all wrapped up into one. I'm a scientist and I have my program, Science Exploration for Kids, and I go into a lot of the underserved communities and do science projects with the students, hands on learning to really get their imagination going and show them that there's opportunities."
WRECKING BALL
It was a monster hit that sent a skimpy clad Miley Cyrus to the top of the charts and she gave permission for our Las Vegas self-proclaimed gigolo Nick Hawk to make a cover version as his 15th single and sixth music video:
Nick, who has a Brazilian ju-jitsu black belt, is the star of the long-running Showtime series "Gigolos" that's filmed here in Las Vegas. Former Miss Russia and Miss Wall Street beauty queen, Ksenia Prina, appeared in the YouTube production. He's just released the video for the new single that he shot in New York City while promoting his new book "100 Kicks in the Ass: A Guide to Gaining Confidence and Reaching Your Full Potential." He gave it a showcase performance at Transmission Nightclub in Jersey City where he said: "I now have enough music in my arsenal to put on a full set and do some larger festivals and venues. My music has ascended and matured past the club scenes. My body craves performing and I must feed it."
NO SPICY REUNION
The rumors have gone on for more than a year that the Spice Girls, who once vowed they would never get back together again after their Olympic closing ceremony in 2012 in London, would reunite. Victoria Beckham was always the holdout when the other four including Planet Hollywood's "Peepshow" star Mel Brown agreed to a reunion. Earlier this week, news reports in the British capital sparked a new tour when Victoria allegedly finally agreed to make a comeback for a TV special and tour. It was the pop news equivalent to Donald Trump's war of words with the North Korean leader. But, alas, there were no "secret talks" and early today she said: "I will not be taking part. I loved my time with the Spice Girls but my future focus is firmly on my family and fashion brand."
DANCING SHOW
Five leading dance professionals from the top TV shows "So You Think You Can Dance" and "Dancing with the Stars" are headed to Vegas for four days at the end of the month with a brand-new, custom, live production that might well find a permanent home on the Strip. Choreographer Randi Strong and one of America's top five female dancers, Patricia Kaniowski, who produces and is the dance captain on the national "Ballroom With a Twist" production; Legacy Perez; Tony Pututau; and CJ Blair have teamed up as "The Connection" and over 4,000 delegates at the upcoming Real Estate Ignite convention here will be mesmerized by their ballroom, hip hop, salsa, power partnering and contemporary numbers. The five individuals move as one in the hot live show but each member gets to show off their individual strengths that makes them an unstoppable phenomenon.
ALMOST A MILLION
One of the fastest Instagram clips of all time crashed past the 800,000 mark in the first three days since its Sunday release. Our local UFC glamour girl Ariana Celeste wore a very revealing, low-cut, red dress to flash the flesh as she celebrated her birthday. The new quick clip shows off her ample cleavage while wearing a glittering masquerade mask as she celebrates her birthday with a giant cake surrounded by red rose petals.. The racy ring girl known, as 'The Octagon Babe," to her army of fans is recording her first album of her own written songs here in Las Vegas .
JUST ASKING
• It's not the first time but why did legendary singing star Cher start her classic show at the Park theater in the Monte Carlo resort 30 minutes late? Fans weren't bothered by the delay or by her lip-synching but did comment that the superstar who will turn 72 next may looked tired.
• Has impressionist Gordie Brown made the rumors official with his decision to move to the Night Owl showroom of the Hooters Hotel as the resident headliner as of Nov. 29?
• Did the two Nevada franchised auto dealers association each donate $50,000 to help cover some of the costs that victims incurred while receiving treatment at the Level 1 trauma center in UMC after the Route 91 Harvest country music festival shooting. Every new car and truck dealer in Las Vegas and the surrounding areas contributed to the $100,000 Nevada Franchised Auto Dealers Association gift. "The care provided by the doctors, nurses and staff of UMC is unsurpassed and the reason why so many victims survived the mass shooting," they said.
STAR SURVEILLANCE
• Rapper and MTV personality Flavor Flav at "Mike Tyson's Round 2 Undisputed Truth" show at the MGM.
• Vegas Golden Knights player Brayden McNabb put down his hockey stick long enough to pick up a golf club to prove his sports strengths at the TopGolf facility near MGM where HGTV's "Flip or Flop" Vegas stars Bristol and Aubrey Maruynde were swinging at the little white ball. Meanwhile, several of his expansion team colleagues had their mugshots taken at the Mob Museum's police lineup wall, while touring the exhibits of the more formally known National Museum of Organized Crime and Law Enforcement downtown.
• The captain of the Chicago Blackhawks team, Jonathan Toews, partied at Steve Wynn's XS nightclub grooving to the sounds of DJ Flosstradamus.
• Grammy award-winning singer and songwriter Janet Jackson at the bare-chested, stripped-down production of "Magic Mike Live" at the Hard Hotel.
• Before leaving town after his run of "The Best is Yet To Come" veteran crooner Tony Bennett had dinner at the La Cave wine and food hideaway there sipping glasses of Caprazo Brunello and Esperto pinot grigio to go with their micro tomato and mozzarella flatbread.
• Local baseball hero, Bryce Harper of the Washington Nationals, took his wife, Kayla, to celebrate her 25th birthday at the Zuma Japanese hot spot in the Cosmopolitan of Las Vegas.
• Backstreet Boys Howie Dorough and Kevin Richardson took in the outlandish acts and hilarious antics of the cast of the "Absinthe" hit show under the tent at Caesars Palace.
• Comedy actress Kym Whitley of "Young & Hungry" and "Next Friday" fame was also there and all met the Gazillionaire backstage afterward.
• Magician Mat Franco took time off from his nightly Reinvention show at the Linq for the daring acts of "Circus 1903" at Paris Las Vegas. He was invited up on stage for a photo with ringmaster Willy Whipsnade.
TONIGHT'S TIPS
• One of our city's most successful headline performers, magician Dirk Arthur opens at the Westgate for the holiday season with both unique magic created for the hotel and amazing up-close sleight-of-hand. His normal animals will not be featured in this show because of space limitations at the Cabaret Theater and because the topless temptresses of "Sexxy" present their adult revue afterward.
• Jason Tenner, who vacated that Westgate venue opens his new "Purple Reign" show as an incredible look-alike and sound-alike Prince complete with a tribute to Morris Day and the Time plus Vanity 6, is at the Tropicana.
• The 93 contestants for the 66th Miss Universe pageant will be joined by reigning winner, Iris Mittenaere of France at the Sugar Factory brasserie in Fashion Show Mall.
• Our Las Vegas Runnin' Rebels take on Prairie View A&M in a basketball bonanza at the Thomas & Mack Arena
• We Came as Romans and I Prevail will raise the roof of the Brooklyn Bowl at the Linq.
• Bad Suns relate at Vinyl in the Hard Rock Hotel.
• Grieves is joined by Luck Factor Zero Greg Michael Davis and Probcause at Backstage Bar & Billiards downtown.
• DJ Eddey spins at Chateau on the rooftop of the Paris Las Vegas.
• DJ Kittie purrs at Hyde in the Bellagio.
Thanks to overwhelming demand today is the private access presale of new Diana Ross tickets for her "Endless Memories" show at the Wynn for Feb. 7-25.