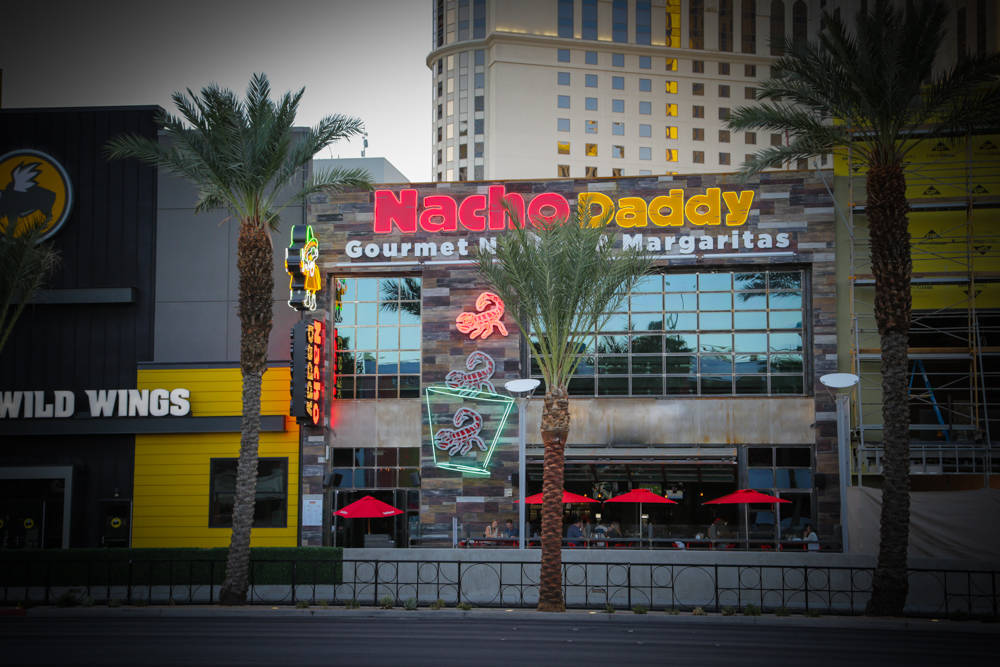 After two years of trying to bring Nacho Daddy to the Las Vegas Strip, we finally made it! Opening just over a year ago on Sept. 1, our new flagship location features our vision of a more open and inviting layout (including an open kitchen for guests to watch all the nacho magic happening and an upstairs mezzanine to enjoy the view of the iconic Strip). We wanted to provide our guests with an experience they wouldn't forget — after all they came to Vegas for a reason.
This time around, we did something we haven't done before by inviting a local artist to come and design wall murals of our locally famous "chip guy" and our #gotstung tagline. Guests now have a unique photo-op to commemorate their trip to Vegas and Nacho Daddy. After they take one of our world-famous scorpion shots, of course.
We were also really lucky to be approached by the guys from "Tanked" during the opening. (They) said they wanted to build a custom tank for us and have us appear on their show. I guess, us Las Vegans have to stick together. Because we couldn't have just another fish tank, we worked with them to kick it up a bit and do a custom terrarium filled with live scorpions. Needless to say, the installation was both fun and creepy (those suckers are a bit bigger than the ones we serve), but it has been such a fun addition to the new location.
Due to the support of local Las Vegans, we've been busy growing Nacho Daddy across the valley trying to bring our nachos and other amazing food to the masses. As a locally owned business that has been a part of the Las Vegas community for more than six years now, we wanted to find a meaningful way to give back to the community, who has given such a large amount of support to our brand.
We bounced around a couple different ideas and landed on our program, "Buy a Meal, Give a Meal." For every entrée purchased at one of our Nacho Daddy locations, we provide a meal to a child in need. We decided to reach out to Three Square and pitch our idea. They were incredibly supportive and wanted to take part in the program. Three Square's work in the community is inspiring, and we couldn't think of a better partner.
In November 2016, we were honored to announce our first donation to Three Square with a grand total of 110,000 meals. We were so excited that we were going to be able to make such a substantial first donation. We worked with Three Square to come up with an exciting event to showcase the donation.
The "Nacho Average Throwdown" was held at Three Square's kitchen where our culinary director chef Eric Scott, Chumlee of P"awn Stars," and his brother, Sage Russell, faced off against Three Square's head chef John Hilton, Terry Fator and his wife, Angie Fator, to see who could come up with the best nacho. The competition was tight, but the judges decided on a tie. The real winners of the event were the people who benefited from the donations of the community, especially because our donation was going to be matched by the Target Corp., which made for a total contribution of 220,000 meals.
This year, we celebrated our second donation of 140,000 to Three Square at our Cinco de Mayo festival at our location on West Sahara Avenue. Being able to make our second donation in less than a year was a huge deal, and we were even more excited that it was being matched again, this time by the Bennett family. With your help, we have made a huge difference in fighting to end hunger in Southern Nevada and set the industry precedent for giving back, so keep your eye out for our next donation as we do our part.
Be sure to come in to our new Strip location in the Miracle Mile Shops at Planet Hollywood and enjoy a cold Nacho Daddy beer, a gourmet nacho or even a scorpion shot. And while you're there, you can know that not only will we take care of you, but we're trying to take care of our community, too.