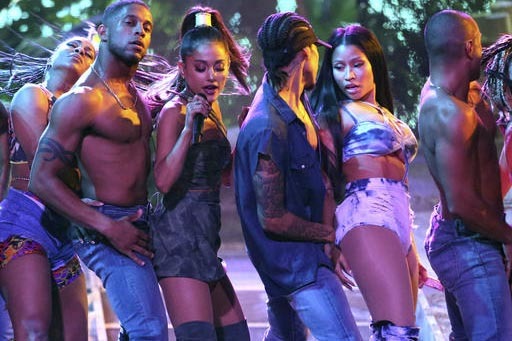 The opening for ABC's live telecast Sunday of The 2017 Billboard Music Awards from T-Mobile Arena will be a 9-minute show unto itself with Nicki Minaj. In making her fourth appearance on The BBMAs, she has lined up Lil Wayne, David Guetta and Jason Derulo for the first segment (David's new single, "Light My Body Up," features Nicki and Lil Wayne).
But spies insist to me that it will be superstar Cher who will be onstage even longer. After the Park Theater at Monte Carlo headliner receives The Icon Award, she will perform a medley of her decades of hits.
I'm told that she'll make the final decision before airtime as to whether she wears that flashy and fleshy "If I Could Turn Back Time" garters-and-stockings outfit that made global headlines, or if it's a new, sexy costume from Bob Mackie that makes similar 96-point, bold-typeface screamers.
Caesars Palace headliner Celine Dion, who received The Icon Award last year, returns to celebrate the 20th anniversary of her gigantic, award-winning "Titanic" hit "My Heart Will Go On." Celine told me Wednesday night:
"I won't think about it until I wake up Sunday morning — just one day at a time. You'd think after two decades, the Titanic would have sunk for good, but it's still going on and on!"
Incidentally, the music was written solely as an instrumental, and when Will Jennings wrote the words, "Titanic" director James Cameron nixed it for the film. But James reversed his position after hearing Celine's one-take-only demo of the track.