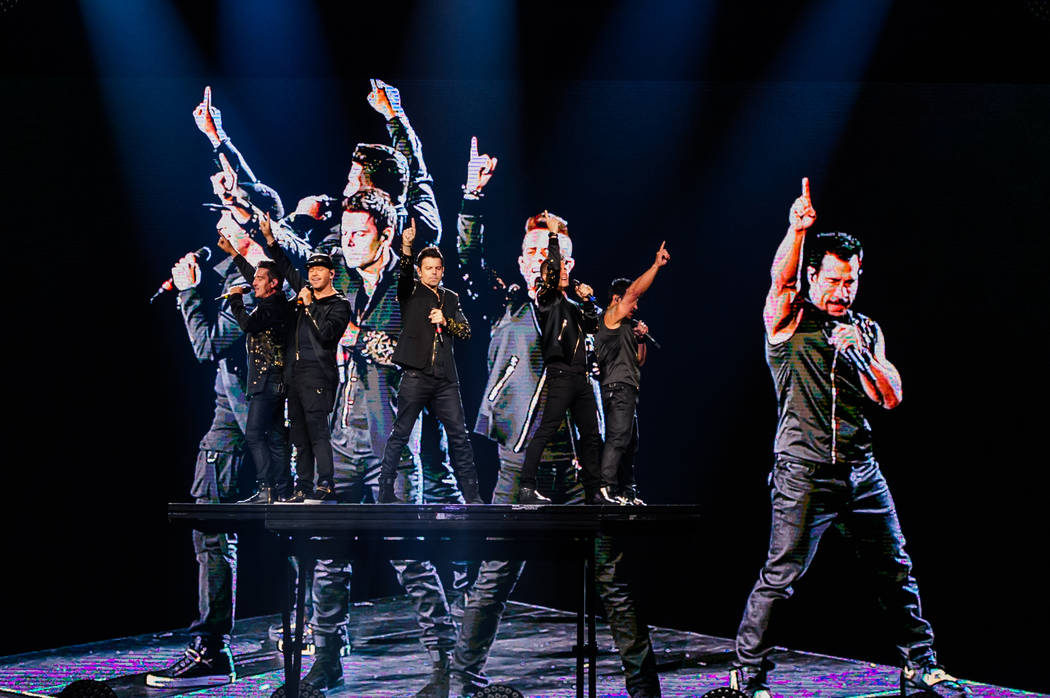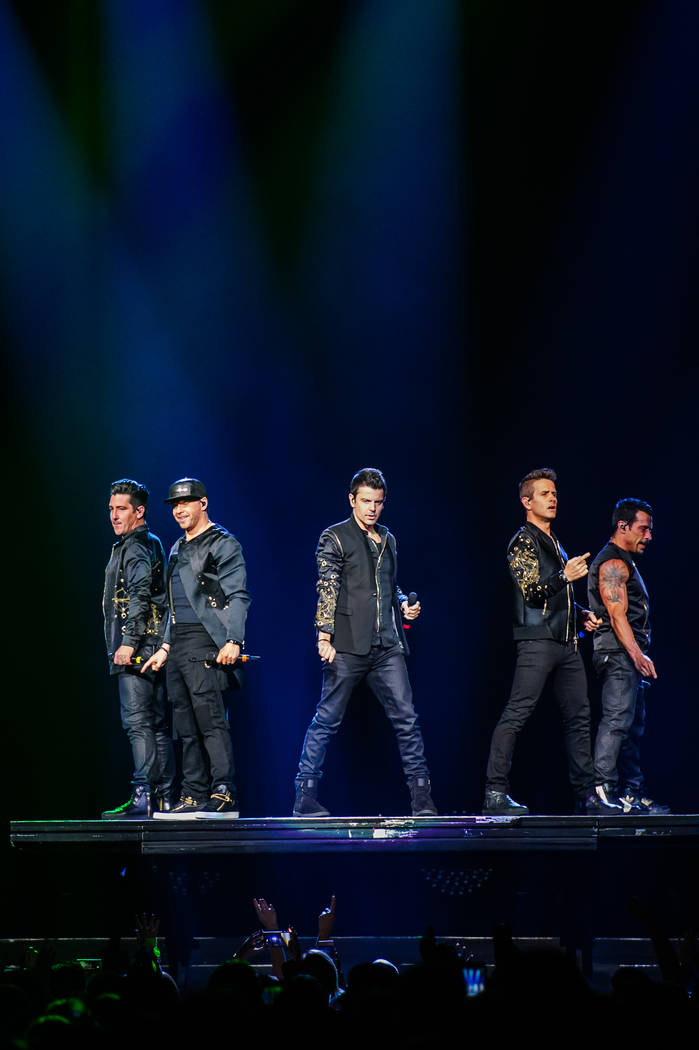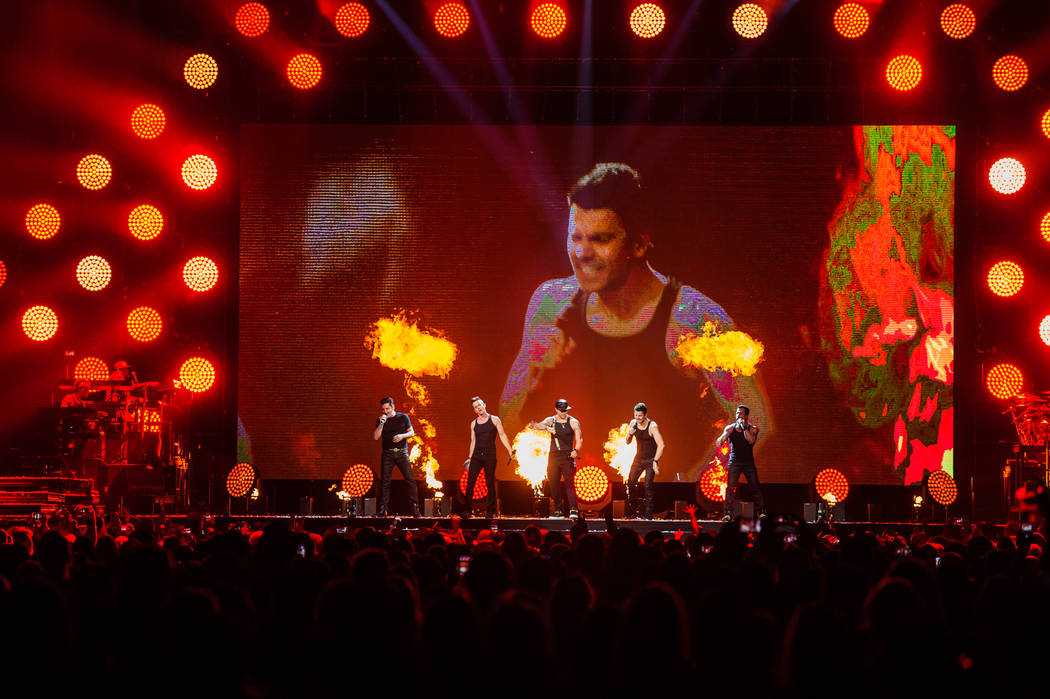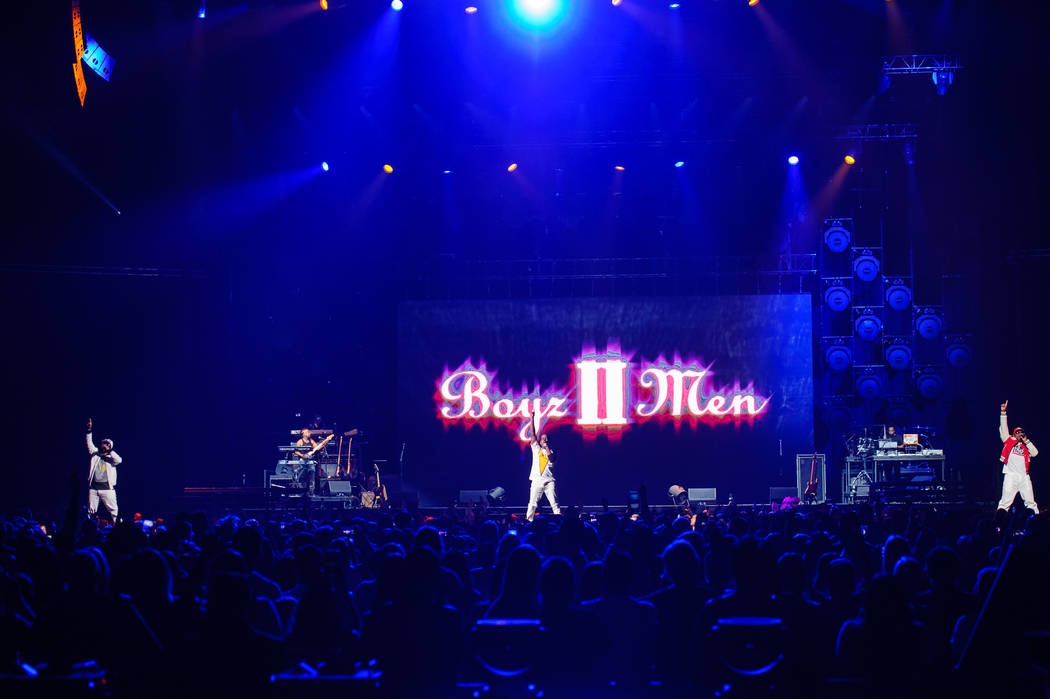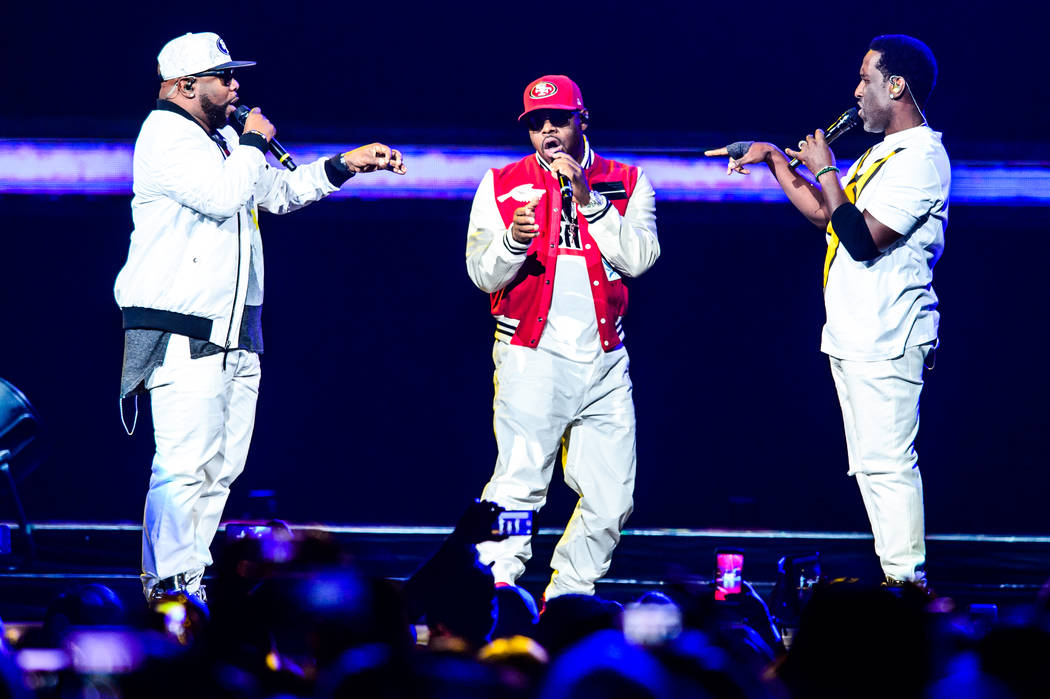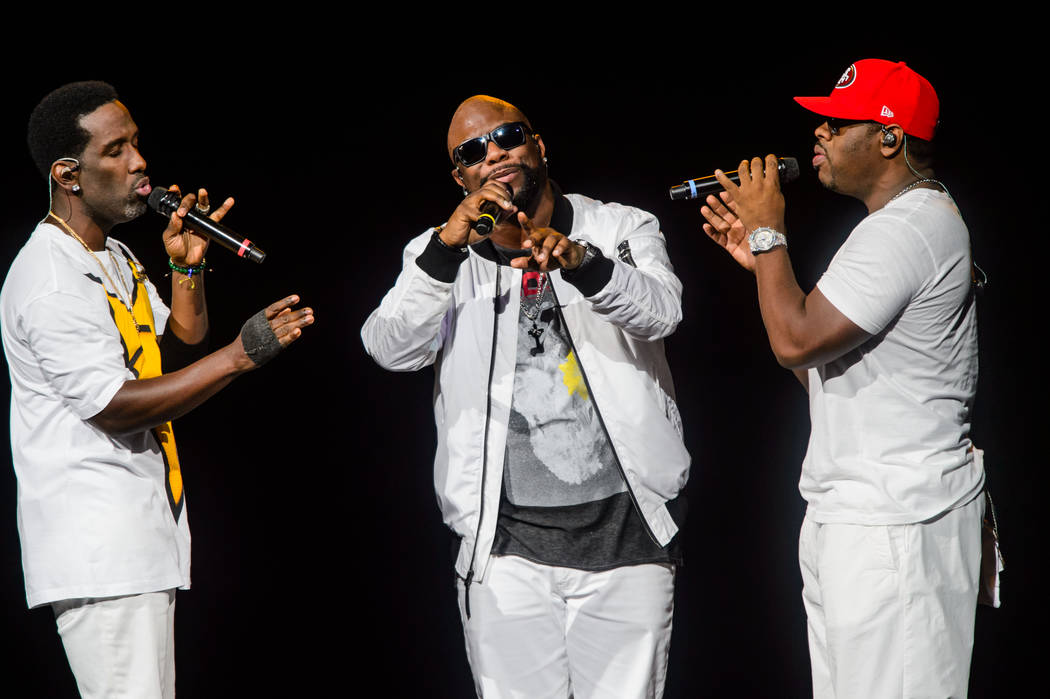 Was there a better place anywhere for pop music from the 1980s and '90s on Sunday evening than T-Mobile Arena when New Kids on the Block, Paula Abdul and The Mirage headliners Boyz II Men took the stage for their "The Total Package Tour" stop?
It was an upbeat and nostalgic night of fun and sing-alongs that began with the Philadelphia trio, followed by the singer, dancer and choreographer widely known for her longtime stint as an "American Idol" judge.
The concert culminated in a nearly 2-hour set from the original boyband from Boston, who have become Las Vegas regulars over the years with concerts at The Pearl at The Palms and Mandalay Bay Events Center, as well as solo stints by NKOTB members Jordan Knight and Joe McIntyre, formerly Joey McIntyre.
Here is a rundown of Sunday night's concert extravaganza from 7:30 to 11:30 p.m.:
BOYZ II MEN
Shawn Stockman, Wanya Morris and Nathan Morris of bestselling R&B trio Boyz II Men have headlined their hit residency at The Mirage since March 2013 and proved Sunday night why longtime fans remain loyal with their exquisite vocals, showmanship and large catalog of hits.
The 50-minute setlist included "Motownphilly," "Down on Bended Knee," introduction of the three singers, "It's So Hard to Say Goodbye to Yesterday," "Water Runs Dry," Lenny Kravitz's "Are You Gonna Go My Way" and "American Woman," in which Wanya sings and the other two are on guitars, Bruno Mars' "Locked Out of Heaven," "I'll Make Love to You" with the signature roses," "In the Still of the Nite (I'll Remember)," "A Song for Mama," "One Sweet Day" minus Mariah Carey and "End of the Road."
PAULA ABDUL
Abdul, still spry and stunning at age 54, was the surprise of the evening with her strong live vocals on her hits; wonderful showwomanship and choreography; and messages of self-confidence and empowerment — her story of becoming a Laker Girl for the Los Angeles Lakers during a third try was engaging (she was No. 742 among the hopefuls).
Abdul's 25-minute setlist: "The Way That You Love Me," "Cold Hearted," a wonderful story about meeting her idol and mentor, the late Hollywood entertainment legend Gene Kelly, and meeting with him weekly for three years, "Opposites Attract" with the return of Scat Cat, "Rush, Rush," dancer introductions, "Straight Up" and "Forever Your Girl."
NKOTB
The audience was ready for headliners Joe McIntyre, Danny Wood, Donnie Wahlberg (in town over Memorial Day Weekend with actress-comedienne wife Jenny McCarthy) and brothers Jordan and Jonathan Knight (Jonathan attended Jai Rodriguez and Kendra Wilkinson's new show "Sex Tips for Straight Women From a Gay Man" at Paris Las Vegas while here), and NKOTB did not disappoint.
The voluminous hits were present, as were boyband choreography; pyrotechnics; confetti and streamers; screams from avid fans; spotlights on each of the five gents (yes, Jonathan and Danny had solos, albeit brief); interaction with fans on the stage floor and in arena seats; and the quintet's fit bodies. One highlight was a live backstage camera while NKOTB changed that was like an evening at Chippendales and "Magic Mike Live." It was hot, to quote Paris Hilton.
NKOTB's nearly 2-hour setlist included "One More Night," "My Favorite Girl" with a confetti cannon right out the gate, "Dirty Dancing," "You Got It (The Right Stuff)," "Remix (I Like The)," "Block Party" with all five of them in the crowd," "Tonight" with McIntyre in our section, "Summertime," "Games" with Wood breakdancing impressively and a mash with DJ Khaled's "All I Do Is Win" and "Cover Girl" with Wahlberg atop a flaming piano.
Also: "The Whisper," the live-changing webcam, "Stop It Girl," "Popsicle," 1986's "Be My Girl" (NKOTB's first single), "I Wanna Be Loved By You," The Delfonics cover "(Didn't I) Blow Your Mind This Time," 1990's "Call It What You Want," "Valentine Girl," "Happy Birthday" with Jonathan hilariously (wink, wink, nudge, nudge) singing to birthday girl Joy onstage, 1994's "You've Got the Flavor," "Dirty Dawg," "If You Go Away" and Christmas in May with "Peace to the World" and "This One's for the Children."
And to end, "Still Sounds Good to Me," "Hard Not Luvin U" with Jordan doing a racy striptease with his black tank top, "Single," "Please Don't Go Girl" with McIntyre's extended ending," "Thankful," "Step by Step," "I'll Be Loving You (Forever" with Jordan's still-impressive falsetto" and "Hangin' Tough" mashed with Queen's "We Will Rock You."
Wahlberg's quote of the night: "We came to bring some happy back into this f*cking world! Let's get this sh*t cracking!" They did. Thanks to Brenton Ho of Powers Imagery for T-Mobile Arena for his photo gallery of Sunday night's infectious revelry.