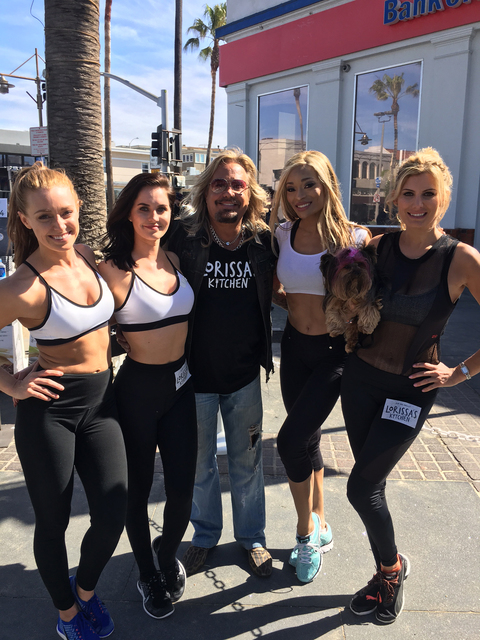 Hometown rocker Vince Neil was "terminated" from Monday night's "The New Celebrity Apprentice" on NBC one week after raising $770,000 for our Keep Memory Alive charity honoring his late friend "Iron Chef" Kerry Simon who died from Multiple System Atrophy.
But, truth be told, Vince decided to fall on his own sword and end the run on the show himself after actor and former California Gov. Arnold Schwarzenegger and contestants criticized the former Motley Crue frontman for using model girls to dance in the first challenge.
Vince's team was led by basketball star Lisa Leslie, who as project manager had to promote the Lorissa's Kitchen health food brand with a pop-up store on a beach in California. Vince pushed for female fitness models to dance on its roof.
"What's more eye-catching than good-looking girls dancing to the beat?" he proposed. Vince's decision went against the mission of appealing to mothers who were the primary sales target, and "The Apprentice" boardroom judges led by Arnold agreed.
They were "more of a distraction than an attraction," and the "Terminator" star said, "It seems to be to have been the wrong decision." Vince defended his idea: "It was in the spirit of health and the spirit of fitness.
"They weren't dancing in bikini tops as if they were in a beach bikini contest. This was as if they were doing aerobics in the gym." But Arnold snapped back that he has never seen girls dancing on top of a gym!
Viewers, contestants and Arnold were shocked when the rocker said that he should be sent home. "Vince, you just fell on your own sword. You're terminated! To the chopper," said the leader of the boardroom.
This morning, Vince told me: "It was a grand experience but a strange way to end. I was able to raise a lot of money for the Cleveland Clinic Lou Ruvo Center for Brain Health where Kerry was treated, so the $770,000 is going to be a real game-changer for the doctors there."
Las Vegas MMA fighter Chael Sonnen was kicked off in the second challenge where the team with Matt Iseman as project manager had to create a brochure for the Harry Potter Wizards World attraction at Universal Studios Hollywood.
Arnold fired Chael instantly when they all went into the boardroom and Carson Kressley divulged that Chael had cut a cord on a computer. And Porsha Williams was ceremoniously terminated and sent to the chopper.