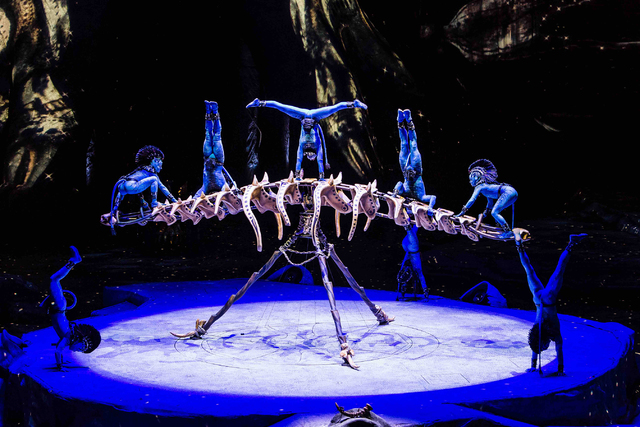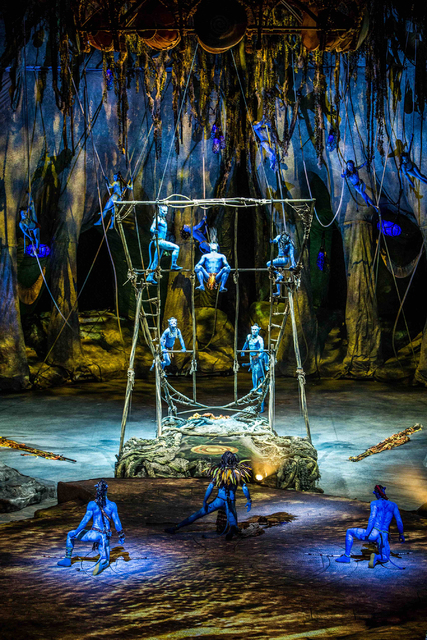 A most spectacular Cirque du Soleil show is about to be unleashed on Las Vegas. It's a multimedia extravaganza where technology is the real star, so much so that you can download an app to your smartphone and at certain times in the production add to its visual effects.
Welcome to "Toruk: The First Flight," which opens here Wednesday. It's so big and ambitious that it takes 27 trucks to deliver everything here. That's too large for Strip showrooms, so "Toruk" will be staged at T-Mobile Arena with 700 panels covering 15,000 square feet of the floor, turning the stage into the six worlds of the show inspired by James Cameron's "Avatar."
Nine former Las Vegas cast and crew members will work in the spectacle here through Jan. 22. The show is 2 hours 10 minutes, with one intermission, and is the story of three brave teen boys who seek to save the sacred Tree of Souls from a volcanic explosion with the help of Toruk.
"It's the most ambitious Cirque du Soleil touring production ever," Jerry Nadal, Cirque senior VP of Worldwide Resident Shows, told me. "It's really ambitious and crazy because it moves around to a different city every week."
Jerry said that Las Vegas will be even more impressed with the production than the Cirque shows already here on the Strip: "It's the next step in our creative process. We take the James Cameron movie, the biggest movie of all time, and bring it to life.
"It takes up the entire arena. The main character who's named for the show, the Toruk, is a huge bird with a 40-foot wingspan who flies around the whole arena. It's really an impressive piece of theater."
For the first time, Cirque fans here will witness extraordinary projection mapping on the scenery turning into the world of Pandora. More than 40 video projectors are used, and also new to Las Vegas is a mind-blowing waterfall effect that promises to have audiences in awe.
"Toruk" has a narrator to help thread the story and because the players speak to one another in the Na'vi language to prove that they are humans and not computer-generated graphics. Note: It is not necessary to see or have seen the Academy Award-winning "Avatar" in advance.
The iPhone app can be downloaded at iTunes.com and at Google.com for Android phones.
Millions have seen the touring production, which was one of the top-grossing road productions last year. It is Cirque's 37th production since the Montreal-based circus company was founded by Guy Laliberte. During that time, more than 155 million people in more than 300 cities on six continents have seen a Cirque spectacle.
Audiences may well think that T-Mobile looks like a silver, science-fiction spacecraft to touch down on the Pandora moon. "Avatar" was a 2009 blockbuster from James, who promises a sequel in 2018 and a third story in 2020, that stars Sam Worthington and Zoe Saldana. Here is a trailer on YouTube.
"Toruk" is set on the film's moon, Pandora, populated by humanoid creatures with blue skin and tails. Although a similar story, the Cirque show is set thousands of years before the film. This is the "First Flight," while the movie depicts the "Sixth Flight."
The world of Pandora is video-game immersive, as directors Michel Lemieux and Victor Pilon use sophisticated mechanics for huge puppets coupled with multimedia projections to seamlessly transform the landscape of the set, creating forests, waterfalls and caverns.
Michel said: "People don't want to be just in front of something. More and more, they want to be inside it. We wanted people to go to this moon, watch these beautiful people and live there for a while."
Two performers from Vancouver, British Columbia, filmed a YouTube segment with Vancouver Straight explaining the show's intricacies, including a look at its 115 costumes. The wardrobe department includes more than 1,000 items — shoes, headpieces, necklaces and more.
The acrobatics are stunning: Drummers rise in one circle, and in one dance routine gigantic fans that look like luminous flower petals fill T-Mobile. The quest takes the three young heroes high up in the Floating Mountains to find the mighty red-and-orange predator who rules Pandora.
Warriors writhe and dangle from motorized poles or dance and contort on a skeleton that moves like an enormous seesaw. Prophecy is fulfilled when a pure soul rises among the clans to ride Toruk for the first time and save the Na'vi from a terrible fate.
The Toruk has a wingspan of 40 feet and weighs approximately 250 pounds. You will feel its "swoosh of wind" underneath its wings as it flies around the arena. There are 40 artists in the cast: one actor, one singer, one percussionist, one kite specialist, one boomerang specialist, one contortionist, six puppeteers and 28 acrobats.
About 100 people representing 20 nationalities are on tour full time, and 16 puppets represent the creatures of Pandora: six Viperwolves, three Direhorses, three Austrapedes, one Turtapede, two swarms of Woodsprites and one Toruk. The Viperwolves and Direhorses are inspired by "Avatar," but the Austrapedes and the Turtapede were created by Cirque.
Jerry summed up: "It's impressive and new to Las Vegas. It's absolutely stunning visually. It's not just bigger and better than what we have in Las Vegas already. I was blown away by it."