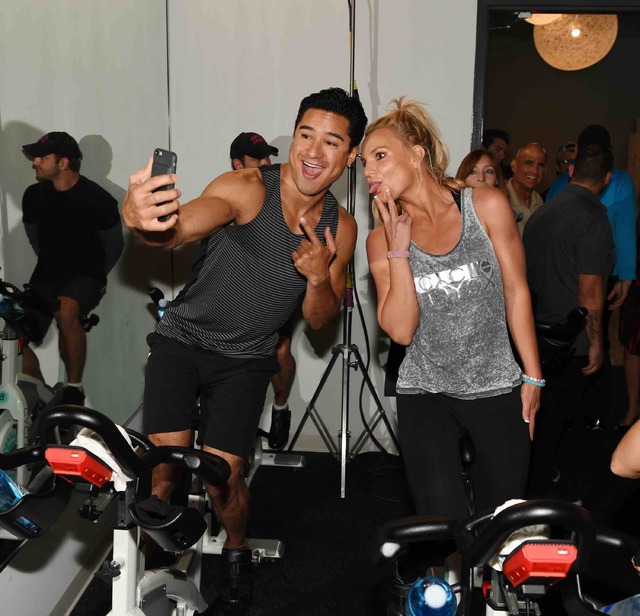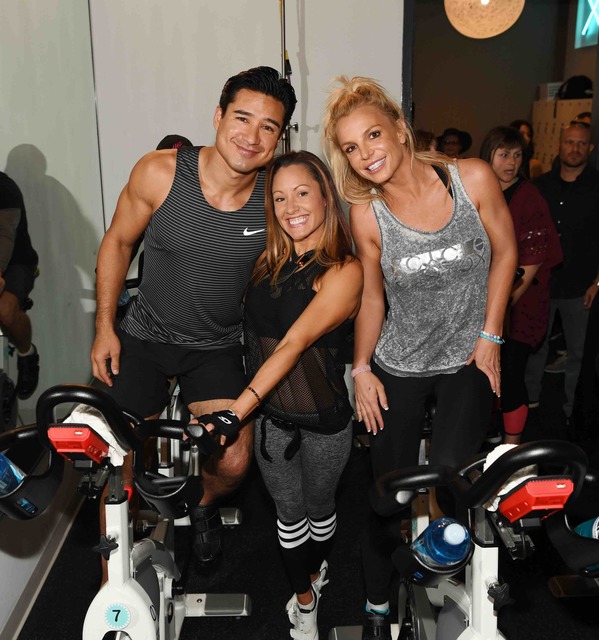 To watch Britney Spears spin for a 45-minute, intense workout is exhausting, but to try and keep up with her as she stands pedaling is an impossibility. I literally got on and right off my bike, and my backside was still hurting from just 3 seconds on the uncomfortable seat. They don't want you sitting for a second!
I was thoroughly impressed with Britney's dedication, discipline and determination. The sweat dripped off her, but she's in the best condition ever. Seconds later after freshening up, the 34-year-old superstar said: "It feels great. It's all for the kids."
Britney and "Extra" host Mario Lopez joined dozens of cyclists in Britney's "Piece of Me Charity Ride" at X Cycle in Boca Park to raise money for Nevada Childhood Cancer Foundation. Britney, Zappos.com and X Cycle presented a check for $553,130 to NCCF President and CEO Jeff Gordon before the ride.
The money was raised by sponsors and riders who donated to ride with the headliner at Axis at Planet Hollywood. Britney donated $200,000 of her own money to the charity, and this now takes her contributions to a cool $1 million.
The class was instructed by X Cycle owner Jen Barnet, fiance of Britney's manager, Larry Rudolph. Britney programmed the music for the 45-minute class alongside Mario. She wore a gray X Cycle shirt and black exercise pants and greeted donors before the ride.
While Britney freshened up afterward, Mario told me: "The whole thing is a great workout. I've incorporated it a lot into my routine lately, and I'm loving the music, the energy. I like that it's hot. I'm a big sweater, so this feels good, especially after the huge dinner I had last night.
"There's no point where you feel like quitting or giving up. You're driven to complete it because it feels good. You start kicking, and you start feeling more awake. I don't really feel awake until I'm breaking a sweat. You can't really chat while you're on the bikes.
"Britney and I had a lot of conversation before the class, but while riding, she's funny; she's cool. It's awesome what she's doing and all the money that she's raised for such a great cause. During the workout, we made song requests to each other, then we finally got it to Jen, and she humored us playing some of the songs.
"The thing about working out is you don't want to get complacent in doing the same thing over and over. You have to keep your muscles guessing, and it's easier to get motivated when there are other people in there.
"You need to be held accountable. It makes it fun. Britney's a great spinner; she's in great shape. She looks better than ever, and she's strong. She does a really good job with this." Britney explained why she got involved with the charity race:
"Honestly, I love kids. When the cancer charity reached out to me about this, I was there. This is something that I have to do. The kids came to the show the other night. They're absolutely incredibly adorable. I'm just blessed to be a part of it."
Jeff told me: "Britney's made this all possible. The beauty about what Britney does is you get celebrities all the time who take up a cause or they do something, but you don't really see them that involved. Britney understands. She's taking the time to understand who we are, what we do and why we do it.
"More importantly, she got to meet the kids, and the kids adore her. I wish the world could see her in that element and how she is with the kids. It's just so obvious that she loves them and wants to help them. She's taken everything to a whole new level for us."
Britney told Mario that she always asks permission from her two sons before she posts words about them on social media. "They're very funny about what I post. They're, like, 'Mom, we want this on Instagram — Mom, this cannot go out!' "
The ride was part of the initiative by Britney and Zappos head honcho Tony Hsieh to raise $1 million toward building a new facility for NCCF to provide services to young cancer patients and their families.