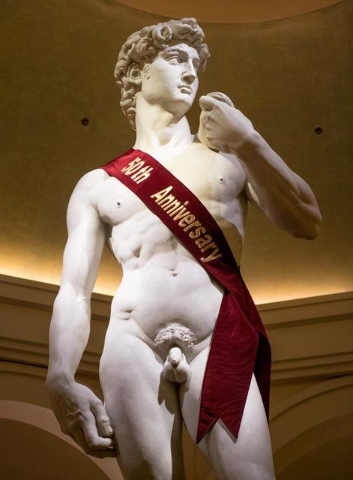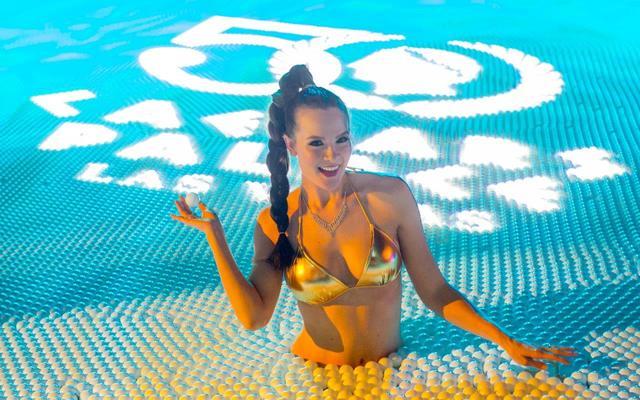 Render unto Caesar … and so Julius Caesar sent out a decree that the gala to celebrate the 50th anniversary of his Caesars Palace should be the Gala Maximus of all time: two nights of superstar entertainment, fabulous food, wondrous wines and a special salute to the resort's first-year employees who have served his guests for half a century and are still working there. (The festivities were posted on YouTube.)
And so it was a Colossus Maximus, 48-hour party with Jennifer Lopez, Tony Bennett, Howie Mandel, Donny and Marie Osmond, Matt Goss and The Righteous Brothers with Bucky Heard, Bill Medley and his daughter, McKenna. The sing-along of "Viva Las Vegas" had 3,000 dinner guests on their feet Saturday night for a standing ovation and two minutes of cheering.
J.Lo made her appearance in an Antonio Berardi outfit among a flash mob of showgirls and Brazilian dancers. Tony dazzled with his set, which of course included his trademark "I Left My Heart in San Francisco." He recalled that when he attended the opening night when the late Andy Williams headlined, he followed the next night and was given a lifetime contract. Marie sang her hit from 50 years ago, "Paper Roses," while Donny went solo with his long-ago No.1 smash "Puppy Love."
ABSINTHE's amazing tap-dancing twins The Scott Brothers and MTV's Top Pop Group winners and AMERICA'S GOT TALENT semifinalists Mo5aic joined in the salute to icons of the hotel. Individuals who made significant contributions to the five-decade run and helped shape the legacy of Caesars were presented with Icon Awards. The recipients included family members of Jay Sarno, founder of the resort.
Boxing Hall of Fame star Thomas "Hitman" Hearns presented an Icon Award to Rasheda Ali honoring her late father, Muhammad Ali, who recognized Las Vegas boxing kingpin Bob Arum there celebrating his own 50 years of fight promotion.
Also receiving Icon Awards: Omnia Nightclub headliner DJ Calvin Harris; Keep Memory Alive founder Larry Ruvo, who told stories of high rollers from his first year there as a check-in desk clerk; Caesars Palace President Gary Selesner; celebrity chef Gordon Ramsay; and the oldest son of Evel Knievel.
Caesars headliners Celine Dion, Sir Elton John and Jerry Seinfeld were recognized by AEG chief John Meglen as they accepted their awards via video. Said Celine: "Caesars is part of my own family — very dear to my heart. I first performed at Circus Maximus in 1996, and it turned out to be a good omen and the beginning of a wonderful experience."
Howie wheeled out a giant birthday cake to celebrate Tony's 90th birthday — that's right, he's 40 years older than the building! Howie led the entire crowd in a "Happy Birthday" singalong to the superstar singer. Howie had the funniest line of the night welcoming a very smartly dressed Calvin Harris to the stage with, "Great suit. Who is your Taylor?"
VIP guests also included Jerry Lewis and my longtime friend French cabaret queen Line Renaud, who told me that she remembers being invited to the opening night Aug. 5, 1966, as if it was yesterday. New Caesars Entertainment CEO Mark Frissora announced a $50,000 contribution to J.Lo's charity for the victims and families of the Orlando gay club shooting.
I filmed five video segments relating the history of the resort, which you can view on YouTube:
Caesars Palace events: YouTube
Caesars Palace entertainers: YouTube
Caesars Palace boxing: YouTube
Caesars Palace's Jay Sarno: YouTube
Caesars Palace chefs: YouTube
Our thanks to photographers Tom Donoghue and Erik Kabik for their coverage of the party of ultimate glitz and glamour. On Friday night, Gordon Ramsay hosted the poolside fireworks celebration with music by The Shaun De Graff Band, DJ set by Mark Eteson and incredible "Skates from Hell" ABSINTHE performers Billy England and his sister, Emily England. My pal radio DJ Chet Buchanan hosted, and Caesars mixologist J.R. Starkus won the cocktail contest.
In a scene that copied the nearly simultaneous timing of the Rio Olympics, an actor portraying Julius Caesar rode in on a horse-drawn chariot to hand over the "burning flame" torch to Gordon to light the bowl and start the countdown for the 10-minute fireworks. Hotel windows were lit up to form 5-O. We'll have our interview with Gordon, who was with his wife, Tana, and their daughters, Matilda and Holly, on Sunday in Sunday Life of the Review-Journal.
Two highlights involved Caesars employees, first with the acknowledgements by Caesars General Manager Sean McBurney to Year One employees including Day 1 employee Jim Dunbar and his colleagues Pam Price, Benny Figgins, John O'Connell and Pete George. Secondly, as dinner guests departed Octavius Ballroom, employees from presidents to room service and valet were lined up to applaud. It was a touching moment to end a magnificent night.
Jay Sarno's daughter, Heidi Sarno-Strauss, told me that her sister, September, and she were teary-eyed with all the excitement. Heidi told me: "I was just about 4 months old when he opened it, so I don't remember the opening, but I watched it all grow over the years. I still have the little dress he had me wear for the opening. I took it out of the box, and that's what started me crying."
J.Lo summed up the night of perfection best: "This is one momentous occasion, and I'm very proud and excited to be a part of it." Jay Sarno Jr. capped that with, "My father would have been so proud to have seen what happened 50 years after he opened the resort."
Caesar, too, must have been mighty pleased. Happy 50th, and here's to the next 50!