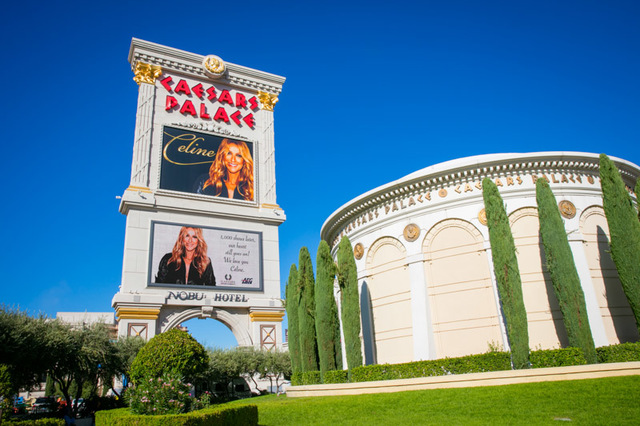 Superstar Celine Dion had a majestic and triumphant night for her record-breaking 1,000th show at Caesars Palace on Saturday night. In fact, her sound engineers told me that it was in the Top Three of all concerts she's performed in The Colosseum theater built for her.
Celine clearly enjoyed herself, having playful fun with her audience and orchestra. She was in a rare relaxed mood joking her way through the setlist from start ("I Surrender") to finish (Queen's "The Show Must Go On").
"The Power of Love," "River Deep, Mountain High" and Prince's "Purple Rain" were extraordinary. No wonder she had eight standing ovations from the spellbound audience. Our thanks to Denise Truscello and Erik Kabik for their photos.
The absence of her husband and manager Rene Angelil, who died here in January from throat cancer, was not forgotten by the singer or audience. She paid respect to singer Pink, who had written "Recovering" for her.
"There is no greater gift that one artist can give to another artist than a specially written song," she said of Pink. There was a moment of hesitation and teary eyes when she looked heavenward on "You'll Have to Swing It (Mr. Paganini)" and said, "for you, Rene," telling the audience that he was present in the celebration.
The performance began with an emotional video highlighting memorable moments over the nearly 14 years that Celine has performed in The Colosseum. Caesars Palace President Gary Selesner had hotel room keys converted to souvenir mementos of Celine's 1,000 show. Audience members found a Celine lanyard and program at their seats.
One thousand blue and white balloons fell from the ceiling, and 100,000 gold and silver confetti strips were shot as Celine lined up the stage crew at the end. "Little did we know when I began performing in this newly built theater that we would reach such an incredible number of shows," said Celine.
"Thank you, Rene, who had the vision and shared the journey with me. Thank you to the fans who made this possible by choosing music as their international language. And thank you, Caesars Palace and AEG, for dreaming with us and making all of this a reality."
The first of the standing ovations was right at the start as the curtains parted to reveal her in a striking, shoulder-baring, silver-sequined gown. After another standing ovation after her first song, she said, "One thousand shows. I don't feel that old."
She apologized for talking so much, saying, "When you have 13 siblings, I never got to talk. So I really don't want this night to ever end. When you reach a number like this one, it is a very special moment, and I am very proud to celebrate this milestone.
"I know Rene is here with us tonight. My wonderful, dear husband is here tonight with us all. I am so sure. Fifteen years ago, we had the vision to get this building built, and I thank all the fans for believing in the dream — 4 million of them have seen the show since 2003."
'I'VE NEVER KISSED ANOTHER MAN IN MY LIFE'
You can read my interview with Celine that we posted here Friday on RobinLeach.ReviewJournal.com and in Friday Neon of the Las Vegas Review-Journal. On Sunday morning, Celine appeared in a pre-taped interview with Mo Rocca on Jane Pauley's debut of her CBS magazine show.
Celine confided: "I'm still married to Rene. I've never kissed another man in my life." She responded to a similar question I asked her about ever falling in love again: "Not now." The couple were married for 21 years.
"It was very, very difficult for all of us, for me especially and my children, to see the man of my life die a little bit more every day. The man of my life was my partner. We were one, so when he stopped suffering, I said to myself, 'He's OK, and he deserves not to suffer. It was as if a huge weight had been lifted.'
"I still love, love, love him. I'm still in love with him. I have the love of my children. I have the love of my fans. I love the people I work with, so my life is not empty of love. I'm still married to him. I come onstage with him, and I go to bed with him. I go to sleep and imagine he's still there with me."
Onstage, she went on to say that her father had never wanted children, but obviously her mom wore the trousers in the house and decided otherwise. "I was the 14th child," laughed Celine. "I was known as the accident." She said that her mom, about to turn 90, was still doing well and going strong.
"I'm so proud of the way they brought us up," said Celine. "It was so good this summer to go back home to Montreal and be with the family. My kids got to play with their cousins actually getting outside into the grass because it's too hot in the summer in Las Vegas. But coming back here afterward was also feeling like home."
SAME SONGS FOR 30 YEARS
In an intimate segment of the show when she sang with just her two guitarists and three backup singers, she recalled family again. "I love to get to talk like this. It's just like Christmas with the family. We always used to sing around the house with each other. It's a good problem to have to be singing the same songs for 30 years because you still want to hear them.
"Whenever I was nervous about singing to a large audience, Rene would tell me to close my eyes and think when I reopened them that the people were my brothers and sisters. It always worked."
Celine flashed her gorgeous gams when her slit skirt proved a little awkward for sitting on a stool. Her loose mood had the audience laughing when a man in the front row got a fun, gentle reprimand for taking a photo of her accidental pinup pose with his cell phone.
John Nelson, senior VP of AEG Live, summed up: "We are honored to be celebrating 1,000 shows with Celine and humbled by her passion, strength and commitment to the vision that began 14 years ago. There is no one like Celine, and we look forward to working with her and her incredible team on another 1,000 shows."