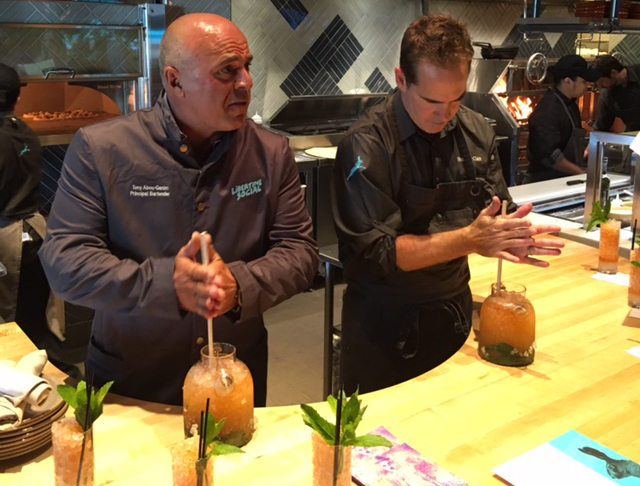 Award-winning chef Shawn McClain, who wrote a guest column for us last week, opened his third Las Vegas restaurant this week at Mandalay Bay. Shawn says the Libertine Social menu is loaded with his culinary creativity and craftsmanship in the social spirit of a house party. He's separated the menu into fun, distinct offerings for guests to choose their own food adventures.
Shawn features the warm fuzzies of food for a party with Toasts & Dips – Dungeness crab dip and duck pastrami. On the Sausage Boards, Shawn features handmade artisanal sausages – spicy Italian, bratwurst and Louisiana hot links. The Small Plates section includes a Parmesan Churro that turns a classic dessert into a savory snack by coating the fried dough with parmesan.
The Marinated Ahi Tuna Cones are topped with a dollop of whipped pink peppercorn creme fraiche. In addition to a range of flatbread choices, Shawn has a Wood-Fired Grill section for Wagyu Skirt steak and Wagyu Flat Iron steaks. A whole roasted fish will be cooked nightly on the mesquite grill.
Chicago chef Shawn has created vivid dishes to highlight fresh ingredients sourced from local and regional farms serving up summer corn pasta and a grilled kale salad with grapes, dried cherries, radicchio and radishes.
Libertine Social, with Master Mixologist Tony Abou-Ganim and chef Jamaal Taherzadeh, most recently at nearby Border Grill, features a social dining room, chef's table, patio and two bars, allowing guests to move freely through the space to mingle with others.
A+E Editor Don Chareunsy attended a sneak peek of Libertine Social on Monday afternoon.