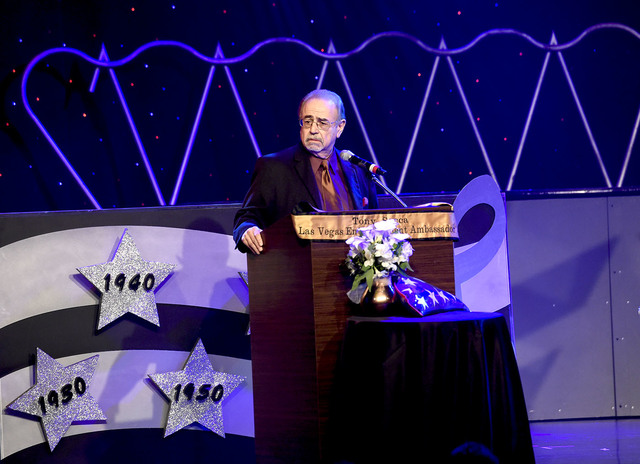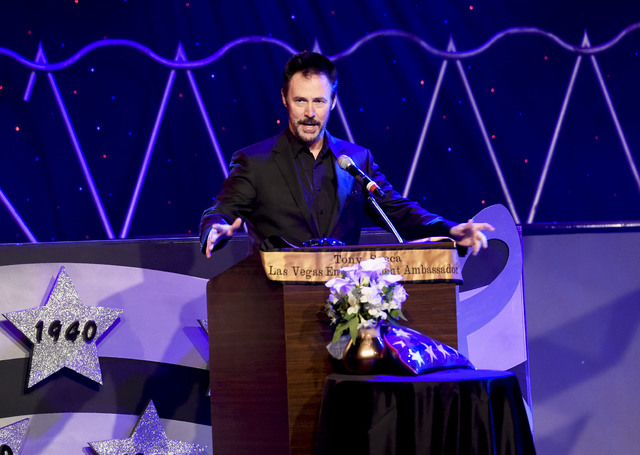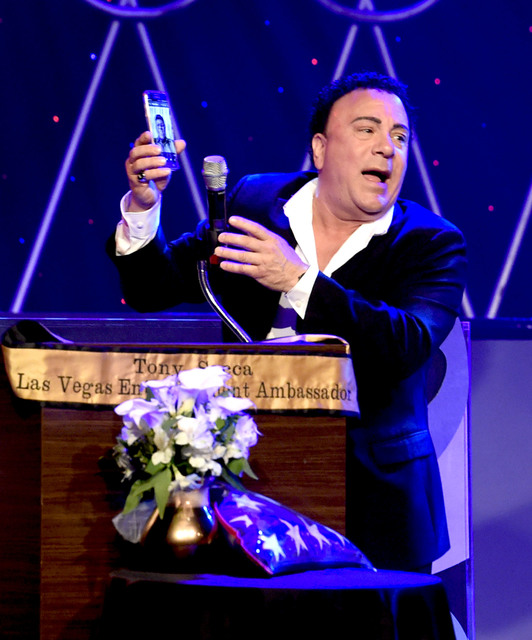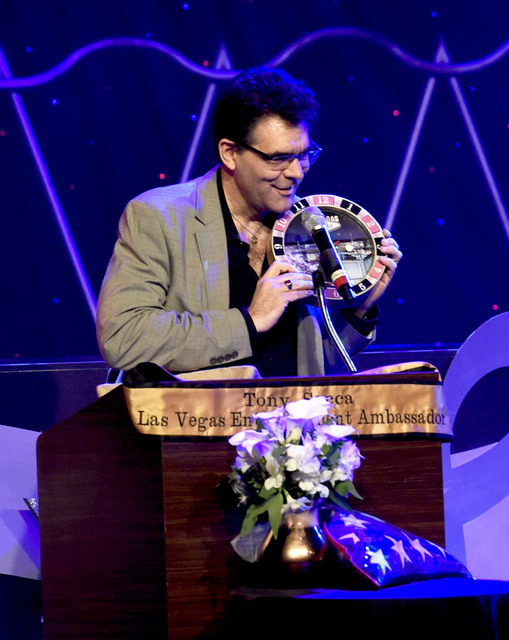 It was more than just an at-capacity showroom. Security had to remove tables and bring in extra chairs, and people were still left standing. It was the show that entertainer Tony Sacca had dreamed about his entire life. It was sad in the sense that he wasn't able to see it for himself unless he was looking down from heaven.
The beloved Las Vegas entertainer died a week ago from an unexpected heart attack. His new wife, chef Josette LeBlond, was at his side as he walked into a valley hospital complaining of feeling unwell.
Tony was a good friend, and shortly after he received a Lifetime Achievement Award from The White House signed by President Barack Obama, he sat with me to look back at his three-decade reign over the Las Vegas entertainment scene. During his 30 years as host of his TV show "Entertainment Las Vegas," Tony interviewed more than 500 celebrities.
There was a staggering turnout of stars, VIPs and friends at the Celebration of Life tribute for Tony on Monday afternoon at The Stratosphere Showroom where he regularly hosted and produced his annual Christmas show.
Our thanks to Glenn Pinkerton of Las Vegas News Bureau for his photo gallery from the tribute. Everybody spoke glowingly of Tony's love for Las Vegas and entertainment, his TV shows and, most importantly, his unique friendships, charitable contributions and mentoring support.
Singer Tony Orlando, who flew in from Florida to attend the memorial, said: "He'd be so pleased and proud to see a fully sold-out theater for him. Out of all the great people, he was the man who represented Las Vegas best.
"He never saw the nasty or the cynical, only that this was the best city to be in. He never headlined in a major showroom, but he headlined the city. He was the town's superstar, a piston to the engine that drives Las Vegas."
Illusionist Siegfried Fischbacher of Siegfried & Roy fame met Tony at The Americana hotel in Puerto Rico before they all came to Las Vegas. "Show business was in his heart," said Siegfried. "After all these years, he still had it!"
Frank Marino of "Divas Las Vegas" at The Linq Hotel added: "Nobody loved showbiz more than Tony Sacca." Magician Lance Burton underscored that: "He lived and breathed showbiz. He was a part of the fabric of Las Vegas. It is a shock that he's not with us now." Singer Frankie Scinta added: "He didn't just live it. He loved it 24/7."
Comedy impressionist Rich Little, singers Earl Turner and Sherry Gordy and sports great Rudy Ruettiger also were in attendance. Comedians Marty Allen and George Wallace called in their tributes. Also there, master marionette star Anthony Rais, who starred with Tony on his "Las Vegas Rocks" variety show. Their "Send in the Clowns" video was screened at the tribute.
Louie Anderson brought levity: "He was a Las Vegas legend. He dreamed it, willed it and did it. Tony changed my life. I once weighed 190 pounds. He sent me photos of Raymond Burr and William Conrad to be my inspiration. He was trying to get me to diet, and I thought he wanted me to look like them. Tony's annual San Gennaro Feast is responsible for one of my stomachs."
Here are highlights of Tony's early interviews with Louie:
Longtime friend Wayne Newton made a surprise appearance: "Tony was the entertainer's entertainer. He loved the people of Las Vegas whether or not they were in show business. We will miss him tremendously. We will always remember the greatness he was. He will never be forgotten, so he will never be gone."
In recent months, Tony had lived long enough to see one dream come true: the Strip debut of his matinee show "Vegas the Story" at Windows Showroom at Bally's. The six elegant ladies who made up his Sacettes and "Las Vegas Rocks" song-and-dance troupe closed the tribute with "Sincerely" and Tony's own trademark song he'd written, "Las Vegas Rocks."
As everybody said at the tribute, Tony was already busy on the red carpet through heaven's pearly gates reunited with his twin brother Robert, who died from leukemia in 1999, introducing Frank Sinatra and showing newcomers around.
Tony and Robert moved to Las Vegas in 1981 and landed a three-year singing show in the lounge of the old MGM Grand that is now Bally's. It is fitting that his final show was back at the same hotel.
Tony's widow Josette told me that she was holding up well under the circumstances and added: "We had the greatest love story possible, and I can't believe the way he exited stage right so suddenly."
Nothing sums up Tony's love for Las Vegas better than when he sang his own song, "Las Vegas Rocks," at the 30th anniversary celebrations of him being our "Las Vegas Ambassador," as former Mayor Oscar Goodman dubbed him:
Rest in peace, my friend. You are now starring up above, and you will always be remembered as one of the good guys.