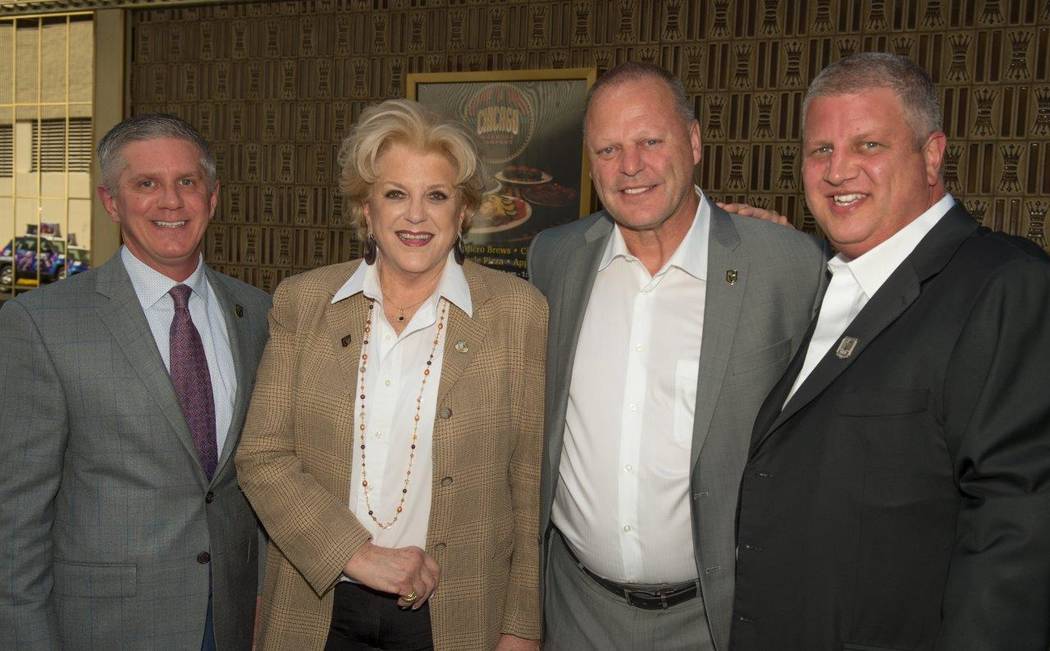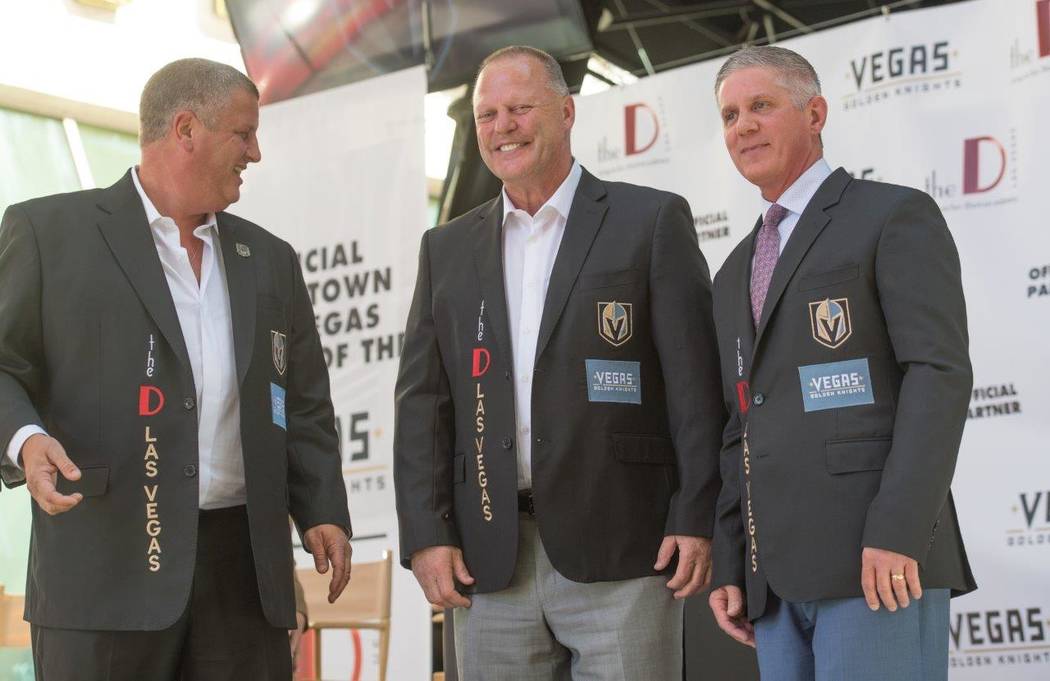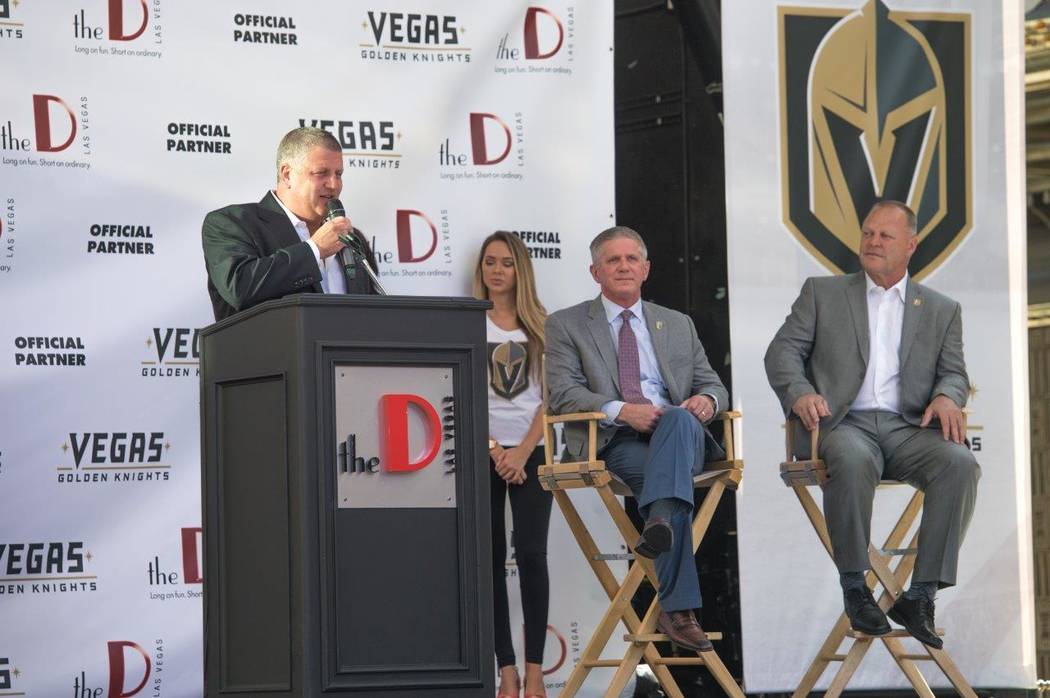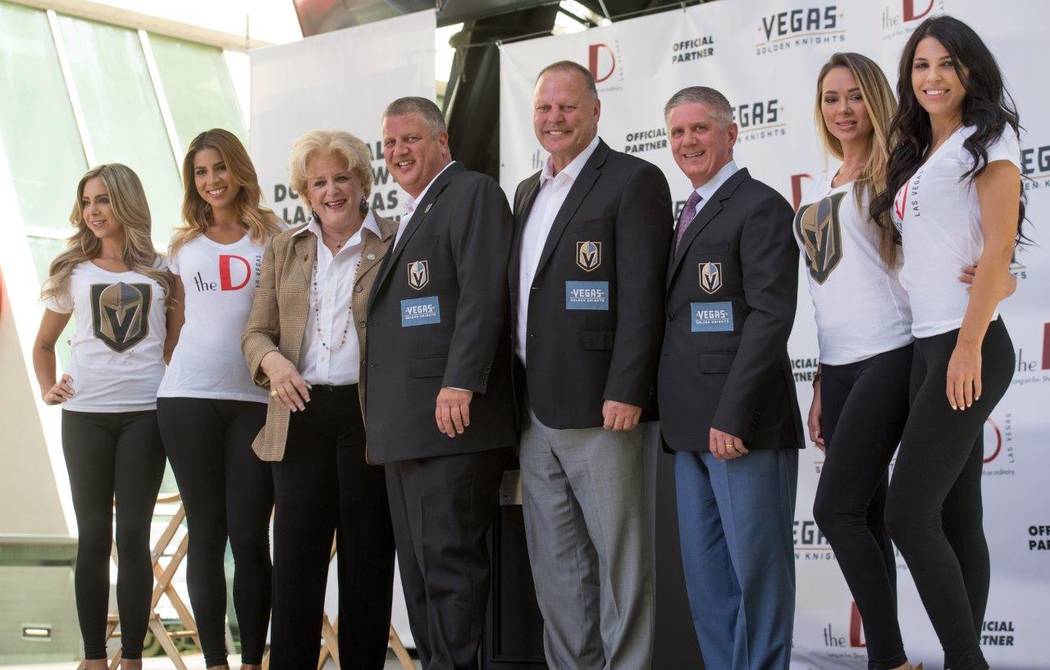 Downtown hotel tycoon Derek Stevens has landed an exclusive six-year sponsorship deal for his D Las Vegas to be the official downtown sponsor of our new Vegas Golden Knights ice hockey team. Yesterday's announcement coincided with the setting up of the ice rink at the T-Mobile Arena.
Dignitaries on hand at the 3rd Street Stage of the Fremont Street Experience announcing the sponsorship included Derek, Las Vegas Mayor Carolyn Goodman and Vegas Golden Knights coach Gerard Gallant. It means six years of activities and events once the new team's inaugural season gets underway this fall. Derek has promised a $100,000 donation to jumpstart the Vegas Golden Knights Foundation.
The D hotel-casino will throw special viewing parties for every Golden Knights game, and it will host an annual Fan Fest in the offseason. Once the players are named next Wednesday to make up the 31st expansion National Hockey League team, they will make regular personal appearances at the downtown casino property.
In addition, a pop-up shop will be opened there for Golden Knights merchandise. Game tickets will be available from the hotel's concierge staff, and the D will be prominently promoted with the Zamboni wrap at the team's Summerlin training facility.
Said Derek: " I come from Detroit which is a true hockey town, I've had the opportunity to see how hockey has impacted the community and youth sports. I am hoping to bring the same spirit to Las Vegas."
Mayor Goodman and her husband, former Mayor Oscar Goodman, have been key advocates for hockey over the last decade to come to Las Vegas. Delighted to be a part of the day's festivities she said: "There have been many investors in my time in Las Vegas, but there has never been anyone quite like Derek Stevens. Every time he commits to doing something, he does it quickly and wholeheartedly. His six-year agreement with the Vegas Golden Knights is such an honor for this community, and we're so thrilled to have the team in our city."
The expansion draft is next Wednesday and the season begins in exactly 114 days — the countdown is on! The ceremony concluded with the hotel CEO surprising team President Kerry Bubolz and Coach Gerard Gallant with matching signature blazers, designed with both company logos and personalized names on the back to replicate a hockey jersey.
Our thanks to videographer Richard Corey for his YouTube video and to contributing photographer Tom Donoghue for his photo gallery.