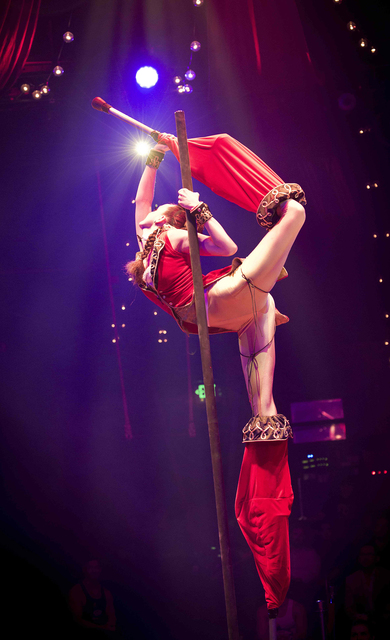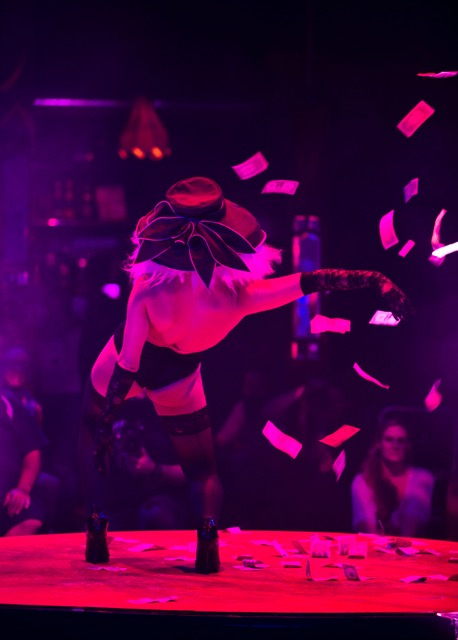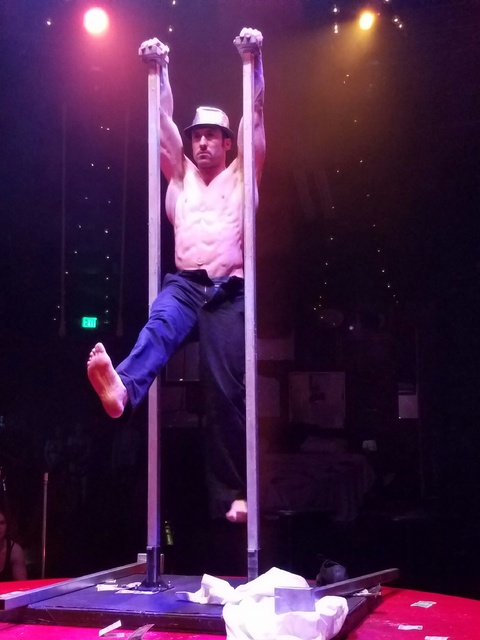 In show business, there's an unspoken rule that you open with your second strongest act and close with your first, and they'd better be interchangeable in the event of problems in between. Former LE REVE — THE DREAM at Wynn Las Vegas aerial athlete Ryan Lyons proved the point early this morning at 12:15, a quarter past midnight, as the curtain went up on his sixth-annual fundraiser SOLO STRIPS at the ABSINTHE tent outside Caesars Palace.
Fourteen of our city's hottest and sexiest performers bared all for charity and raised more than $13,000 to benefit Broadway Cares/Equity Fights AIDS and our Aid for AIDS of Nevada. In the six years Ryan has served as director and producer, SOLO STRIPS has raised more than $55,000 toward helping those affected by HIV/AIDS. He opened and closed this big winner by the book and packed it solidly in the middle.
Longtime entertainer Francisco Avina opened the night with a stirring performance dedicated to his story and battle against HIV/AIDS, moving the crowd to tears with a solemn reminder about the history of SOLO STRIPS and what it means for those living with and affected by HIV/AIDS. Then on towering stilts, former ZOMBIE BURLESQUE star Lora Kelsey performed an extraordinary undress-me routine on a stripper pole. Talk about temperatures rising!
It was nearly 2 a.m. when SEXXY at Westgate Las Vegas dancer Alexandria Halbauer entranced the crowd by prancing onstage as a porcelain-faced doll. She miraculously propelled herself into my lap without injury to either of us! She then writhed on a heart-shaped bed before vanishing underneath it and coming back up through the sheets bathed in black liquid latex. It was an incredible transformation and the perfect way to end a no-hold's-barred production.
In between the open and close, the cast of Cherry Boom Boom, which is celebrating its grand opening Thursday at The Tropicana, rocked the house with crack-the-whip, black lacy lingerie and American flag numbers that had the 400 guests in the Spiegelworld tent on their feet cheering with wild applause and screams.
SEXXY producer, choreographer and star Jennifer Romas stunned in a sleek red dress and steamed things up taking it off with co-performer Ryan Kelsey from CHIPPENDALES at The Rio in a fiercely choreographed number featuring only shadows and silhouettes. Nearly nude aerialist Drew Leach flew high for a reverse striptease going from underwear to a suit while suspended in aerial straps.
Other high-energy performers included dancing percussionists Steve Weiss and Pendu, pole coach Sheila Joy Burford, Brittni Trippi, Timber Brown (fans will remember him as "personal trainer Timber" in PEEPSHOW alongside Holly Madison at Planet Hollywood), hand balancer Ben Lerman and Michael Radiff of STEVE WYNN'S SHOWSTOPPERS at Wynn Las Vegas.
Longstanding AFAN supporter Bryan Chan returned for his sixth consecutive year to host SOLO STRIPS and charmed the room to encourage guests to tip for a cause throughout the evening. He, ever the helpful one, even taught me how to make it rain with a stack of 20 $1 bills over one undulating female. All for a worthy cause!
Ryan summed up the 2016 edition of SOLO STRIPS: "This year, I wanted to bring us back to the very core of why we do what we do and remind us all why we're here. This show started with humble beginnings with a few close friends wanting to make a difference and has become an annual night to remember raising thousands of dollars for such an important cause."