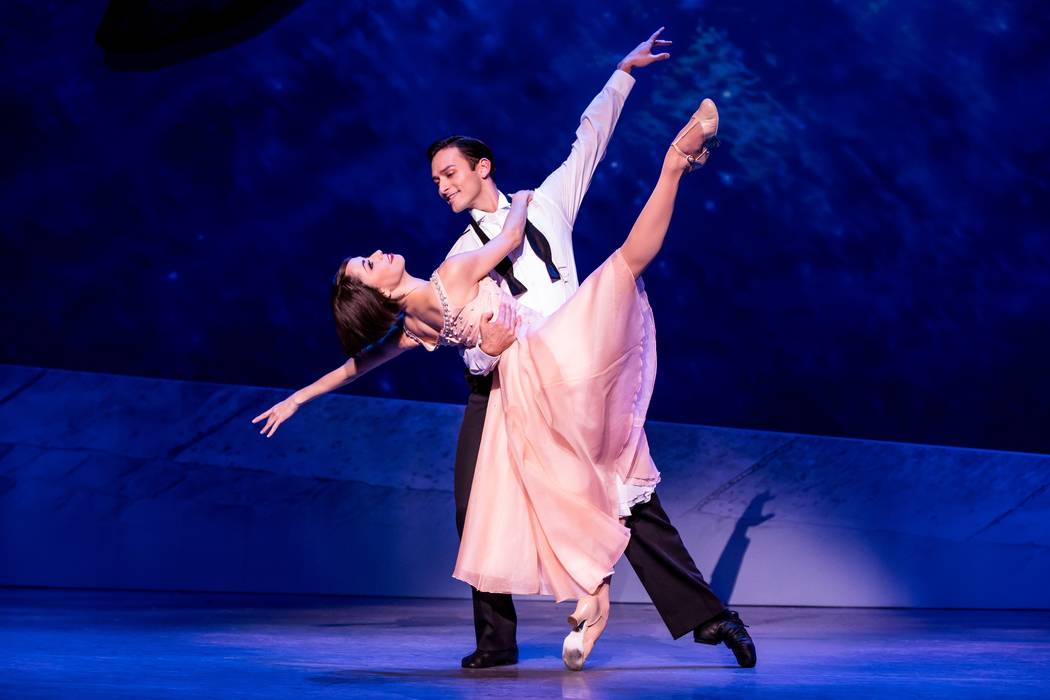 In a sense — and given editorial license — it has taken 80 years and $25,000 to get the concert and musical version of "An American in Paris" to The Smith Center for the Performing Arts for an eight-performance run that begins tonight, and it includes the stunning 17- to 18-minute finale ballet sequence.
Here's a Broadway show preview on YouTube:
Most fans remember Gene Kelly and Leslie Caron's spellbinding performances in the film that in 1951 swept the Academy Awards and won Best Film, Best Screenplay, Best Score, Best Art Direction, Best Set Design, Best Cinematography and even a special Oscar for that closing dance extravaganza.
Here's one of the dancing scenes from the movie and one of the film's fan-favorite songs, "Our Love Is Here to Stay," on YouTube:
Tonight in one of their farewell performances, ballet stars Garen Scribner of San Francisco and Sara Esty of Miami reprise the leading roles in the romantic story of the U.S. serviceman who takes up art in the French capital only to find true love is hindered by the amorous approaches of his patron.
Here is that 17-minute-plus finale danced by Gene and Leslie:
The classic sprang to life all the way back in 1928 — there's the 80-years-ago link — as a concert piece with songs and music by brothers Ira and George Gershwin. Director Arthur Freed tuned it up for the post-World War II movie.
Now respected British dancer and choreographer Christopher Wheeldon has joined forces with playwright Craig Lucas and arranger Rob Fisher to create the musical.
"The romantic storyline is still there, but the characters have been rethought and the storyline deepened for a contemporary audience," explained the director. "It now has a modern perspective."
He included Gershwin songs "The Man I Love," "Beginner's Luck" and "They Can't Take That Away From Me" that were not used in the film but were included in the Fred Astaire and Ginger Rogers film "Shall We Dance."
Tony winner Chris, who studied under "West Side Story" director Jerome Robbins, said that dance helps advance his show's story: "The musical dances from beginning to end with a variety of styles, including ballet, jazz and tap." His production of the unforgettable songs earned more awards than any other musical in the 2014-2015 Broadway season.
"The opening sequence performed to Gershwin's Concerto in F is wordless," he continued. "But it signals that there's going to be a lot of dancing and a lot of storytelling through dance. The closing dance sequence makes the show complete. It features incredibly beautiful, talented performers doing extraordinary things.
"We were eager to make a show that would appeal to people who love the movie but at the same time take those who hadn't seen it on a different kind of journey."
"An American in Paris" runs until Easter Sunday at The Smith Center with nightly performances at 7:30 and two shows at 2 and 7:30 p.m. Saturday and Sunday.
Oh — and that $25,000? It's the investment our Smith Center made as a member of the Independent Presenters Network of performing art facilities in the show to ensure that when the touring company began, it would be booked in our city and its prestigious Reynolds Hall.