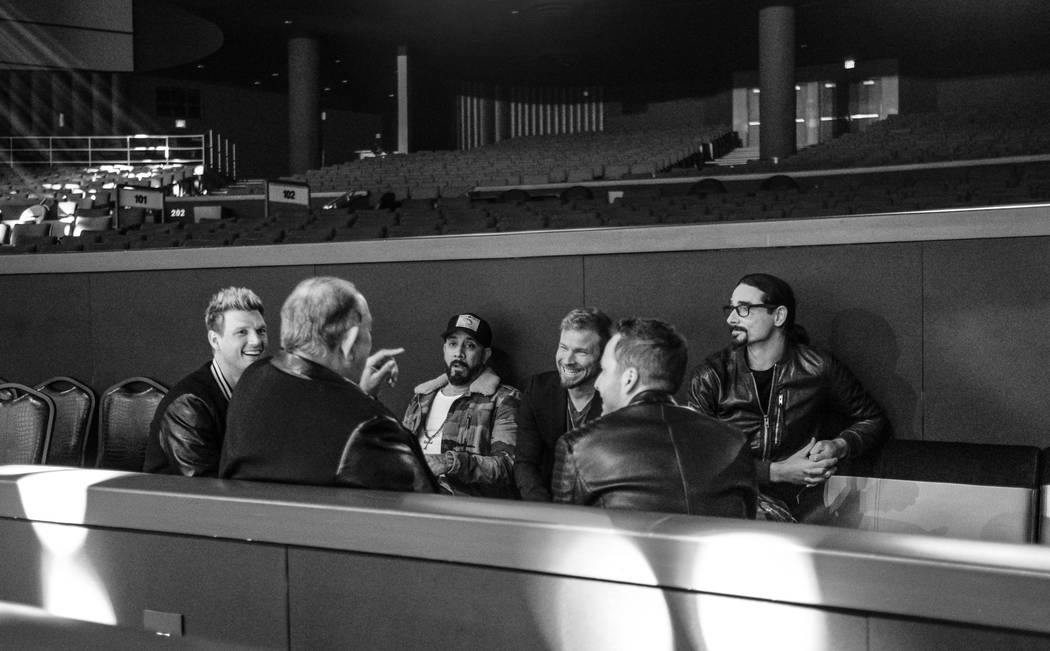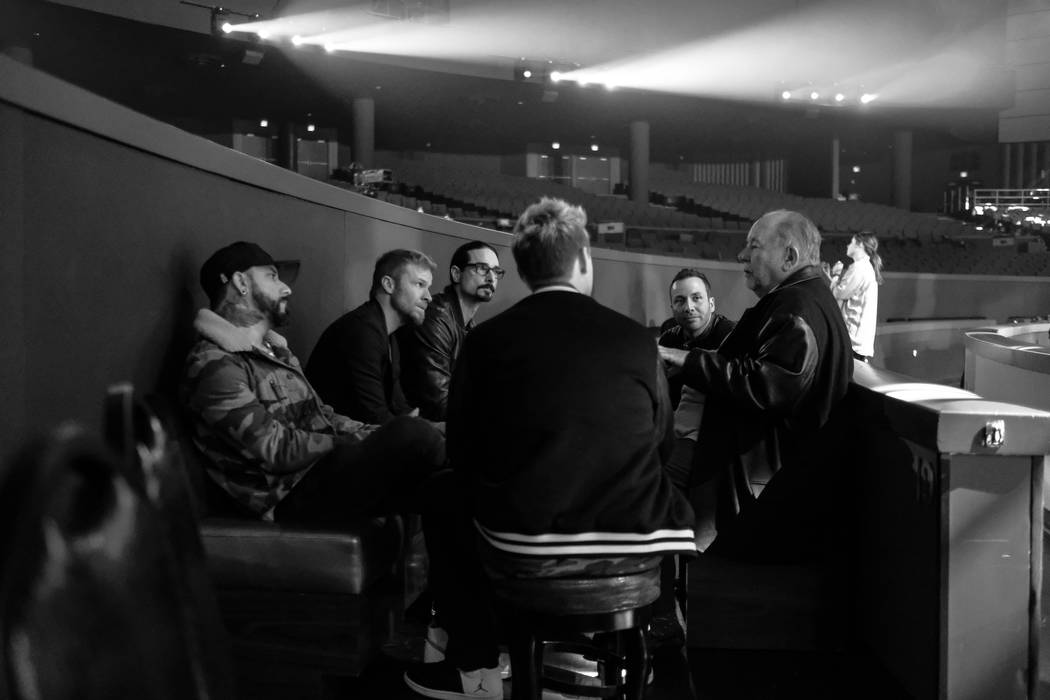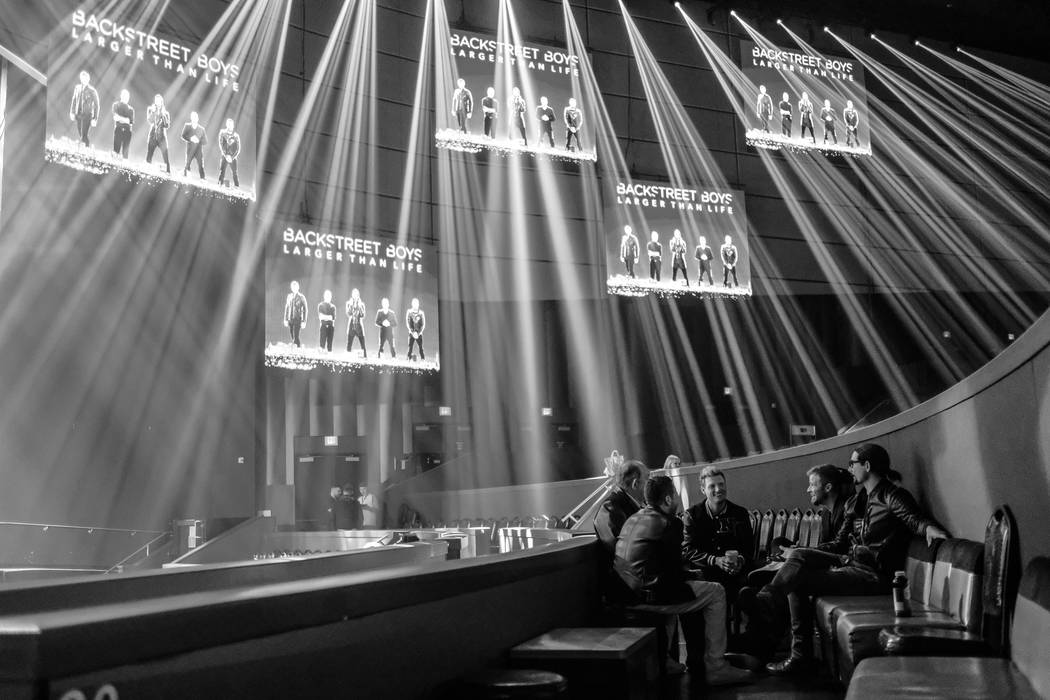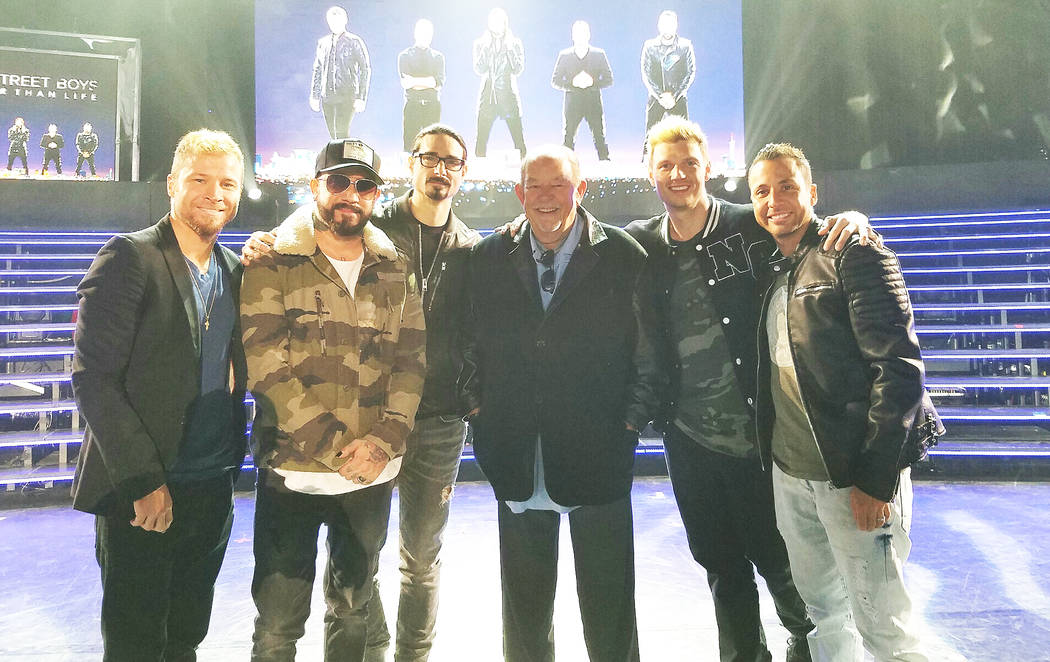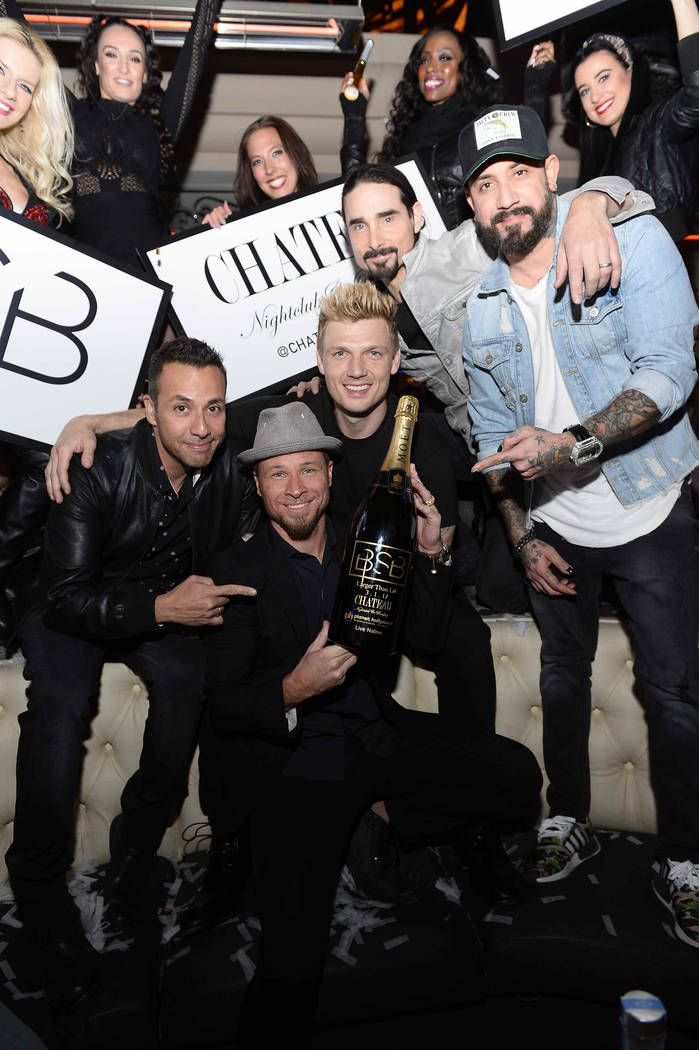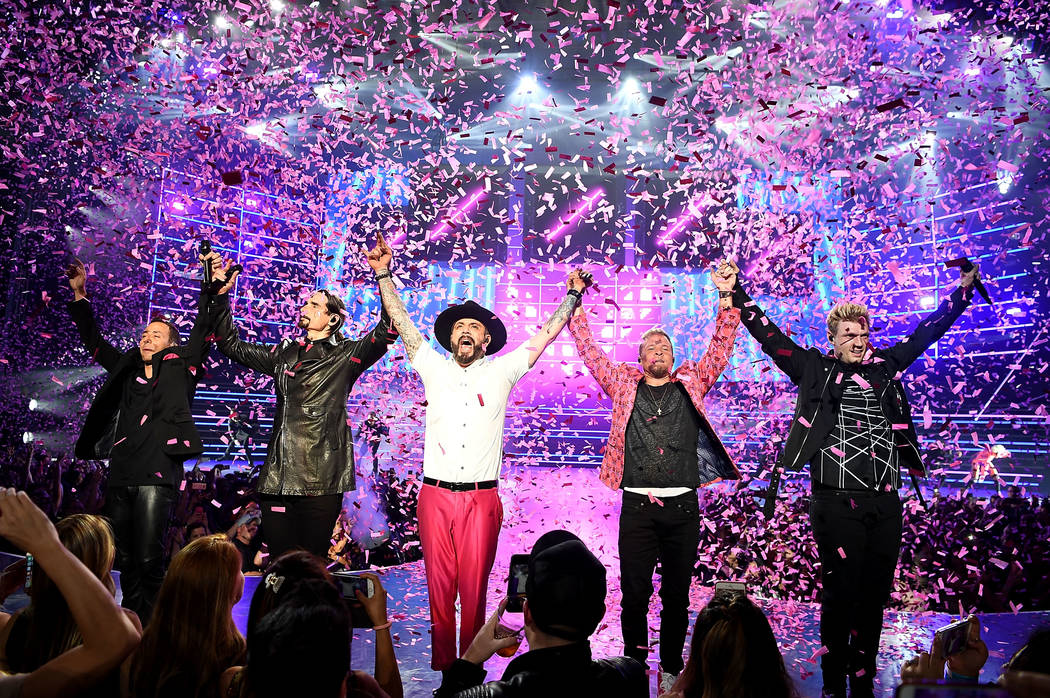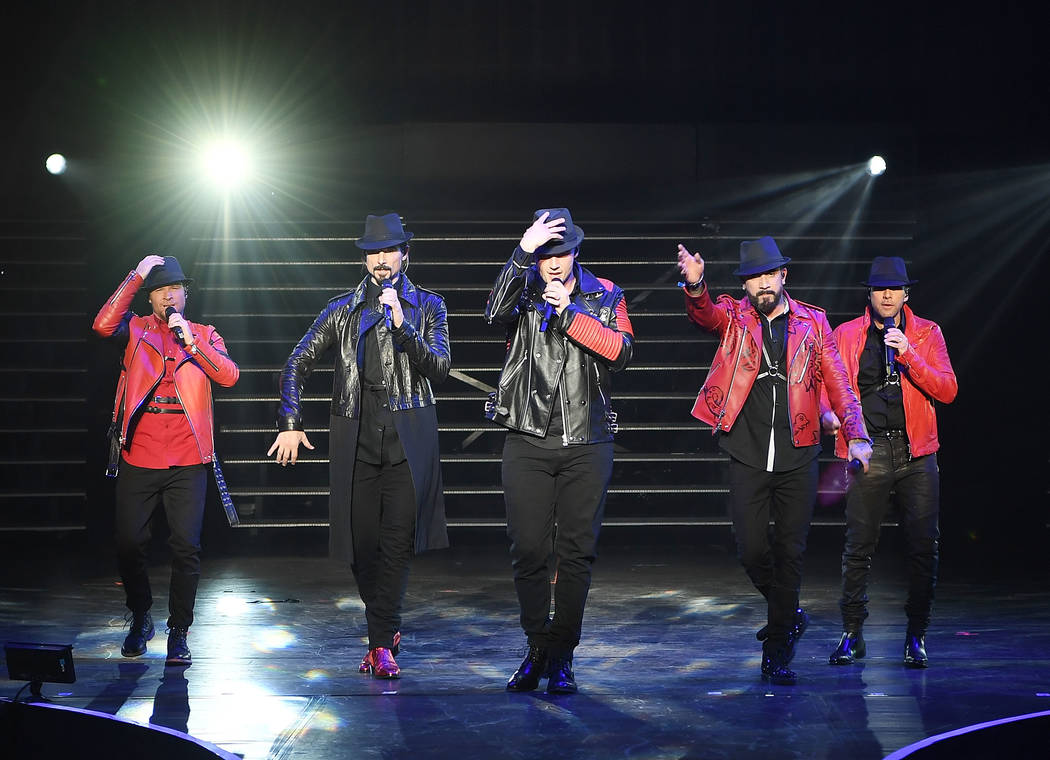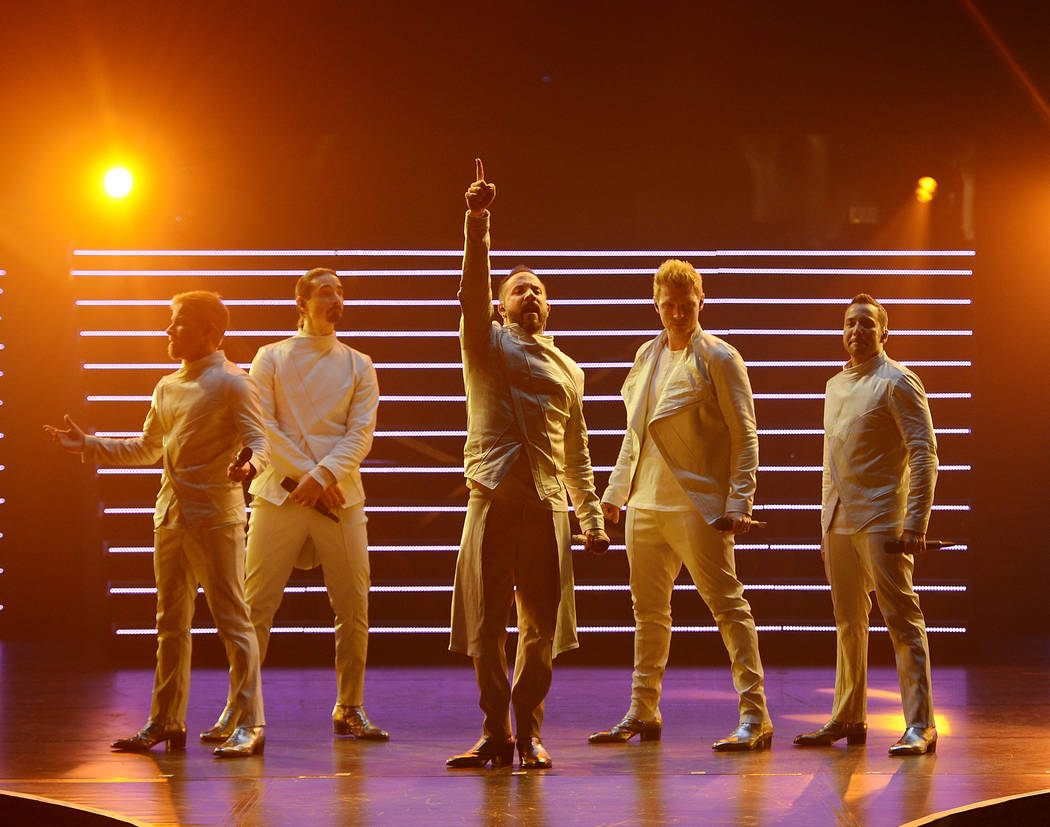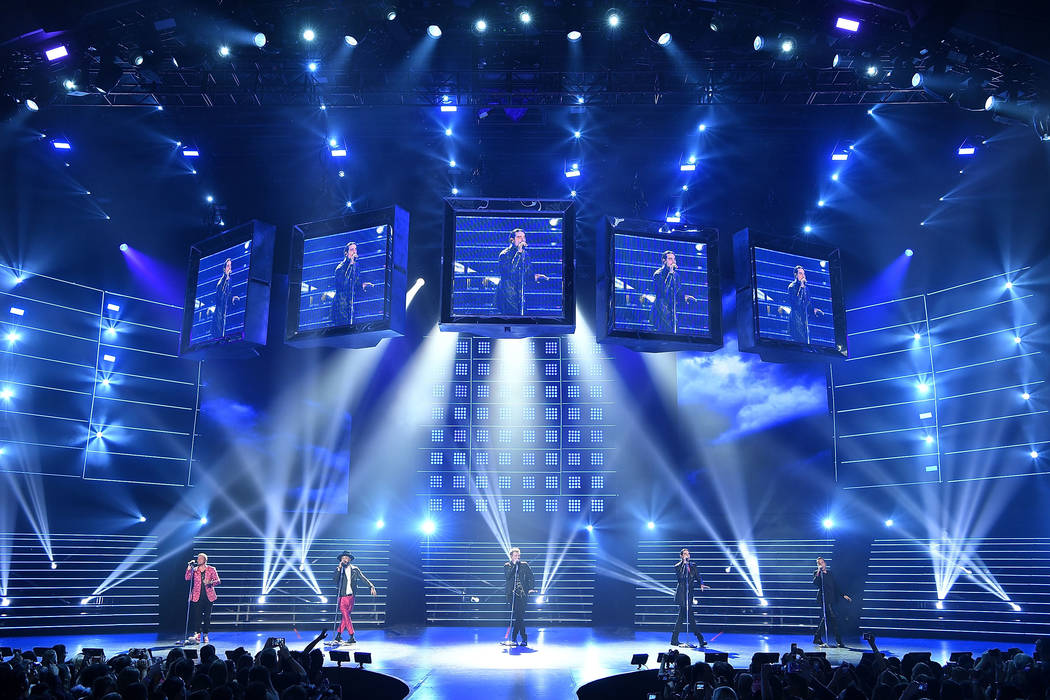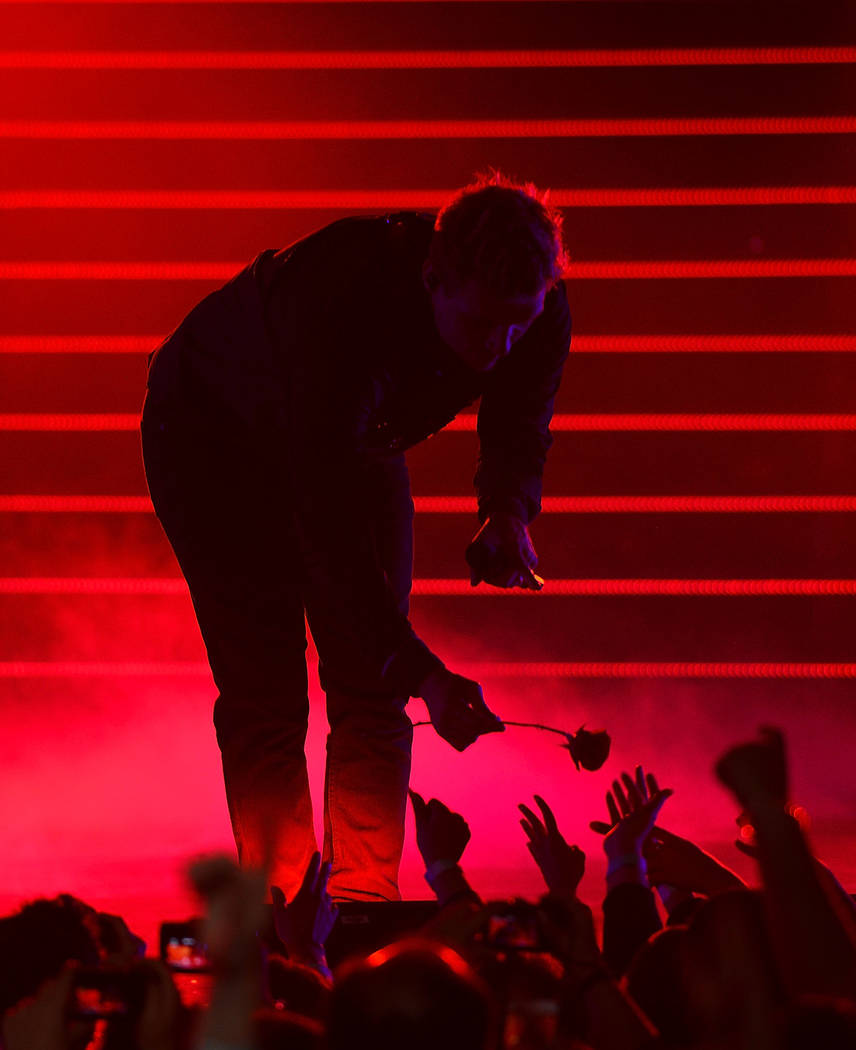 It's been a whirlwind since The Backstreet Boys premiered their resident show "Larger Than Life" at Axis at Planet Hollywood last Wednesday night: Within an hour of the curtain coming down, the five boybanders had been renewed for more shows, taking them into 2018.
They celebrated the news that ticket sales have been so incredible that Axis will now have balcony seating during Saturday shows through July 1, something that even the other residencies of Jennifer Lopez, Britney Spears and Lionel Richie haven't yet achieved.
It's all a far cry from when they went from being the biggest boyband in the world to the moment that they discovered $300 million had been stolen from them, and they were throwing fisticuffs at one another. Kevin Richardson left the group. From sales of 14 million albums, there was suddenly no room for them on the radio.
"We saw the best and worst of each other," they said when I interviewed them last Thursday afternoon at Axis.
With the Strip success all over again, no wonder that the champagne was flowing — and spraying — right after their debut as they hosted an epic after-party at Chateau Nightclub & Rooftop at neighboring Paris Las Vegas last late Wednesday night.
Nick Carter, Howie Dorough, Brian Littrell, A.J. McLean and Kevin arrived to the after-party shortly after midnight — our review was posted last Thursday. Screaming fans admired the stars as they walked the red carpet and posed for photographs on the club's rooftop. They even danced their way into a cordoned-off area of the club as fans went wild.
The Backstreet Boys were presented with an engraved magnum bottle of Moet as confetti cascaded down over the roaring crowd. The group hopped on top of their VIP booth to sing and dance to hits spun by DJs Bayati and Shadow Red. Nick shook up bubbly to spray over the adoring fans, and they loved getting drenched!
After taking countless selfies with fans, the group cheered on as A.J. got on the mic and said: "I want to thank my brothers of 24 years. Here's to 24 more!" The next afternoon, I sat with them for a one-on-five Q+A:
"We're relieved! It's nice to get a show under our belt with an audience. We've been rehearsing for a while, but this was instant feedback from the audience. We felt the first night went really great.
"Obviously, as perfectionists, we know that there are things we can dial in to make it even better as far as the flow and maybe move one song here or there, but, for the most part, we were absolutely excited and thought it went off great. We were definitely nervous beforehand even though we had eight weeks of rehearsal."
Why would you be nervous? You've been doing this for 24 years.
We're such perfectionists; we always want it to go great. This is just the beginning. Just like J.Lo, just like Britney, we're going to evolve this thing; we're going to grow it. That's what we hope to do, and this is a good starting position.
You have 25 more shows in this particular run through July 1?
But we already got an offer on the table right after the show for more. Our goal is while we're in Las Vegas, we're going to be recording our 10th studio album together, then next year we're going to be having our 25th anniversary, and we're going to tour the world.
We'll launch an album, tour the world and figure out a way to make more Las Vegas dates work within that landscape. If we're here for another 24 years, which the audience obviously wanted, we will be The Bionic Backstreet Boys!
When we started out, everybody's like, "Oh, the new boyband, you guys are only going to be the flavor of the month for the next five to six years, then you go away,' That was back in 1997. Now we're at 24 years; that's a huge accomplishment.
But it wasn't smooth sailing the entire time. Before you even began this second phase of the first 24, there was a horrible period that I call "The Lull."
We call it "The Valley."
You weren't talking to one another at that point. Financially, a disaster had struck from afar because of your manager Lou Perlman, who wound up in jail where he died. The highs really became the lows. How did you all get back together and say only the five of us can solve the problems?
We never separated, first of all. I think a lot of people thought just because we weren't played all over the radio that the group had disbanded. Kevin took a personal leave of absence for what, seven years? But the four of us kept going. We kept the torch.
After "Black and Blue" in 2002, we didn't have anything out until 2014.
Kevin: I had left the group for seven years because I just didn't have it in me anymore. I wasn't enjoying it. I needed to step away. I gave them my blessing if they wanted to keep making music, and they gave me their blessing to step away.
"We made two albums, and we did three world tours. We went with New Kids on the Block. It was a massive tour (as NKOTBSB).
Kevin: I reached out to them and said, "Hey, I'm ready to feel inspired again, and I have something to add and to bring to the table. They're like, "Let's do it." That's when we picked up and went to London and started that whole journey again.
Five guys who travel in close quarters, it can't always be perfect harmony except when you're singing. You've got five different opinions. How do you remain such a tight-knit group today?
It's a lot of work. We've seen the best and worst of each other for the past 24 years. We've now had about three, maybe four, therapy sessions as a group, and we're not ashamed to say it. It's a safe place for us to be able to open up honestly. It's actually done us very, very well. It's been a safe place for us to be able to be honest about things that maybe happened deeply rooted, and we haven't had a chance or didn't know how to say it.
We've also had some serious experiences together. We've been a family for — I've been in this group since I was 11 to 12 years old. So in a lot of ways, they have become more of a family than my real family. We operate that way as a family of brothers. We have our bad times and good times, and we communicate. Sometimes we even scrap it out. We literally are like a band of brothers. We love like brothers; we fight like brothers.
Have is it ever come to fisticuffs? Drawn-out fights?
Oh, yeah! We don't all agree on stuff, and so, a lot of times, we just have to sometimes just come down to a democratic vote on things.
So what is the glue that holds you together?
It's the music, it's the love, truthfully. We love this. It might sound cliche, but we love being The Backstreet Boys. We love what it represents. We enjoy what we do. We take pride in what we do, we have a common goal that unites us, and we do genuinely care about each other. We do genuinely want the other to be happy and fulfilled and allowing each other to do individual stuff.
Whether it's working on a solo record, whether it's filming, whether it's starting a family, whether it's a vacation, we all allow each other to spread our wings. I think we all know that within our group, it's a team; it's not about "I." But when you have the individual stuff on the side, it allows you to fulfill things that maybe you weren't able to get in the group and sometimes come back to the group even stronger.
Just like Nick doing "Dancing With the Stars"; when he returned to us, he picked up the choreography faster than he ever has before. When we do step out and do things, we can come back and are a stronger link in the chain.
Don Henley said it best when he was talking about when The Eagles would do their own projects. They realized that The Eagles was the mother ship, but if they allowed each other when the mother ship wasn't flying, allow each other to go off and do their own individual thing, they're fulfilled when they come back, and it's better for everyone.
With trio groups, they say it is always two against one, two of them bond, and the third one is left out. Does that happen in five where it's three against two?
Oh, yeah! Other groups may have one guy, one leader, while here there are five guys with very strong opinions, so it has to be a democracy. Occasionally, it's three against two or sometimes two against two, and somebody has to be a tie-breaker. It's always an ebb and a flow, and you have to sacrifice for one another.
Sometimes one of us totally thinks it's the wrong decision, but we wind up a team player. It's hard — it sucks sometimes! Every so often, you'll hear, "I told you so." We hate it when it's two and two, and the fifth member has to be the deciding factor. Somebody is bound to wind up pissed, two guys are going to be pissed off, two guys are going to really like me.
You've toured the world, you've broken every record under the sun, yet I sensed appearing here in Las Vegas at the start of a residency seemed to be more important than everything you've already achieved. If that's true? Why was that?
It's the influences from the past. We grew up listening to Elvis Presley, The Rat Pack, Frank Sinatra. We were really young, but, in our minds, Las Vegas was like the pinnacle, this top of the mountain. So we feel like this is a rebirth for us, and we're there now, and what we do with it from this point on is in our hands. Do we grow this, or how do we make it better?
But it is the pinnacle. With its history, Las Vegas is now an international destination, and we have such a huge international fan base. We had people from China, Mexico, Argentina, Canada, Spain, Italy, all over the world that came in last night for our debut. It was a special night, a first.
The second part is that you don't have to pack it up. You don't have to jump on your bus, you don't have to go to the next city. So after 24 years, we can now see our families right after the show.
Nick: In fact, I've decided to live here. I just bought a house in a gated community so I can have privacy and play golf at the same time. Brian lives in Atlanta, Howie lives in Florida, A.J, Kevin and I live in Los Angeles, but I'm a new Las Vegas resident.
Right now, I wanted my family to be close, I wanted to drive from my work, drive down 15 minutes, go home, come back again three days out, finally a great life for me. I think they'll all wind up living in Las Vegas eventually. Years ago, it was different. They would get all pissed off, "Oh, you're not dedicated, you don't want to be here, like you got to be on the first plane out." But see how things change when you grow up into your 30s and 40s? We all get it now.
"We were talking about this earlier that if this residency continues on and we do more, we're going to be able to hang with each other even more because we're talking about playing golf together. That's what it was like back in the day for us, when we all lived in Orlando all together when we first started."
You've all grown up, you've become smart in a pretty tough industry. It really is the business of show.
When we opened for The Temptations at The Florida State Fair, one of them came back with valuable advice: Look at them both carefully because while you're doing your show, somebody can be taking off with your business. And that was us. We just didn't see it coming. It only took us 20 years to finally have that advice sink in.
So Las Vegas does signal something very special to you. You've made it to the top, and yet you're having a rebirth?
It's interesting because now the younger ones are here: J.Lo, Britney and Shania followed after Celine. If you'd asked us 20 years ago if we thought we'd want to play Las Vegas, we thought once we got here that it would spell the end and retirement was next.
Other artists came up to us with congratulations for a Las Vegas residency because now every artist wants to accomplish that and have a residency here. This has been in the making for four or five years. We've been talking about it over a long process. We've been on tour the last three years, and that's why it took so long. It just came down to the right timing.
We played MGM Grand Garden Arena on our last tour and began talking about it. Then on the second leg of our tour, when we played Las Vegas again for two nights, we got to check out the theater to see if we liked it. Right after that is when we really started getting serious and Caesars came with the offer to play here at Planet Hollywood. Las Vegas has always been good to us. We did the iHeart show here in Las Vegas, and that was kind of the jump-off for us again.
* * *
And as the returning conquering heroes, The Backstreet Boys were feted 48 hours later as surprise guest stars at Cirque du Soleil's "One Night for One Drop" after-party at New York-New York on Friday night. They summed up: "We're back and better than ever. We're ready for the next 24!"