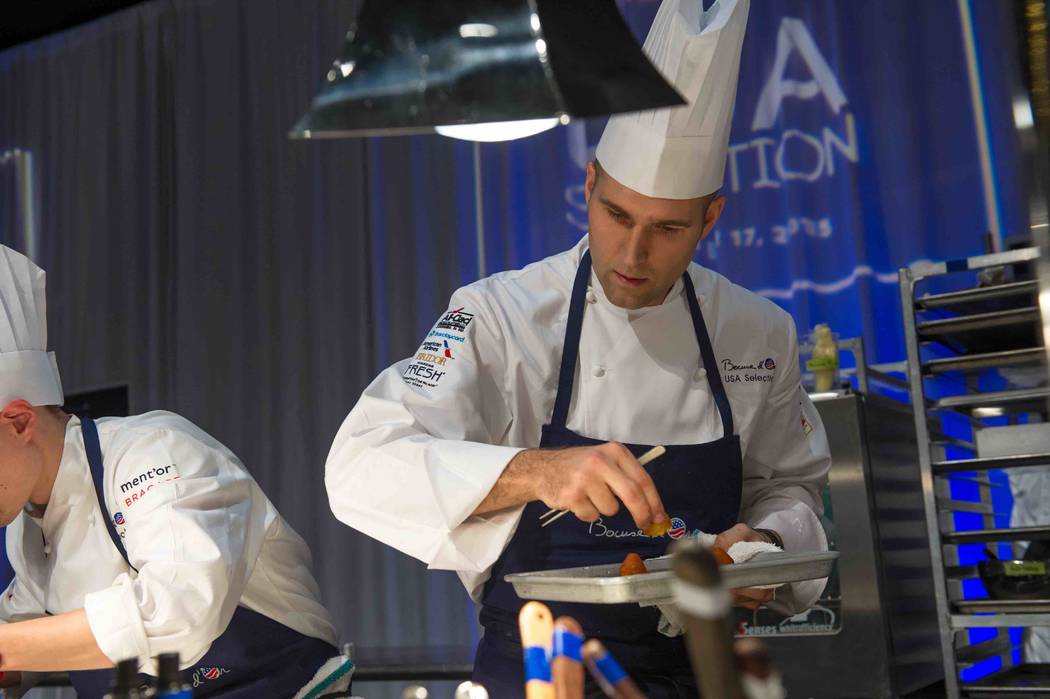 Q: How has American cuisine gotten better as a result of ment'or?
A: I think that our generation of chefs in general has really moved forward with the collaboration of ment'or. Ment'or has been able to give the opportunity for the young chefs to go and expand their knowledge from traveling all over the world, as well as being able to have access to these top-tier chefs. I think that opportunity has brought that knowledge back here to the states and been able to be a hub for our own creativity. I really think it's pushed our industry within probably the last five to 10 years and really elevated it to the point where it is today.
Q: Has it elevated to the point where the traditional leaders of food, like the French, tip their toque in respect to America, now?
A: Uh huh (affirmative), right. I think the French have always been the leader in our industry on a culinary standpoint. Even, today, it's highly revered as being the base of what we do and how we do it. Obviously, even in the top-tier kitchens here in the states, working alongside this modern American cuisine, the French influence is definitely there and plays a major role in that success. American cuisine is a hodgepodge of everything. There's influence coming from Asia, France, Italy. We're really just taking our own interpretation and, of course, local products and produce. The influence of what they do is definitely a part of who we are as Americans in our cuisine.
Q: Fine dining starts though with produce. Has ment'or played a role in some way of improving the quality of food products, freshness, speed to table? What has ment'or done for the American food industry?
A: Ment'or's role in that isn't necessarily geared toward improving the produce. They're more about improving the individual. Those individuals have made drastic movements in their own restaurants to put in a better product, better produce, bringing to life a lot of that farm-to-table aspect.
Their main point is really to mentor the individual to be successful in this industry, to improve the industry as a whole. It's allowing them to get the knowledge and the experience where they need to help bring that back to wherever their home may be and their restaurants, to bring something that's going to elevate them to the next level.
Q: I'm going to ask you the same question that I asked Thomas. Can we do gold twice in a row?
A: Of course, we can. I think we have some very talented individuals that are coming here to Las Vegas on Nov. 9. Obviously, with Matt Kirkley, who was awarded his third Michelin star, today, and that's extremely exciting. You have Ben, who is highly revered as a very competitive chef. This is something that he's been doing for years. It's going to be extremely exciting to see his organization and the presence that he brings. Then you have the young chefs from Mourad, who have just been awarded a Michelin star as well. We have a lot of talent and opportunity to be able to do what we did the year before.
Q: Was it a case of the "new kids on the block" going to Bocuse d'Or and winning the gold medal?
A: For the longest time we were trying to figure out this competition. Obviously, the young kids on the block were probably the Nordic countries. Obviously, France was very well-established in this competition, as well. We were figuring out who we were as a team — as a country — in this competition. I don't think it was until Phil Tessier was able to break through that ice and won silver that we really established some sort of identity. Now — because of what we have done — and I believe we've changed the concept of what it takes to win. I think we're helping the competition evolve with the technology and the experience and the type of food that we're doing. I think people are finally looking at us and paying attention to what we're doing to help them achieve, obviously, what we did last year.
Q: And, is it an old timer, Ben, who has been competing over the years versus the new kids like Matt?
A: I was in a similar role coming in to the competition. I never had that experience. I think there's benefits from being on both sides of it. Obviously, with Ben having that experience through the competition world is going to help him out greatly coming here in November. Matt Kirkley has a tremendous amount of creativity of what he can do .They probably sum up pretty equally.
Q: Matthew, what do you expect the public to see, on Nov. 9 when this gets underway in Vegas? What do you think they're going to experience rather than just watching three teams, three chefs with their assistants, going for it?
A: I really think whoever walks away from this competition has a clear shot at repeating what we did in 2017. I think you're going to see the next chef that's hopefully going to change the game for the 2019 competition in Lyon.
Q: What did it do for you starting with the thrill of being in ment'or, getting gold and then what has it done for you professionally?
A: Professionally, it's geared me up to do and fulfill my dreams of opening a restaurant. That's what we're doing, currently, we're in the concept phase down here in Austin, Texas. On top of that, it's been able to give me the exposure to really elevate who I am as well as the attention as to what's to come here in early 2019 with that space.
Q: I made a personal observation to Thomas; so lets see whether your comment is similar: I've begun worrying that fine dining is slowly disappearing from the scene. People still want the quality of fine dining but they want to be able to walk in without a suit and tie; they want to eat in jeans. A white tablecloth is not necessarily their validation of fine dining. How do you feel about the future of fine dining? Is it changing?
A: Fine dining is everybody's own interpretation to some degree. Fine dining doesn't necessarily mean that you need to dress up to go out to eat and enjoy that type of an experience. I think to some degree the fine-dining experience is changing, I don't think fine dining itself within the execution of the food and the deliverance of the product and the experience as a whole, I don't think that changes. I think it's just really the deliverance of how that's experienced throughout the guests. I think there's always room for that above-and-beyond experience. I think the younger generations are just trying to find their own niche within that industry that's just a little bit different than what's already been established.
It's just a fad. There's going to be ups and downs throughout our industry where that approach will eventually come back through where people are going to want that type of an experience of dressing up and that … a long dining experience that they're accustomed to or once were.
Q: Is it a pendulum that swings and becomes way too casual and then it will go off to where it's probably far too formal again.
A: Right. The other thing is being able to enjoy fine product and produce shouldn't just be available for the uber rich. I think that's something that as a chef being able to share your ability to cook as well as your creativity and your craft should be accessible for everybody. At the end of the day, food was always something that brought family and communities together, and I think that's what is happening and you're seeing within our food industry right now is how do you enjoy eating? As chefs that's what we're trying to deliver as an experience. What we enjoy is the simplicity sometimes of bringing family and friends together and that's something. … I think that's what you're seeing now within the restaurant industry and that's what we're trying to deliver.
Q: As a charitable undertaking, ment'or really is the mentoring of youngsters, who think of culinary as a profession. Has it become a larger influence with more consumer recognition since you won gold?
A: Of course. I think the public is starting to pick up on. … Obviously with the success that we had in 2017, I think people are eager to understand more about what that is and then understand the foundation of the group of ment'or. I think it's definitely made leaps and bounds over the last four to five years from where it started. It's really branching out across the country and people are understanding the opportunity that they have within ment'or to be able to go out and fulfill their dreams. I definitely think it's expanded and grown exponentially over the last couple of years.
Q: OK. Nov. 9 is just around the corner but then there's another 13 months before Lyon. What goes through the mind of a chef during that year of preparation? Is it as agonizing as a sommelier degree? Is it anticipatory? What is it that goes through the mind?
A: You don't make the same dish for 13 months. That's something that probably needs to be explained a little bit, too. It's a beautiful process. During that year it really starts with a very creative moment at the beginning in a collaboration with a bunch of chefs who are spilling out their utmost secrets and newest technologies and techniques that they've brought within their own restaurants — trying to develop something that's going to be the most creative and most innovative dishes to come during that Lyon process. The beginning process is really just a very collaborative effort on developing systems and ideas for the chef to be able to take it in his own way.
Then during probably the first six months it's really experimental. We probably did 30 to 40 different renditions of garnishes and plate ups and different things until we really found something that just worked for the idea of what that dish and that platter was going to be. Then obviously the antagonizing and the stress and everything comes a little bit later when you're really starting to develop the runs and things are starting to gear up closer to the competition.
Q: Is there any more stress left to hit you as you get to Lyon? Are you a well-oiled machine at that point?
A: You're a well-oiled machine. Obviously, there's stress, there's the anticipation, there's the thrill of just being there. There's that excitement of finally being able to reveal what you've been working on for that long. Really by that point, getting up to it, if the training has been done properly you're just a machine. You go in there, you do your job and, hopefully, have the success that we did in 2017.
Q: The emotion of the win — what is that emotion like? How do you describe getting the gold medal?
A: It's everything. I wasn't expecting the amount of emotions that came out during that win. There was emotions that were built up from just everybody else that was. … You could see the amount of work (by) Thomas Keller and Daniel Boulud and the other chefs that (was) involved with the ment'or group. You could just see that those 10 years that were all devoted to get to that ultimate goal, winning gold, that just came pouring out. Their emotions sank into our emotions of that whole year of training and work and dedication. It's a combination of excitement and enjoyment achieving the ultimate goal of what you set out to do and there's just tears of joy.