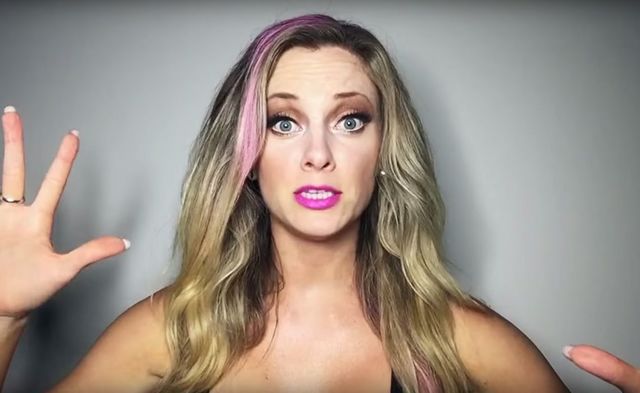 Social media star Nicole Arbour — 300 million views and counting on YouTube — is a self-described renegade badass who is celebrating the YouTube milestone by hosting the largest champagne shower attempt this afternoon at Go Pool at The Flamingo.
Arbour chatted over the phone Wednesday afternoon ahead of her pool-hosting duties:
How'd the idea of the world's largest champagne shower arise?
I literally wanted to celebrate achieving 300 million views on YouTube by popping a bottle of champagne, so I came up with the idea for a celebration that is big and ridiculous in Las Vegas.
Why Las Vegas?
Because it's the party capital and celebration capital of the world.
Do you like champagne? What is your favorite champagne?
I love it so much. It's hard to choose a favorite. Whatever I'm being served.
What is your drink of choice other than champagne?
I'm a vodka girl. I love vodka red bulls. And champagne, too.
Have you thought about your outfit for Saturday afternoon at Go Pool?
I'm working on that today. I'll probably have an outfit change since I'll be singing. Definitely not a poncho.
How did your career in social media and on YouTube begin?
I was headhunted a year ago by a YouTube agency to be a YouTuber. I thought, "What's a YouTuber?" When I learned more about it, I thought that it was cool. It started out as creating challenges for kids, but that just wasn't for a renegade badass like me.
What are you working on right now — your focus?
Music is definitely one of the focuses right now. A late-night talk show is being talked about, and I have a bunch of meetings when I'm in Las Vegas for a show titled MADE FOR VEGAS.
Do you get to Las Vegas often?
I've been there a couple times the last few months. I love the energy there. It's insane. You can't match the energy there. I love the pool parties.
What else is on your to do list in Las Vegas when you're not hosting at Go Pool?
Good question! Restaurants definitely. Hyde at Bellagio in the evening. I love the music there. And I definitely want to take a helicopter ride.
YouTube and social media sensation Nicole Arbour hosts the world's largest champagne shower attempt at 2 p.m. Saturday at Go Pool at The Flamingo.