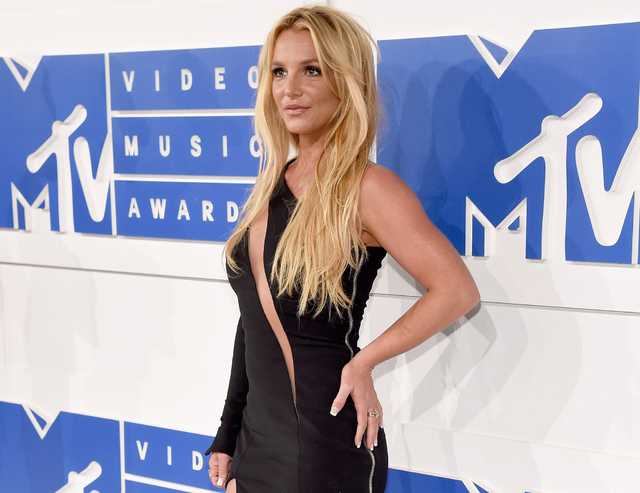 Pop princess Britney Spears on Monday morning announced that her run of BRITNEY: PIECE OF ME at Axis at Planet Hollywood will continue through early spring, with dates set for March 22-April 8 and again May 3 through 20.
Earlier, though, over the weekend, we learned that Britney, while celebrating her son's birthday entering the double-digit age, has donated $125,000 to the Louisiana Red Cross to buy a new emergency response vehicle to help the state's flood victims last month.
Britney made the donation while appearing on THE ELLEN DEGENERES SHOW when host Ellen DeGeneres promised another $125,000 in disaster aid. Incidentally, our Caesars Palace headliner Celine Dion appeared on Ellen's talk show Monday.
WHITE IS THE COLOR
Heather McDonald (CHELSEA LATELY) hosted the fourth-anniversary STK White Party at The Cosmopolitan of Las Vegas on Monday night. Heather told me that she's narrowed down her original seven outfits to four so that she can decide which one to pick just before doors open.
"I've never hosted a white party before, so this is an undertaking. But white outfits are universally flattering, and one takes a good white carpet photo wearing them. It signifies a happy party time."
Heather told me that it helps being a standup comic when she's on social media. "It's a great tool for promoting if I'm coming to your town. It's exhausting, though, because once you start on it, you're never off it. It can even be profitable, but the downside is that haters can really hurt. I just block them and don't respond most of the time. Sometimes, though, I can't help firing back and then block them."
'THE BOOBS STAY'
When headliner singer Matt Goss departs Cleopatra's Barge at Caesars Palace on Sept. 24, hotel execs will reconfigure and transform the venue into a new-look entertainment hangout. However, "The boobs stay!"
I'm talking the gold-painted ones that decorate the bow of the barge that serves as a focal point of the lounge. The generous female form of the last active Egyptian Pharaoh will remain even if the barge is cut down in size.
The ample bust line has served as a good luck touch for high-rollers en route to the casino floor. So many have jumped up to caress the ample cleavage that Caesars actually has two ladies who every month reapply gold-flecked paint to keep them looking fresh!
DUELING BACKSIDES SPARK LEGAL THREAT
One of the most familiar trademarked attractions in Las Vegas the last 25-plus years has been the sexy backside bronze pose of producer Norbert Aleman's CRAZY GIRLS. In two decades, it became the most recognized topless showgirls pose on the Strip.
So Norbert was horrified to see that his copyrighted pose on full display in their new Planet Hollywood home was adopted by the promoters of last week's annual Pole Show and Expo at The Hard Rock Hotel.
"It's a definite infringement," Norbert told me, and he intends to take legal action to prevent any future knockoffs of his CRAZY GIRLS posteriors.
L.V. MOVIE PREMIERE
MAX ROSE is the first starring role in a movie for Las Vegas' own Jerry Lewis in 25 years, so its Las Vegas premiere Sept. 24 at Village Square Stadium Cinema will be extra-special. Jerry scheduled it as a matinee so that other Las Vegas performers could see the film, and he'll take part in a Q+A afterward.
Jerry, 90, plays the role of an 87-year-old retired jazz musician who discovers an intimate inscription from another man in his wife's compact while going through her belongings after she dies. He questions his 65-year marriage and goes into angry withdrawal.
Eventually, while tearing his home apart, he finds a sketch of the man and starts to search for him to find answers he needs to be at peace. Claire Bloom co-stars as Jerry's wife, with guest appearances by Dean Blackwell, Mort Sahl and Illeana Douglas. Michel LeGrand and Alan and Marilyn Bergman have created an original song for the film.
SIX-STRING SOLDIERS
In advance of the nine-show return engagement John Fogerty kicks off Wednesday night at The Venetian, the legendary singer-songwriter and guitarist has recruited four members of the U.S. Army field band to open for him. They're called The Six-String Soldiers, and John selected them to coincide with National POW/MIA Recognition Day on Friday.
The organization honors those who were prisoners of war and those still missing in action. On Monday, Six-String Soldiers met at Neon Museum for the first time to plan The Venetian shows.
DESSERT BEFORE DINNER
Girl Scouts of Southern Nevada sat in amazement as The Rio headliner magicians Penn & Teller performed tricks with a white silk scarf at their Dessert Before Dinner gala Saturday at Caesars Palace. One trick involved a young Scout who had a scarf wrapped around her neck several times before Penn & Teller used magic to pull it tight as it passed safely through her throat.
It was a night that three first-time participating pastry chefs won the Top Three awards. The returning chefs among the 11 competing were simply outvoted. Pastry chef Michelle Flores of Caesars won third place, Elizabeth Stolarick from Wynn Las Vegas second, and first went to MGM Grand's Denise Elliott and Kimberly Vitou. Their creation using Caramel Delites will now be served after dinner at next year's scholarship fundraising girl gala Sept. 16, 2017.
OLYMPIC GOLD MEDALISTS
Olympic gold medals were on show over the weekend when winners invaded the Strip. Six members of the women's water polo team were joined by Las Vegas hometown hero and champion Cody Miller at Cirque du Soleil's O at Bellagio.
The Olympic winners all went backstage afterward to greet eight former Olympians in O. Earlier, the team enjoyed an eight-course menu by chef Barry S. Dakake at his N9NE Steakhouse in The Palms, where he popped the cork on Perrier Jouet rose to welcome them.