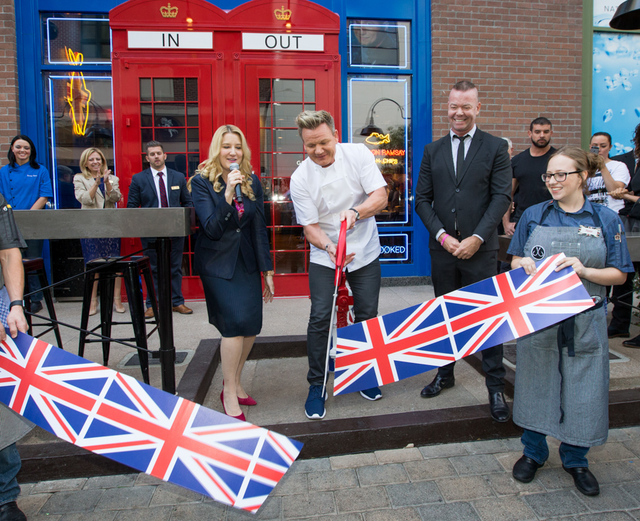 Here's a look at the video for Bruno Mars' new single "24K Magic" on YouTube filmed in Las Vegas at MGM Grand, along with a jet-ski ride around The Bellagio Fountains and hotel hallway motorized scooter-chair race.
Bruno, who has previously headlined at The Chelsea in The Cosmopolitan of Las Vegas in an extended run, now moves to MGM Resorts' new Park Theater at The Monte Carlo for his debut dates Dec. 30 and 31 after the Dec. 17 opening by Stevie Nicks and The Pretenders.
Bruno returns in March in his new, two-year contract with MGM Resorts. We reported the Wicked Whispers + Racy Rumors of Bruno's new residency Aug. 10 but had him at another site. Close!
RED BULL AIR RACES
It's the most exciting motorsports race in the sky, and it returns this weekend to Las Vegas Motor Speedway. Fourteen of the world's best race pilots will be put to the test in a competition that mixes speed, precision and skill. The pilots fly the fastest, most agile and lightweight-racing planes and navigate a low-level aerial track of 80-foot-high air-filled pylons at speeds of as fast as 230 mph while enduring as many as 10G forces.
The goal is to finish in the fastest time incurring as few penalties as possible. Eight races are on the schedule, but Las Vegas is the deciding location where the champion is named at Sunday's finals. Tickets are available at RedBullAirRace.com. Two-time world champion Kirby Chambliss gave track star Lolo Jones a ride with high-adrenaline, aerobatic maneuvers.
Germany's Matthias Dolderer leads the Red Bull Air Race World Championship pack with 80.25 points after winning at Indianapolis Motor Speedway this month. Australia's Matt Hall is in striking range at 55.75 points. The first female pilot and newest member of the Challenger Cup, Melanie Astles, also is competing. This is the third consecutive year Red Bull has brought the race here for the final contest.
ELTON JOHN'S TENNIS TOURNEY
Billie Jean King and Sir Elton John, who are hosting tonight's World Team Tennis charity matches benefiting his AIDS Foundation, have selected their teams for the fundraiser at Caesars Palace's forecourt.
Billie Jean selected John McEnroe, Mark Philippoussis, 16-year-old junior Taylor Johnson and Maria Sharapova. Elton chose Martina Navratilova, Andy Roddick, Mardy Fish and Liezel Huber. Before the competition begins, there will be a celebrity set when Elton teams with Martina to face Maria and Andy.
You can watch it live on ESPN 2. Check back here Tuesday for our report with photos and video.
COUNTER INTELLIGENCE
Hot off the grill!
* "Cake Boss" star Buddy Valastro hosts an Italian family dinner tonight at his Buddy V's Ristorante in The Grand Canal Shoppes of The Venetian and The Palazzo to celebrate its third anniversary. When I talked with Buddy on Sunday night, he told me that he also is celebrating the 15th wedding anniversary to his wife, Lisa. They spent Friday night dates making cakes in his dad's Carlo's Bakery in Hoboken, N.J.
Today, he's expanded his empire to 13 bakeries, with 10 to open in the USA and three in Brazil where he films two TV shows. He told me that when he opened in Dallas, he was shocked and in disbelief at the line of people waiting to buy cakes from the bakery: "It took my video cameraman nine minutes to walk the entire length from the end back to the front door!"
* It took nearly two months to repair the damage at "Top Chef" cheftestant Carla Pellegrino's restaurant Bratalian in Henderson when an overeager customer plowed his truck through the front doors and wound up nearly on top of the kitchen counter. Tonight, Carla reopens Bratalian and is offering free appetizers to go with entrees.
* Just after I'd written the Sunday Life story in the Las Vegas Review-Journal about the return of Ultimo: Weekend of Excellence to The Venetian from Dec. 9-11, chef Ming Tsai of Blue Ginger and Blue Dragon signed on to represent Asia category in the five-course dine around the world. Pierre Thiam, formerly at Le Grand Drakar in Manhattan, also signed on to represent Africa.
Video mapping of The Venetian's Grand Colonnade hallway will change as each country's course. This is the second year that Ming is participating.
* Chef Gordon Ramsay opened his fourth Las Vegas restaurant Friday. Gordon Ramsay's Fish & Chips at The Linq Promenade features authentic British comfort food. Said Gordon: "It was a real tradition for me growing up, so I'm excited to deliver the same nostalgia here taking it to the next level with fresh, sustainable ingredients paired with hand-crafted shakes, lemonades and ice-cold beer."
Guests are introduced to sustainable Alaskan True Cod coated with custard powder batter for the perfect golden crisp. The chips are hand cut and served natural with sea salt or topped with truffle, parmesan and chives. Don't miss Gordon's Fishwich served in a pita with malt vinegar, tomato, two fish filets, arugula and shishito peppers. The restaurant's color scheme reflects our Union Jack flag of red, white and blue, and white subway tiles line the kitchen with the menu posted on a chalkboard.