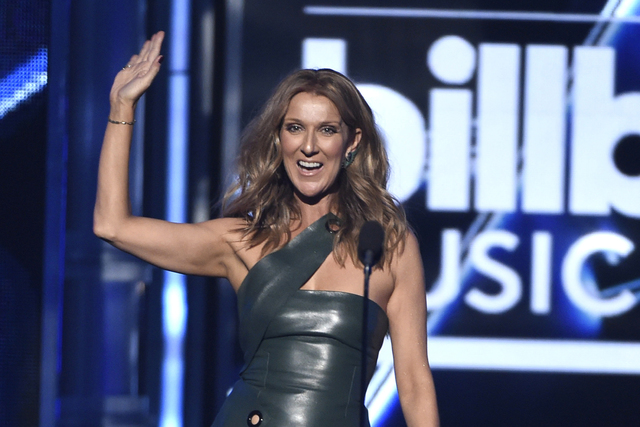 Caesars Palace headliner Celine Dion is set to launch her first line of luggage, handbags and accessories in September and will unveil them at the three-day Project Women's trade fair here starting Feb. 21.
The debut Celine Dion Collection will feature 200 pieces from The Bugatti Group in her hometown of Montreal, Quebec. "I'm a woman who loves fashion," said Celine. "Their vision toward my brand is impressive, and their passion for fashion is as intense as mine.
"So guess what? We're going to have a really good time together." Be sure to read my intimate interview with Celine today when we went on a midnight shopping expedition last weekend. You'll find it here and in Friday Neon of the Las Vegas Review-Journal.
SISTER WIFE STRIVES
"Sister Wives" star Janelle Brown of Las Vegas plans to launch her online community Strive embracing challenges of maintaining long-term healthy lifestyles. Her hit reality-TV series aired its season finale Jan. 29, and now she's ready to take her wellness journey to the next level.
Sign up and find details at StriveWithJanelle.com. She said: "It's an online movement for those seeking to improve their overall quality of life. The biggest obstacles to health are fear and self-doubt. This is not about being perfect.
"Like everyone, I've lost and gained weight, but what I discovered is that movement is the key to having a good quality of life. I'm sharing my own trial-and-error journey to inspire people to come along with me and set reasonable short- and long-term goals."
USO TOUR
Planet Hollywood headliner magician Murray Sawchuck has signed on for his first USO Tour. For two weeks in April, he'll entertain our troops at six military bases, including Guantanamo Bay in Cuba, Thule in Greenland, Andrus Island in The Bahamas and Honduras.
He'll tour from April 5-21 with fellow magicians Howard Blackwell and Dave Chandler. Murray told me: "I always looked up to entertainers like Bob Hope, Wayne Newton and Toby Keith who always gave back to veterans and active-duty servicemen.
"This is an absolute honor to follow in their footsteps with my first USO tour." Murray, who hails from Canada, has been a U.S. citizen since February 2009.
BRIT'S NIPPLE SLIP
Fans of pop princess Britney Spears whipped out their iPhones on Wednesday night at Axis at Planet Hollywood for her hit residency "Britney: Piece of Me," and they captured more of her than she planned during a lengthy wardrobe malfunction.
Halfway through the show during "Oops! … I Did It Again," her racy green leotard slipped to one side exposing her chest. She giggled, gulped and retrieved the fabric while still dancing to cover herself up and finished the song none the worse for wear.
Britney appears at Axis tonight and Saturday before taking a break until her March 22 return. Jennifer Lopez slinks in Wednesday through Feb. 25 with her hit residency "All I Have."
CELEBRATION OF LIFE
Expect a large turnout of local celebrities and entertainment industry folks when the Celebration of Life tribute is held Monday for TV host, singer and showman Tony Sacca. Tony died Monday night from a heart attack at age 65.
Tony's wife and partner of 12 years, celebrated French chef Josette LeBlond, was with him at the hospital when he passed away. She will host the service at The Stratosphere Showroom beginning at 1:30 p.m.
CALENDAR DATES
The ribbon-cutting ceremony to unveil the sports broadcasting studio Vegas Stats and Information Network and new home to legendary broadcaster Bent Musburger and boxing announcer Al Bernstein is set for today at South Point.
Tickets went on sale Thursday for the new, two-day Las Rageous music festival with Avenged Sevenfold, Anthrax and Godsmack from April 21-22 at Downtown Las Vegas Events Center.
Artists Dawn Dillon and Garth Ravenholt expand the Rock "N"oodles gallery at First Friday Downtown tonight with their work.
TIM & FAITH
Country king and queen Tim McGraw and Faith Hill will make a stop at T-Mobile Arena on July 13 with their "Soul2Soul The World Tour 2017." Rachel Platten is the opening act. Ticket pre-sales begin today ahead of general-public sales next Friday.
Tim and Faith's new duet "Keep Your Eyes On Me" is featured in "The Shack" in theaters March 3. Tim also narrates and stars in the film.
'BLACK MAGIC'
Las Vegas actor and TV producer Marklen Kennedy turned up on Wednesday night's Vivica Fox series "Black Magic" on Lifetime. In the episode, Vivica persuaded Marklen to watch a performance of her male strip revue that she's planning to bring here.
Vivica faced one of "Black Magic's" most challenging weeks when one of her dancers and newly returned choreographer Darrin Henson almost come to blows. As the series continues, she now must find a new dancer to replace Alvester.
SUPER PORN BOWL
Three adult-entertainment actresses will party in Las Vegas at Sapphire Gentlemen's Club for its Super Bowl Extravaganza Weekend. The fun begins Saturday night and continues through the game Sunday with AVN winners Chloe Amour, Nikki Benz and Samantha Rone at the largest adult club in the world — 70,000 square feet of flash and flesh.
STAR SURVEILLANCE
"Pawn Stars" star Corey Harrison partied at The D Las Vegas in celebration of his recent engagement to Kiki Nejo. The couple, in the second photograph, also enjoyed appetizers and drinks at Joe Vicari's Andiamo Italian Steakhouse while breaking the news to their friend, The D exec Richard Wilk.