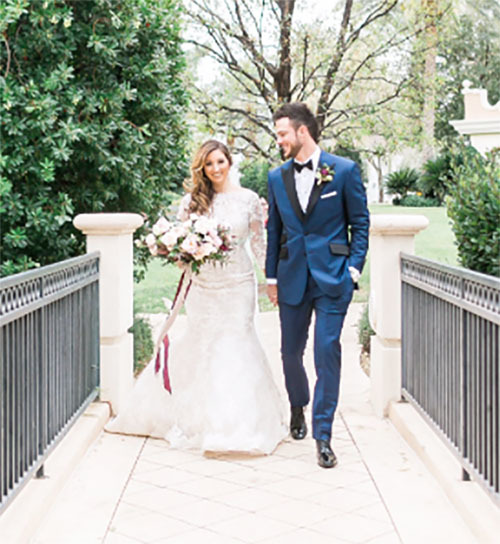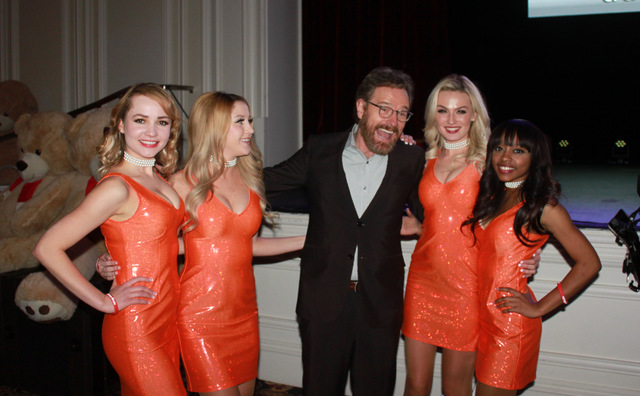 When four glamorous girls from Hooters turned up with magicians Jarrett & Raja on the red carpet for the annual Canon fundraiser for John Walsh's Missing Children initiative Friday at Bellagio during CES, eyebrows were raised because they weren't in their trademark orange shorts and white tank tops.
Instead, they wore modest, sparkly orange gowns down to the knee. What's happening at Hooters?! I'm hearing rumors that the master illusionist and his piano genius partner are using the ladies in a video to be shot here next week. Jarrett & Raja appeared on "Shark Tank" last spring seeking an investment for their own show here.
They previewed their act in the short-lived "One Epic Night" at The Plaza Downtown. Now the rumor mill has begun that they've secured a "Shark Tank" deal for a show. The magicians are in New York this week, so it's difficult to track down what's happening, but I've been told that "change is on the way" starting Jan. 23.
MARRIAGE GO-ROUND
Month-old newlyweds Bryce Harper of The Washington Nationals and Kayla Varner were at the surprise weekend wedding of World Series champion Chicago Cubs outfielder, third baseman and National League MVP Kris Bryant here in their hometown.
Other Cubs teammates attending included John Lackey, Miguel Montero, Dexter Fowler, Albert Almora Jr., Jason Heyward and Justin Grimm, former Cubs turned St. Louis Cardinals' Dexter Fowler and Chicago White Sox pitcher Carlos Rodon.
Meantime, Bryce, in town for CES, dined at La Cave Wine and Food Hideaway at Wynn Las Vegas on Friday.
L.V.-'LA LA LAND' LINK
"La La Land's" record-setting night at the Golden Globes on Sunday reminded of a Las Vegas connection to the film: Award-winning choreographer and "So You Think You Can Dance" mastermind Mandy Moore, who choreographed the seven-time Globes-winning musical, also is responsible for "Fantasy's" closing number introduced at The Luxor production last fall.
The routine is set to Justin Timberlake's smash "Can't Stop the Feeling" and was premiered at the 2017 Fantasy calendar launch.
Why does fitness model Sam Asghari, now linked with Planet Hollywood pop princess Britney Spears, look familiar? The pair have been dating since November, but Sam previously was on the arm of Las Vegas fitness model and July 2011 Playboy Playmate Jessa Hinton.
Jessa was the face of The Palms ad campaign and has been seen on Las Vegas billboards for MMA events and Monster energy drink. Sam and she turned up together when she hosted a Day of the Dead Oct. 31 party at Tacos & Tequila at The Luxor.
TOPLESS DANCER SPREE
Recently single rapper and reality-TV star T.I. showered topless dancers at Crazy Horse III Gentlemen's Club with $3,000 in dollar bills while partying there over the weekend. T.I. and Tameka "Tiny" Cottle announced their divorce in December after photographs of her dancing with Floyd Mayweather Jr. at Mariah Carey's Halloween party surfaced.
Also at CH3, hip-hop star French Montana, who has been linked with Pussycat Dolls singer Nicole Scherzinger now that he's broken up with Iggy Azalea. Video vixen Blac Chyna joined the rappers after making her first post-baby club appearance at 1 OAK at The Mirage. She has recently made headlines with the on-off split with reality-TV star baby daddy Rob Kardashian.
ONLY ONE!
Is there room for a Broadway show here now that "Rock of Ages" and "Jersey Boys" have shuttered? The only resident Broadway show remaining is "Defending the Caveman" with actor Kevin Burke at The D Las Vegas.
Kevin, our onetime Las Vegas Review-Journal Best of Las Vegas Entertainer of the Year, has been starring in the production since 2003, with more than 3,000 performances to his credit. "Caveman" is now the longest-running Broadway show in Las Vegas history, and Kevin holds the Guinness World Record for "Most Theatrical Performances in 50 Days."
EXTENDED
The musical comedy matinee "Tony Sacca's Vegas the Story" starring Tony Sacca has been extended at Windows Showroom at Bally's. The original musical production written and created by Tony, with additional material from the late David Brenner, opened in September and has been met with enthusiasm from audiences.
In an entertaining fashion, Tony tells the story of Las Vegas from 1904 to the beginning of legalized gambling, passage of a quickie divorce and building of Hoover Dam in the 1930s up until today. A bonus is a look into the future of Las Vegas in the year 2050.
EAT + DRINK
Tickets go on sale Jan. 31 for the 10th anniversary return of Vegas Uncork'd with celebrity chefs here for the four days of feasting and drinking at hotels up and down The Strip from April 27-30. Caesars Palace, The Venetian, The Cosmopolitan of Las Vegas, The Cromwell and MGM Resorts have all signed on for culinary events this year.
CHEERS
The Great Vegas Festival of Beer also returns this spring with Nevada's largest craft beer festival for the first time expanding to two days on April 7-8 with more than 10,000 attendees expected both days. Produced by Motley Brews and set to the backdrop of Downtown, the seventh-annual Great Vegas will offer tastings of more than 500 craft beers from 110 breweries.